Although Dune: Part Two has been delayed to 2024, this hotly anticipated movie remains in the spotlight for Empire Magazine's forthcoming issue. Past Friday, the British publication unveiled its covers and began posting segments from their exclusive interview with director Denis Villeneuve, offering new insights into the second film—from what he hopes will eventually be a trilogy—of his Dune saga adaptation.
The Fighters and the Oppressors
The October 2023 issue of Empire, also featuring new images from the movie, arrives at newsstands on August 31 and will have two collectible Dune covers. First of these, "The Fighters" showcases the Fremen people of Arrakis and remnants of the House Atreides family, now united in their fight for freedom and survival.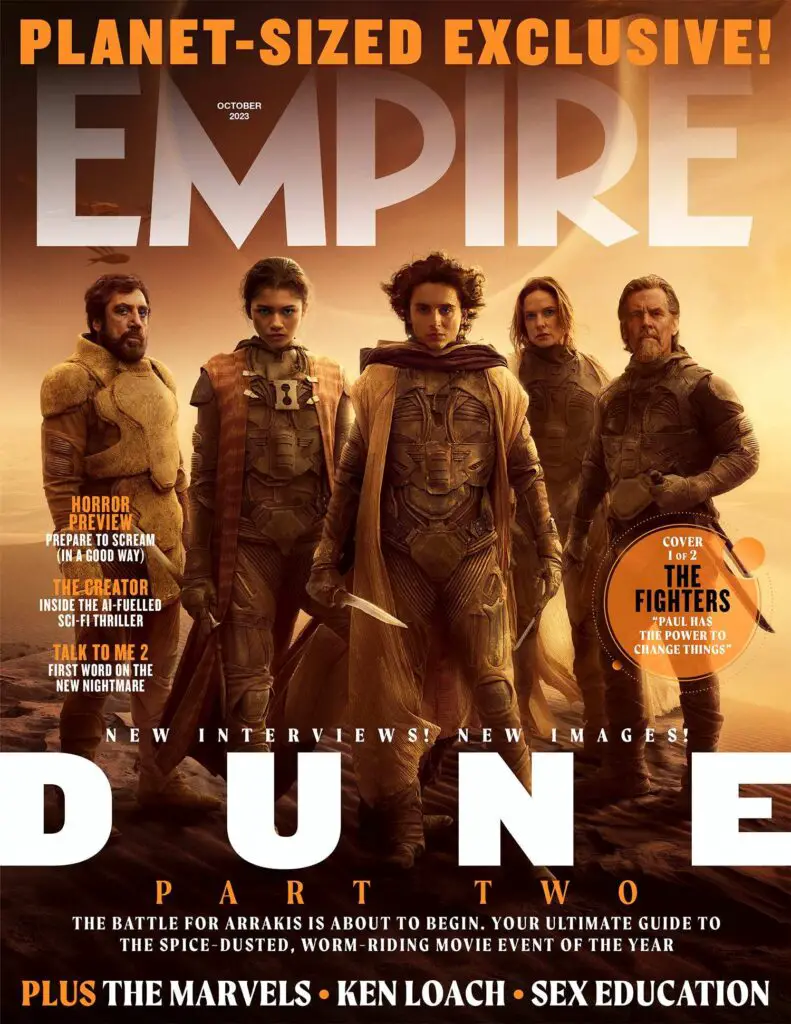 Opposing them, "The Oppressors" brings together House Harkonnen and the Imperium—latter represented by two Bene Gesserit sisters—who seek total control over the planet of Arrakis and its resources, whether that's for short-term power or long-term agendas…
A Happy Director
Empire speaks to Denis Villeneuve as he's working through advanced stages of post-production for Dune: Part Two. The director is in high spirits, declaring "the movie is alive!"
We've seen how he enjoys using analogies—previously describing the first Dune movie as an appetizer, while the second will be the main course—however for this interview Villeneuve's wording is straightforward:
Part One was like the promise of something, but Part Two delivers on that. I'm exhausted, but a happy director.

Denis Villeneuve, speaking to Empire
From Paul to Muad'Dib
Due to the ongoing actors' union strike the are no interviews with the movie's cast this time around, however Villeneuve—with his deep knowledge of Dune's characters and the actors portraying them—always has insightful commentary to offer.
As the main character, Paul Atreides will undergo a dramatic evolution in the second film, becoming the long-awaited prophetic figure who will lead the Fremen. The director recalls how he had to keep Timothée Chalamet in check during filming of Dune: Part One, as the star had already been eager to explore that aspect of role.
I remember when I was doing Part One, I kept saying to Timothée, "No, you're just Paul." Because he was reaching for Muad'Dib. He was looking forward to becoming that hero and I was pushing the brakes.
As Paul's renown grows over the course of Dune: Part Two Paul's, so too does a sense of foreboding:
He has the power to change things, but he knows that if he does so, it will create an astronomical amount of violence and he will become a kind of dictator. He's trying to find a way to avoid that ominous future – that's the burden upon his shoulders.
Story of Love and War
Repeating his synopsis as first shared at Cinema Con, Villeneuve emphasizes that viewers can expect epic action scenes. Knowing that second movie was shot entirely in IMAX, it's bound to be an immersive experience.
The first movie was more contemplative – a young man discovering a world. Here, it's a war movie.
Of course, development of its main characters remains the focus of Dune: Part Two, with Paul and Chani's relationship at the center.
At the very core is a love story between Paul and Chani. How Paul will gain her trust, how she will open her heart to him, and how they will find a way to free Chani's world from the Harkonnen grip. It's a much more emotional movie.
Zendaya will have a lot more screen time in this movie, with her character Chani expected to play a significantly expanded role, compared to the books.
Psychopathic Harkonnens
The director also elaborates on the motivations of House Harkonnen, a rowdy and violent bunch. We'll be seeing "much more" of them and their homeworld in Dune: Part Two.
If there's a party somewhere that you want to attend, it's on [their homeworld] Giedi Prime. These guys know how to throw a party, but they are not meant to be on Arrakis. They hate the planet, they hate the people, they're just there for the money. That's where their weakness is.
The movie will also introduce Feyd-Rautha Harkonnen. Cunning and deadly, the Baron's heir apparent is positioned as a direct antagonist to Paul. Played by Oscar Award-nominated Austin Butler (Elvis)—with not a hair on his head for this role—it sounds like the character is set to steal the show in his scenes.
Austin brought something that is a cross between a psychopath killer, an Olympic sword master, a snake, and Mick Jagger.

He has tremendous sex appeal and charisma and madness. It's really out there.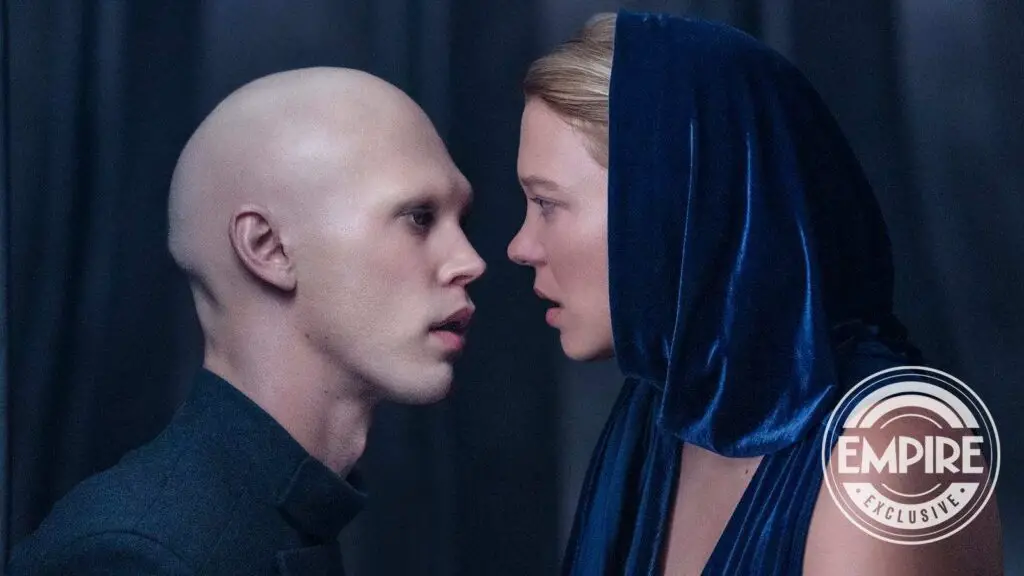 Mysterious Bene Gesserit
Heading into Dune: Part Two, Villeneuve is still keeping a number of mysteries under wraps, including Léa Seydoux's character Lady Margot Fenring. In Frank Herbert's original novel this Bene Gesserit sister only appears in one chapter, however will have a more prominent role in the movie.
I don't want to talk too much about Lady Fenring. She's part of the spider web of the Bene Gesserit, but I want to keep the mystery around her.
In general, we can except to see more of the Bene Gesserit influence. The director explains that the enigmatic sisterhood always captivated him as a reader.
My version of Dune is different because the thing that really seduced me about the book was the Bene Gesserit. My adaptation is more oriented toward their impact – they are the puppet masters of the universe!
The Baliset Revived
When shooting Dune: Part One, Josh Brolin's Gurney Halleck had performed a sad tune on the baliset. That song was left for dead on the cutting room floor—likely never to be seen—and the string instrument itself did not make an appearance in the final film.
This specific deleted scene weighed heavily on the director's mind. Villeneuve discloses that, for the second movie, he ensured that this musical side of the poet-warrior would make it to the big screen.
The Gurney song survived Part Two! It became a weird priority for me. But Josh Brolin is a poet and we played it together. It was awesome."
Dune: Part Three?
So, what comes after Dune: Part Two? Since the press circuit for the first movie, Villeneuve has made no secret of his ambition to film Dune Messiah, second book in Frank Herbert's original saga. He see's this potential third film as the completion of Paul Atreides' story arc.
If I succeed in making a trilogy, that would be the dream. 

Dune Messiah was written in reaction to the fact that people perceived Paul Atreides as a hero. Which is not what [Frank Herbert] wanted to do. My [Dune] adaptation is closer to his idea, that it's actually a warning.
Of course a greenlight for this next movie would depend on financial success of Dune: Part Two, however Villeneuve admits that the continuation is more than just a dream:
I will say, there are words on paper.
The director previously stated that he has no thoughts on going beyond that and his latest comment indicates that hasn't changed.
After that the books become more… esoteric.
Either way, a Dune Messiah movie would be years away and Villeneuve has a number of other projects planned.
Empire's Dune: Part Two Issue
The entirety of the Denis Villeneuve interview and other Dune content will be published Thursday, August 31 in Empire's October 2023 issue. Print copies, of either cover, can be pre-ordered from GreatMagazines.co.uk. Digital versions will available at online newsstands, including Pocketmags.com.
For Empire members, with a print and digital subscription, a third subscriber-exclusive cover will be available. Members will also have access to the digital version of the magazine on day of release.