With just two weeks left before the world premiere of his upcoming movie, Dune: Part One, Denis Villeneuve is continuing his international press tour, this time closer to home. Recent highlights include an in-depth interview with La Presse, conducted in-person from a café in Montreal, the director's hometown. In addition to addressing all the hot topics—including his recent comment regarding Zendaya's role—he offered the first hints of when, realistically, we could expect production to start on the prospective second part.
It's worth emphasizing that, consistent with other recent interviews, Villeneuve is described as being visibly in high spirits. He sounds proud of the results of his hard work on this first Dune movie and content with an exciting marketing campaign that kicked off in July, including debut of the main trailer.
I feel a joy like I have rarely known. Whatever happens, I take full responsibility for this film. Honestly, if someone told me tomorrow that I would no longer be able to make films, my first emotion would be one of immense gratitude. It's so lucky that I was able to complete this with so much pleasure. I enjoyed… there is no other word!

Denis Villeneuve, speaking to La Presse (translated from French)
When could Dune: Part Two begin production?
We already heard in the Total Film interview with Villeneuve, that he is "very optimistic" about Dune: Part Two getting a green light—barring an unexpected disaster at the box office. He echoed those sentiments here and provided additional insights into its current status:
I am currently working on writing the treatment that we must present to the beneficiaries of Frank Herbert. I also have an excellent relationship with his son Brian. Then, everything will depend on the reception that the first film will receive. When I shot it I was well aware of it all and really enjoyed myself. I told myself that if ever the adventure had to end there, I would have satisfied part of my dream, satisfied a certain part of my desire.

Since the studios love the film a lot and are proud of it, I think it would have to go really badly for the second part not to get the green light. But it remains in the order of the possible. In December, we should know.
So assuming there is an official go-ahead late this year, when could we expect production to begin on the Dune continuation? The director believes that, as early as, Fall 2022 would be feasible:
The script will then be relatively well advanced, and I think realistically that we could start filming in the Fall of 2022. It would be pretty quick, but it would be good.
Clarification on the Scope of Zendaya's Role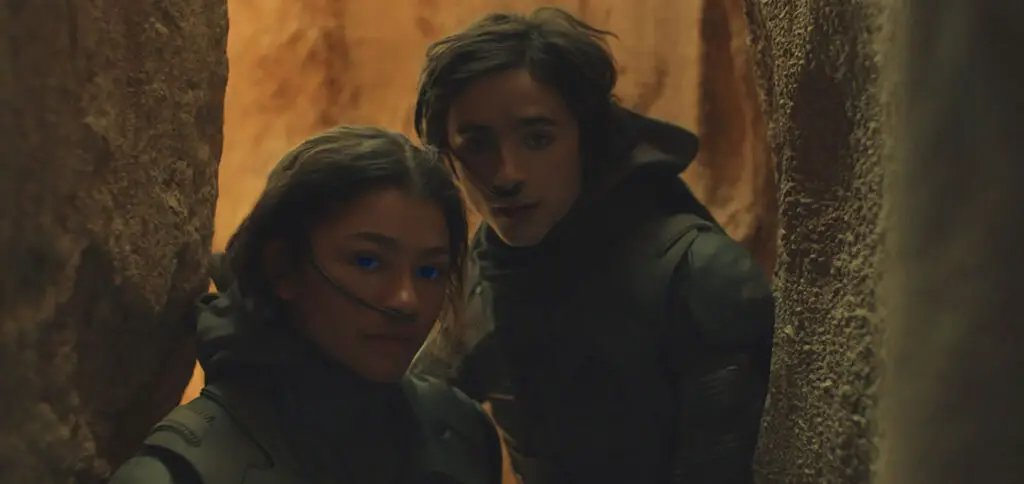 Villeneuve's recent interview with la Repubblica caused quite a stir online, specifically the comment—translated from English and published in Italian—that Zendaya would be the protagonist of Dune: Part Two. From the beginning, our own coverage flagged that something may have been lost in translation, however some fans were left confused when multiple media outlets ran stories incorrectly stating she would replace Timothée Chalamet as the lead role (which was never stated in original article). During this interview with La Presse, the director humbly addressed the misinterpretation:
This is where, sometimes, I realize my limits with the English language. When I gave this video conference interview this Italian magazine, I mumbled something about the character of Chani that suggested that the second film would be focused on her. She remains one of the main characters and her role is important, however Dune still remains first and foremost the story of Paul Atreides. Having said that, Zendaya is an incredible actress who inspires me deeply. She really is a beast of the cinema. Her role has also grown within [Dune: Part One]. I take responsibility for this misunderstanding. This is a case of "lost in translation"!
These comments should alleviate any (unfounded) concerns regarding the faithfulness of this adaptation, while confirming that Zendaya will indeed be one of the main characters. It's noteworthy how he calls out that, even within the first movie, her role has grown.
Villeneuve's Theatrical Cut of Dune is the Final Cut
The director also took this opportunity to eliminate another misconception, namely the existence of an alleged extended cut of Dune: Part One. Speculation commenced following a recent interview where The New York Times spoke with Jason Momoa. The actor, who plays Duncan Idaho in the movie, stated he wanted to see "Denis's whole vision" and called for a "four-to-six hour version".
Villeneuve values Momoa's enthusiasm, however is decisive in his assurance that the version destined for release in theaters, running 2 hours and 35 minutes, is the final cut, as he intended it to be.
[Jason Momoa] is an exuberant being, larger than life in everything he does. He loves the movie, which he has seen four times so far. And every time he calls me to tell me how happy he is. It is true that if [Joe Walker, the editor] and I had let go, we could have done a version of several hours because I filmed a lot. But the final version is really the one that ends up on the screen. I have never done a director's cut of any of my films.
Staggered International Release Dates
Following it's world premiere at the Venice Film Festival (September 3) and exclusive IMAX premiere at Toronto International Film Festival (screening date TBA), Dune: Part One will commence it's theatrical-exclusive run on September 15—starting with Belgium, France, and Luxembourg. More European countries will open in the two days following. This is an unprecedented five weeks before the movie's October 22 premiere date in the United States and Canada.
According to Villeneuve, this staggered international roll-out is intentional and intended to maximize the overall box-office performance.
The pandemic is causing a congestion of films in each territory. We have a very strong and enthusiastic response in all countries, and they all want to give to Dune the best chances. The idea was therefore to adjust the release dates in each territory in order to offer it the best possible space to show off. The film will be in theaters for a long time all over the world and I like this idea.
Dune on HBO Max
While acknowledging the reality of the pandemic, Villeneuve reiterates how angry he was, back in 2020, when Warner Bros. unilaterally decided to debut it's entire 2021 slate day-and-date on HBO Max (U.S. only), calling it "a stab in the back". Since then, however, the relationship between director and studio has been restored to a good partnership. His cheerful disposition during this interview, supports his excitement about the marketing around the film and his upcoming return to Venice.
But when they announced the 2021 film releases on HBO Max simultaneously, we were in the unacceptable. Cinema is teamwork and you can't let go of a team. We'll see how it all unfolds over time, but I would say that for now, in truth, my relationship with the folks at Warner is great, in that they've really orchestrated a wonderful campaign for Dune. They believe in it and they put a lot of effort into it.

I believe that there is, on the part of Warner, following the debate with HBO Max and all that followed, a will to affirm loud and clear that Dune is made to be seen on the big screen. The idea of ​​a launch in Venice is part of this desire to show it in an event where the big screen is celebrated. Honestly, I was delighted to be offered it, because I think it's ideal in terms of timing, but also for what the Mostra represents for me. It is a festival of beautiful elegance, which brought me great luck. I can see Dune being born there. It is a beautiful setting. Besides, I think the people at Warner wanted to take care of me.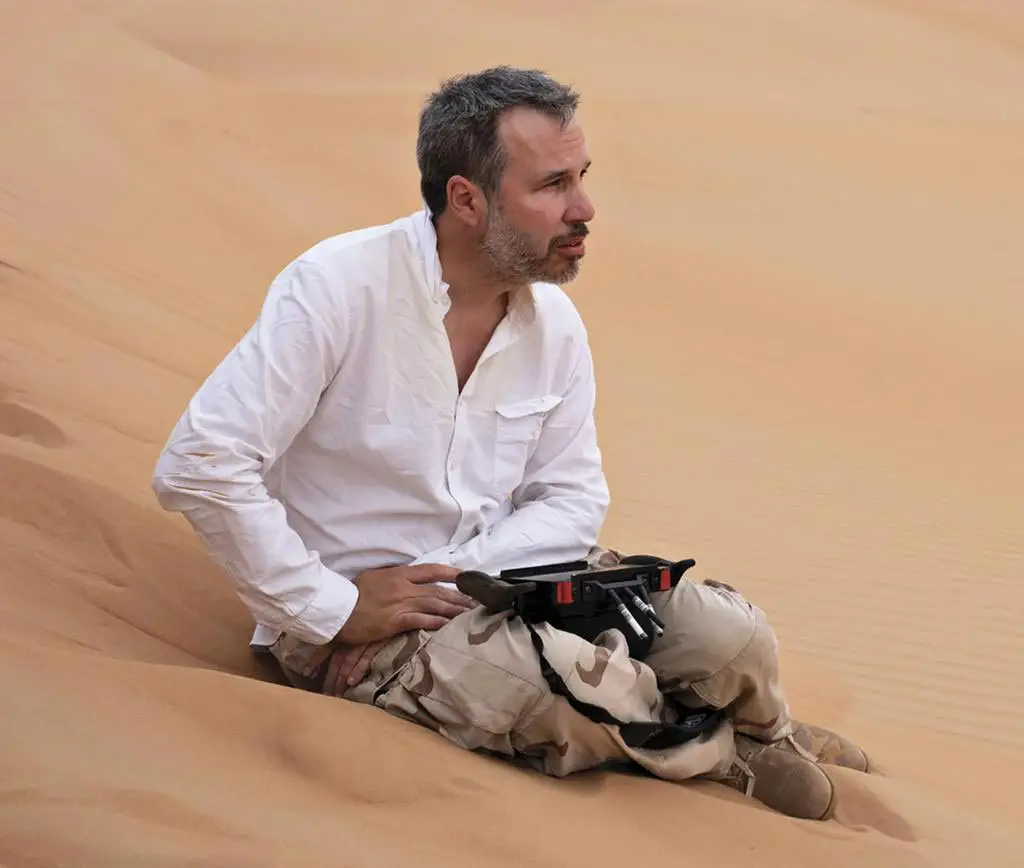 Still, with the multiple delays and other challenges behind-the-scenes, Villeneuve admits that some level of apprehension will remain until the release date.
I am relatively calm. I say "relatively", because I will really believe in the release of this film the day it will be shown in theaters and that by walking around, I will be able to see the title on the marquees of cinemas. There have been so many postponements, crises, changes, that I will believe it only when the public can see it. Behind the scenes, it's intense. Bringing a film of this magnitude into the world, on the entire planet, is complicated.
Will There be a Trilogy of Dune Movies?
While in Quebec, promoting the movie, Villeneuve also gave an interview to CBC Radio-Canada. It covered a lot of the same ground, however also offered some exciting insights into his long-term vision, beyond even Dune: Part Two.
There is the second book in the [Dune series by Frank Herbert], Dune Messiah, which could make an extraordinary film. I always saw that there could be a trilogy, after that we'll see. It's years of work, I can't think of going further than that.

Denis Villeuve, speaking to CBC Radio-Canada (translated from French)
For now though, he's fully focused on the premiere of Dune: Part One. Then the focus will shift to its continuation, before he explores other projects.
For the rest, we'll see. I try not to spread myself too thin. I am a fairly mono manic person. I try to work on one project at a time. The second part of Dune will be a priority. I am starting to work on a film about the life of Cleopatra, which is a project that has been with me for a long time. It's a project that I wouldn't have dared to do ten years ago, but that now I have the technical knowledge to be able to make the film I dream of.
The following clip (French, with English subtitles), "Five minutes with Denis Villeneuve", contains parts of this second interview.
Sources: La Presse via Marc-André Lussier (August 20, 2021), CBC Radio-Canada via Louis-Philippe Ouimet (August 20, 2021)