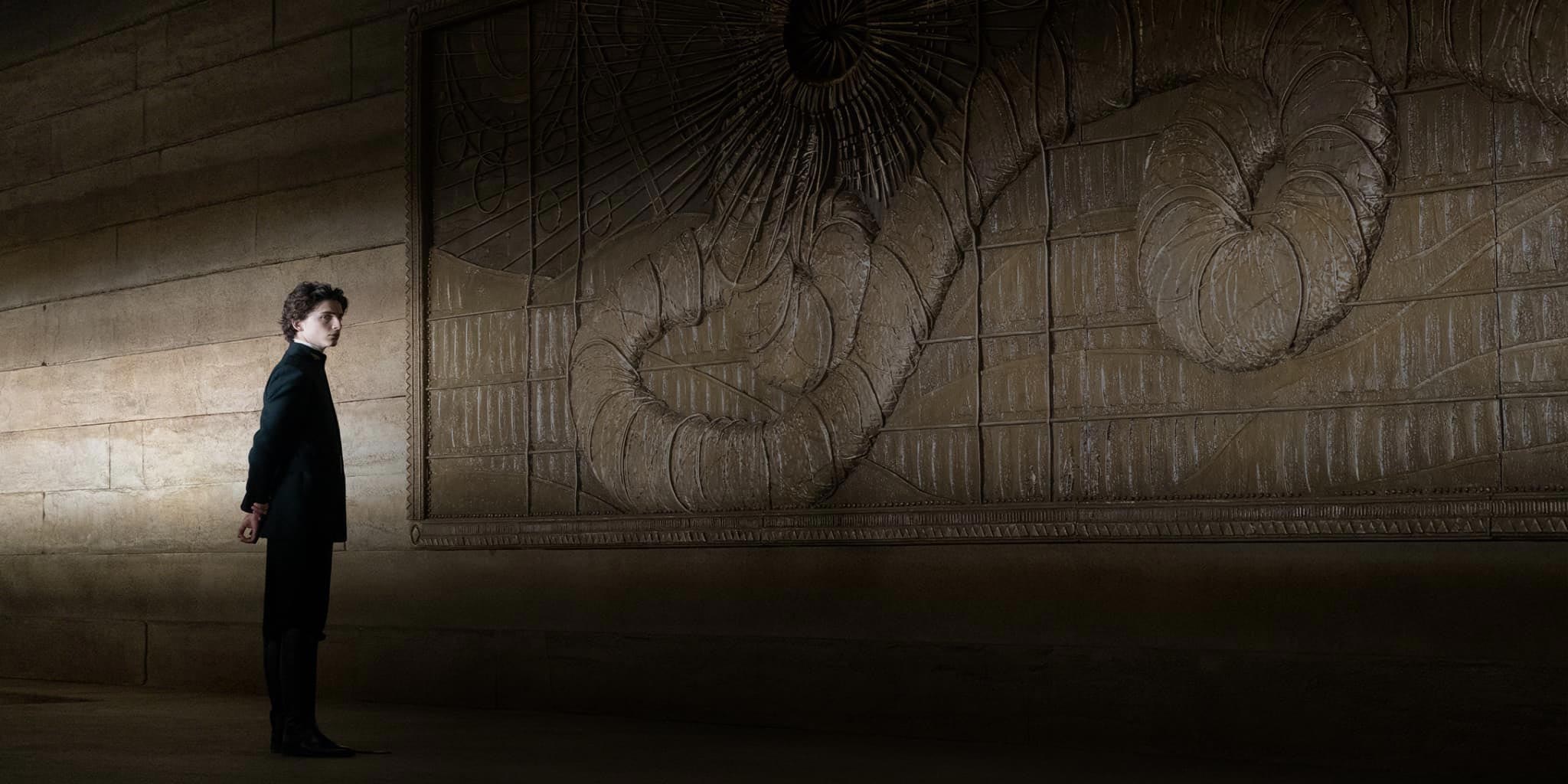 Denis Villeneuve's Dune will reportedly be 155 minutes (2 hours 35 minutes) long. The Danish Media Council listed this runtime, together with their age rating for the soon-to-be-released movie. Considering the organization is evaluating final films, that are set to be screened theatrically, it's improbable this would still be a placeholder. That being said, we should have official confirmation soon.
Update (July 26): Runtime is confirmed. Following their press conference announcing the full Venice Film Festival lineup, the 155 minutes has been listed on the organization's official website.
The rating for Dune (2021) in Denmark is "Allowed for children over the age of 11" and the full assessment reads as follows:
The overall mood of the film is dramatic and, at times, action-packed. It contains several scenes depicting war, other acts of violence, and murder. There are nightmare-like dream sequences. Bloody swords and hands are visible, and the soundtrack is dramatic and intense. However, the film's events take place in an imaginary science fiction universe, there are also a number of calmer passages, and the violence is not portrayed gratuitously, but rather in short clips. Within this context, it is expected that the film would only have a frightening effect on children under the age of 11 years.

Machine translation from Danish
As discussed in our inaugural Dune Talk podcast, this isn't the first instance that this exact runtime has surfaced for Dune. Several Croatian theaters—CineStar Cinemas and Kaptol Boutique Cinema—have listed 155 minutes on their websites, starting from May. We've also been consistently hearing numbers in this ballpark from sources and this matches up with an estimate from the Q&A with a fan who already saw the movie (contains spoilers).

What does the runtime tell us? While there are, exceptionally, longer movies out there—Avengers: Endgame being the recent example—155 minutes is on the higher end of the spectrum for big screen releases. In fact, Dune will be the longest English-language theatrical (co-)production from either Warner Bros. or Legendary Entertainment since 2014's Interstellar (169 minutes). This is further evidence of confidence that the studios have in the property and level of creative freedom that has been afforded to Villeneuve.
Taking another frame of reference, this runtime is longer than any of the Star Wars movies, including The Last Jedi—the longest entry in that franchise clocked in at 2 hours and 32 minutes. Then, of course, there are the frequent comparisons to The Lord of the Rings: While all films in that trilogy were 3 hours and above, each part was adapting one complete novel.
We know that Denis Villeneuve and crew always planned to film Frank Herbert's Dune book as two full-length movies and there is a clear vision for the second part. If that prospective sequel also sports a similar runtime, in the not too distant future we'll be enjoying a definitive adaptation that's over five hours! That feels like the right amount of time, that will be needed, to truly do justice to this epic story.
Dune will commence theatrical roll-out in Europe mid-September, before arriving in the United States on its new October 22 release date.
Sources: Media Council / Danish Film Institute (July 14, 2021), La Biennale di Venezia official website – Dune film page (July 26, 2021), Kaptol Boutique Cinema website, CineStar Cinemas Croatia website (May 29, 2021)