Well, here we are… again. Warner Bros. has moved the Dune movie release date in the U.S. from October 1 to October 22, 2021. While international theatrical premieres (previously set for mid-September) may consequently be pushed back as well, new dates are yet to be confirmed.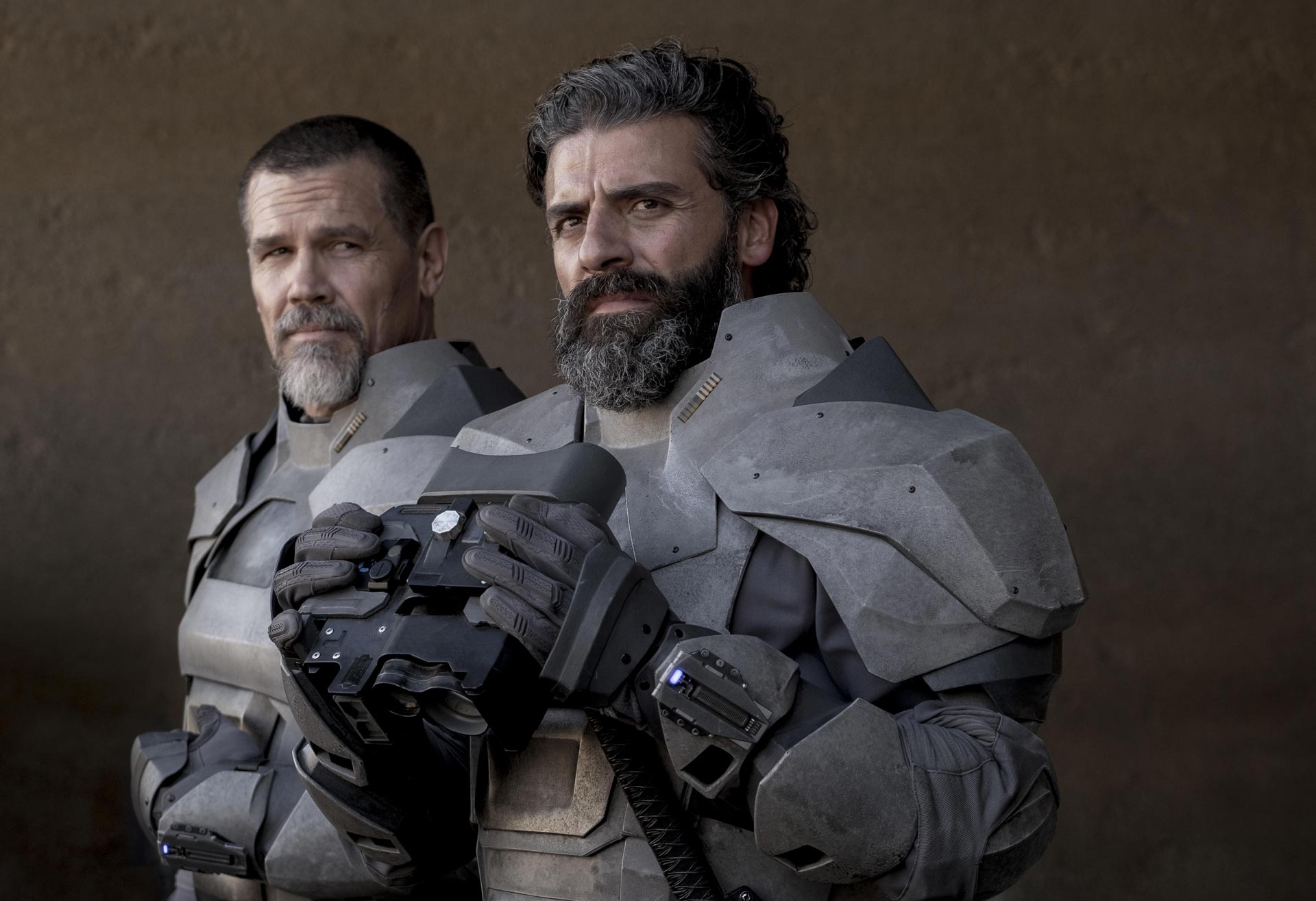 My strongest, immediate reaction to another Dune release date change was one of surprise. Based on everything stirring in recent weeks, particularly its selections for Venice Film Festival and Toronto International Film Festival, all seemed to be lining up for that domestic opening in October's first weekend. The date had been set ever since last October, when Warner Bros. bumped The Batman to March 2022. That long delay had seemed inevitable, and I had prepared for it, pleased with them giving it the same awards season weekend where Joker had just seen great commercial success. I also knew that the pandemic had made post-production difficult, forcing director/writer/producer Denis Villeneuve, editor Joe Walker, composer Hans Zimmer and countless visual effects artists into uncharted territory.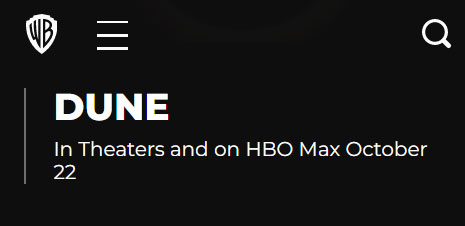 Working remotely to complete a franchise-launching blockbuster as the clock was quickly running out did not feel ideal. It was also reported that the decision to delay it had been mutually agreed upon by Warner Bros., Legendary, and the director, which was music to my ears. I tweeted this reaction at the time:
They made it for the big screen, and they know it's too big to fail. I'll gladly wait. This just means Villeneuve, Hans Zimmer and everyone else gets an extra year to perfect this magnum opus! I've been waiting for this film since 2016 when Villeneuve was first attached as director. It's my most-anticipated film of all time. But conditions are not right for it to release this year. Now, it has an incredibly strong, safe 2021 date for both box office and award season.
Key to my optimism was the cushion provided with that release date. When Dune was dated for Oct. 1, September 2021 was a ghost town, with nothing notable, let alone a blockbuster that could steal general audience buzz and IMAX auditoriums. Similarly, October had no big-screen spectacle on its calendar, with the month's next biggest movie being Halloween Kills, set two weeks later on Oct. 15. Marvel's Eternals, meanwhile, was a whole month away on its current date of November 5. I had never been more confident in its odds for financial success than I was in that moment.
I was naive to think the solace would last.
As the pandemic lingered on, and movie theaters slowly but surely came back to life, other major films fled not only from 2020 but from earlier 2021 dates to deeper into the year. In January, No Time to Die—Daniel Craig's Bond swan song and another film shot in IMAX—was delayed for the fifth time. The pic had been originally dated for November 2019, but was somehow now set to come out on Oct. 8, 2021, just a week after Dune. Alright, not ideal! Bond is a huge IP with built-in fanbase, as well as massive general appeal. The issue of IMAX immediately leapt out, as both were filmed with their cameras, and Dune would now have to immediately surrender its premium-format screens (and chance at heavier ticket sales) after only one week. But hey, maybe it could really thrive opening weekend, given September offered little in terms of competition.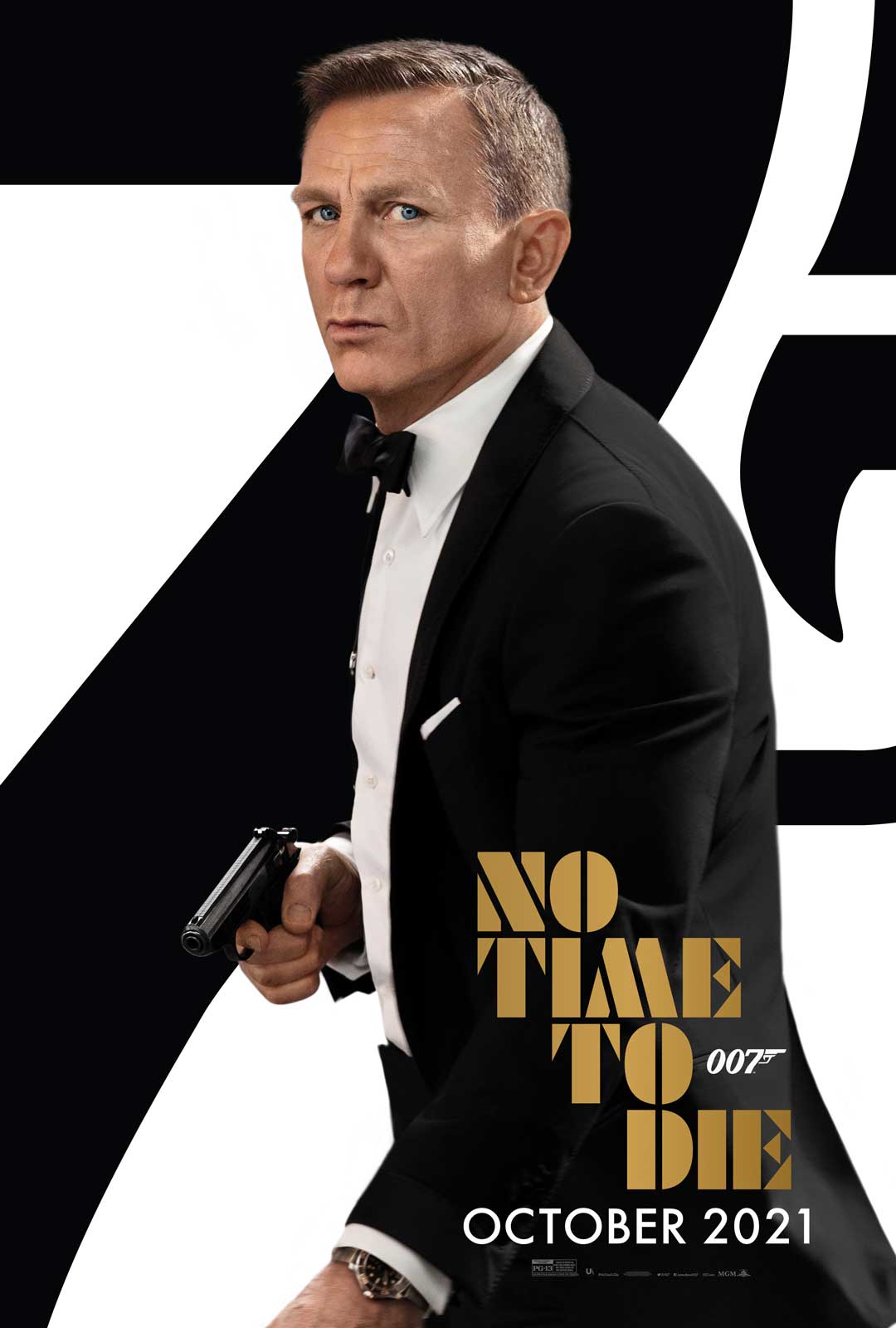 Venom: Let There Be Carnage, the sequel to the breakout hit that grossed $850 million worldwide, was delayed in March from June 25 to September 17. Wow! Alright, it could be worse. The vast majority of blockbuster money is made in the first three weeks, and there is still two weeks between Venom and Dune. Wait, Sony are now moving it another week back to Sept. 24? Cue the Timothée Chalamet crying/screaming GIFs!
Look, I maintained my optimism and confidence after this; genuinely believing since day one that this movie can be a hit, given the right conditions. Over the last few months though, the nightmare of a blockbuster box-office sandwich—that Dune was smack dab in the middle of—was the unspoken dread among fans. So, my feeling after the surprise, when I woke up Friday and saw news of the delay, was a huge wave of relief.
I did a mini-thread on Twitter to alleviate concerns, and will be expanding on those thoughts now. With its new date, Dune most obviously benefits from no longer being the odd blockbuster out. Venom will have two weeks before No Time to Die takes over, and that will have two weeks before Dune takes over—ruling IMAX screens for two weeks before Eternals hits theaters. As I stated earlier, most heavyweights sweep in their cash during the first three weeks of their run, with those premium-format screens playing a key role.
WB's Joker cracked $96 million opening weekend and raked in $55 million in its second, which was 60% of its final domestic total. These are the kinds of numbers that WB and Legendary would be over the moon about for Dune, but they're not absolutely necessary, especially in the pandemic era. Venom, another October release, took in $80 million opening weekend before dropping to a still solid $35 million in its second weekend, which equals 2/3 of its final domestic total. Finally, the most-recent Bond film Spectre nabbed $70 million in its opening weekend and $33 million in its second, which came out to roughly 2/3 of its final domestic total, as well. The point here is that the first two weeks are incredibly vital and go a long way to determining overall financial success. With things standing the way they do now, Venom, No Time to Die and Dune are all positioned to get a decent slice of the pie, with Eternals coming in for the sizable leftovers.
Now that we've addressed the issue of the true-blue blockbusters, let's talk about that opening weekend lineup that is instantly unforgettable. The long-awaited returns of Wes Anderson and Edgar Wright were already dated for Oct. 22, and now Villeneuve joins the fray. Let me be completely clear: The presence of these two films will have little to no impact on the success of Dune. Let me explain why, staring with Anderson.
The French Dispatch is Anderson's tenth feature film over the last 25 years. Of those ten films, only one has ever eclipsed the $100 million mark at the worldwide box office, and that is The Grand Budapest Hotel with $172 million. His second-biggest hit is The Royal Tenenbaums, a film that came out 20 years ago and grossed over $100 million less than the former. Wes Anderson can be a divisive auteur, and his receipts show that, no matter how fond of him Twitter may be and how much attention has been paid attention to The French Dispatch by Letterboxd users over the last couple years. Even the online engagement for the film is relatively reserved, with the trailer from February 2020 totaling 4.2 million views to date, and the Twitter page accumulating 18,000 followers.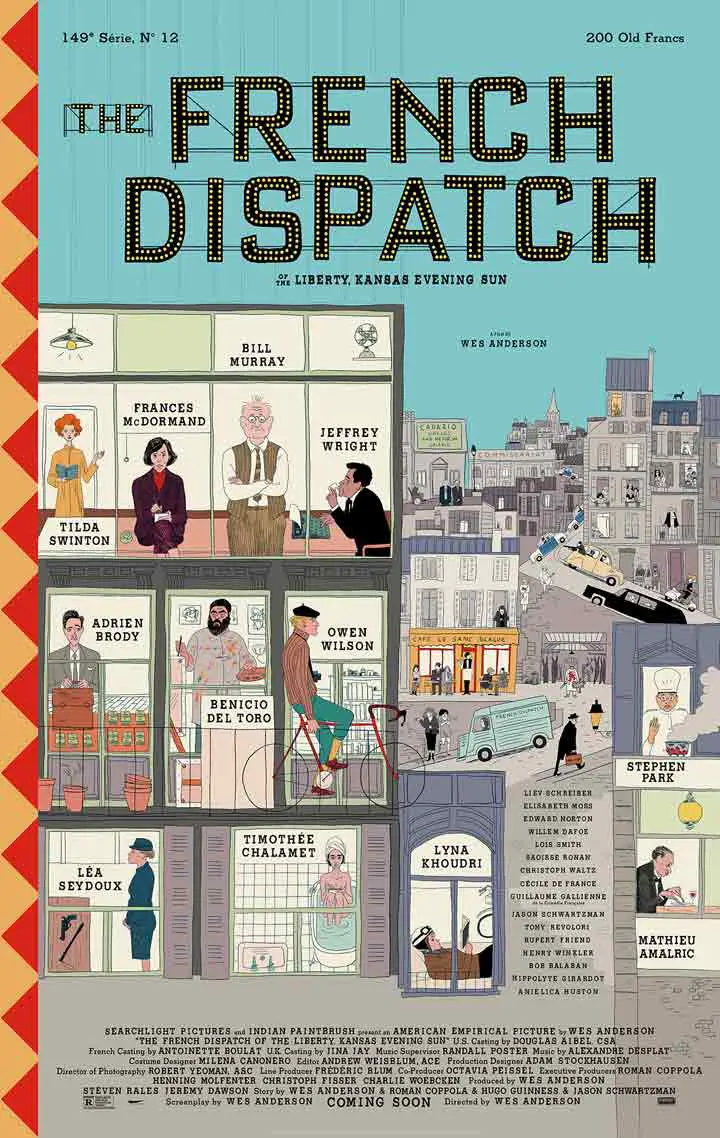 Lastly, The Grand Budapest Hotel and The French Dispatch are both Searchlight films, and it's unclear how the theatrical rollout of The French Dispatch will look or how many people will even be able to see the film once it releases. The Grand Budapest Hotel launched in four theaters and didn't reach its greatest number of theaters until its fifth weekend, where it played in 1,467 theaters domestically. Its largest weekend haul was $8.5 million, and its domestic total didn't even break $60 million. None of this is to discredit Anderson as a filmmaker or to undermine the potential of The French Dispatch. The objective truth is that Wes Anderson has never been and will never be an outright box-office draw, point blank period, and this latest project will have a tough time even approaching the modest heights of The Grand Budapest Hotel.
Now, we turn to Edgar Wright's Last Night in Soho, a psychological horror film appropriately dated for the weekend prior to Halloween. Wright has seen more commercial success than Anderson, but not by a whole lot. Shaun of the Dead was a solid hit, making five times its budget with a global total of $30 million in 2004. Hot Fuzz doubled his budget, and the result was a global box office of $80 million, but only 30% of that was domestic, where the film never cracked $6 million in any weekend. 2010's Scott Pilgrim vs. the World was an infamous bomb, taking in only $10 million on opening weekend, despite its $60 million budget.
The good news for Wright is that his last film, 2017's Baby Driver, was his biggest hit to date. The rated-R action/crime thriller was a runaway hit that summer, bringing in $226 million worldwide. $107 million of that came domestically, where its opening weekend totaled $29 million. If Focus Features play their cards right with the marketing, I could see Last Night in Soho putting up similar numbers, but it has an uphill battle against other horror films and the aforementioned blockbusters. However, where Baby Driver took advantage of Dolby screens and sound, Last Night in Soho will quite likely be shut out of those premium ticket sales by Dune. Online engagement has been fine, with marketing having just recently started up. The trailer on the official Twitter account clocked 3.2 million views, and the account has cracked 6,000 followers.
Conversely, Villeneuve's biggest success ever (Arrival) was a quiet, high-concept sci-fi film that brought in over $200 million worldwide and went on to earn eight Oscar nominations. His last film, Blade Runner 2049, under-performed considerably at the box office. Still, the nearly three-hour, rated-R tone poem sequel to a cult classic from 40 years ago still managed $259 million worldwide, which is kind of miraculous for a film that one of the producers dubbed as "the most expensive art house movie in cinema history." That total included a $92 million domestic total of a $37 million opening weekend. These were all disappointing numbers for that film, but bode well as an indicator of the potential in Dune, which is still going to be a PG-13, action-filled space adventure, even if Villeneuve is the man at the helm.
Its social media presence so far also vastly outweighs that of 2049, Last Night in Soho, or The French Dispatch. For example, its Twitter is up to 68,000 followers, and the trailer posted there has accumulated 12.4 million views so far. The 2049 Twitter account, four years on, sits at 37,000 followers. Of course, social media metrics do not translate directly to financial success, but it's still an interesting comparison, and something I point to when the chances of Dune succeeding is compared to 2049 and its financial failure. Again, it's objective to say that the former has more buzz and attention from general audiences than the latter ever had, whether it's social media followers, trailer views, or any other metric.
That's what it all really goes back to at the end of the day. For example, Halloween Kills releases one week prior to Dune on Oct. 15. The previous film grossed a whopping $76 million on its opening weekend in 2018, which ended up being approximately 48% of its final domestic total. Blumhouse no doubt have yet another hit on their hands this Halloween season, and people will turn up for it on opening weekend. But in its second weekend? Maybe moviegoers will see a poster of Jason Momoa with swords in his hands, or Oscar Isaac with his magnificent beard, or Rebecca Ferguson and Zendaya looking stunning and ready to kick ass. Maybe they realize it's been two years since the last Star Wars film, and they need their space epic-itch scratched and want to get a theatrical experience, likely in IMAX or Dolby, that no other film can offer them. That's what Dune is bringing to the table this fall, and that's why I think this most recent—and hopefully final—release date push can be what it needs to propel it to box-office success and awards season glory.
Dune will start its theatrical run in the U.S. on October 22. At this time, all of Warner Bros. 2021 movies remain on track to also stream day-and-date on HBO Max. We'll be reporting on any updates regarding international release dates, as these are announced.