Gale Force Nine have revealed the official title and key visuals for their new board game to retailers. Now we're excited to share with you this first look: Dune, A Game of Conquest and Diplomacy, based on the forthcoming movie, is an action-packed experience for two to four players. The game comes out September 2021—so you'll be able to continue your battle for Dune directly after watching the film—and carries a recommended retail price of $50 (USD).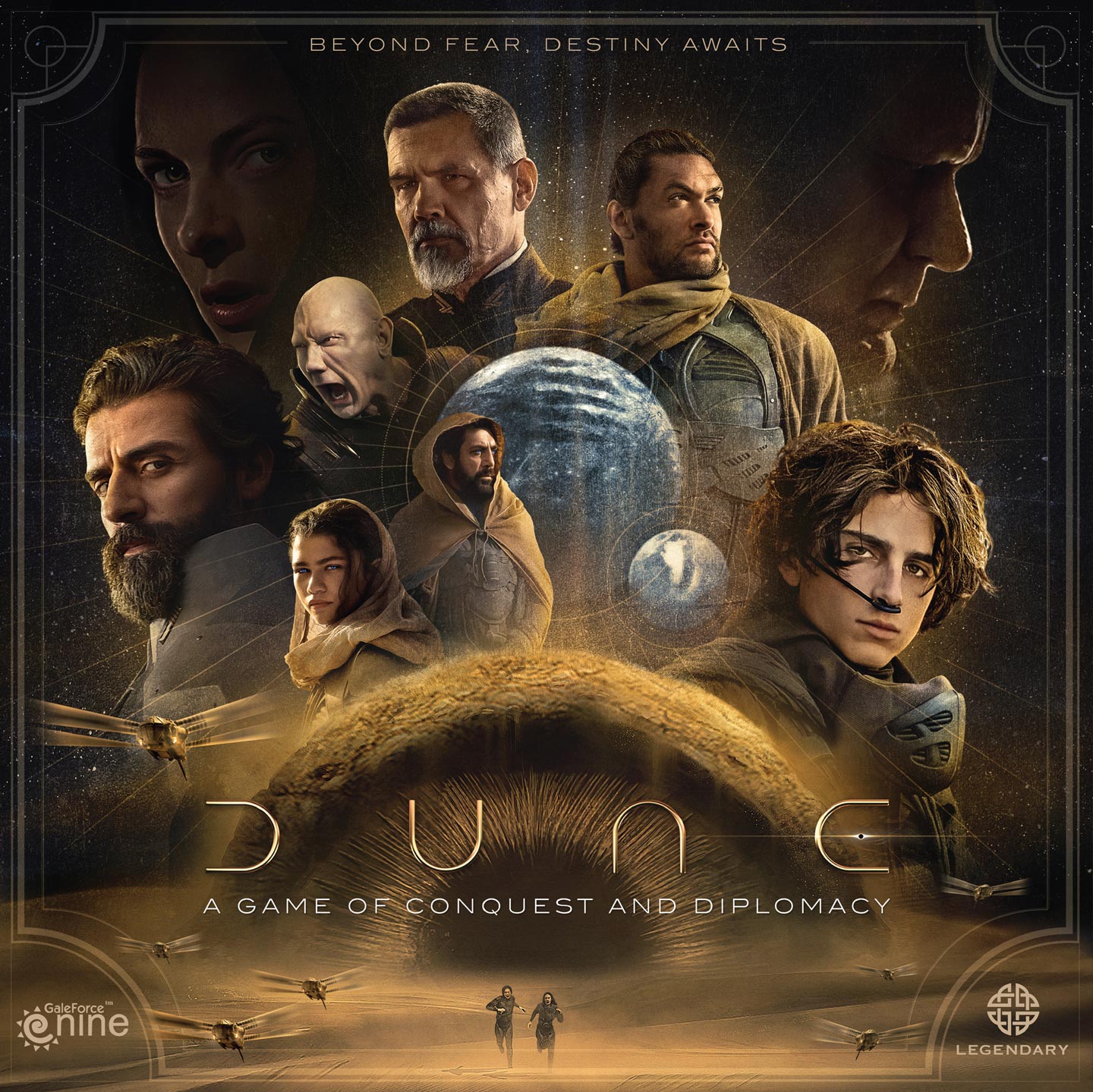 Dune, A Game of Conquest and Diplomacy builds on 40 years of development, refinement, and evolution from the classic Dune board game. This new release from Gale Force Nine is designed by Peter Olotka, Jack Kitteredge, Bill Eberle, Greg Olotka, and Jack Reda—the same creative minds working on the original (and its expansions).
What is Dune, A Game of Conquest and Diplomacy?
This is not simply a movie reskin of the classic Dune game, re-published in 2019, or even a second edition. While it has the same beloved DNA, flavor, tension, and themes, it also features a beautiful new game board design, updated look and feel to reflect the visuals of Denis Villeneuve's 2021 film, more spice, streamlined rules, and a new market deck where you can earn game advantages.
The brand new two-player mode really opens up new gaming opportunities, making the board game more accessible for even the most casual gaming nights—where not quite such a time commitment or group of players is required. For this reason, Dune, A Game of Conquest and Diplomacy doesn't replace the original classic Dune, but sits next to it in the cabinet / on the shelf.
I hope that everyone who sees the new DUNE movie can jump right into playing the new DUNE game. It's that fast and fun.

Greg Olotka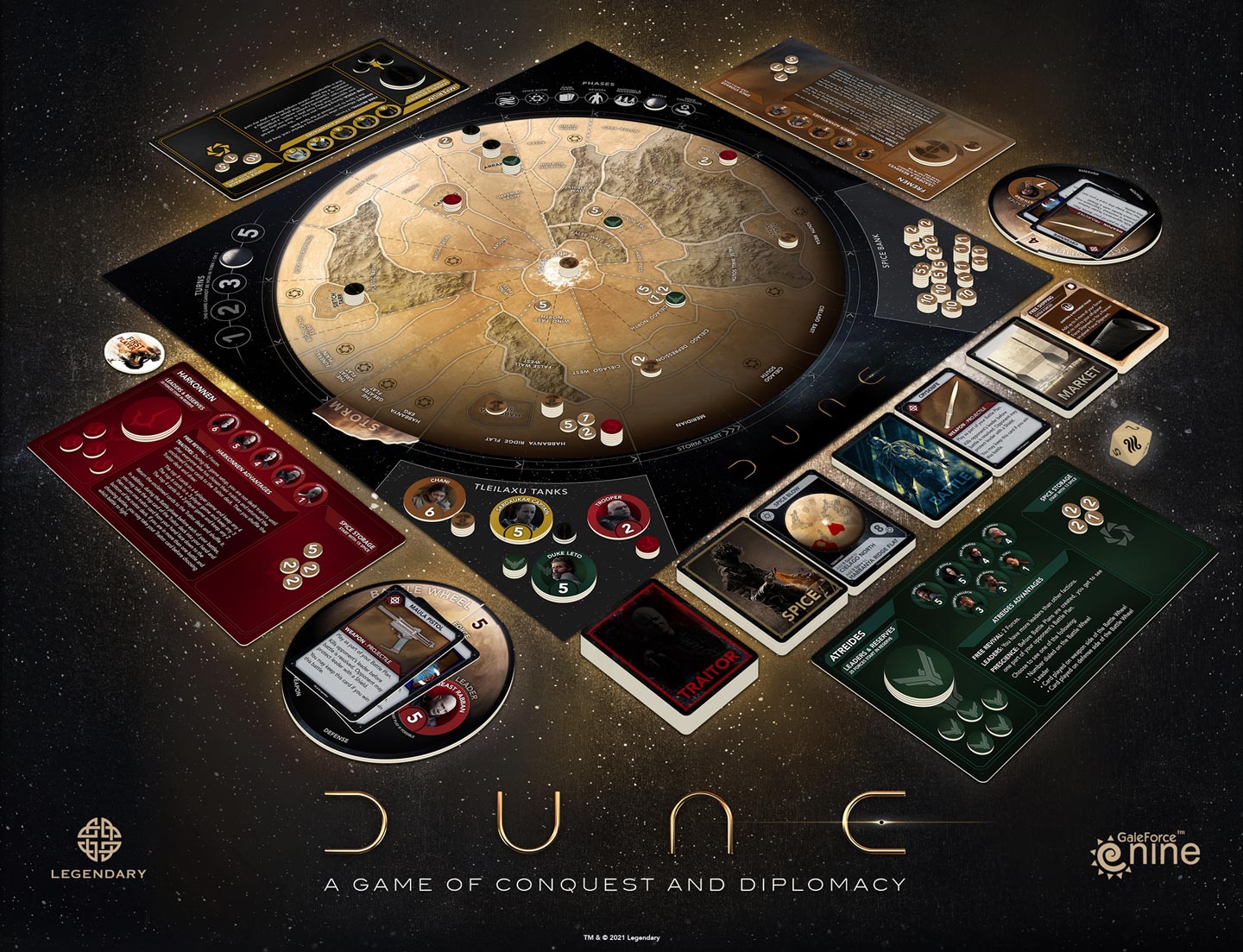 In Dune, A Game of Conquest and Diplomacy you will take control of one of the four great factions—House Atreides, House Harkonnen, the Fremen, and the Imperium—all vying to control the most valuable resource in the universe: spice melange, the mysterious substance only found at great cost on the planet Arrakis, also known as Dune. Ship your forces to Dune, harvest spice, seize control of strongholds, and destroy your enemies.
The foundation of great game design is play testing and—even in an year where in-person gaming was limited—the creative team have collaborated with dedicated players via online play. This also included hardcore fans of the original, i.e. not the easiest crowd to please. Some of the reactions:
You can have the experience and flavor of classic Dune in a neat 60-90 minute package.
I love how quick and simple the game is, while still feeling like there are complex strategies and great moments.
How Does it Compare to the Classic Dune Board Game?
People that have played the original will immediately recognize the strategic elements and game mechanisms, that they've come to know and love:
Take control of one of the major factions battling for Arrakis.
Devise complex strategies to outmaneuver opponents.
Spice is the currency and mining the precious resource is key for victory.
Battle Wheels.
Conquest, Diplomacy, and Betrayal.
This Dune game packs in everything that gamers have always loved about the classic game, and it's filled with some great new surprises too.
What's New in the Dune Movie Board Game?
A number of exciting changes, all adding to the streamlined, accessible / approachable gameplay:
Four factions: Atreides, Fremen, Harkonnen & Imperium—each showcasing the stars playing these roles in the movie.
Streamlined rules make it easy to learn, teach, and a blast to play.
New market deck, includes classic Dune Treachery Cards, but also lots of new surprises.
More Spice, two spice blows per turn, instead of just one.
New custom Dune D8 (eight-sided dice), to select first lead player and move the storm.
Beautiful new board, redesigned and optimized to improve game play.
Two player "Allies" mode—mimicking the iconic House Atreides / House Harkonnen rivalry—opens up opportunities to start a game at any time.
Two paths to win: Conquest of strongholds or economic victory.
Built-in timer concludes the game in the fifth round – reduces play time.
It's designed for casual gamers to become immersed in Frank Herbert's astonishing world of DUNE within minutes of starting the game. We distilled the cream of the interactions among four Dune factions and the end comes swiftly with shouts of victory and moans of despair, followed by the words that are music to a game designers ear…

…."Let's play again."

Peter Olotka
The new Dune board game is now available for pre-order, direct via Gale Force Nine's online store, in English, French, German, Italian, Polish, Portuguese, and Spanish language editions. The English version is also on Amazon.com (link below), where it's listed with a September 30, 2021 release date.
Update (July 26): Article updated with pre-order link and to reinsert the top box art visual, now officially cleared for release.