In the lead up to the world premiere of Dune: Part One at the 78th Venice Film Festival (September 3), la Repubblica interviewed Denis Villeneuve about the realization of his dream project. Besides sharing insights about the creation of this movie, the director expressed enthusiasm about returning to film its sequel and reuniting the two young leads—Timothée Chalamet and Zendaya.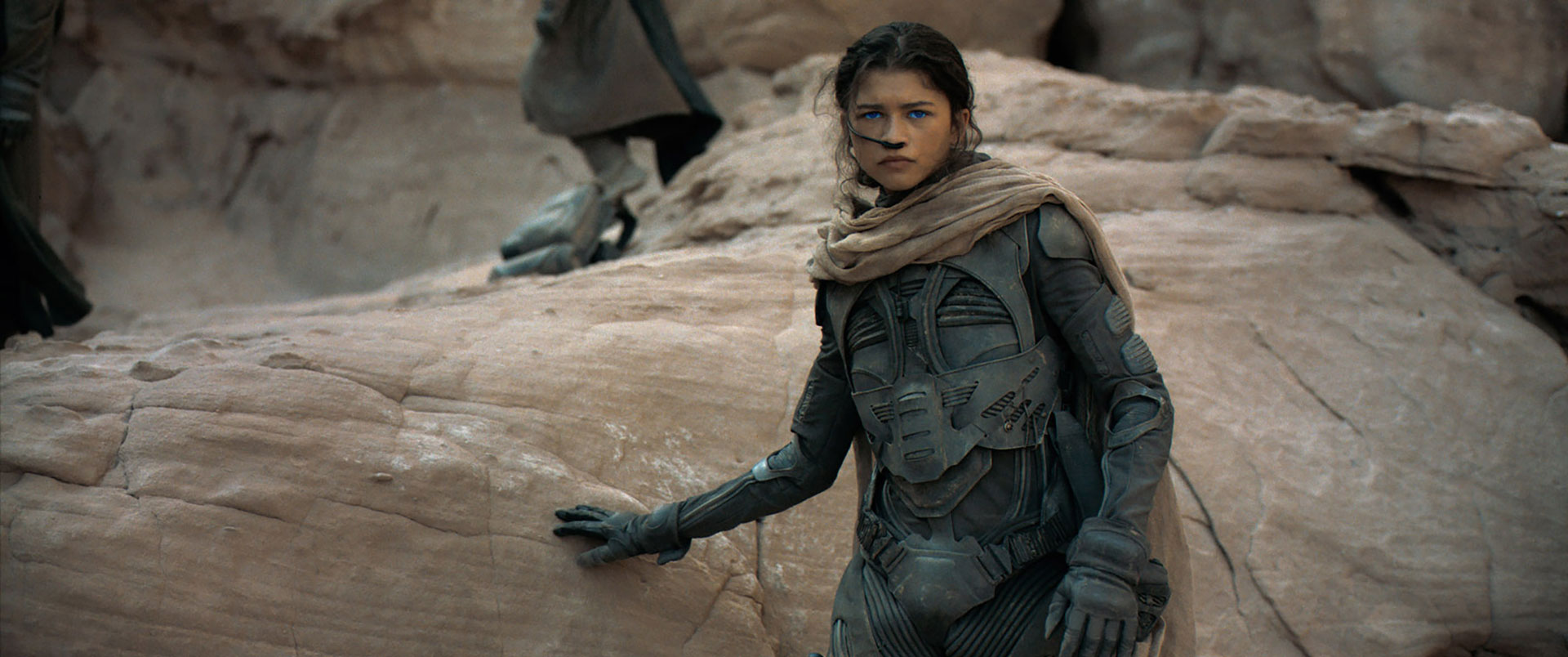 We've previously heard Villeneuve emphasize how, from the start, it was always Chalamet in his mind for the lead role of Paul Atreides. He's praised the actor's combination of charisma, maturity, and talent, and admitted there really was "no plan B." Although he didn't immediately have someone in mind when casting for Chani, Zendaya left a definite impression with her audition:
On the other hand, when I was casting the character of Chani, I met a lot of actresses. Zendaya wanted to audition and now, after shooting the film and seeing what a great actress she is, I regret having her audition, just because I didn't know her. However that day, she impressed me and when she walked out of the studio I knew that Chani was her, the young desert tiger. I'm honored to present two such explosive talents on screen and I can't wait to shoot the second part of Dune to have them back together. Knowing that in the next chapter, Zendaya will be the protagonist of the story.

Denis Villeneuve, speaking to la Repubblica (translated from Italian)
It's possible something was lost in translation during the interview itself, assuming Villeneuve was speaking in English or French. Based on what's written in Italian on the page though, there is no room for ambiguity. That last sentence states that Zendaya—who said herself that she plays "a small part" in the first movie—will be the protagonist in Dune: Part Two.
Update (August 20): In an interview with La Presse, which we'll cover in a separate article, Villeneuve confirmed that there was indeed meaning lost in translation (he was speaking English) and he did not intend to say that Zendaya was the focus of the second film, however "she remains one of the main characters."
For those who've read Frank Herbert's Dune, this may sound surprising. In the book we don't get many opportunities to experience Chani's perspective. Watching the second movie trailer and first 10 minutes of the film (screened during the IMAX exclusive event) however, we now know that the young Fremen warrior—who appears in Paul's dreams—will be the voice for her people, narrating their story on Arrakis. Regardless of how much screen time she actually has in part one, it's becoming clear that Villeneuve has big plans for this character. Indeed, multiple interviews have corroborated that the crew already had a clear vision of Dune: Part Two during shooting of the first movie.
Now even if Villeneuve's comment was accurately represented, this doesn't mean we should expect changes to major plot points. The story of Paul is central to Dune, however he's undergoing a complex transformation—conveyed by use of inner monologues in the book. For the movie, the director may have decided that expanding into Chani's point of view will enhance audiences' experience of this incredible journey.
Villeneuve's comments on seeking out Eric Roth, who co-wrote the Dune movie script, and importance they placed on the female characters, shed additional light on the approach he's taking with his adaptation of the novel:
When I decided to direct Dune I called the screenwriter Eric Roth, because I am convinced that he has the necessary culture to deal with the spirituality of a story like this by exploring its religious aspects, but above all because I have always appreciated his way of delineating the female characters. I've read a lot of Roth's scripts and when we met his first question was: "Ok, let's make this film together, but what is the main thing you want from me? What should I focus on? What's the priority in adapting the book?" My answer was, "The female characters." I think femininity is at the heart of the film.

In the book, the Bene Gesserit are essential: they rule a power all their own, and they do so by following their own trajectories, practicing manipulation, and using the most sophisticated of weapons: time. The strategies with which they use time have always fascinated me, while the males just run to go into battle. Women are stronger. And this also made me think about the relationship between our culture and time: which of us will be able to last longer? Americans see everything in an economic way and for them it is important to have wars that last three months, convinced that they can compress time. Other cultures, on the other hand, are more focused on using their time. I think these will prevail in the end.
The interview also branched out into other interesting topics, including into the movie's ship designs. The director talked about influences that went into creating realistic ornithopters, the unique bird-like flying vehicles used throughout the Dune universe:
Of course, Moebius influenced me enormously, as did many other authors of that magnificent magazine that was Métal Hurlant. I'm here today also thanks to them, they represent my main visual inspiration as a filmmaker. I didn't want hyper-technological flying machines, I wanted spaceships and spaceships that looked like monoliths and were giant. I like the idea that architecture and transportation can make humans look like humble ants. So the machines in Dune were built with this monumental feeling of loneliness and oppression towards their users. There is something frightening about their size, and in this I followed Moebius' examples. Then, sticking to the book, the machines had to have wings like birds and so I chose to go even further, prefiguring them as insects. I asked the designer Patrice Vermette to make them look like beetles, but then to make them real machines and not Hollywood hoaxes, real, functional flying machines. There are so many complicated elements in the film, from different factions to different cultures, from ruling families to religious orders, that the viewer has a lot of work to do. So I wanted the architecture and the vehicles to be understandable and easy to assimilate, and to help the audience embark on this journey.
The full exclusive interview with Denis Villeneuve has been published in the August 13, 2021 issue of Il Venerdì di Repubblica—featuring a stunning Dune cover with Paul Atreides in front of a sandworm—and on the la Repubblica website (subscription required).
Dune is set to release in theaters in Italy on September 16 and then in the United States on October 22.
Source: Il Venerdì di Repubblica via Stefano Pistolini (August 13, 2021)