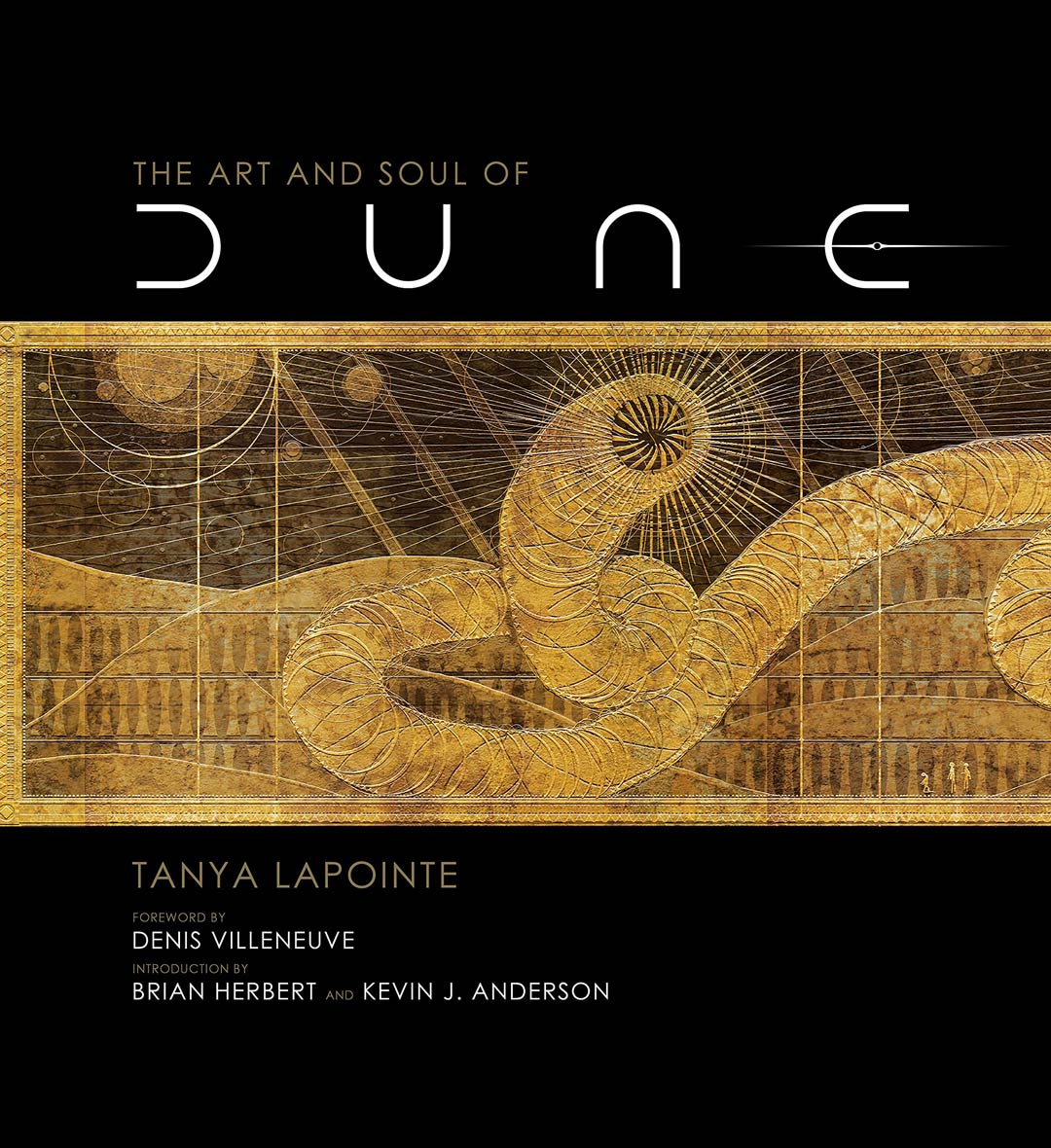 In everything that we've seen and heard from so far from Dune: Part One, the movie exudes beauty and an epic scale. Whether it's the settings, technology, or appearance of characters, the crew have shown extraordinary attention to detail in bringing the worlds of Frank Herbert's classic novel to life. The upcoming book The Art and Soul of Dune, being published on October 22, will go behind-the-scenes into the film's creation and promises an in-depth exploration of its stunning visuals.
This book is written by Tanya Lapointe, Dune executive producer and wife of director Denis Villeneuve, who also authored The Art and Soul of Blade Runner 2049. In addition to art from different stages of design and insights into the movie's digital and practical effects, the 240-page deluxe hardcover release will feature exclusive interviews with cast and crew—including Villeneuve himself and talents behind the leading roles: Timothée Chalamet, Rebecca Ferguson, and Oscar Isaac.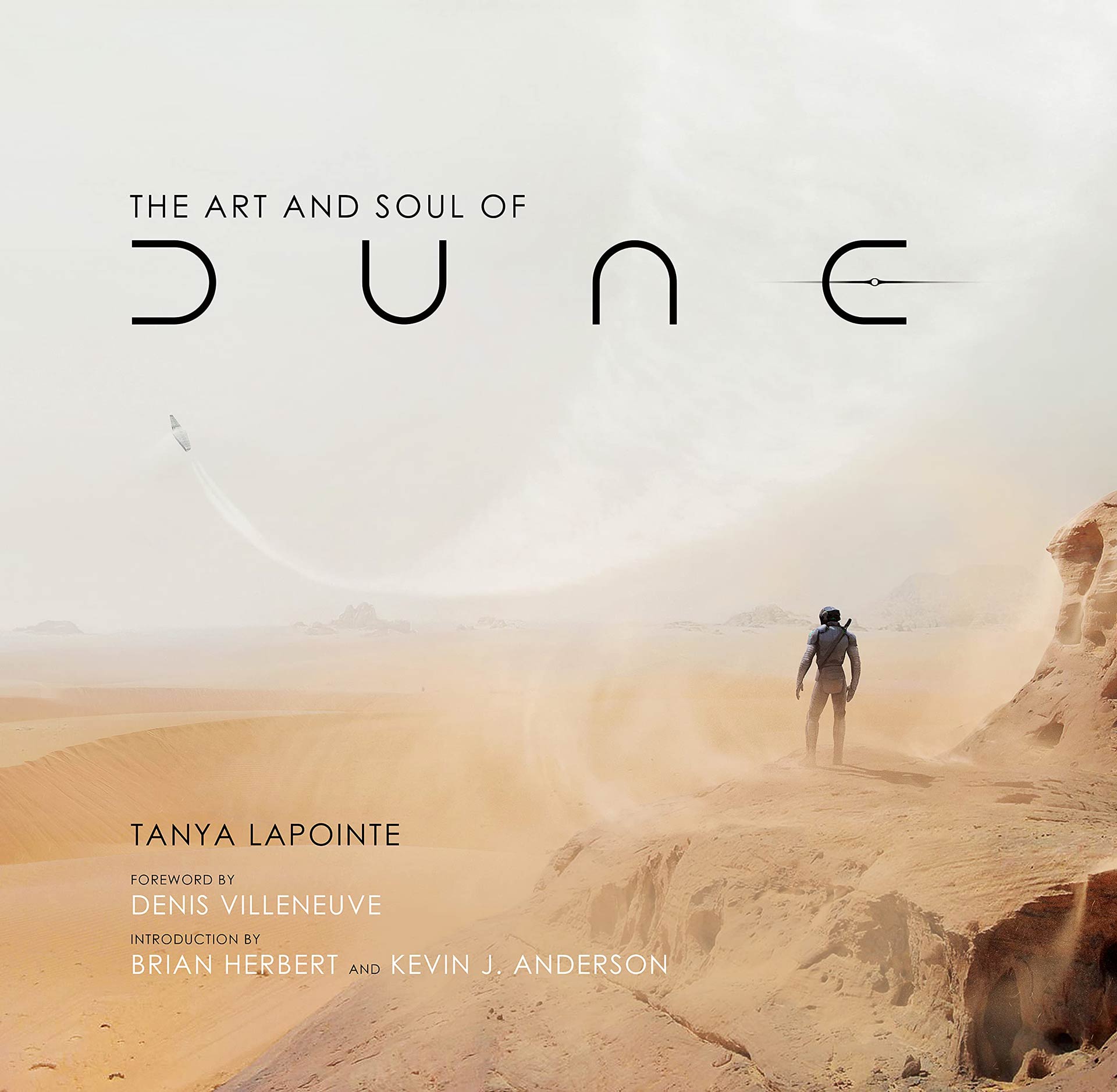 While being immersed in the gorgeous depictions of the sets, readers can also enjoy the mystical soundscapes created by Hans Zimmer. The award-winning composer was so inspired by the universe that, in addition to the movie's score, he wrote two more Dune soundtracks. Meant as a companion piece to The Art and Soul of Dune book, the eponymous music album features unique variations of the movie's themes and will be released digitally also on October 22. In welcome news for fans: This soundtrack will be available to download for free! Sign up for that on the Insight Editions website.
The standard edition currently costs less than $40 on Amazon.com and is an easy recommendation for any fans of Dune, or cinema in general. Now if you're an avid collector or looking for something to special to celebrate the movie's long-awaited premiere, you may be tempted by the impressive limited edition set (pictured below). That will set you back a cool $595.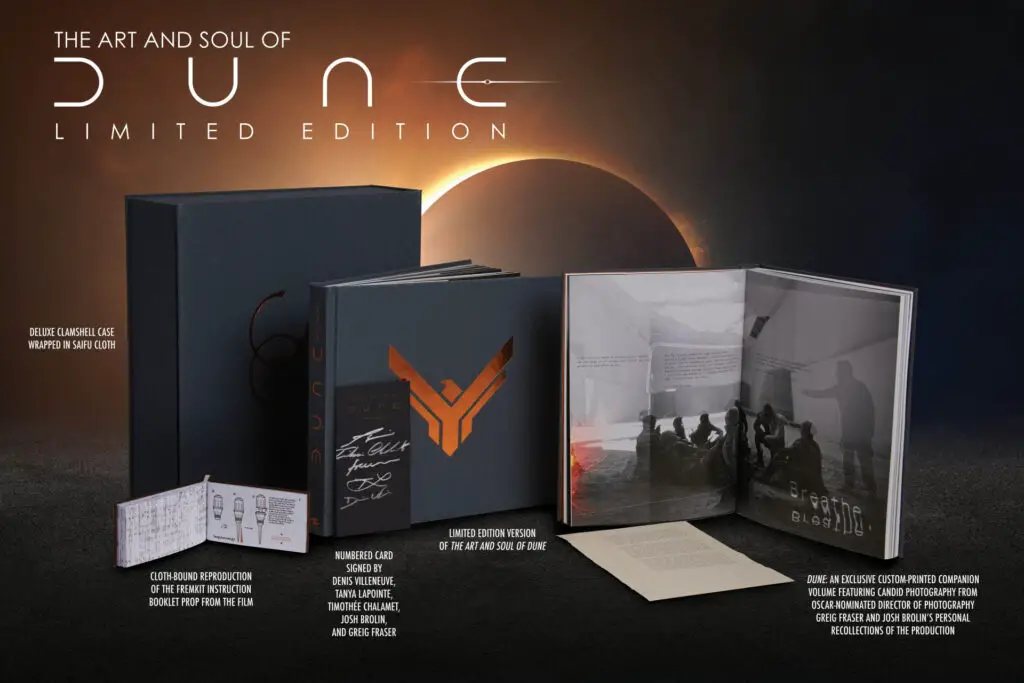 This version is available in strictly limited quantities and comes inside a "deluxe clamshell case wrapped in saifu cloth", copper-stamped with the Bene Gesserit symbol. What's in the box?
The limited edition version of The Art and Soul of Dune book itself, sporting a cloth cover with foil-stamped symbols of House Atreides and House Harkonnen.
Dune, a companion book, featuring exclusive on-set photography by cinematographer Greig Fraser. These visuals are accompanied by Josh Brolin's personal recollections from the production.
The Fremkit instruction booklet. This is a reproduction of the prop created for the movie and includes 80 pages of artwork.
A numbered signature card will be exclusive to the first 700 copies. These are individually signed by Denis Villeneuve, Tanya Lapointe, Timothée Chalamet, Josh Brolin, and Greig Fraser.
If you're curious about the actual contents of the main book, six of the interior pages have been revealed. These stunning two-page spreads feature Caladan, the oceanic homeworld of House Atreides: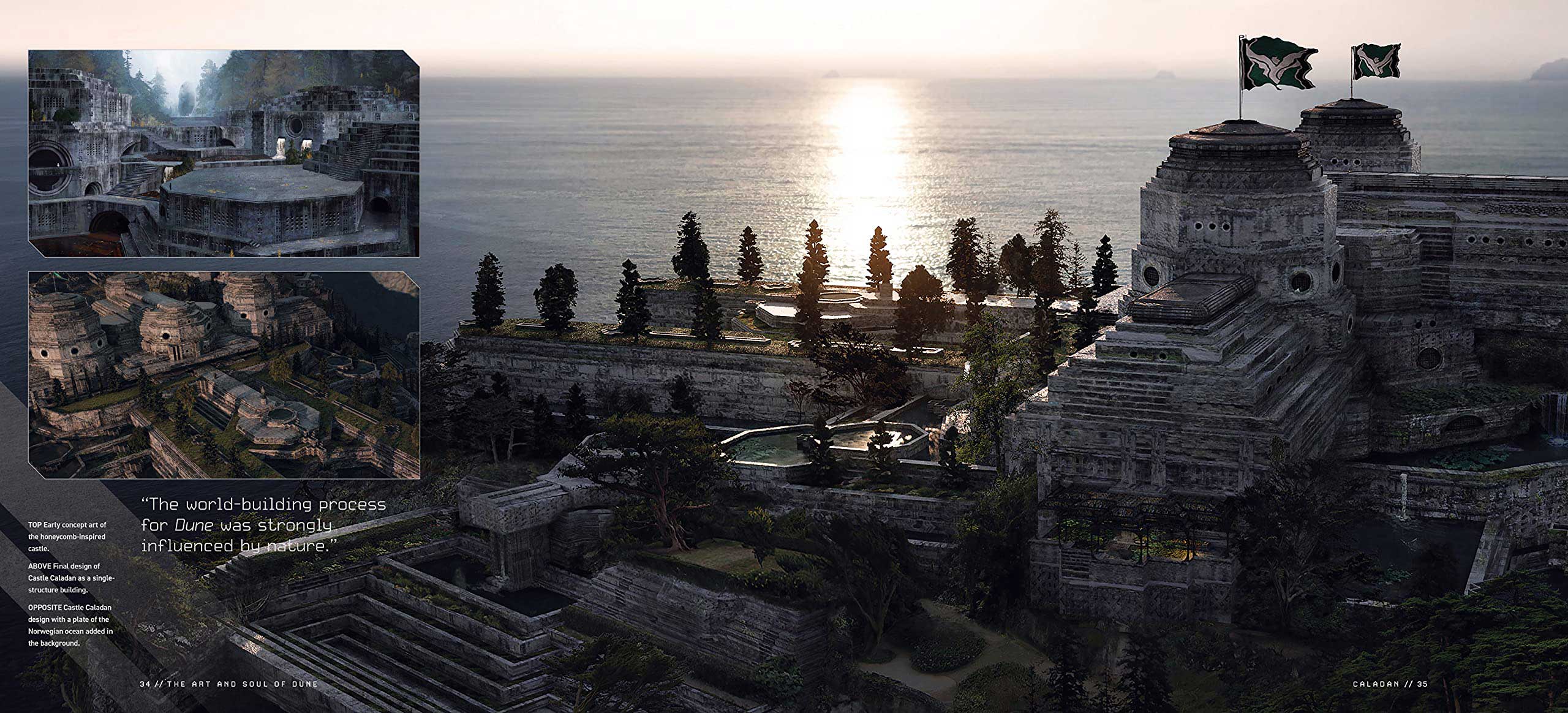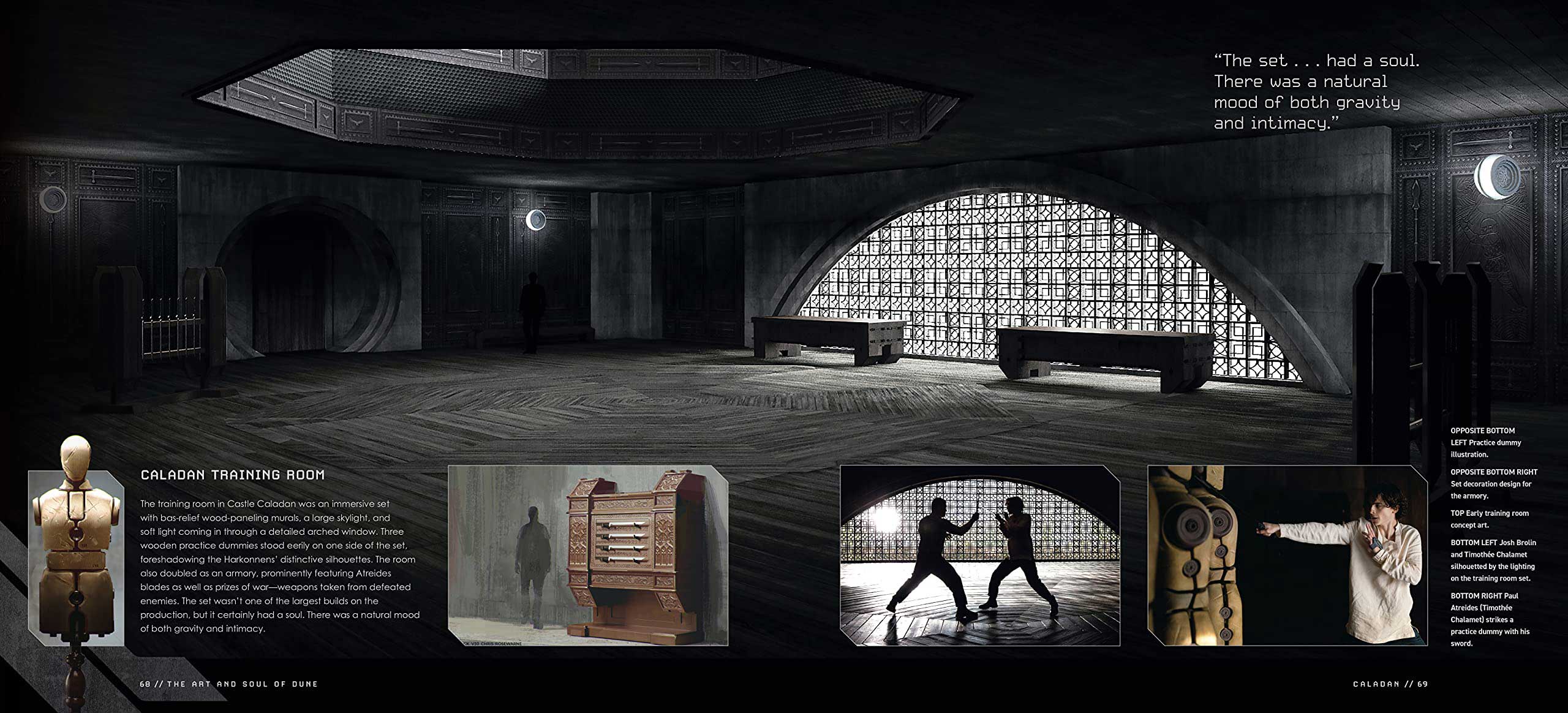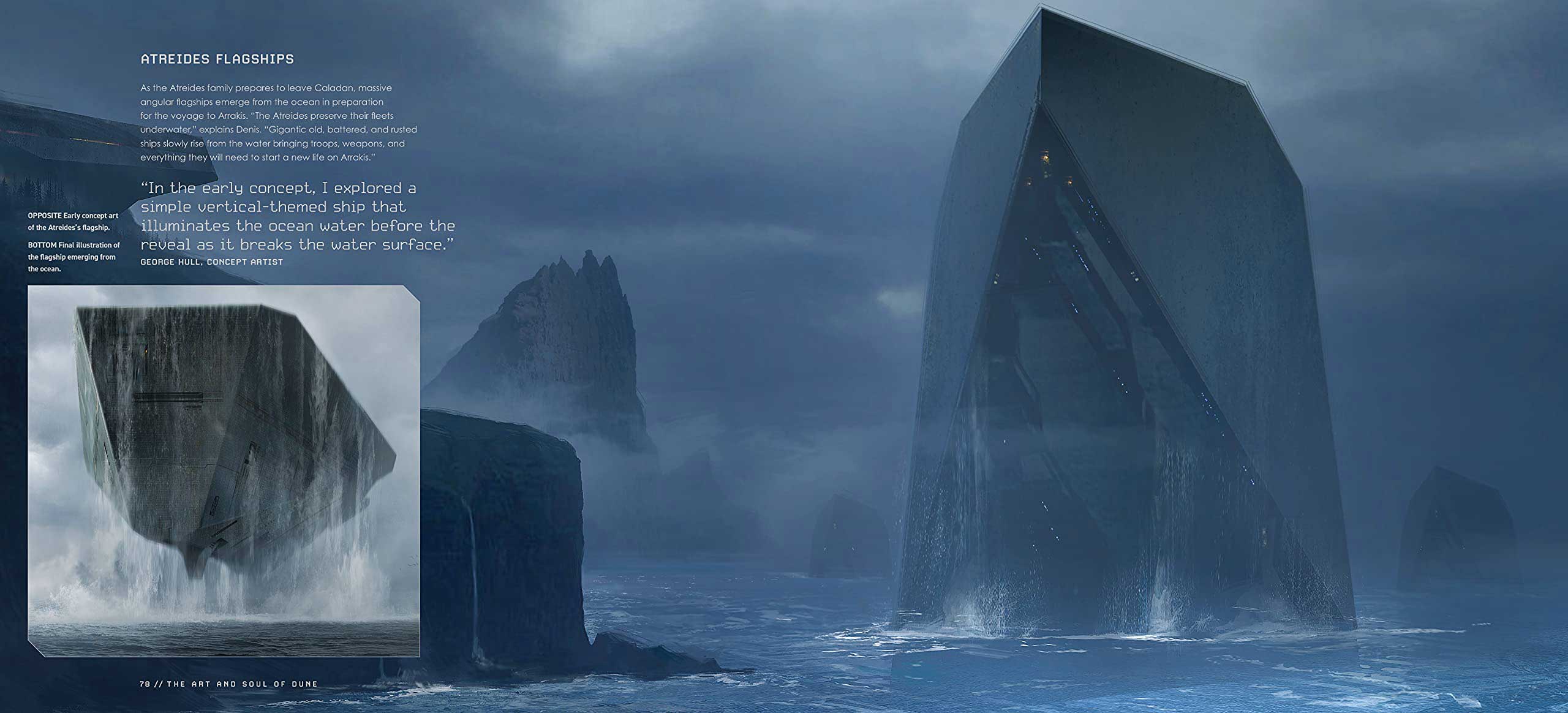 The Art and Soul of Dune standard edition is available now on Amazon:
The Limited edition is exclusive to the Insight Editions store (free shipping in the U.S.):