One of the many reasons that fans return to the original Dune novel is its rich world building, and cultures that appear to have a real history behind them. None of this was the result of luck, but instead due to Frank Herbert's multi-year investigation into Earth's own history, as well as his scientific research into the environment, linguistics, and more.
In this new book, Tom Huddleston lifts the curtain on Herbert's extensive research, uncovering the origins of people and places in the Dune universe.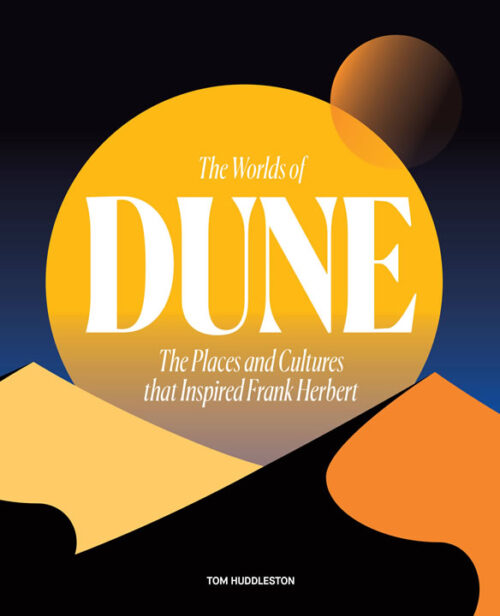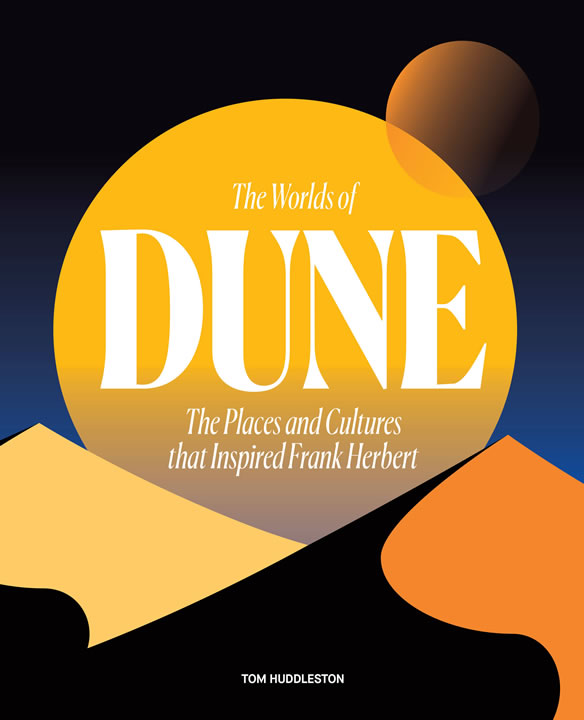 Synopsis
Presented across over 200 pages of text and plentiful images, many in full color, Huddleston leads us through the real-life people, organizations, events, books, and locations that Frank Herbert drew inspiration from when creating the rich universe of Dune.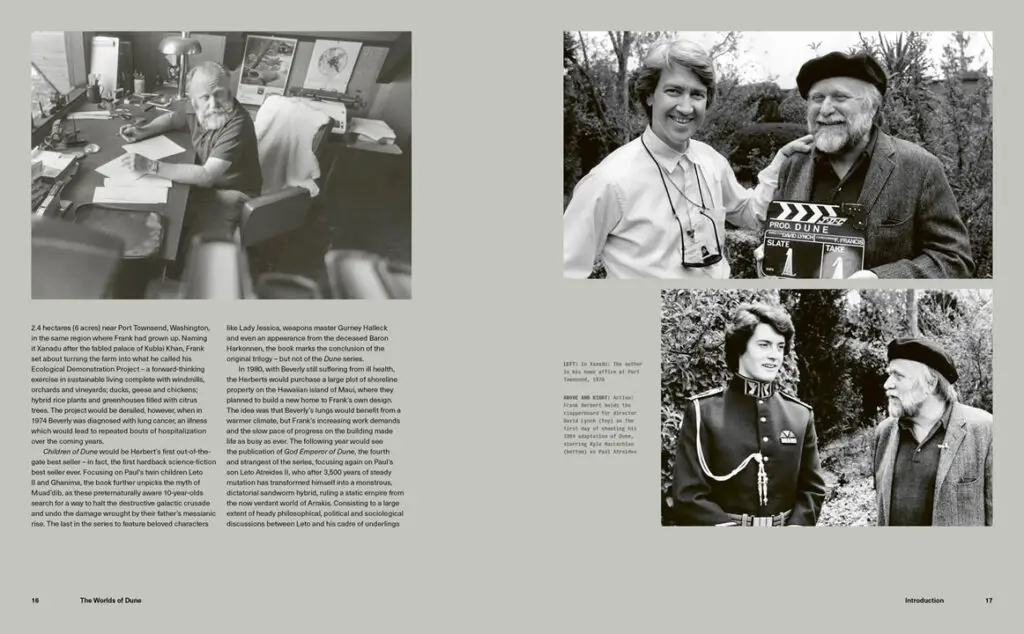 It starts with a quick introduction to Frank Herbert's life, from his writing for newspapers, his first novel The Dragon in the Sea in 1956, his work on Spice Planet—that ultimately become the novel we all love, Dune—through to many other novels and sequels that Herbert worked on, right up to his death in 1986. We are then led through a dozen chapters covering eugenics, white saviors, extra-sensory perception, bull fighting, the Dutch East India Company, and many other topics – each linking to a core aspect in Dune lore. If only it was this much fun to learn history at school!
Intriguing Connections
While some references will be familiar to long time Dune fans, such as Lesley Blanch's novel The Sabres of Paradise—from which Herbert appears to have borrowed many terms and quotes for his own text—many others shed new light on the depth of research and knowledge the author accumulated to flesh out his imaginary worlds. One such surprising connection is Frank Herbert's work as a ghost writer for Samuel Ichiye Hayakawa, whose popular 1949 book Language in Thought and Action would inform the semantics abilities of the Bene Gesserit in The Voice.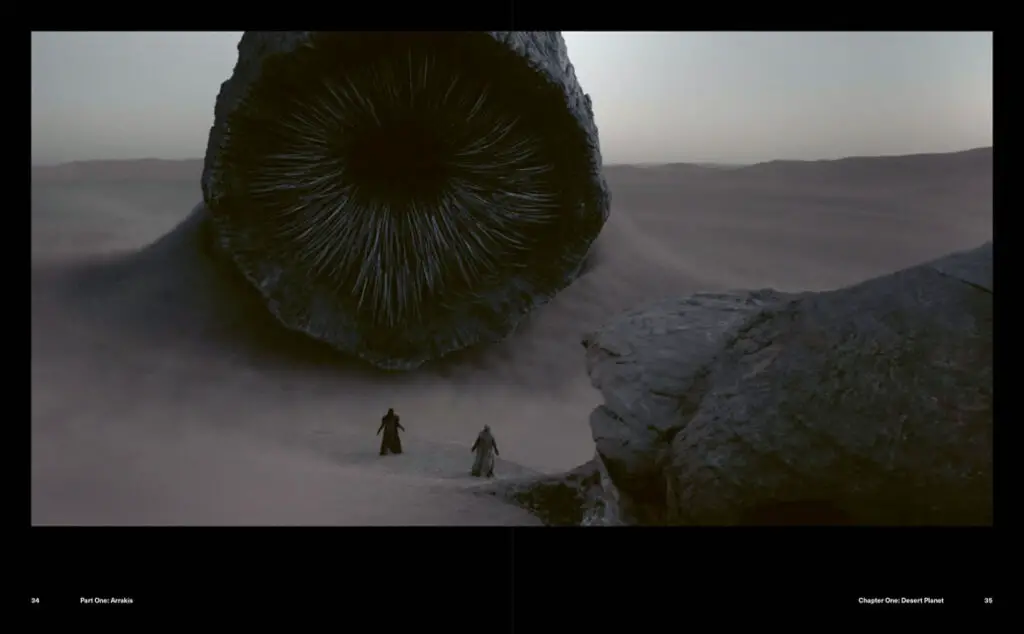 Appealing Visuals
The book contains many images, with plenty of Frank Herbert, the various screen adaptations, books, films, real-world people, places, illustrations of historic events, and more. These pictures break up the text nicely, making this a quick and easy read. Plus everything is clear and concise, so you don't have to be an expert in medieval history or environmental studies to understand related connections with Dune.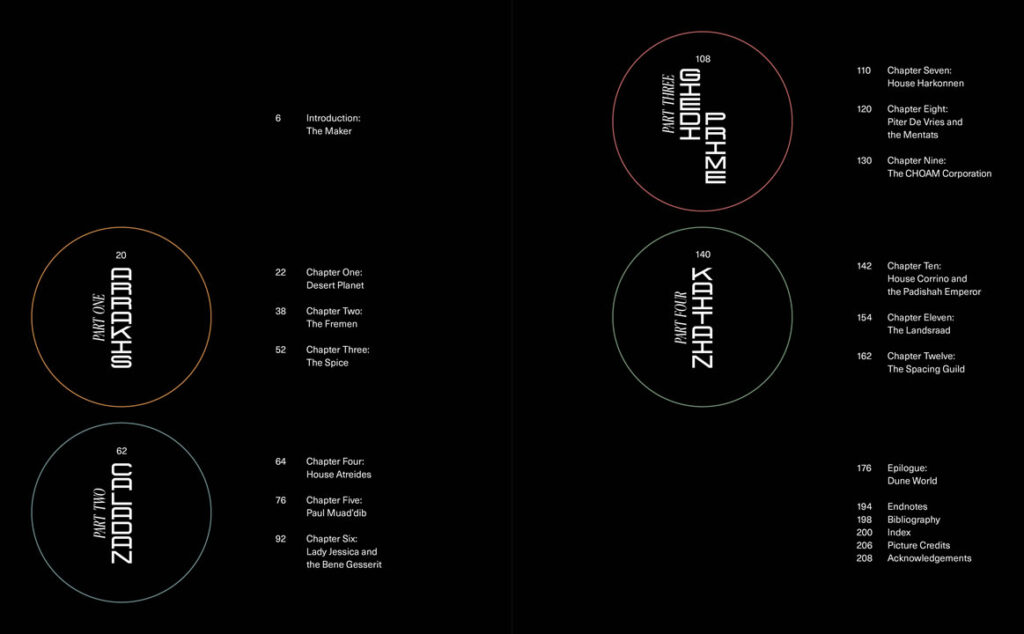 While the chapters are structured and organized in a logical order, you can read them in any order if you wish, jumping around to read or re-read a chapter of interest.
Dune References in Pop Culture
The book concludes with a chapter containing a whirlwind tour of the impact of Dune in pop culture, from movie & TV adaptations (both made and unmade), music albums such as Grime's "Geidi Prime" (the frustratingly misspelled name of House Harkonnen's homeworld), computer games, as well as on the present-day scientific community.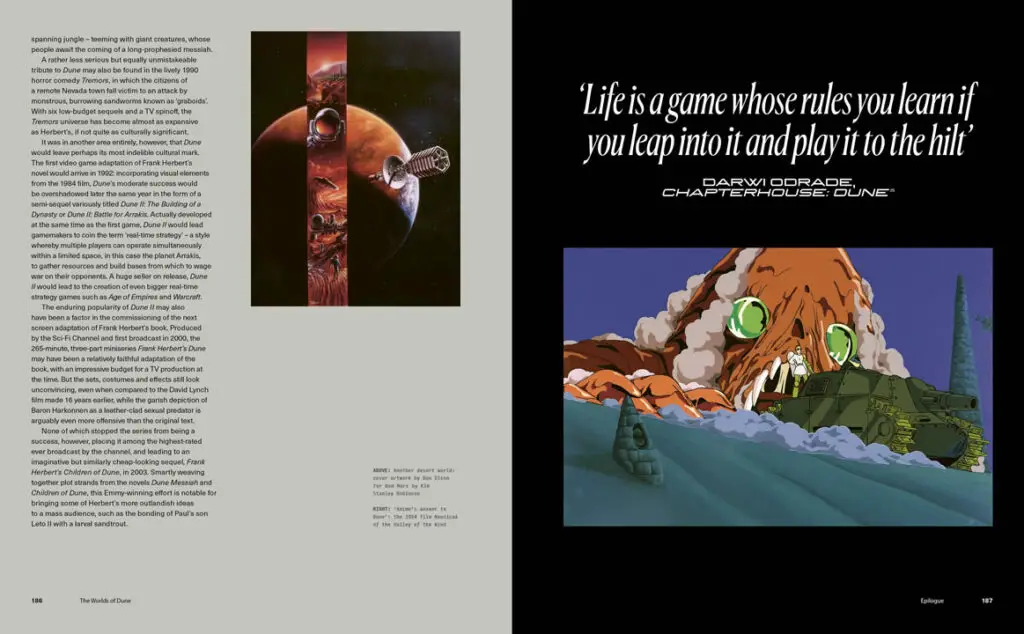 Inevitably there will be areas in which the text will leave you wanting more. The book does contain comprehensive endnotes, bibliography, and index sections—and while flipping back and forth between chapters and back of the book can become a little frustrating—which keeps the chapters themselves uncluttered.
Covering just the original Dune, some fans may be disappointed that other topics—such as gholas or no-rooms—aren't explored. This does, however, keep the book focused, and prevents spoilers for readers who have yet to make it to the various sequel novels.
Final Thoughts
2023 has proven to be a great year for Dune books and The Worlds of Dune fills a gap, exploring multiple influences of the novel that started it all.
This book would make a great gift for Dune fans of all ages (or, of course, yourself) and will sit happily on your coffee table, inviting anyone to pick it up and be drawn into the rich history of Dune.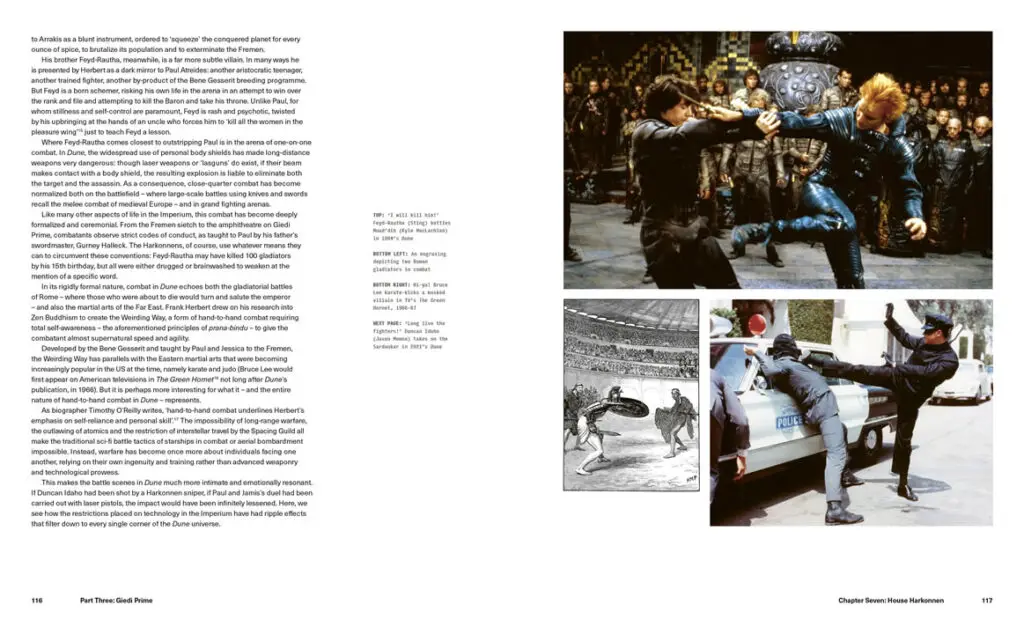 The Worlds of Dune by Tom Huddleston is publishing September 26, 2023 (US) and October 5, 2023 (UK). Published by Frances Lincoln (an imprint of The Quarto Group). The book can be pre-ordered now in hardcover and eBook formats. Not available on Filmbook or shigawire reels.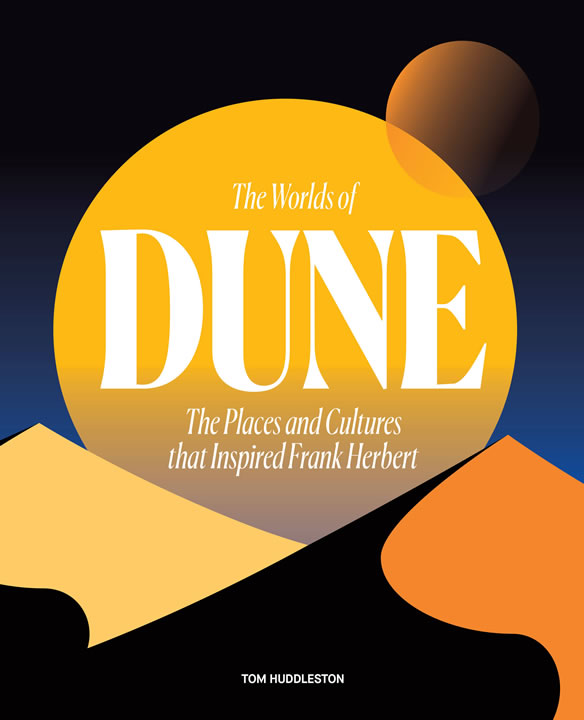 The Worlds of Dune: The Places and Cultures that Inspired Frank Herbert
Conclusion
An enjoyable and easy guide to the inspiration behind the people and planets of Frank Herbert's classic science-fiction novel, 'Dune'. A lesson you'll be in the mood for!
PROS
Beautiful and colorful (Spice) coffee table book
A clear and easy read
CONS
Can leave you wanting more
Referring to the endnotes can be awkward
Note: Many thanks to Quarto Group (Frances Lincoln) for providing the Dune News Net team with copies for this book review.