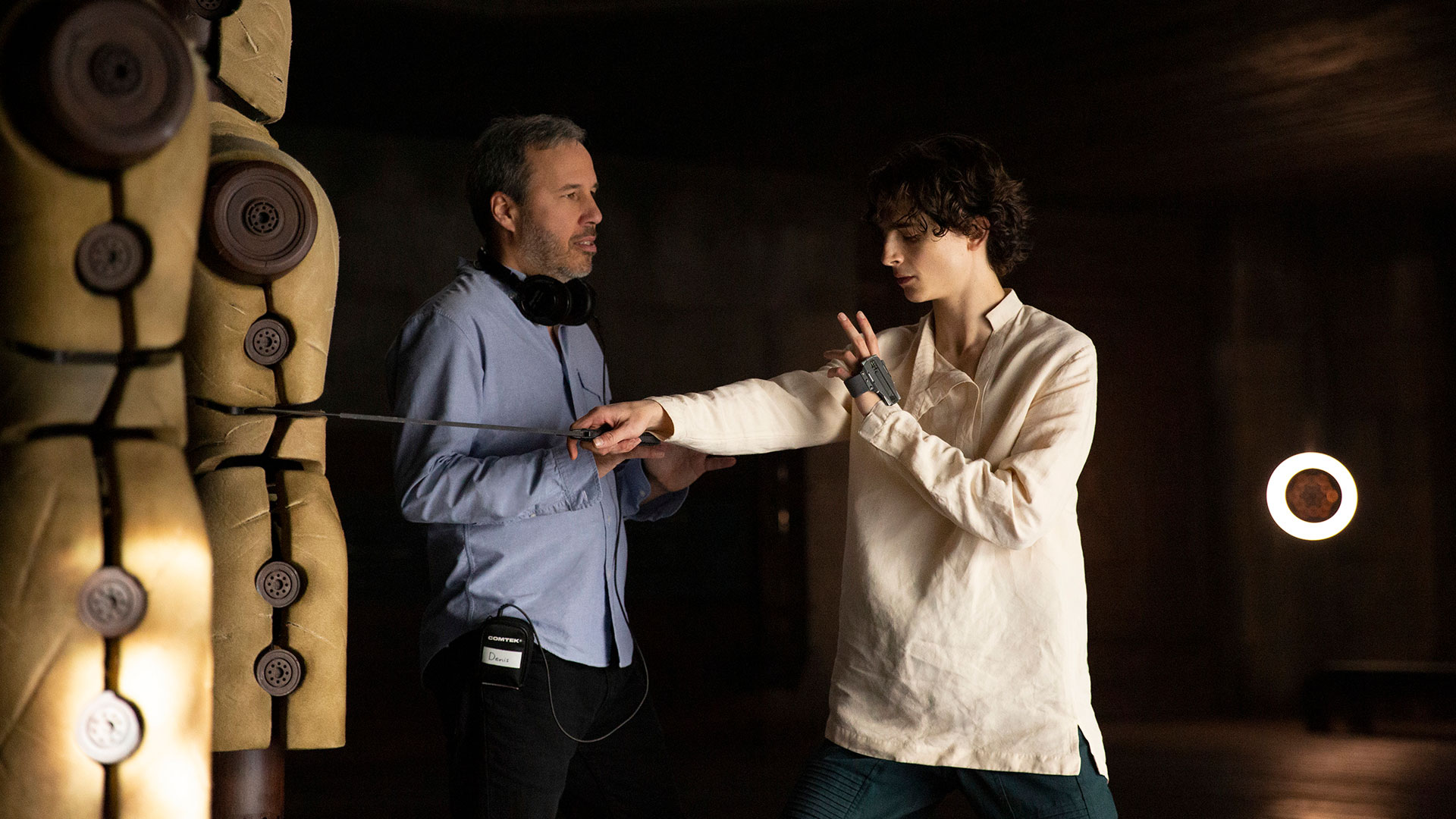 Total Film are publishing their Dune-themed magazine on August 20, featuring a full 20 pages of Dune movie content—exclusive interviews with cast and crew, plus new images. In addition to dropping a few images in advance (see below), they've released several online features based on those discussions. The highlight, so far, has to be Denis Villeneuve sharing his full confidence in the second part being made and confirming that he's currently working on that script.
The director shared that they initially had to overcome a certain stigma around the impossibility of filming this book, however now everyone involved at the studios are fully onboard and loving the final result:
So the first thing was to prove that there was a beautiful, popular movie that can exist, and I think that I proved that—everybody at Warner Bros and Legendary, they are 100 percent behind the project. They feel that it would need a really bad outcome at the box office to not have a Dune: Part Two, because they love the movie. They are proud of the movie, so they want the movie to move forward. And they still did half of it. So, you know, I'm very optimistic.

Denis Villeneuve, speaking to Total Film
We've written in previous features about how the first movie was filmed, with a clear vision for the sequel. Indeed, Villeneuve emphasized that he sees his 2021 film and it's prospective continuation as two parts of a whole, "It's Dune: Part One and Dune: Part Two." He's in high spirits as he describes his childlike delight, both in working on the latter and enjoying the former:
I'm writing [Dune: Part Two] now, and I feel like I'm eight years old again. That's very uncommon for me. It's the first time I've experienced it where I'm watching one of my movies, and I have a moment of deep gratitude, of deep joy, and I say, "Thank you, life, for having allowed me to bring that to the screen." I don't know how other people will feel about it. But me? Denis Villeneuve when he was 14 years old? Thank you.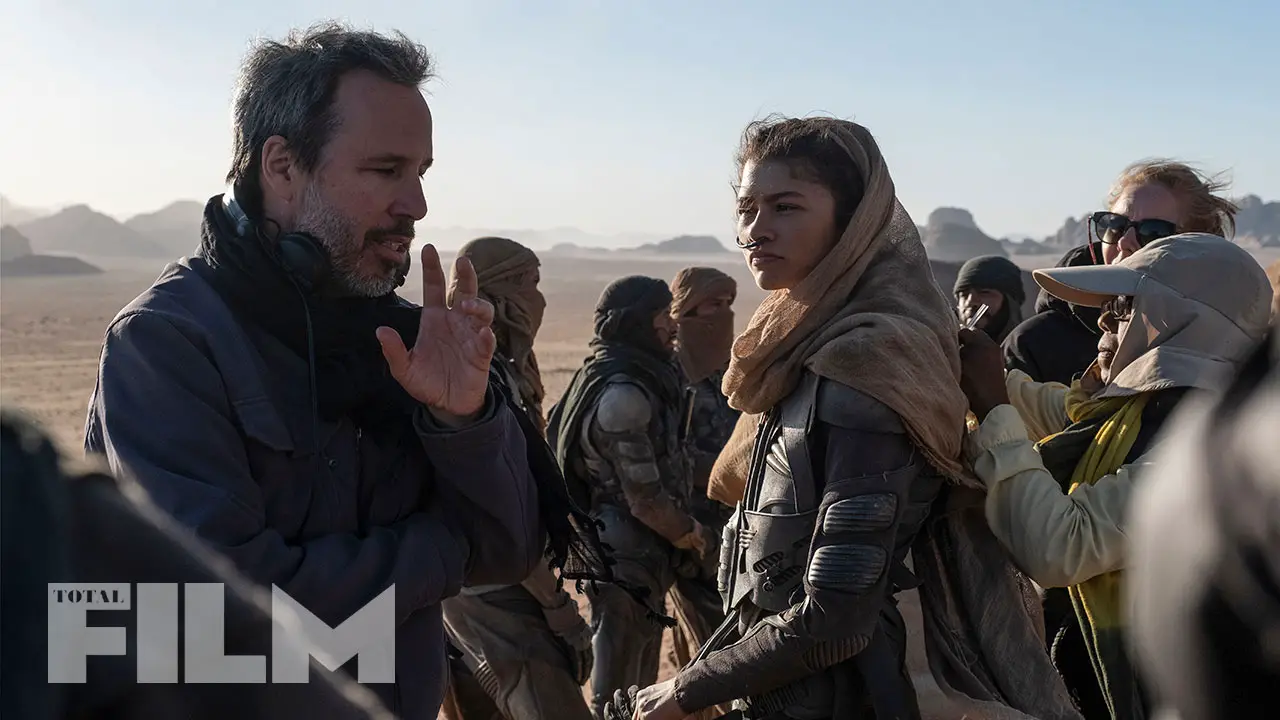 When Warner Bros. announced that their full lineup of 2021 movies would debut day-and-date in theaters and on HBO Max (in the U.S.), the director wrote a scathing open letter in opposition to that decision—especially the way it was handled. The topic came up again in this interview with Total Film and his response was reasonable, right off the bat acknowledging the unfortunate reality that we're now living in.
First of all, the enemy of cinema is the pandemic. That's the thing. We understand that the cinema industry is under tremendous pressure right now. That I get. The way it happened, I'm still not happy. Frankly, to watch Dune on a television, the best way I can compare it is to drive a speedboat in your bathtub. For me, it's ridiculous. It's a movie that has been made as a tribute to the big-screen experience.
While some have criticized the latter part of his comment, it doesn't feel like there was patronizing intent there—we've heard similar analogies from Villeneuve regarding the need to shoot Dune in a real desert environment. He has repeatedly underscored that this movie was filmed for the big-screen and how this is his best work to date. It's understandable for him to wish that, were the situation different, everyone would be able to experience his magnum opus in theaters.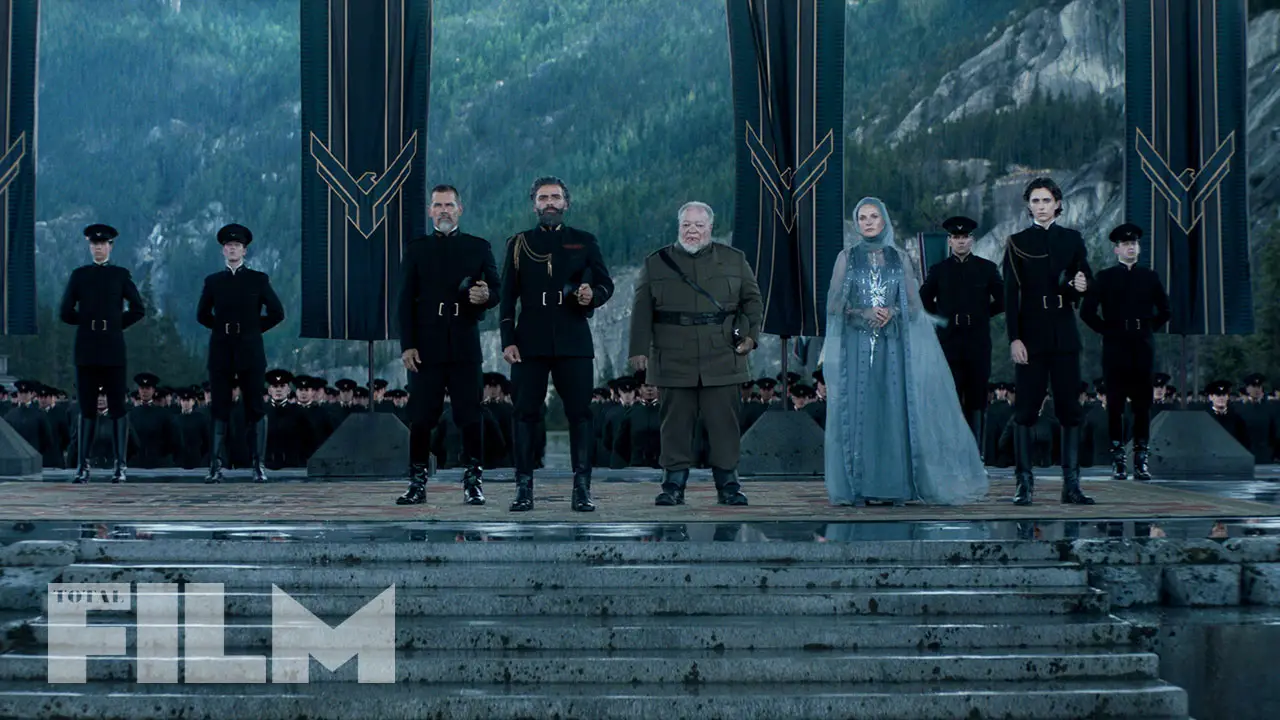 During the interview, Villeneuve admitted that this movie was his greatest challenge to date. The vision had been with him ever since reading the book as a 14-year-old, however—even 10 years ago when he was filming Incendies (2010) in the same desert of Wadi Rum, Jordan—Dune had always felt "out of reach."
I remember taking mental notes at the time: "If ever I do the movie, I'm coming back here and there. That's where Paul sits…" But it was a massive fantasy.
It was only after the creative triumphs of Arrival (2016) and Blade Runner 2049 (2017), that the director felt he was truly in a position to tackle the grand scale of the story and complex world-building in Dune.
I'm still deeply moved to have had the chance to tackle this dream, to play with this dream, to go back to this dream. It was, by far, the toughest thing I've done, but there are deep pleasures when there are images that you're able to achieve that are close to what you had in mind as a teenager.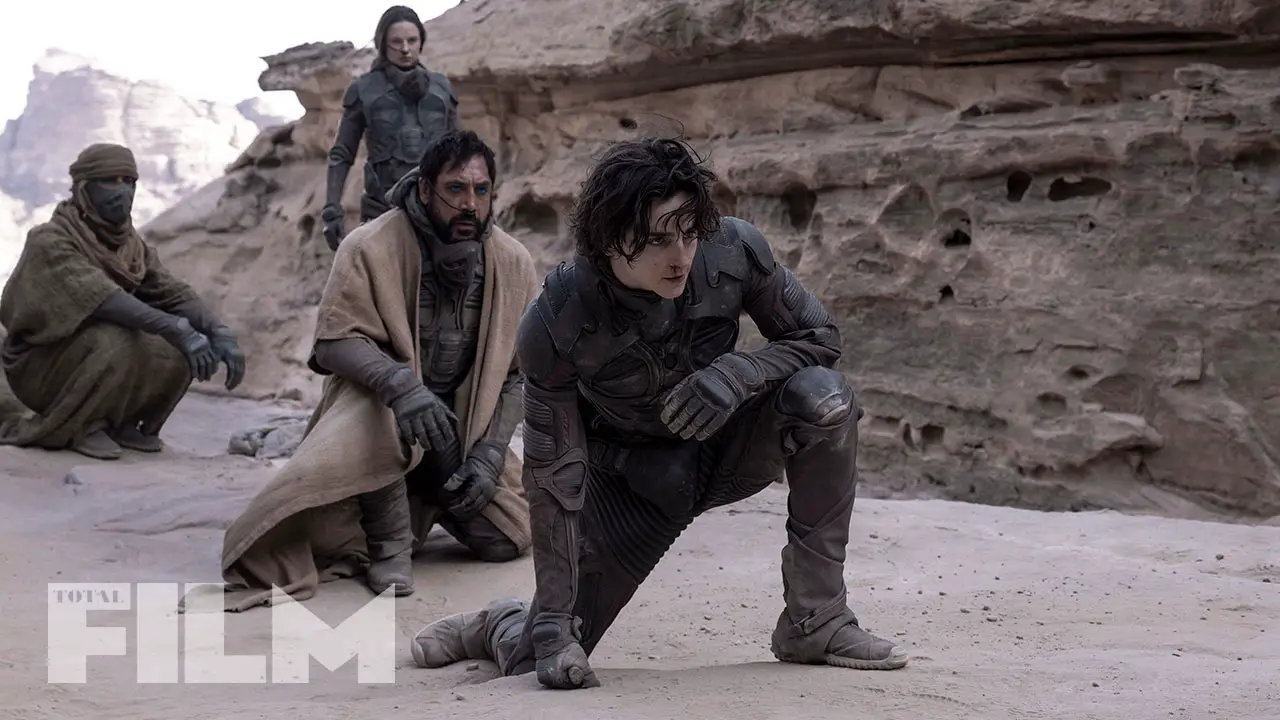 The full issue—also containing interviews with Timothée Chalamet, Oscar Isaac, Rebecca Ferguson, and more—will be available to buy in digital or print formats on Friday, August 20. Alternatively, subscriptions to Total Film Magazine are available via MagazinesDirect.com. The latter option offers a stunning subscriber-exclusive cover.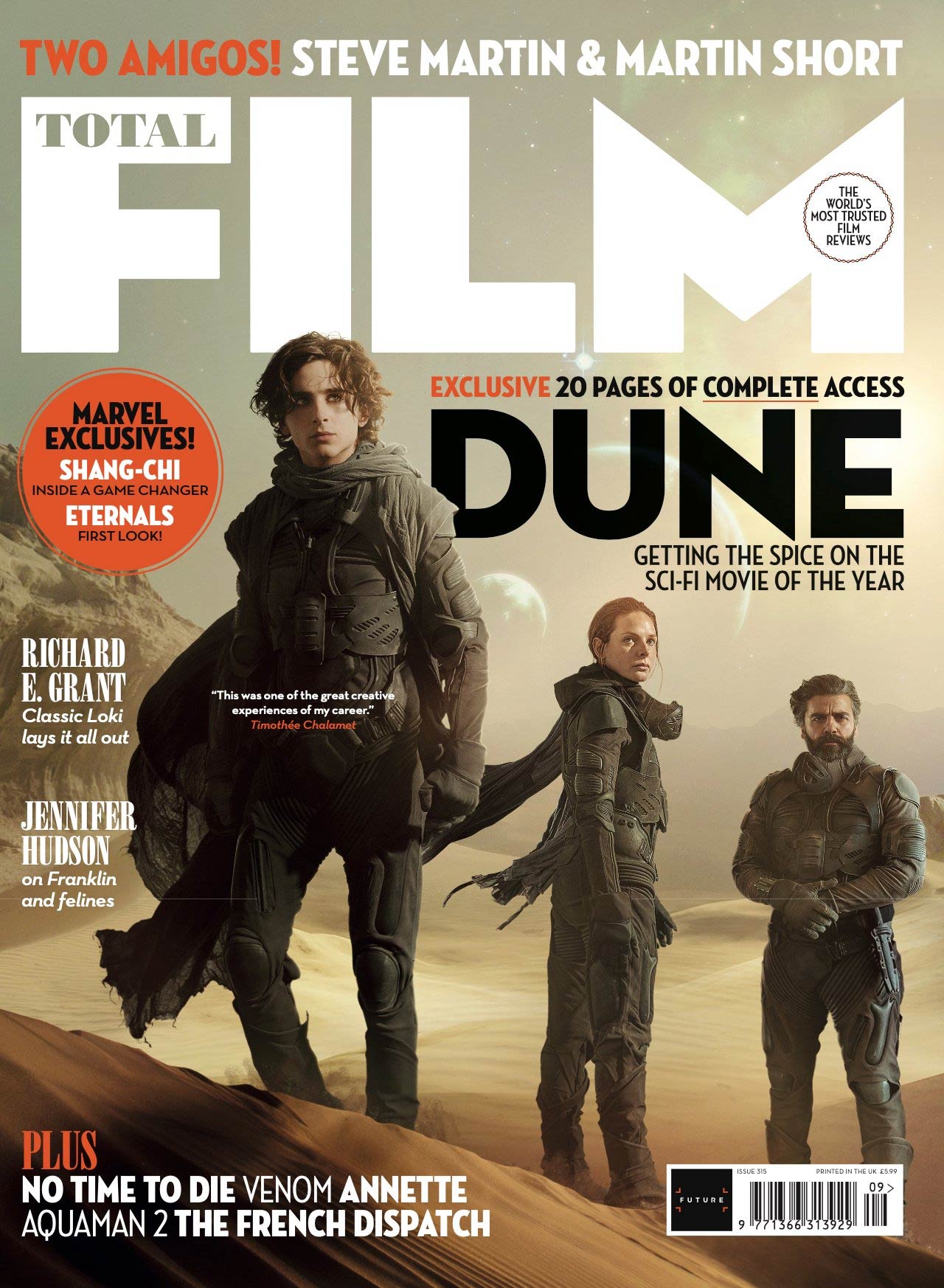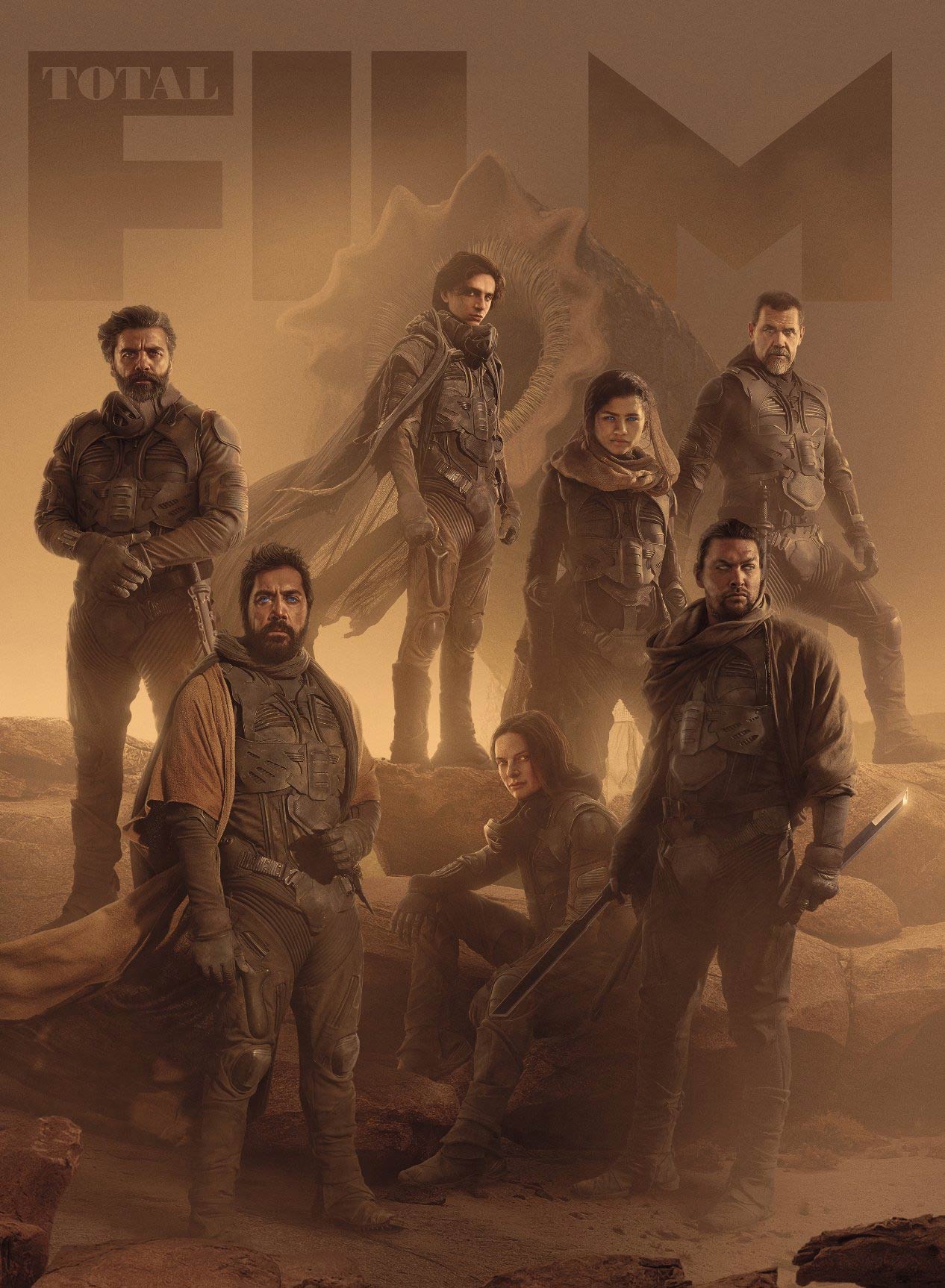 Source: Total Film on gamesradar.com via Jordan Farley, Jack Shepherd (August 17, 2021)