Wormsign has been sighted at CinemaCon! This Tuesday morning, during Warner Bros. Discovery's presentation, Timothée Chalamet, Zendaya, and Denis Villeneuve entered the stage to hype up Dune: Part Two. Exhibitors and press congregating at this annual industry event—taking place April 24-27, 2023 at Caesars Palace in Las Vegas—were subsequently treated to an exclusive teaser trailer for this hotly anticipated movie.
Highlights of the footage include first visuals of Austin Butler and Florence Pugh in character—performing as Princess Irulan and Feyd-Rautha respectively—and shots from the climactic scene where Paul rides a sandworm. First looks shown during CinemaCon are not made publicly available, so for now we've compiled all of the Dune: Part Two information revealed during the event.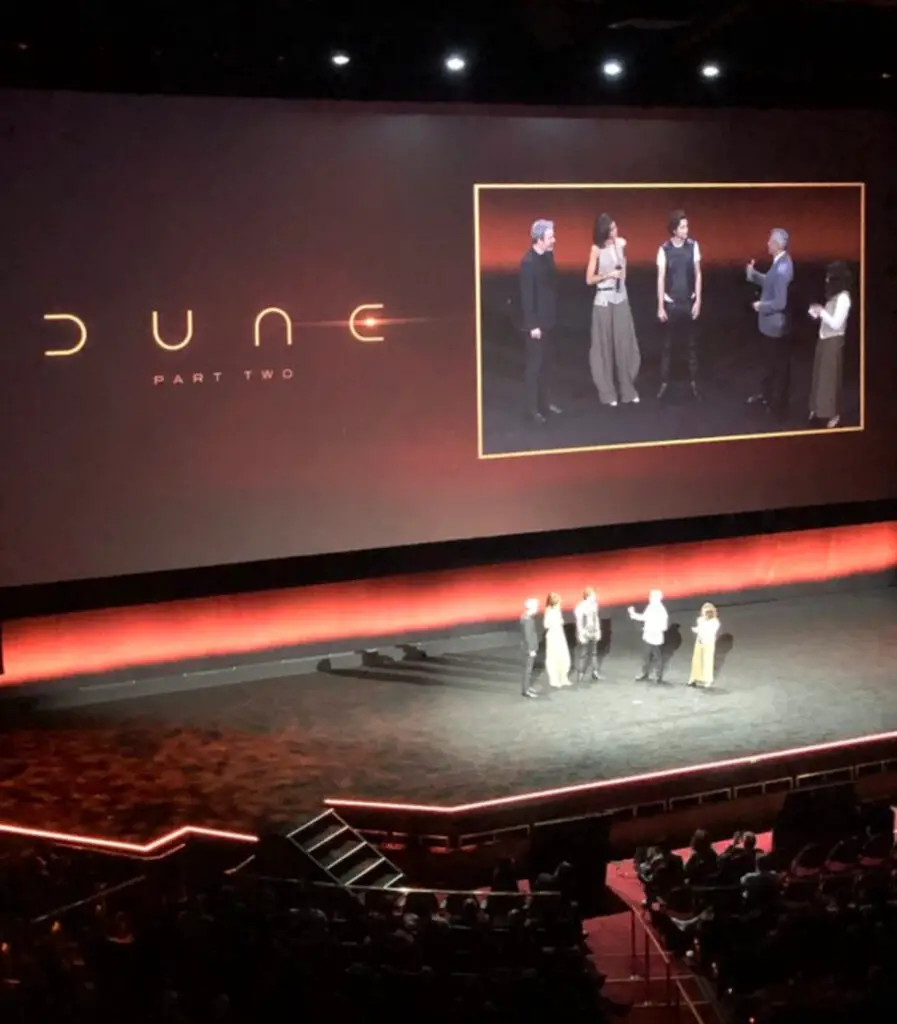 Read on for a full written description of the footage shown, as well as a recap of the presentation.
Teaser Trailer Description
The Dune: Part Two teaser trailer, shown at CinemaCon, begins with Paul (Timothée Chalamet) and Chani (Zendaya) sitting together on in the sand dunes, as the former ostensibly speaks of his homeworld, Caladan. "It's breathtaking, just imagine water," he tries to explain to her the concept—one that's hard to grasp for an Arrakis native—of swimming in the ocean. It's clear that their romantic relationship is starting to blossom.
Then there's a cut to a voice over by a veil-clad Princess Irulan Corrino (Florence Pugh), "In the shadow of Arrakis, lies many secrets, but the darkness to all of that is what remains." The eldest daughter of the Emperor ponders its greatest secret; how the fall of House Atreides really came to pass. As she continues speaking, a tagline "Fury Will Rise" briefly appears on screen and there are various contrasting shots of different characters and locations:
One of those cuts, which is rendered almost fully in black and white, reveals a screaming Feyd-Rautha (Austin Butler). The Harkonnen heir looks menacing and, like the other members of his House, has a pale countenance and is completely bald. He's also shown bowing in front of Baron Vladimir Harkonnen (Stellan Skarsgård), as his brother Glossu Rabban (Dave Bautista) looks on uneasily.
Other quick scenes include Lady Jessica and the Fremen traveling across the desert on top of a sandworm, two yet-to-be-identified combatants fighting in a red-lighted area, and a close-up of a character's head with deep blue eyes. The voice over ends with the princess wondering, "What if Paul Atreides was still alive?"
Next Chani is shown encouraging Paul as he sets his thumper and prepares to ride a sandworm, the rite of passage into Fremen society. The following footage alternates between present moment—with Paul running towards and hooking on the gargantuan creature—and a previous conversation with Fremen leader Stilgar (Javier Bardem) advising him to be cautious, "be simple, but direct."
"Nothing fancy," Paul replies with a smile. In actuality the young Atreides shows off his impressive skills, deftly disappearing into the sands before grappling onto the sandworm in dramatic fashion. Subsequent shots include large number of ornithopters in flight and Paul and Chani sharing a kiss. The teaser trailer also includes brief appearances of Lady Margot Fenring (Léa Seydoux) and Gurney Halleck (Josh Brolin). The Emperor himself, played by Christopher Walken, apparently did not make an appearance.
Finally, Paul is shown walking on top of a canyon with crowds of people looking up from below. As he raises his fist, cheering erupts. This cuts back and forth to a very dark scene of—what appears to be—Feyd-Rautha and Paul wielding knives and about to commence their duel. They're in a large battlefield, with onlookers on all sides.
Note: This description is based on the verified first-hand sources available at time of writing. We'll revise, in case further details are amended.
An Epic War Movie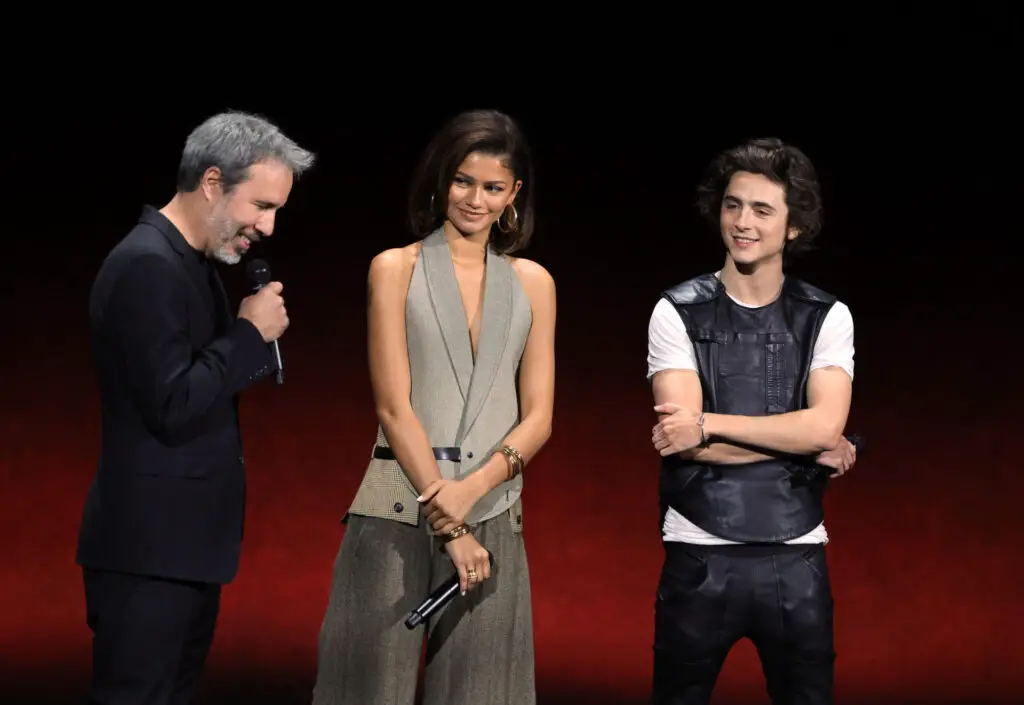 After an year without public commentary, Denis Villeneuve didn't hold back in building up anticipation. He posed that Dune: Part One was an appetizer, while Dune: Part Two is "the main course." The director also emphasized that they intentionally sought out different locations and built new sets for this movie.
[Dune: Part One] is more of a contemplative movie. [Dune: Part Two] is an action-packed, epic, war movie. It is much more dense… we visited Arrakis. We went to all new locations. I didn't want a feeling of repetition. It's all new sets… Everything is new.

Denis Villeneuve
On the technology side, this time around 100 percent of the movie was shot in IMAX. By comparison, that was 40 percent of IMAX for Dune: Part One. The key takeaway is clear, moviegoers can look forward to even more cinematic spectacle when the continuation premieres in theaters this November.
Villeneuve put speculation to rest and confirmed that the story of Dune: Part Two picks up directly from where we left off in the first movie. Paul and Lady Jessica have joined up with the Fremen tribe and will now have to earn their trust.
Chalamet talked about he looked forward to continue Paul's journey:
In the first movie, Paul is a student. [In Dune: Part Two] we really see Paul Atreides become a leader…become a redeemer of the Fremen people, in a sense.

Timothée Chalamet
While co-star Zendaya had limited screen time in the first movie, we'll see a lot more of her in Dune: Part Two. That was always the plan for Chani to be one of the main characters.
She's not just in dreams this time. I only got a small time to find out who she was [in Dune: Part One]…

Zendaya
Of course we'll see a lot of interaction between Chani and Paul as they grow closer together, while facing the immense pressures of being leaders and warriors for their people.
These are still just two young people who are trying to grow up and fall in love and live.

Zendaya
Villeneuve also took a moment to praise newcomer Austin Butler, "I'm very proud of what he brought to the movie." His character, Feyd, was described as "a sword-swashbuckler, who is also a crazy killer."
Press Reactions
Initial reactions from members of the press have been overwhelmingly positive. Enjoy a sample of those here:
WOW!! Long live the fighters! First #Dune2 trailer is incredible. Timothée Chalamet rides a Sandworm, Austin Butler looks wild. Visually stunning in every way! Love love love. Denis says the whole film was shot with IMAX. Gonna be big. pic.twitter.com/LYCzXCx4wk

— Erik Davis (@ErikDavis) April 25, 2023
We just saw the first trailer for #DunePartTwo and it looks INCREDIBLE. Give me this movie now. pic.twitter.com/VA6DF4MSaD

— Steven Weintraub (@colliderfrosty) April 25, 2023
To no one's surprise, the #DunePartTwo footage looks gorgeous. Glimpses of new characters played by Florence Pugh and Austin Butler, while doubling down on huge scope and stunning imagery.

Shows Paul's first ride on a Sandworm, and him growing to lead a people. #CinemaCon

— Daniel Howat (@howatdk) April 25, 2023
I just saw Paul Attredes ride a fucking SANDWORM.

Left speechless by the epic, perfect scope of the Dune Part Two footage. Denis did it. #CinemaCon

— Germain Lussier (@GermainLussier) April 25, 2023
DUNE: PART II looks better than the first but you already saw that coming. Going to be the event of the year methinks #CinemaCon

— Andrew J. Salazar @ CinemaCon (@AndrewJ626) April 25, 2023
Dune: Part Two movie will be released globally, only in theaters, on November 3, 2023, however we can already look forward to official trailers and visuals in the upcoming weeks and months. Stay tuned to Dune News Net for our ongoing movie news coverage.