Actor Josh Brolin has been in the spotlight lately promoting his newly-premiered Amazon show, The Outer Range. In a recent interview with Collider, though, he discusses his role in Dune: Part Two, as people are questioning his involvement in the film. It is a fair question—for those not familiar with the book's story—considering the last we see of Gurney Halleck in 2021's Dune movie is him and his fellow Atreides soldiers charging into a field of exploding ships, about to fight overwhelming Harkonnen and Sardaukar forces.
I am a part of Dune: Part Two, to the ridiculous extent of when somebody mentioned to me that it wasn't on IMDb, I actually went out of my way to call Liz (his publicist) and say, "Can you please put that on IMDb?" Because it's a proud moment for me, man.

Josh Brolin, to Collider
Meanwhile, if you're eager to learn the fate of the Atreides Warmaster, a new comic book mini-series picks up immediately following aforementioned battle scene. Dune: The Waters of Kanly tells of Gurney Halleck's exploits during the years in between the two movies.
Physically Preparing for the Return to Arrakis
Though there hasn't been much additional news in regards to plot details of the second movie, Brolin offers a tidbit of insight while discussing reactions of Javier Bardem and himself, when they realized that shooting for the movie begins in just a few months. In order to be prepped for filming, it is crucial to be physically ready for the role that both these actors portray.
Javier [Bardem] and I had a similar thing that we both admitted to each at the Oscars, because we both have a little bit of a paunch right now. And we talked to Denis [Villeneuve]. We hadn't read anything, and we talked to Denis the week before. He was like, "You guys are fighting the whole time. And you've been in the desert with the Fremen and all that."

And we f****** panicked. We looked down and saw this little friend that we've been holding on our abdomen. So we were both full diet mode at the Oscars, even though you absolutely couldn't tell. We were already in diet mode, in panic diet mode.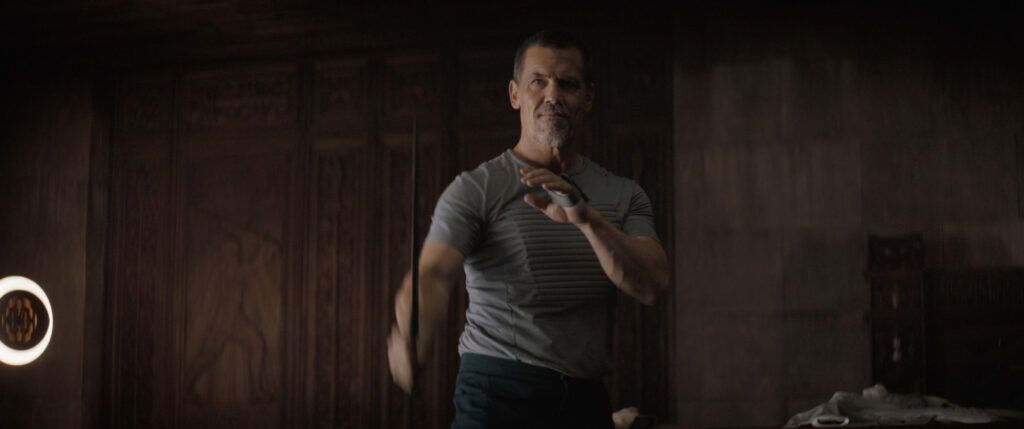 Addressing the True Oscar Awards Controversy
While anticipation for Dune: Part Two grows every day, the praise for the first movie is still being discussed. With Dune: Part One winning six of its 10 nominated Oscars, Brolin gives his own take on the snub of profound director Denis Villeneuve during those same film awards:
It's the most asinine, bizarre… I mean, that's why snubs are such a thing and that's why we all talk about them, but that's a snub, of a snub, of a snub that I just thought was an impossibility. But given everything about the Academy Awards, there are many impossibilities that actually materialized.

So it's all part of the game right now. I don't know. Is it post-pandemic mentality? Whatever it is, I don't understand it. He helmed the whole thing. It's his creation. It's his interpretation.

How he dealt with [the snub]…was go right into praise for the ten people who were nominated.
Alongside Brolin, many have inquired why Denis Villeneuve was left off of the nominations list for best director. Even though it is now past, the director himself has continually proved, through his words and actions, that this praise is a win for all those nominated and everyone who worked on the film as a whole. Be sure to check out the clip with Brolin and Collider below (three minutes).
The Art and Soul of Dune and Collaboration with Greig Fraser
In a recent episode of First We Feast's Hot Ones, where Brolin was also promoting his new show, he was asked about his involvement with the Dune commemorative book created together with cinematographer Greig Fraser—included with the limited edition set of The Art and Soul of Dune—as well as the conversations that actors and cinematographers have on set.
It's really amazing to be able to work with people who are very good, skilled, and experienced at what they do. It's actually really fun, because the switch happens almost instantaneously where you can be f****** around with somebody. And then all of a sudden you're like, "look the light is hitting there. I know that you perceived a scene a certain way and yet I come in with my own ideas and how we can collaborate."

Which can be the most awful experience if you're collaborating with people who want or are just interested in putting their power stamp on it. But people like Greig [Fraser], people like Denis [Villeneuve], actors like Javier [Bardem], actors like Rebecca Ferguson; it's a very kind of loose, kind of humble place.
Although it is a very short clip during this 27 minute episode, Brolin gives great insight into his experience working with someone like Greig Fraser. The mental transformation that occurs with filmmakers and actors, while on set, has to be an interesting sight to see. Be sure to check out the clip below with Sean Evans and Josh Brolin, starting at 3:14.
In another recent interview with Stephen Colbert, Brolin reads from aforementioned The Art and Soul of Dune companion book, that Greig Fraser and himself developed out of inspiration from their time working on Dune: Part One. Fraser is responsible for all of the candid on-set photography within the book, while Brolin wrote the text. Ever since his early 20s, the actor has been fond of writing and poetry, as he attended a writing class with Allen Ginsberg, who is best known for his poem Howl. Be sure to watch this five minute segment.
Unfortunately, the limited edition version of The Art and Soul of Dune has been sold out for months, with currently no expectation of future printings. If you are lucky enough to have this box set already or have the money to get it off eBay for a lucrative amount, congrats! For others like myself who are interested, a more affordable option is still available. The standard edition of Tanya Lapointe's The Art and Soul of Dune takes readers behind-the-scenes into the movie's production; featuring artwork, interviews, and other detailed information. I recommend adding this to your collection as I have enjoyed every page.
The physical hardcover of the standard edition currently has limited purchase options, however Insight Editions has recently released a digital version. The latter is ideal for reading on a tablet.
Although the limited edition is difficult to come by, the video conversation below (four minutes) explores Brolin's and Fraser's close collaboration in creating that special commemorative book, capturing the emotion and visuals of filming Dune.
Dune: Part Two has begun pre-production, with filming expected to kick-off this summer. The movie is currently scheduled to premiere in October 2023.
The Outer Range, starring Josh Brolin, is now streaming on Prime Video, with new episodes being released on Fridays.