Preview pages have been unveiled for the next Dune comic book, published by BOOM! Studios. On May 4, 2022, Dune: The Waters of Kanly #1 will kick off a four-issue comic mini-series, expanding on the lore of Frank Herbert's classic Dune novel and its ongoing film adaptation—this lost tale takes place in between events of the first movie and upcoming Part Two.
Dune: The Waters of Kanly features Gurney Halleck, Warmaster of House Atreides, in his quest for revenge against their mortal enemies, House Harkonnen. Originally a prose short story written by Brian Herbert (son of Frank Herbert) and Kevin J. Anderson, the co-authors are adapting and scripting their work for the comic book medium.
In the novel Dune, Gurney Halleck works secretly among the smugglers for two years, building his hatred toward the Harkonnens. We loved the opportunity to explore those lost years and tell this story of his plan to avenge what they did to noble House Atreides.

Brian Herbert and Kevin J. Anderson
The far-future feudalistic setting of Dune is visually brought to life by illustrator Francesco Mortarino and colorist by Raúl Angulo. Lettering is done by Ed Dukeshire. The creative team at BOOM! Studies are cooperating with Abrams ComicArts, publishers of an ongoing three-part graphic novel adaptation of Frank Herbert's Dune, to ensure consistent designs of shared characters, locations, and vehicles.
Like BOOM! Studios' earlier comic releases, Dune: The Waters of Kanly will feature multiple covers. Spotlight of the first issue is on Gurney Halleck himself, portrayed across Christian Ward's main cover art and three variant covers illustrated by Massimo Carnevale, Junggeun Yoon, and InHyuk Lee respectively. In addition to Atreides warrior's militaristic side, Yoon's artwork also offers a glimpse of his musical talent.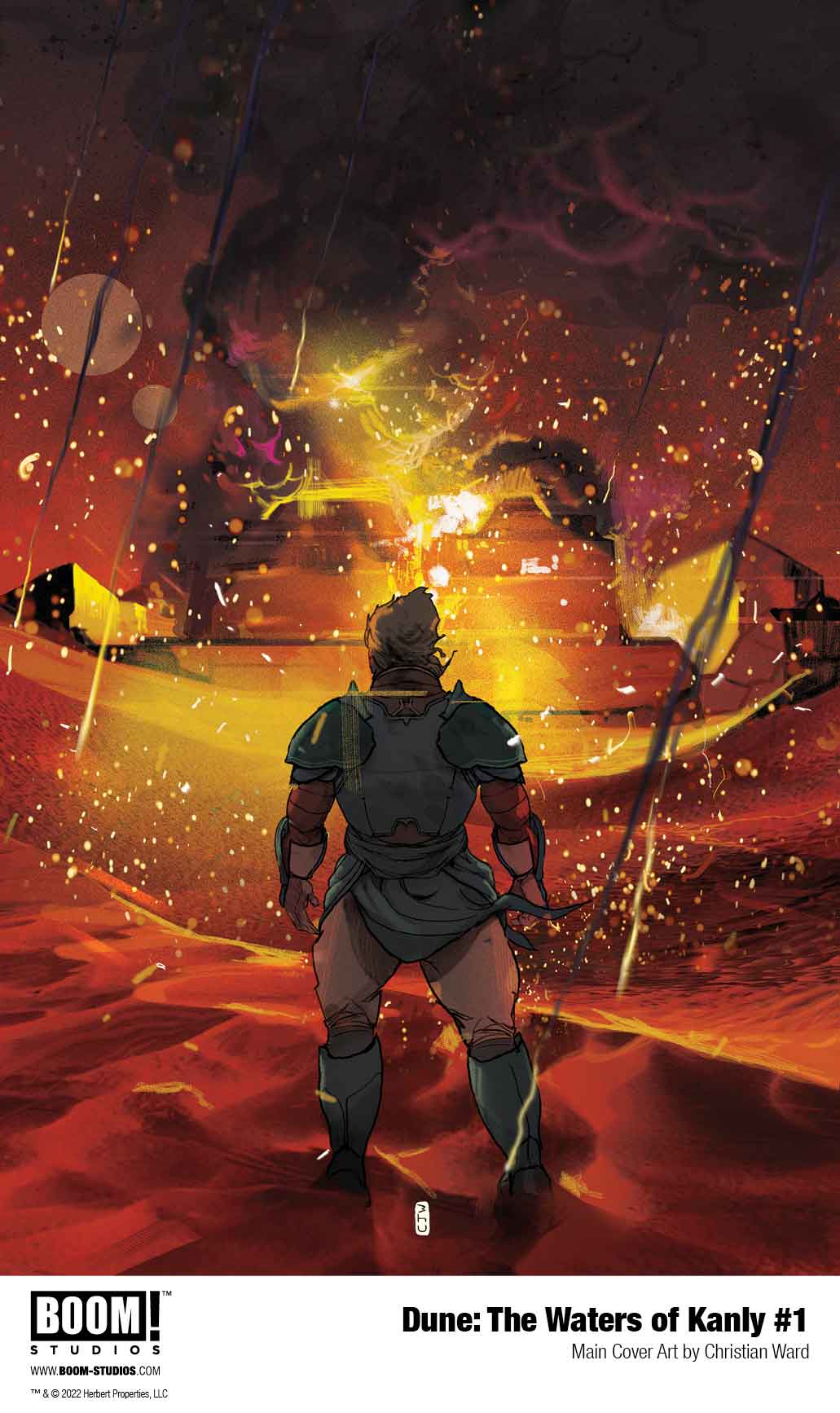 As with two Dune comic book one-shots released in 2021, including Dune: Blood of the Sardaukar, the story of The Waters of Kanly opens within chaos of the assault on Arrakeen. We see that House Atreides have been decimated by the combined forces of Harkonnens and Sardaukar. Now Gurney must lead his fellow Atreides survivors—numbering less than 100 soldiers in total—to seek out one of the key factions of Arrakis, the smugglers.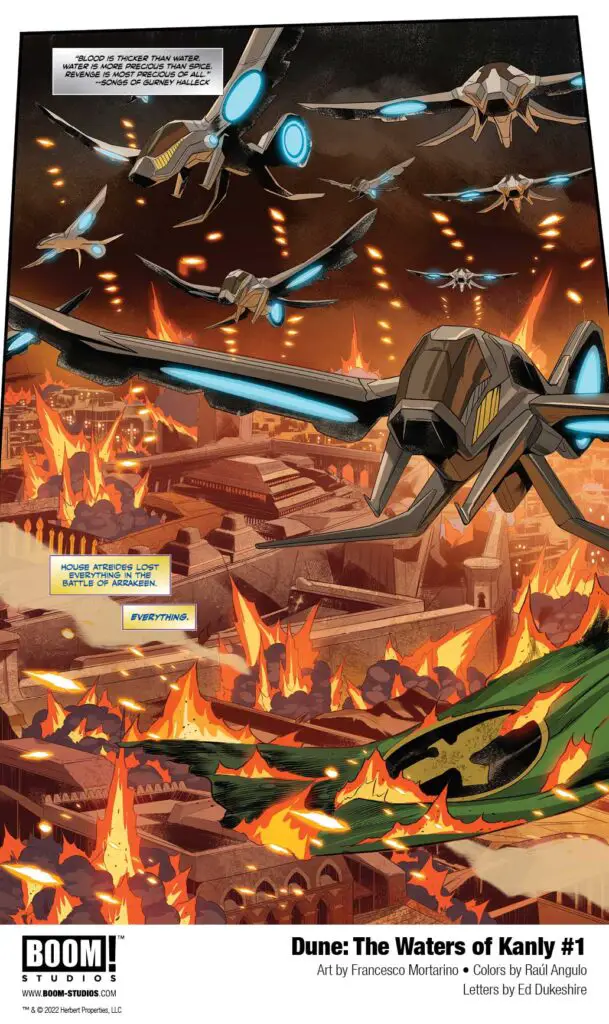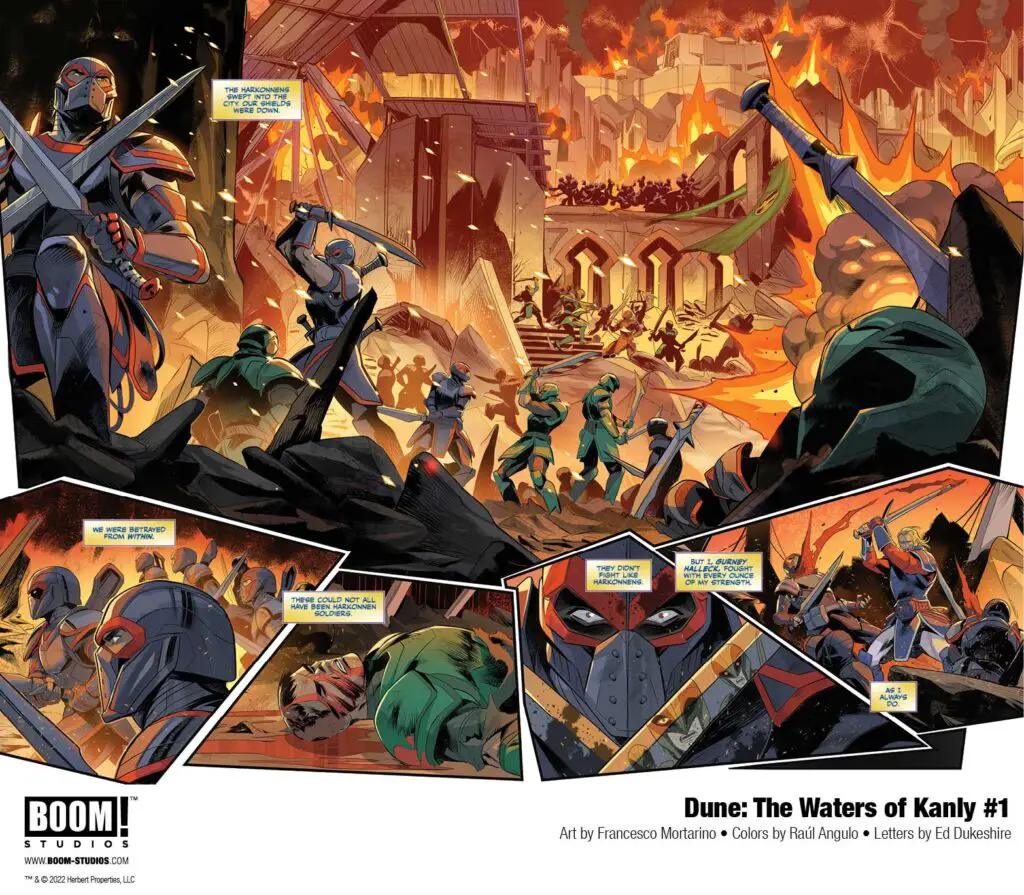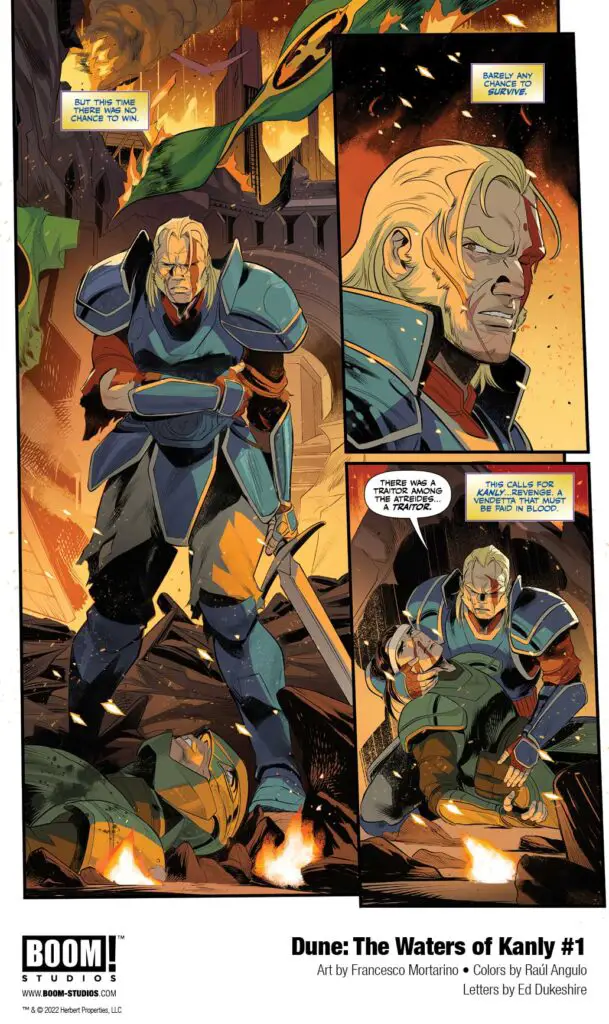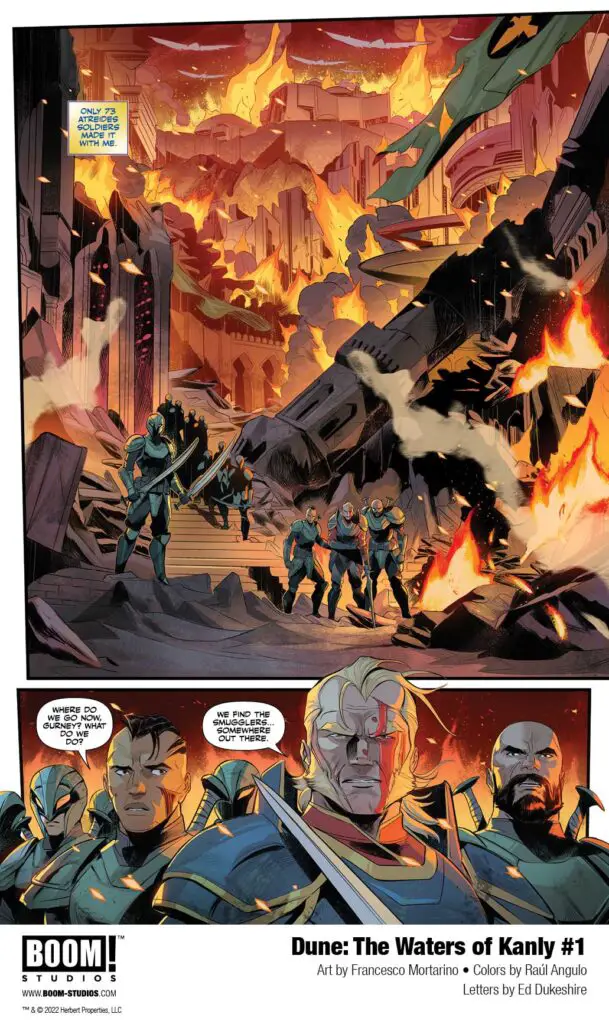 Here's the official synopsis of Dune: The Waters of Kanly #1:
In the aftermath of the battle of Arrakeen, legendary House Atreides warmaster Gurney Halleck takes refuge with spice smugglers, vowing revenge against the Harkonnens no matter the cost. 
The digital version of this comic book is now available in digital stores, including Amazon.
Print copies are available at local comic book shops (use comicshoplocator.com to find the one nearest you) starting from May 4, 2022.
If you're interested in reading the written short story that this comic book mini-series is based on, it's currently available inside Infinite Stars (2017), an anthology of science-fiction short stories, edited by Bryan Thomas Schmidt. Alternatively, The Waters of Kanly will also be included in the forthcoming Sands of Dune short story collection—that will feature two other Dune works, previously only available in separate anthologies, in addition to a brand-new prequel novella.