Dune: The Graphic Novel, Book 1 begins a faithful three-part retelling of one of the bestselling science-fiction novels of all time. Since it's publication in 1965, Frank Herbert's masterpiece has captivated generations of readers with an epic tale of destiny and noble families vying for power and survival in an intergalactic empire spanning millions of planets. The book's reputation speaks for itself, but is it worth (re-)experiencing Dune in this illustrated format?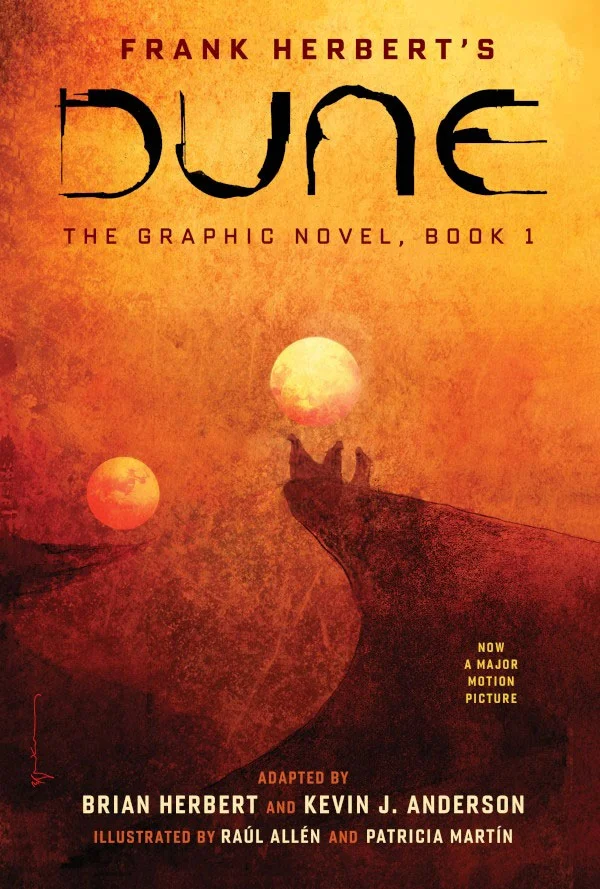 Besides Denis Villeneuve's upcoming Dune movie (2021), which will cover the first half of the novel, this story has received several visual adaptations—including the 1984 movie Dune, directed by David Lynch, and Frank Herbert's Dune, a three-part TV miniseries that aired on Sci Fi Channel in 2000—however all interpretations have diverged from the original, to varying extents. Not so with this graphic novel, where the creators are taking the approach that this will be the definitive treatment "to convey the ambitious story the way Frank Herbert originally told it". Scripts are written by Brian Herbert (son of Frank Herbert) and Kevin J. Anderson, who co-authored 14 Dune novels with the former and is experienced in writing for comics (Star Wars, X-Files, Predator).
I remember [my father, Frank Herbert] reading passages from Dune to my mother, Beverly Herbert. I had also spoken with him extensively about his creative process, and have a deep understanding of the imagery his mind was projecting onto the screen of his readership. Knowing what he intended, I've worked hard with [Kevin J. Anderson] to present a true visual image of what he had in mind.

Brian Herbert, speaking to The Hollywood Reporter
A Picture is Worth a Thousand Words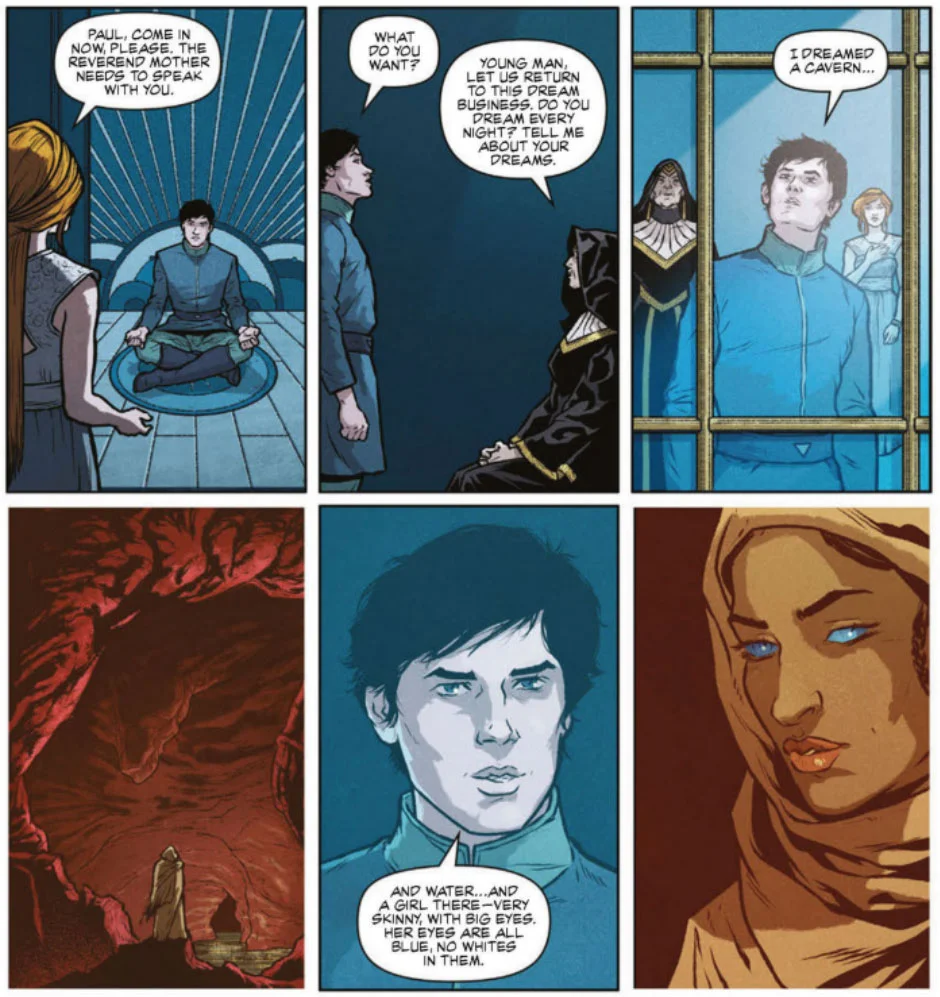 With this release featuring 163 illustrated pages of story, even knowing two more graphic novels will follow, you'd be justified in expecting that some parts of the classic novel's expansive plot will be cut in translation from prose to comic book format. While the substantial volume of dialog is indeed abridged for the latter, it's no exaggeration when the writers say that this literally is a scene-by-scene adaptation. Every event from the novel is present, as well as the many small, yet memorable details that make the Dune universe and the nominative planet so unique.
The trend for contemporary comics is uncompressed storytelling, where an action sequence with minimal dialog may unfold over multiple pages, however with Dune: The Graphic Novel, besides high word density, you'll feel that individual panels are packed with meanings and narrative. Whether it's the haunting visuals of Paul's dream sequences or a tense atmosphere surrounding Duke Leto's defiant toast at the banquet in Arrakeen, the images capture the essence of their (sometimes lengthy) corresponding passages from the original novel.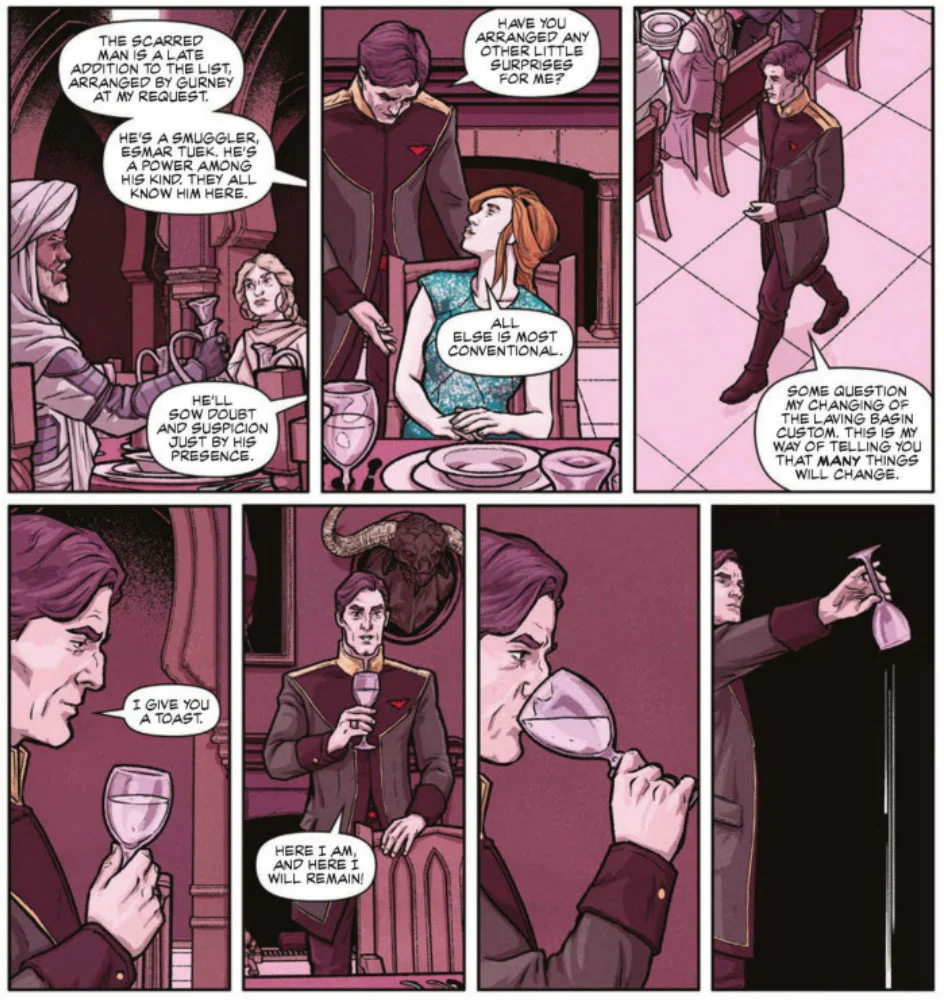 Striking Imagery
The graphic novel is attractively illustrated by the artistic team of Raúl Allén and Patricia Martín (Wonder Woman, Eternal Warrior). Secrets of Dune's spoiler-free video review (4 minutes) captures their style and how the artwork comes to life on the interior pages.
Artistic preferences remain subjective and, especially with a book as widely renowned as Dune, it was always going to be a challenge to find a style that appeals to all fans, however it's apparent that an enormous amount of effort and research went into the visuals for this project. One of the stylistic aspects that I most enjoyed was the inventive use of color throughout; whether to contrast locations, create a real feeling of temperature difference (and indoors vs. outdoors), or add an intimidating weight to threatening scenes.
Other highlights include the beautiful depictions of unique cities and landscapes from the different planets that we visit over the course of the story. The final drawings of these scenes, as well as a number of the vehicle designs, were based on inspiring concept art created by Alex Jay Brady.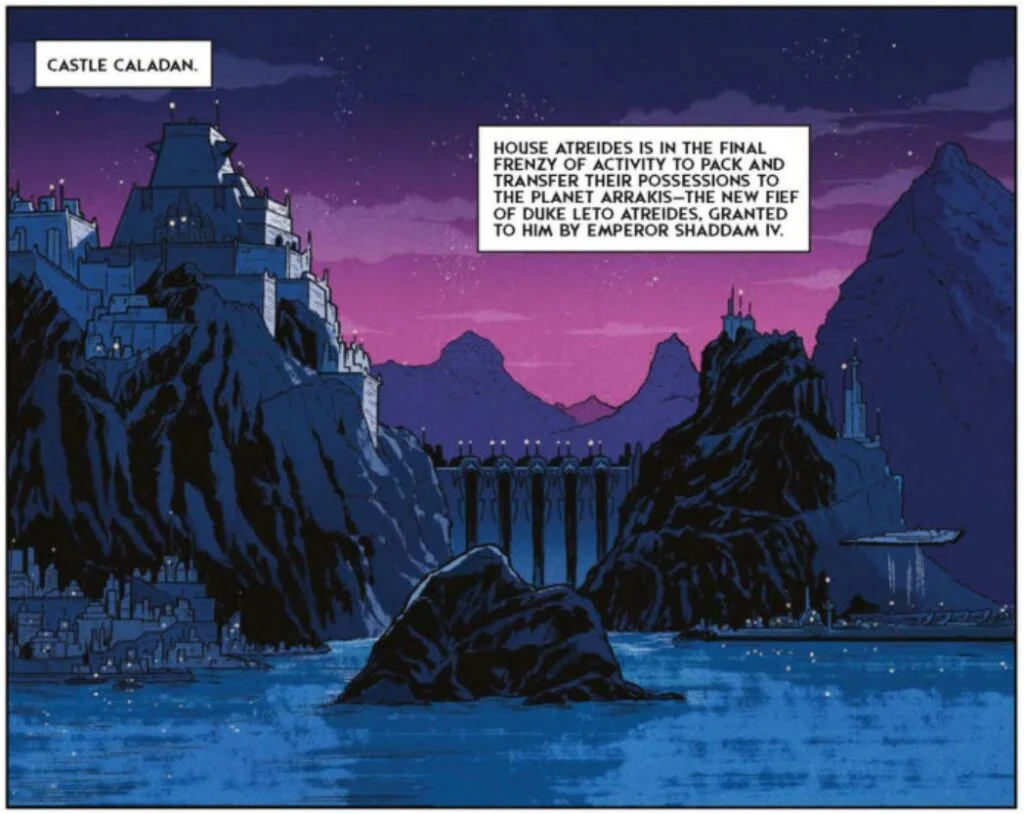 My only real criticism is that there are a few sets of pages, during conversations, where detail evidently falls away and the character designs felt somewhat inconsistent to how they were drawn elsewhere. Perhaps time constraints came into play here. In any case, an improvement opportunity for the next releases in the series.
Overall the visuals add immensely to the enjoyment of experiencing Dune. Although I had recently re-read the book, the graphic novel enriched my perspectives on certain scenes and kept me fully immersed while reading through in one sitting. Given the lower time commitment, this format will always remain an inviting way to relive the story.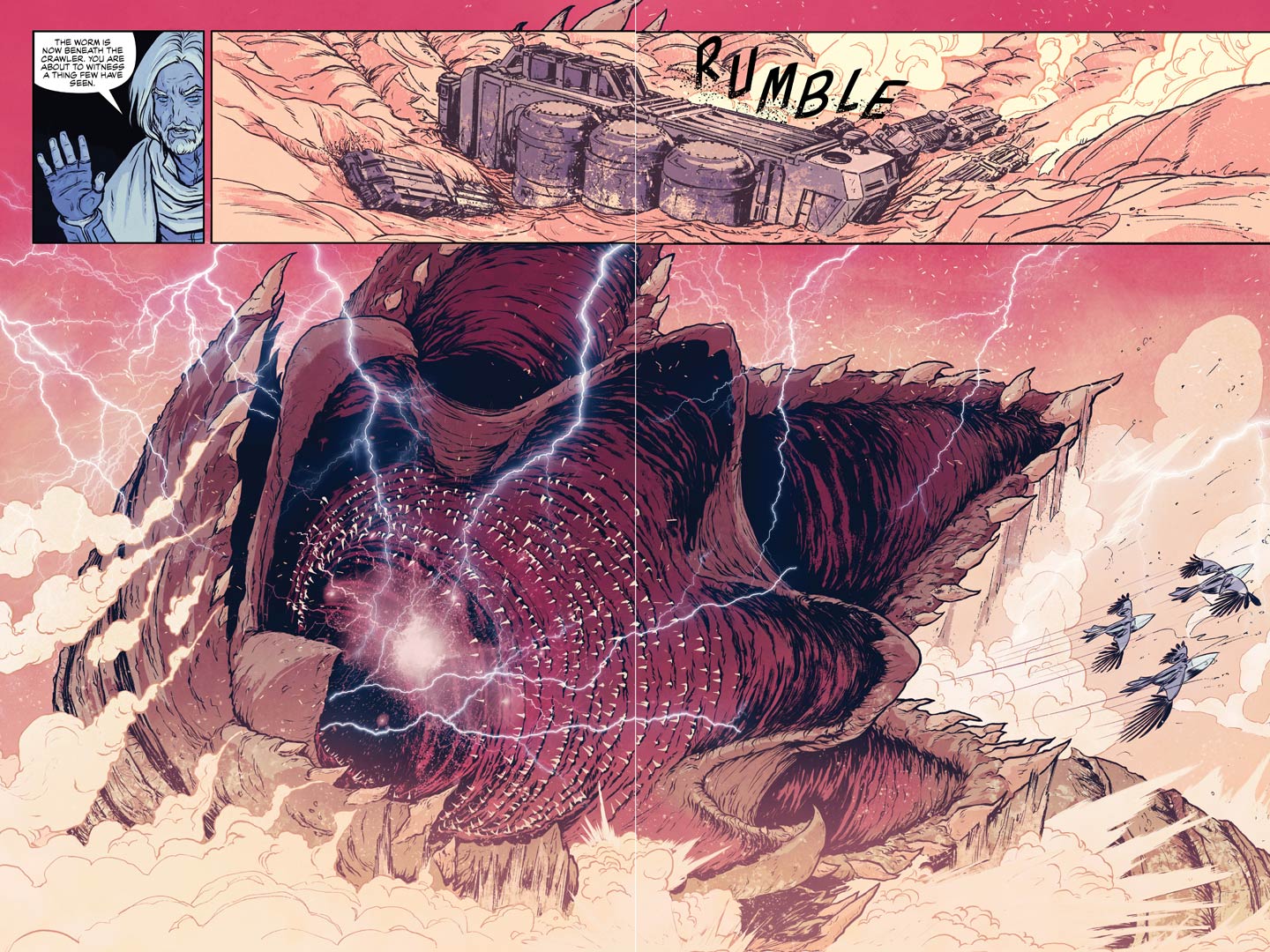 Premium Presentation
Abrams ComicArts has done an excellent job with presentation of this release. The hardcover copy we received has a high quality feel and looks great both with and without the cover jacket (inside cover is illustrated with landscapes of Arrakis). Interior pages are printed on thick stock paper and, after one full read through, there were no concerns about durability of the graphic novel. I'm looking forward to having all three books prominently displayed on my shelf.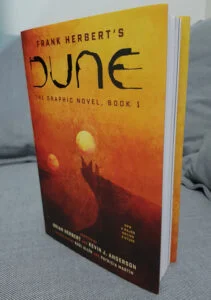 It will be awhile though before we can enjoy the entirety of Dune in this way. The second book (Muad'Dib) and third/final book (The Prophet) are planned for publication at 18-month intervals, with the former slated for Spring 2022.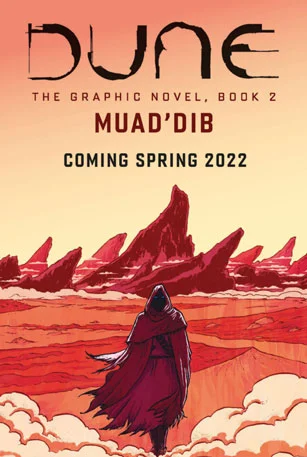 Conclusion
The first part of the classic Dune novel is faithfully translated into an appealing visual journey. Long-time fans will find plenty to enjoy in here, with artwork and condensed narrative making this a fresh way to revisit the cherished story. Likewise this is an accessible way for newcomers to experience Frank Herbert's Dune for the first time, perhaps before watching Denis Villeneuve's movie adaptation or diving into the ~800 page original novel. For both groups, as well as science-fiction enthusiasts in general, this graphic novel stands high on our list of recommendations and gift ideas.
Rating:





4/5
Dune: The Graphic Novel, Book 1 is available now, both in a beautiful hardcover edition or as an eBook. Shop on Amazon or read an expanded preview here.
If you're interested in more Dune comics, we also recommend checking out the Dune: House Atreides comic series that's currently releasing monthly. Follow us on Twitter for all the latest information about both comic adaptations, as well as breaking news about the Dune movie, books, games, and more.
Special thanks to Abrams Books for providing us with an advance copy of Dune: The Graphic Novel for this review.