BOOM! Studios has shared an expanded first look at their first issue of Dune: House Atreides, that will debut on October 21, 2020. This twelve-issue comic book series is adapting the eponymous novel (1999) written by Brian Herbert and Kevin J. Anderson, a prequel story that begins 35 years before the monumental events of Frank Herbert's original Dune novel and it's upcoming movie adaptation.
Comic scripts for Dune: House Atreides are being written by the novel's co-authors themselves and the interior pages are illustrated by Dev Pramanik (artist) and Alex Guimarães (colorist). Each issue will be released with multiple variant covers by different artists. Jae Lee's main cover for issue #1 features a teenage Leto Atreides, attired in the formal green and black uniform of House Atreides, and the distinctively red-gold haired Baron Vladimir Harkonnen, ruthless head of House Harkonnen.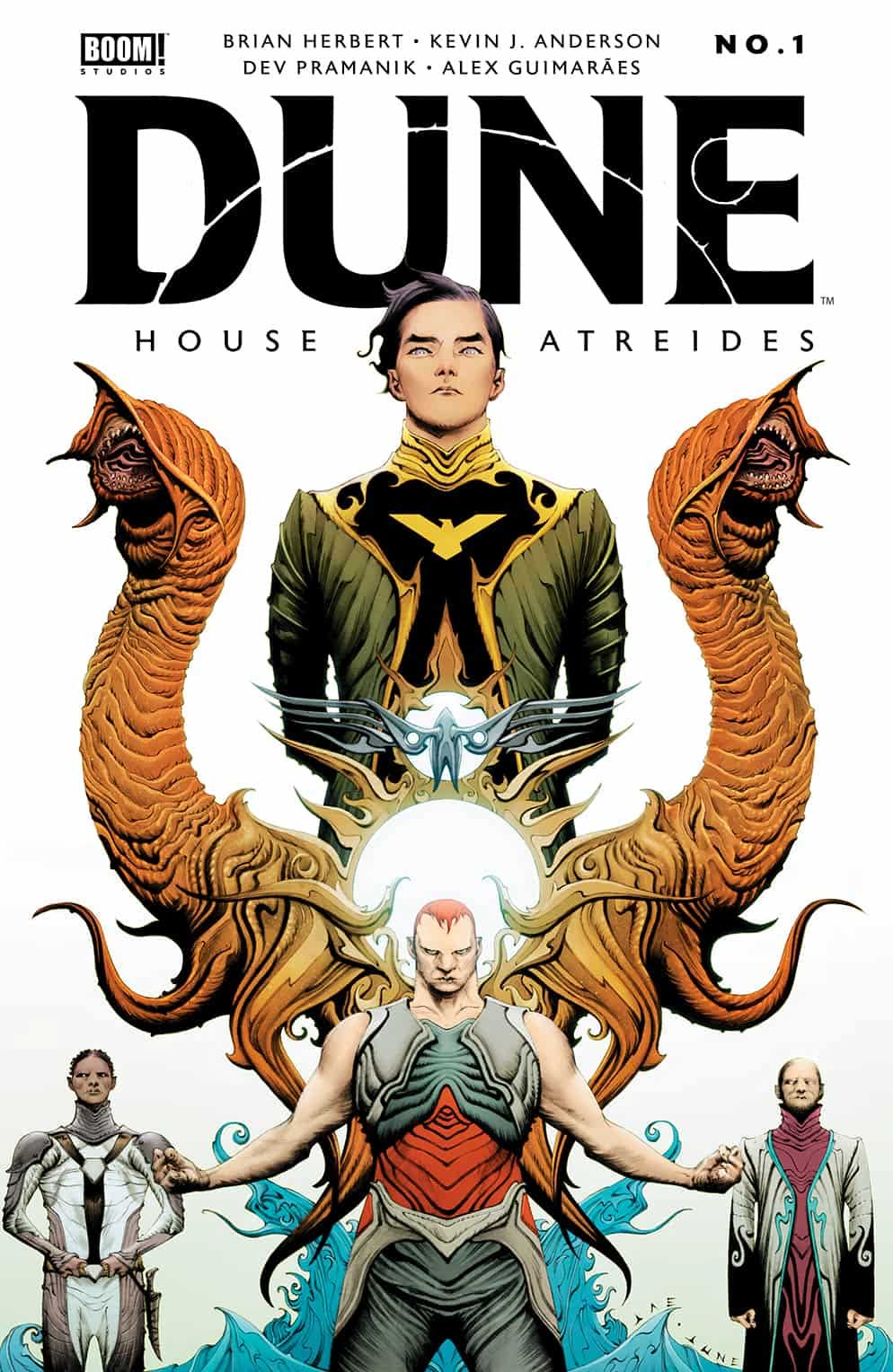 Dune: House Atreides #1 opens on Arrakis with Baron Vladimir Harkonnen en route to personally inspect progress at a newly discovered trove of the spice melange. This one precious commodity is paramount to the ongoing welfare of the entire Imperium, yet can only be found on this desert planet. The power-hungry Baron has just assumed the role of Planetary Governor of Arrakis, succeeding his disgraced brother, and seeks to quickly get spice mining operations back on track, while secretly stockpiling large volumes of valuable substance for himself. Now in the deep desert, he is about to witness first-hand the unpredictable and deadly nature of this world…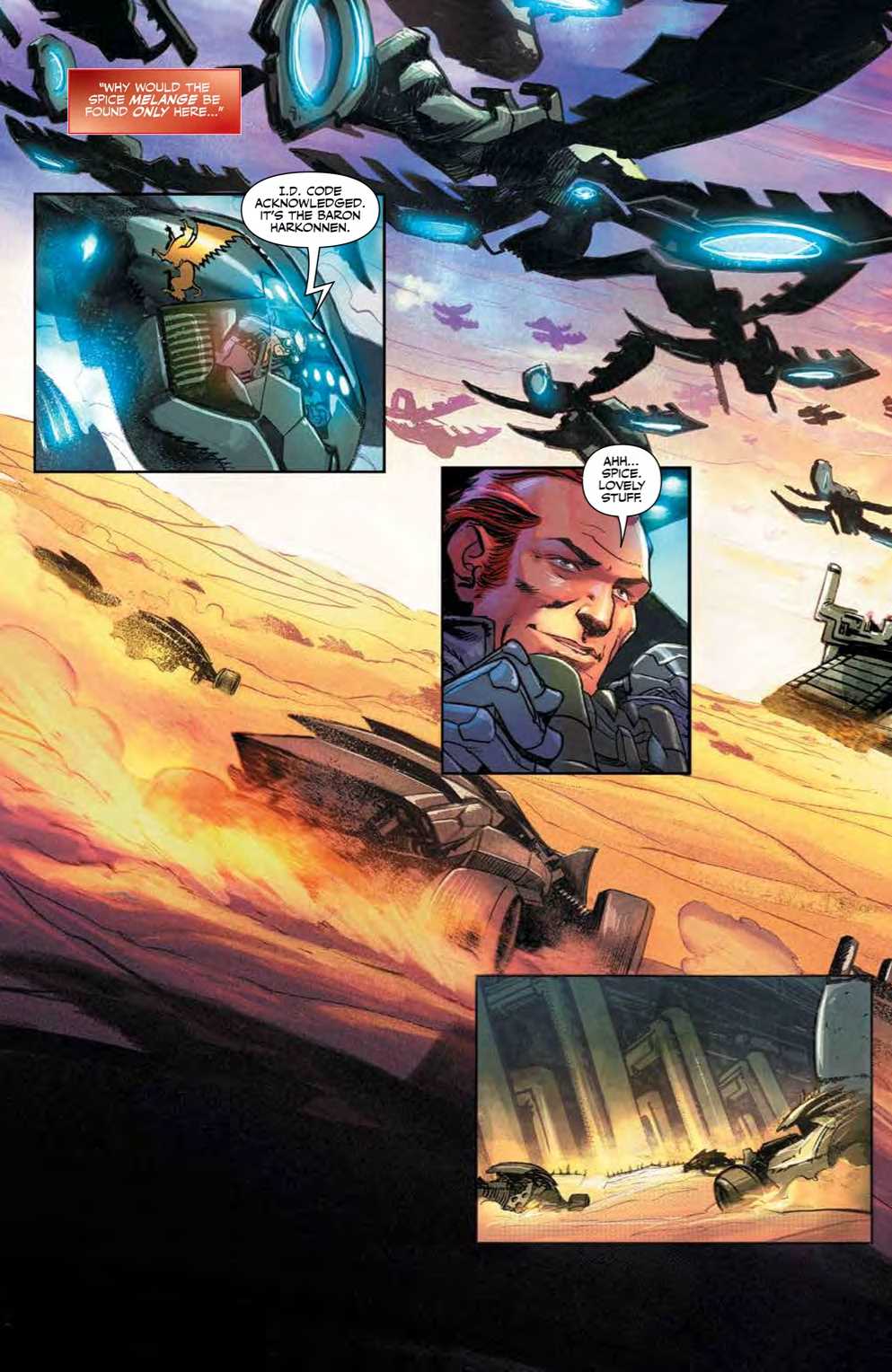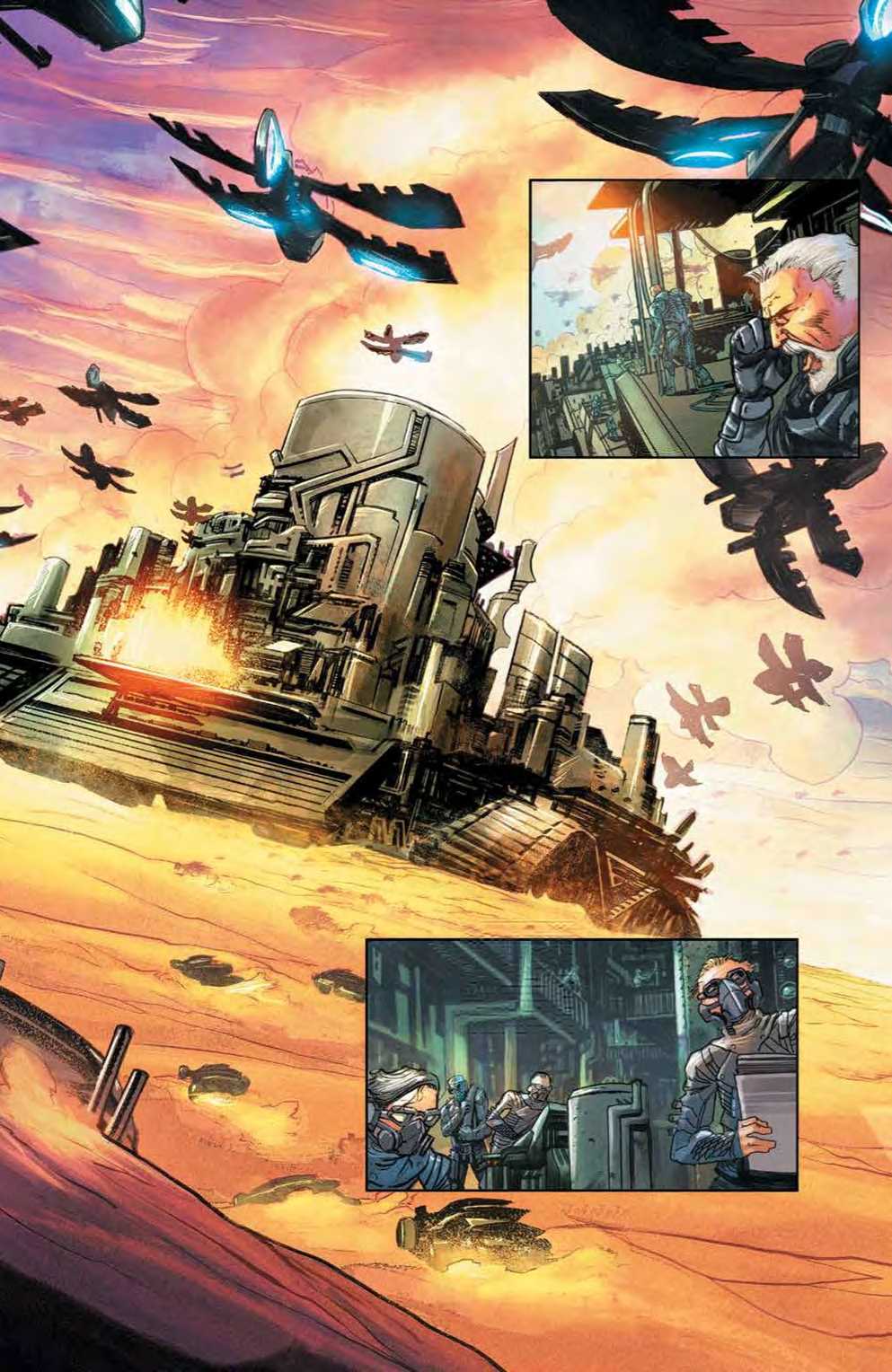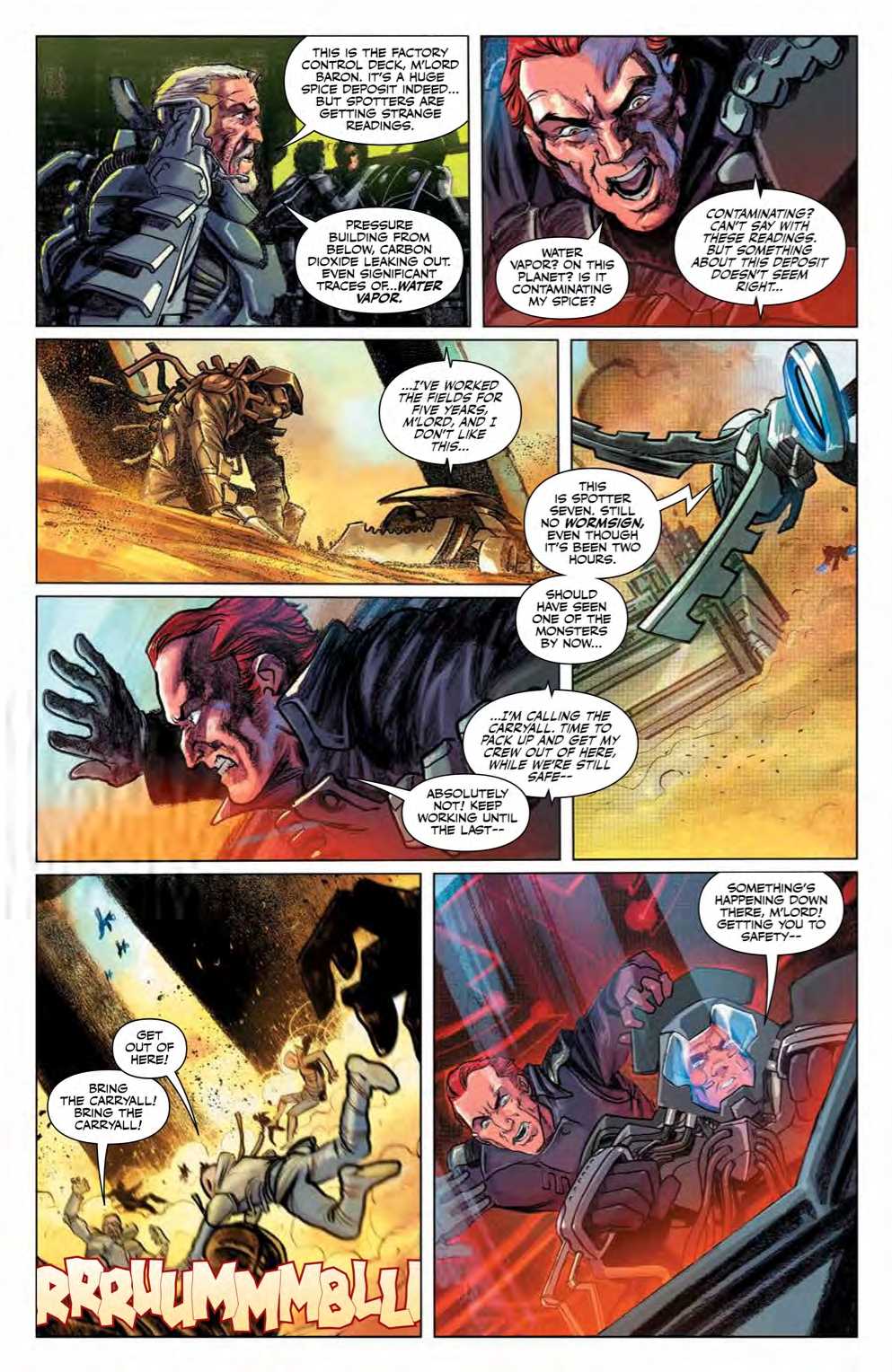 The official synopsis follows:
Set in the years leading up the Hugo and Nebula Award-winning Dune—which inspired the upcoming feature film from Legendary Pictures— Dune: House Atreides transports readers to the far future on the desert planet Arrakis where Pardot Kynes seeks its ecological secrets in remote, desolate regions of the alien world.

Meanwhile, a violent coup is planned by Shaddam Corrino, the son of Emperor Elrood; far away, an eight-year-old slave Duncan Idaho seeks to escape his cruel masters; and a young man named Leto Atreides begins a fateful journey. These unlikely souls are drawn together first as renegades and then as something more, as they discover their true fate – to change the very shape of history!
The first issue is out now in digital stores, including Amazon and comiXology. The first hardcover volume, collecting issues #1-4, is now also available:
If you prefer print copies of the individual issues, these can be pre-ordered directly from the BOOM! Studios webstore (they're also offering a subscription bundle for the first 6 issues) or via local comic book shops.
BOOM! Studios has also released their comic book solicitations for December, revealing the variant cover, drawn by Rod Reis, and description for the third issue of Dune: House Atreides, available in stores on December 23, 2020. We previously reported about the second issue, that's coming out on November 25, 2020.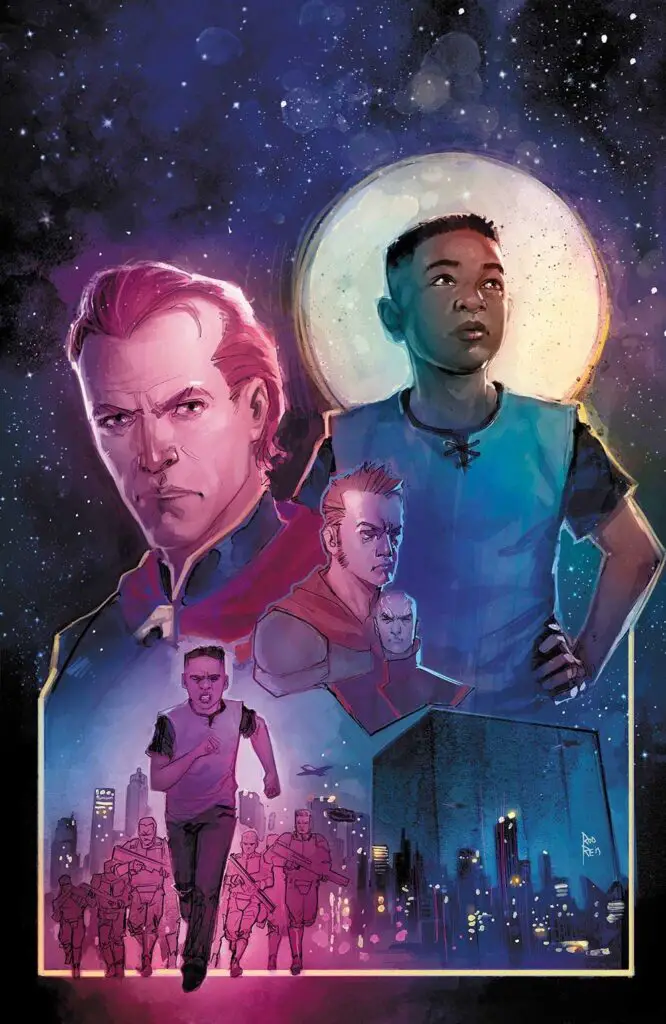 * Young Duncan Idado is given an ultimatum: escape or die.

* Meanwhile, Leto Atreides is introduced to the hyper-advanced city of Ix where his future will be shaped in unimaginable ways.

* The Planetologist Pardot Kynes ventures into the plains of Dune, and makes a destiny-altering discovery.

* And Reverend Mother Gaius Mohiam confronts Baron Harkonnen with a proposition he can't refuse…
For more information about the Dune: House Atreides comic series and the other Dune books and graphic novels releasing in 2020, see our earlier coverage of The Official Dune Publishing Panel, hosted by Brian Herbert and Kevin J. Anderson during San Diego Comic-Con@Home. We'll continue to update our articles with links to official offers for the comic issues, as these become available for pre-order or purchase.
Update (Oct 16): Added final preview pages, including text.
Sources: BOOM! Studios