While the enjoyment of attending in-person conventions is greatly missed this year, the increased availability of online panels has been a win for fans across the world. As part of San Diego [email protected] (July 22-26); Brian Herbert and Kevin J. Anderson, co-authors of 14 Dune novels and 1 collection, led a panel covering the Dune novels, graphic novels, and comics releasing this fall. This lineup includes Dune: The Duke of Caladan, the first new novel in the Dune series since Navigators of Dune was released 4 years ago.
New novel: The Duke of Caladan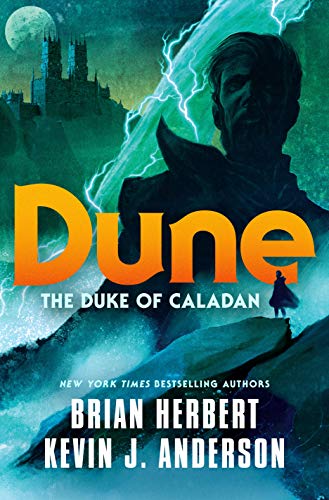 Following the earlier announcement of this new trilogy; Herbert and Anderson revealed the cover of Dune: The Duke of Caladan, first book in The Caladan Trilogy, that will be published on October 13, 2020 (Tor Books). This prequel series tells the story of how the Atreides family, rulers of the ocean planet Caladan, arrived at their perilous fate of taking over Dune, harsh desert world and sole source of the most valuable substance in the universe. The authors have just started working on the second book, The Lady of Caladan, and confirmed that the final book, The Heir of Caladan, will run directly into the events of Frank Herbert's original Dune novel (1965) and it's upcoming movie adaptation.
With the movies poised to bring in new generation of fans, Herbert and Anderson believed now is the right time to revisit the iconic characters from the beginning of the saga, including Duke Leto, Lady Jessica, and Paul Atreides (main character of the original Dune). The Duke of Caladan opens with the latter 14 years old and growing up surrounded by great teachers, like Duncan Idaho and Gurney Halleck, yet no friends of his own age. The authors teased that we'll see more of Paul's complex relationship with his parents and how House Atreides, in the final year ruling their home planet, will be entangled within the conflicts and political scheming among the Great Houses and other powers of the Imperium.
Dune: The Duke of Caladan is available in hardcover, eBook, and audiobook formats.
Graphic novel adaptation of Dune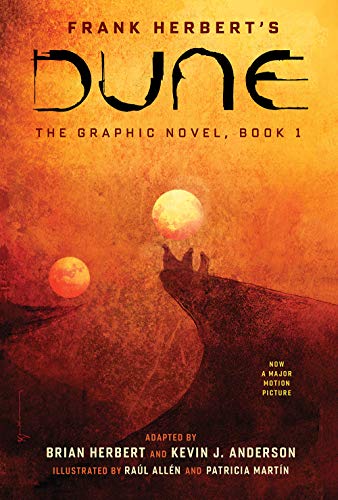 Brain Herbert and Kevin J. Anderson have adapted Frank Herbert's original Dune novel into comic scripts, with the first book releasing in graphic novel format on November 24, 2020 (Abrams ComicArts). The adaptation will be split into 3 books, corresponding with the 3 parts of the novel: Dune, Maud'dib, and The Prophet. The covers (drawn by Bill Sienkiewic) of the 3 books will form a triptych when placed side by side.
Below is a first look at the interior pages, illustrated by Raul Allen and Patricia Martin.
The first book is available to pre-order now in both hardcover and eBook formats. Note: The eBook version still shows as releasing on October 27, however it's possible that this hasn't been updated yet to reflect the new publication date.
Dune: House Atreides comic series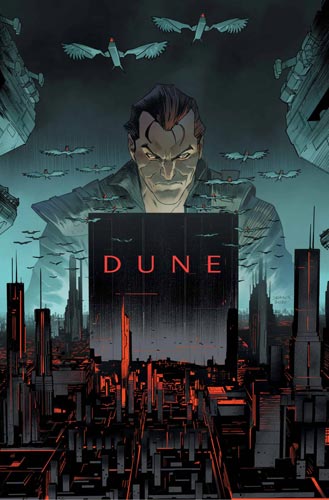 Brain Herbert and Kevin J. Anderson's first joint novel, Dune: House Atreides (1999), is also receiving a comic book adaption starting in October 2020 (BOOM! Studios). The co-authors are writing the scripts for this limited series, to be serialized in 12 comic book issues and then collected in graphic novel format. The creative team at BOOM! Studios is cooperating with Abrams ComicArts (publisher of Dune: The Graphic Novel) to ensure consistent designs between the two adaptations that will feature many of the same characters, equipment, and locations.
Dune: House Atreides (first book in the Prelude to Dune Trilogy) takes place one generation prior to the events of Frank Herbert's Dune, as Shaddam Corrino, then a Crown Prince, plots a violent coup against his own father, the Emperor of the known universe. Within the Great Houses; Leto Atreides, 15 years old at the time, and Vladimir Harkonnen, still in a condition to take matters into his own cruel hands, grow into very different kinds of leaders. Meanwhile on Arrakis, the unforgiving desert planet known as Dune, first steps are taken towards realizing the dream of a more hopeful future for the indigenous Fremen people.
Below is a first look at the character designs and an interior page, with art by Dev Pramanik and colors by Alex Guimarães.
The first issue will be available on October 21, 2020 in both print, via local comic book shops or the BOOM! Studios webstore, and in digital formats, from comiXology, Amazon, iBooks, Google Play, and other content providers.
Dune box sets and new editions of Prelude to Dune
Ahead of all the new publications, box sets collecting Frank Herbert's original Dune series are being released on August 25, 2020 (ACE). These will be available to purchase in a set containing the first trilogy or as a collection of all 6 books. Both sets contain the new editions from 2018 which include new cover art, introductions from Brian Herbert, and select content from Dreamer of Dune: The Biography of Frank Herbert.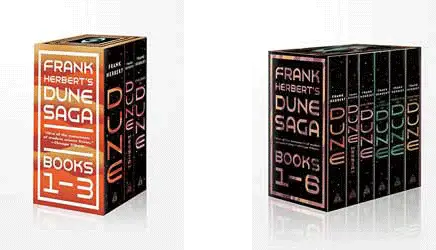 The Prelude to Dune trilogy (1999, 2000, 2001) novels by Brian Herbert and Kevin J. Anderson will be re-issued on October 27, 2020 (Del Rey) in mass market and trade paperback, including new covers.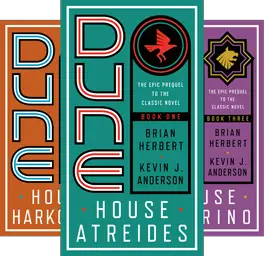 Games and more
There were several mentions of Herbert and Anderson collaborating with Legendary Pictures on development of multiple new games, both digital and tabletop, however no further details or timelines were revealed about these projects. Herbert emphasized that the Dune universe is growing, however they're also safeguarding it from expanding too far. Focus remains on the quality of future media and ensuring that partners develop properties that fans will appreciate.
The full publishing panel (41 minutes) is available to watch here.
Bestselling science fiction authors Brian Herbert and Kevin J. Anderson discuss the exciting new Dune graphic novels, comics, and original novels coming out this fall. Joined by their editors, Herbert and Anderson will discuss content from their past and upcoming projects, including Frank Herbert's masterpiece Dune (Ace) with senior editor Jessica Wade, the graphic novel adaptation of Frank Herbert's masterpiece, Dune: The Graphic Novel, Book 1 (Abrams ComicArts), with editor Charlotte Greenbaum, the prequel trilogy of books beginning with Dune: House Atreides (Del Rey), with executive editor Anne Groell, the prequel comic series Dune: House Atreides (BOOM! Studios) with company CEO & founder Ross Richie, and Dune: The Duke of Caladan (TOR), with editor Christopher Morgan.