The BOOM! Studios November 2020 solicitations have revealed one of the variant covers for Dune: House Atreides #2. This second issue of the twelve-issue limited series will be released on November 25, 2020.
The new cover juxtaposes the technology of the Dune universe, including the distinctive Ornithopters (aircraft sporting bird-like wings), and the feudal society with it's elements that are both alien and familiar at the same time.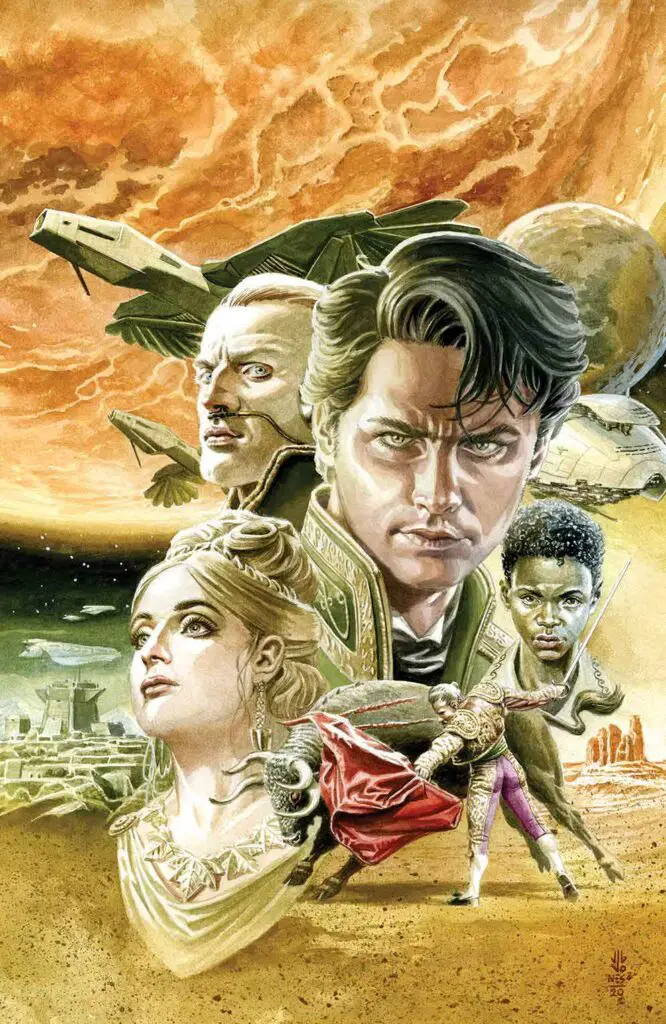 Below the official synopsis:
* The acclaimed prequel to the groundbreaking Dune continues in comic book form for the first time.

* Pardot Kynes arrives on Arrakis to begin research into terraforming the desert planet, but the merciless Baron Harkonnen has plans of his own.

* Meanwhile, the sadistic Harkonnens brutally test a young slave named Duncan Idaho.

* And Leto Atreides meets with the pioneers of space travel technology – taking the first steps towards his incredible destiny.
Dune: House Atreides is the comic book adaptation of Brain Herbert and Kevin J. Anderson's 1999 novel of the same name, that takes place a full generation before the events of Dune. The series is being illustrated by artist Dev Pramanik and Alex Guimarães and releasing on a monthly schedule, starting with the first issue on October 21, 2020.
To learn more about the Dune: House Atreides limited series and other Dune comics releasing in 2020, check out our report from The Official Dune Publishing Panel that was held during San Diego [email protected]
Source: PREVIEWSworld