BOOM! Studios has posted a first look at the fourth issue of Dune: House Atreides, which will be released on January 27, 2021. This 12-issue comic book series is adapting the entirety of the eponymous prequel novel, by Brian Herbert and Kevin J. Anderson. Many familiar faces–including Baron Harkonnen, Leto Atreides, and Shaddam Corrino–feature in this story that takes us back to over 30 years before the time period of the original Dune by Frank Herbert. The artistic team consists of Dev Pramanik (illustrator), Alex Guimarães (colorist), and Ed Dukeshire (letterer).
If you're new to this comic series and the book it's based on, first have a look at our earlier posts covering the previous issues; including a six-page preview of Dune: House Atreides #1.
In Lorenzo De Felici's main cover, Duncan Idaho, in flight from his Harkonnen captors, momentarily takes refuge in a cave. This issue's variant cover (below), by Mike Del Mundo, depicts one of the native Fremen people of Arrakis and the "Eyes of Ibad", their characteristic blue-within-blue eye color, resulting from high levels of spice ingestion.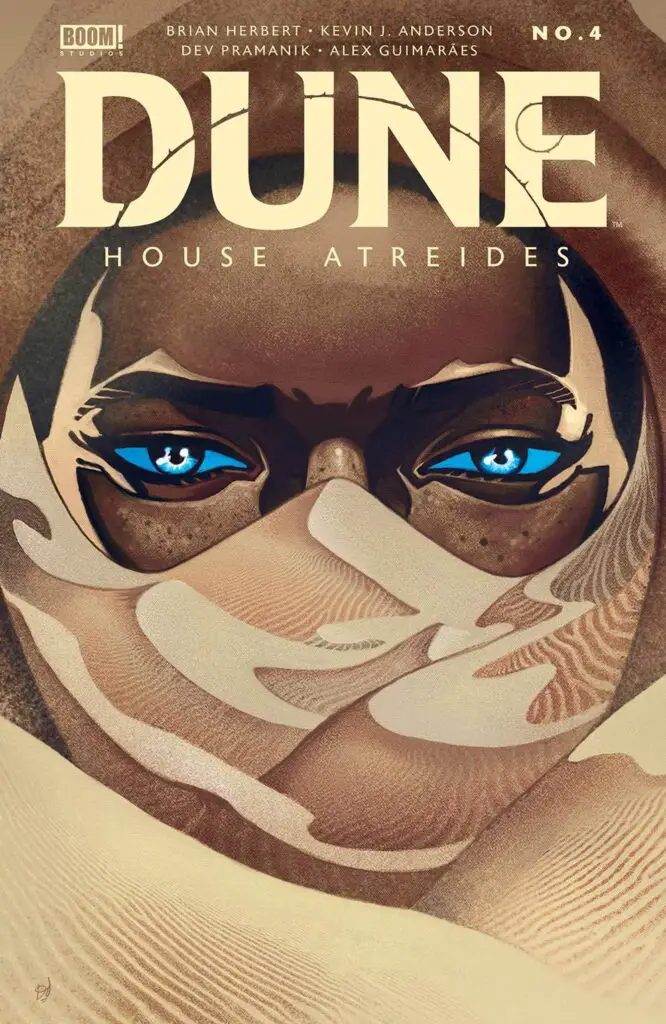 Events on Giedi Prime reach a climax as Duncan Idaho, having painfully extracted the tracking chip that was embedded in his shoulder, desperately strikes back against the Harkonnen hunting party led by Glossu Rabban, the Baron's nephew. Back in the capital, the Baron himself ponders a way out of involuntary participation in the Bene Gesserit breeding scheme, however Reverend Mother Gaius Helen Mohiam of the Sisterhood has the upper hand in this encounter.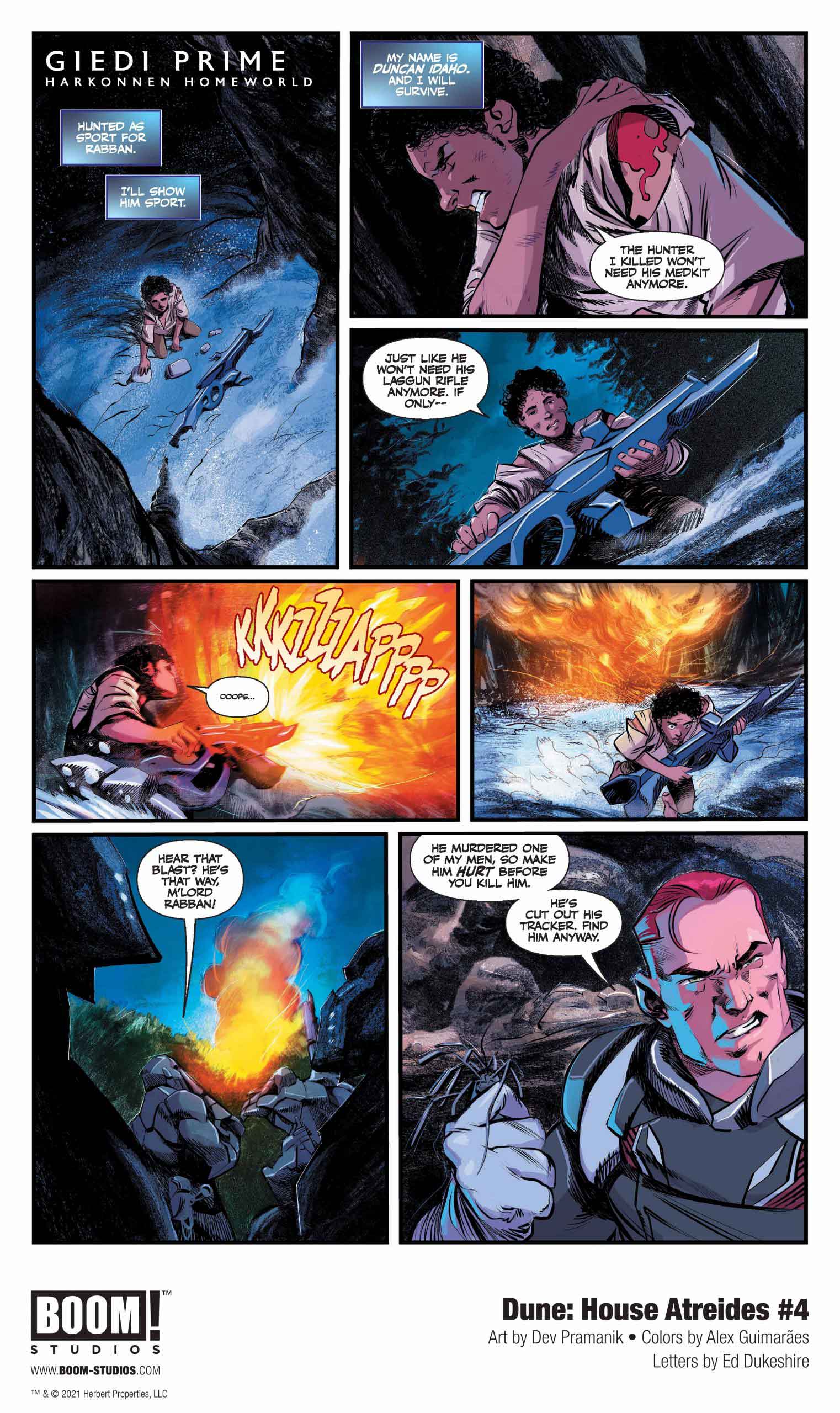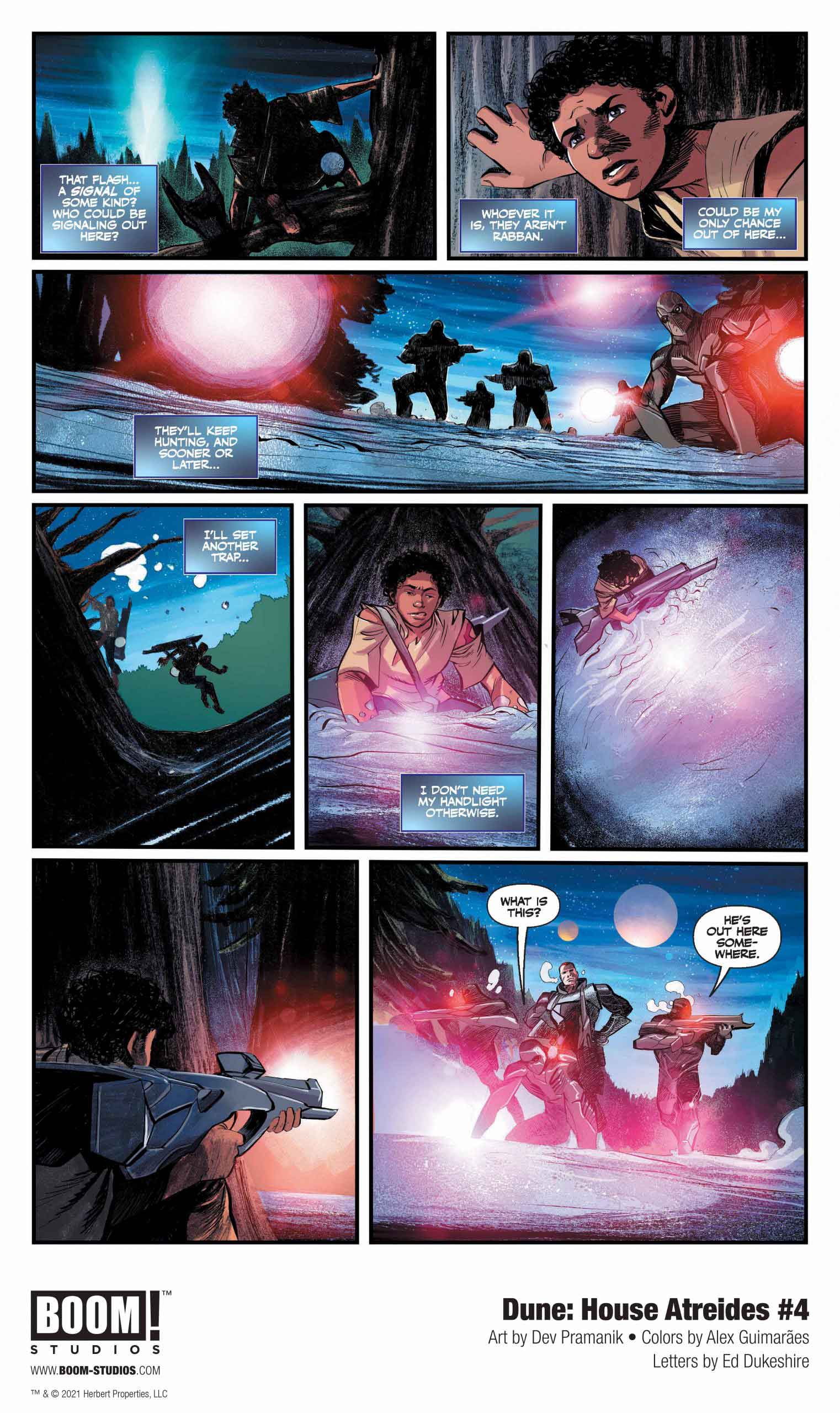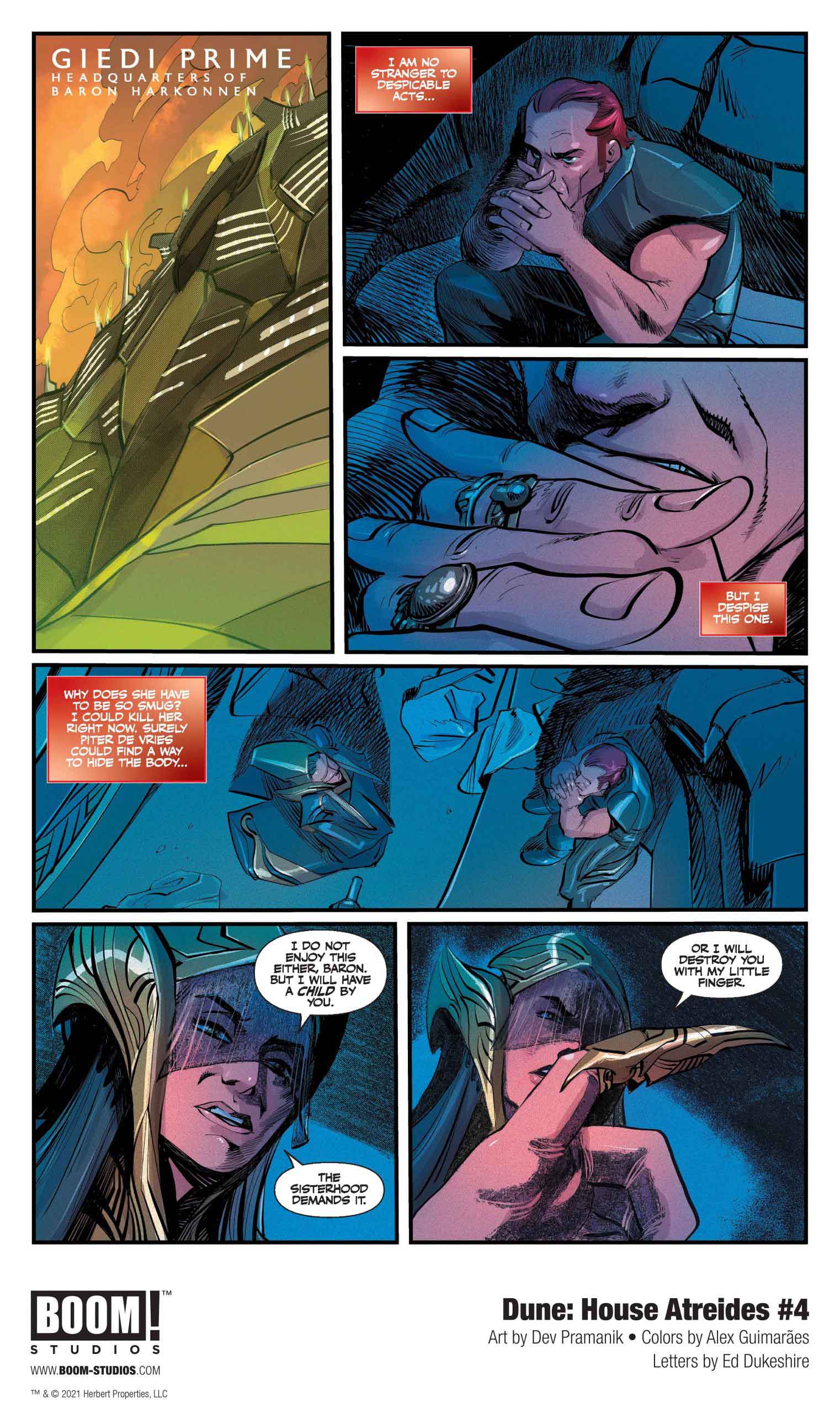 Here's the official synopsis for Dune: House Atreides #4:
* Leto Atreides has discovered the horrifying truth behind Ix's success, calling House Vernius' true nature into question and possibly spelling the House's demise.

* The Harkonnens' deadly influence continues to spread, forcing Duncan Idaho to take drastic measures; Reverend Mother Gaius Mohiam to play her trump card with the Baron.

* Pardot Kynes forms an alliance with the Freman that will change the course of Dune's history.

* Meanwhile, Crown Prince Shaddam and Hasimir Fenring continue unraveling their plot to oust the Emperor Elrood…
The fourth issue is now available for pre-order in digital stores, including Amazon and comiXology. Digital comics are automatically delivered to the Kindle or comiXology app on your phone, tablet, or e-reader on the day of release, so that you can can start reading instantly.
Print copies of this and previous issues can be purchased directly from the BOOM! Studios webstore (they're also offering 6 issue subscriptions) or will be available in local comic book shops (use comicshoplocator.com to find the one nearest you) on January 27.
Follow us on Twitter for all of the latest updates about the Dune: House Atreides comic books and other Dune news, including our ongoing coverage about the upcoming Dune movie directed by Denis Villeneuve.
Sources: BOOM! Studios, PREVIEWSworld