If you thought that there was a while to wait before the early access release of the new Dune: Spice Wars 4X/RTS video game, then you should be aware of this week's exciting announcements. That's right, the exact date of arrival has been confirmed, and it's just around the corner!
Shiro Games' interactive strategy title is slated for an April 26, 2022 release date on Steam Early Access. Those who have been eagerly anticipating Dune: Spice Wars since its announcement at The Game Awards 2021, will not have to wait much longer. We've covered the game extensively on our website but, in brief, this is a 4X real-time strategy video game set in the Dune universe, where players select their faction and attempt to conquer the planet of Arrakis by strategical means. War, politics, economics, and cunning, are among the approaches that one can use to win. Speaking of factions, the game now has four playable sides.
Fremen Faction Announced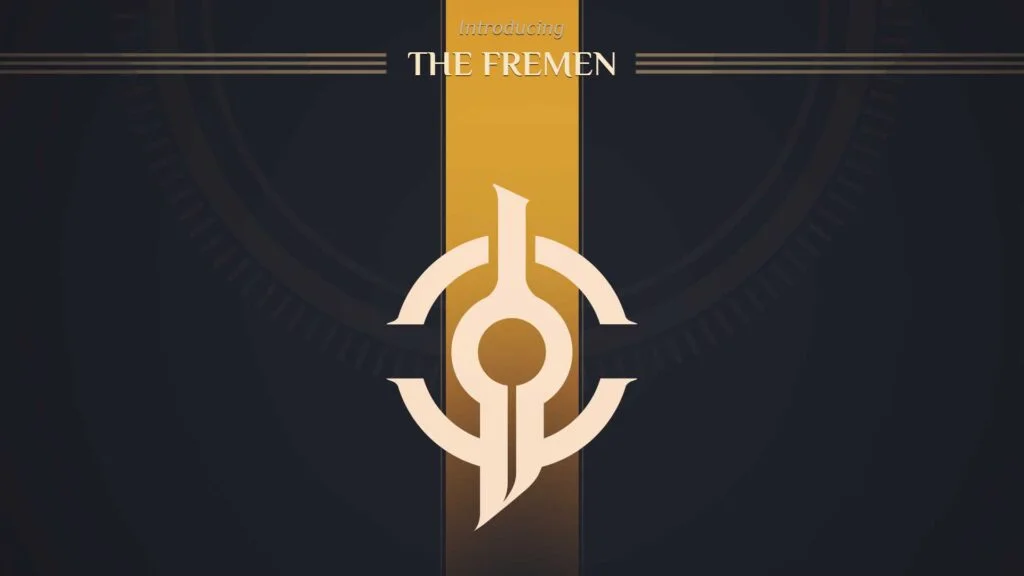 House Atreides, House Harkonnen, and the smugglers—as unveiled several weeks ago—were the three known playable factions in Dune: Spice Wars. Well, in tandem with the early access release date news, Arrakis' natives, the Fremen, are the fourth playable branch to select from.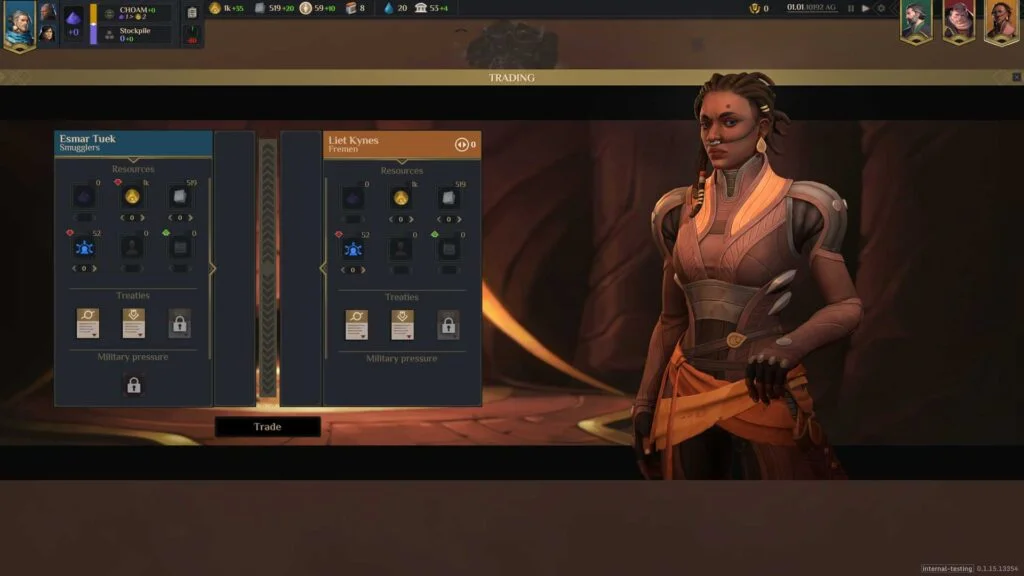 The planetologist Liet Kynes is the leader of the Fremen faction in Dune: Spice Wars. As natives of the harsh desert atmosphere engulfing Arrakis, you can expect a high degree of survivability and leveraging their close affinity with the planet's ecological systems. The following key figures act as Liet Kynes' councilors within the Fremen faction:
Chani Kynes, the daughter of Liet, is a bold and charismatic woman. Her brilliant and intuitive mind helps her gather facts and figures from the tiniest hear-says.

Stilgar Ben Fifrawi is the Naib of Sietch Tabr. A formidable warrior, but an even wiser ruler, he is deeply respected by all of the Fremen. 

Mother Ramallo is a rogue Reverend Mother of the Bene Gesserit. She inspires a strong religious fervor into the Fremen and holds a deep knowledge of all their rites.

Otheym is a renowned Fremen fighter. He is also a very good teacher and a great leader, specializing in desert guerrilla warfare.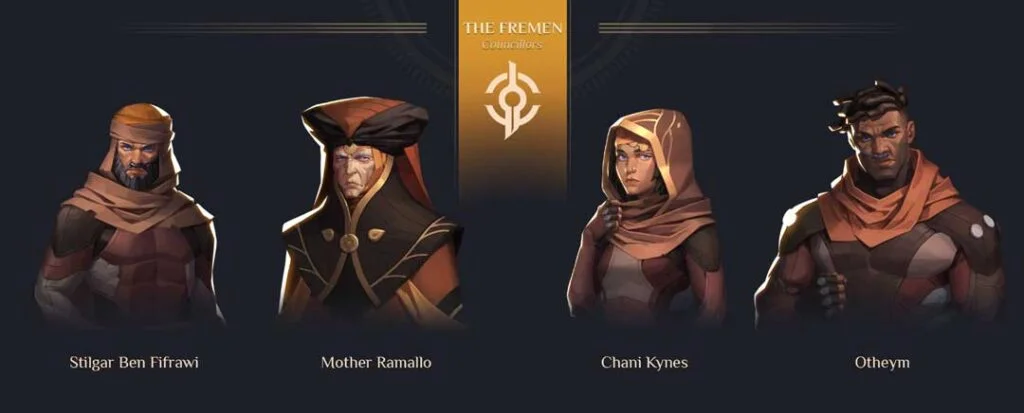 On top of the Fremen being formidable hand-to-hand fighters, their familiarity with the environment—and ability to efficiently traverse great distances—offers them advantages during conflicts in the deep desert. Their military consists of these unique units:
Warriors are the bread and butter of Fremen fighters. Armed with long knives, they are experts at using Arrakis terrain to disorient their opponents.

Infiltrators are so used to the desert that they stay invisible and unheard until they strike with their two knives. Their surprise attacks will always find a weak spot, breaking their opponents' will and focus.

Skirmishers have a large supply of grenades. They use them to ambush well armored units and soften them for their other comrades to finish off.

Fedaykin are the elite of the Fremen army. Trained in the weirding way and armed with the feared crysknives, they only get stronger the more opponents they face.

Kulon Caravans are the holders of the clan's water. While they can fight the invaders with maula rifles, their main function is to set up a hiereg camp. At the camp, all Fremen units will be hidden, healed and resupplied. As such, Kulon caravans are best deployed near remote villages as proxy bases for an attack.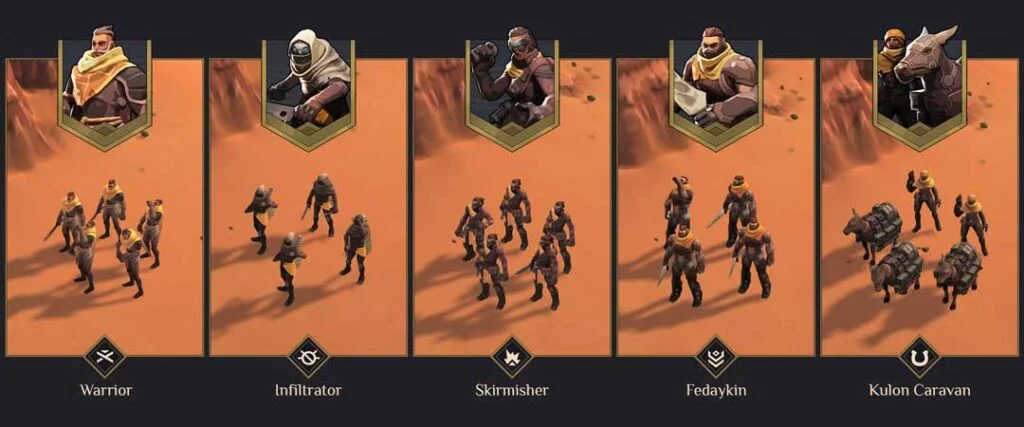 Tremendous news announcement from Shiro Games and Funcom! The game is an early access launch, so the expectation is that additional features will become available down the line. Developers from Shiro Games have stated that the Dune: Spice Wars game will be community driven in part, so any feedback from players is welcome.
With so many massive Dune fans in the studio, the excitement I see every day of working with this universe is very real, and we hope this comes across in the game. With all this passion for the source material, and all the know-how we've gathered from making Northgard, we can't wait to put this game into players' hands.

Sebastien Vidal, CEO Shiro Games