Today we're taking a look at Dune: A Whisper of Caladan Seas, which was released in December of 2021. The one-shot comic book tells the story of a group of Atreides soldiers becoming trapped in a cave, while the Harkonnens amount their assault on Arrakeen. Within that cave, the soldiers are taken back to Caladan through a descriptive story before they meet a most curious fate.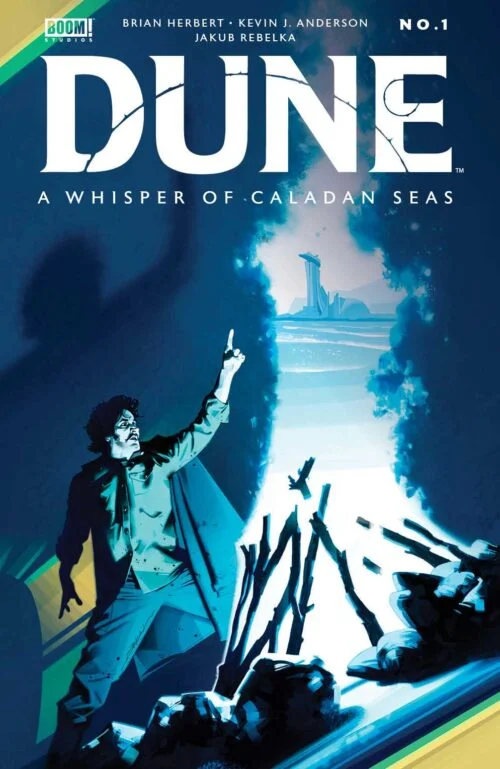 We released a preview of Dune: A Whisper of Caladan Seas when this was first announced; it comes from the creative minds over at BOOM! Studios. This comic book is another fine addition to the growing collection of works, visually expanding on the rich mythology of Frank Herbert's Dune universe.
History
The original Dune saga, written by Frank Herbert, consists of six pieces of literature: Dune—originally released in 1965 and now being adapted by Denis Villeneuve into two movies—Dune Messiah, Children of Dune, God Emperor of Dune, Heretics of Dune, and Chapterhouse: Dune—the latter book was published in 1985. 
Then beginning in 1999, Brian Herbert and Kevin J. Anderson have co-written over 14 books and a dozen short stories set in the same universe. This comic is adapting the first short story that they wrote together and ties directly into events of Frank Herbert's original novel. 
When we were writing A Whisper of Caladan Seas, we had no idea that our Dune-series novels and short stories would eventually add up to millions of words. Now we're still adding on to that total, and continue to enjoy the writing process as much as we did when we were just getting going. Our enthusiasm for these stories has never waned.

Brian Herbert
A Whisper of Caladan Seas was the very first piece of Dune fiction Brian and I wrote together, a short story introduction as we got our legs under us for writing House Atreides; It certainly launched something great for both of us.

Kevin J. Anderson
Story
The official synopsis for Dune: A Whisper of Caladan Seas sets the scene for this story:
During the chaos of the legendary Battle of Arrakeen, a group of Atreides soldiers gets caved in. So while Paul Atreides meets his destiny in battle, Sgt. Vitt must use his family's gift of storytelling as a Jongleur to transport his men from their tomb to their homeworld of Caladan. Can Vitt mentally transport them back to the lushness and vast oceans of Caladan and give them the gift of hope in the darkness?
While the Harkonnens lay siege to Arrakeen, we are taken back to the homeland of Caladan via Sgt. Vitt. His gift of being a Jongleur means that he probably was an entertainer or an actor, and/or singer. Another named Jongleur amongst Dune patriots is Tyros Reffa, who was one of the most well-known entertainers of the Corrino Empire. Being able to transfer their emotions to the audience or group, a Jongleur could replicate the experience of a play or opera, with all the feelings as if you were present.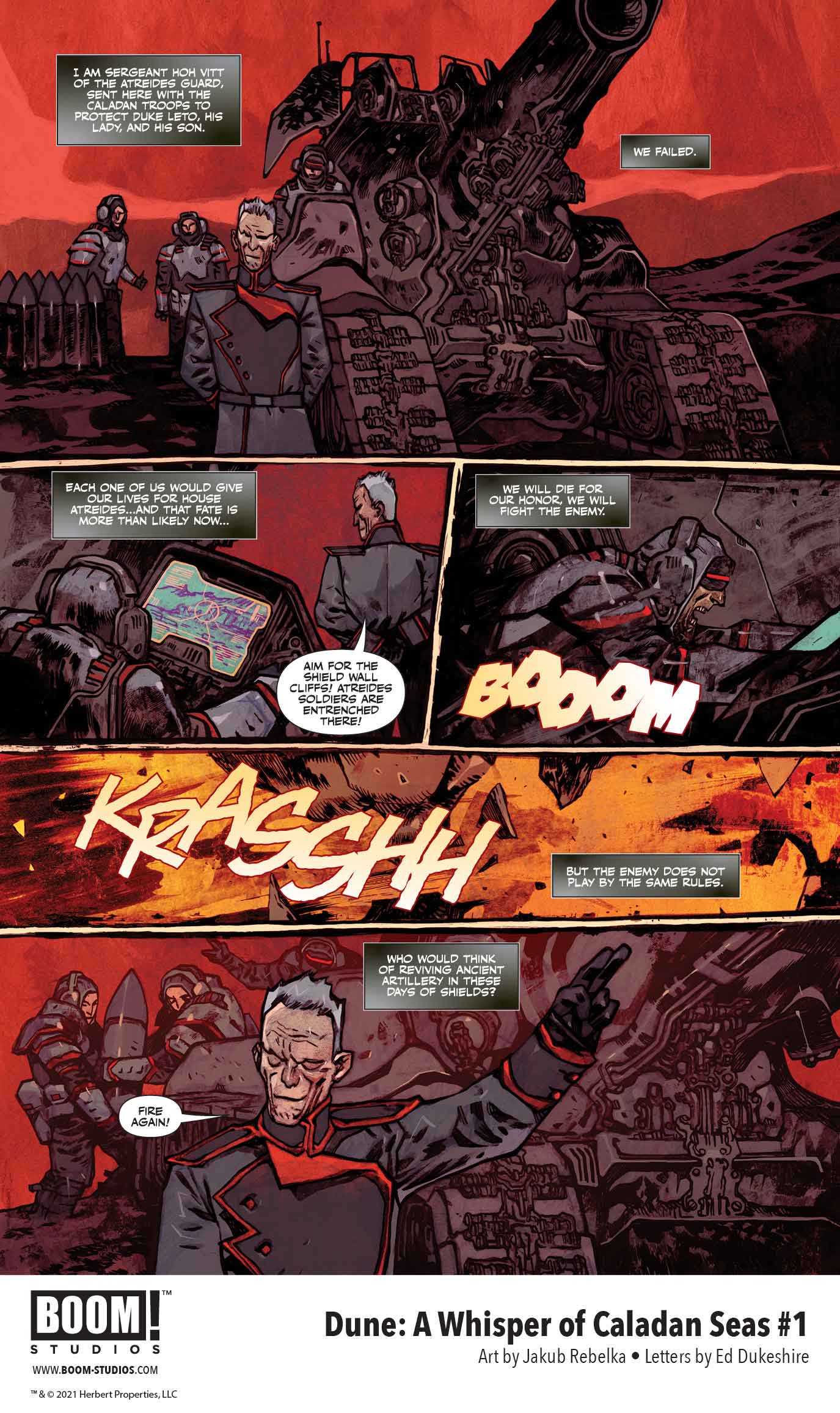 Sgt. Vitt delivered this lifelike tale. It gives a familiar feeling of a story that we already know the ending to before it begins—an elegant account of hope and remembrance in times of war and desperation. It is ultimately a story of hope where there is none. While the stories shared are sentimental, they feel a bit average compared to other stories and characters within the universe. Seemingly there isn't really anything special about these characters, though we do get a highlight of Gurney Halleck who is dressed a bit odd for a battle.
While the story of these soldiers is done well, I noticed inaccuracies with the heighliners jetting through space, engines roaring—that felt a bit inconsistent. Though this comic doesn't necessarily add any extra value to the story of Dune as a whole, it is a nice side story and gives us an answer to, "what happened to all the Atreides soldiers during the battle?" Even with many of the soldiers falling in Arrakeen, we do find out much later that the Fremen discover their corpses, having seemingly drowned.
I feel this tale is much appreciated, but not entirely necessary. The storytelling is done very well, which is no surprise. But, the artwork might be questioned by some readers. It is nice to see a mention of some familiar characters that are already established in the universe, but the delivery of these characters could be questioned too. Overall, the story is well done and adds an extension to the battle of Arrakeen.
Denis Villeneuve's movie adaption Dune: Part One has had incredible success since hitting theaters last year; winning six of its 10 nominated Oscars. This 40-page comic book further explores events we've seen onscreen, while enchanting you with the deep mythology surrounding author Frank Herbert's original Dune. It's a great way to immerse yourself back into the universe before filming begins on Dune: Part Two this summer.
Artwork
From the moment we see one of the varying covers, this comic promises it's going to be very expressive and colorful. I was quite amazed at the recently revealed cover by Nimit Malavia and how interpretive it is compared to others. The idea of trapped soldiers only being able to go back home via storytelling is done so incredibly well, interpreted into art.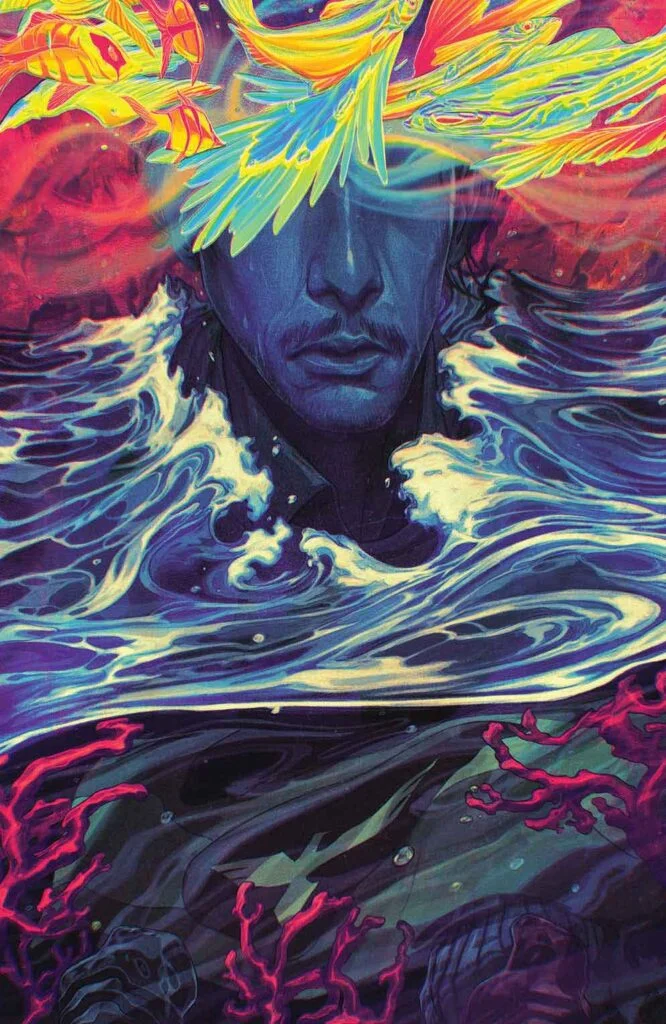 The artwork within the comic is multicolored and striking, though a bit rough at times. We see the Harkonnen army covered in a prominent black and red, while Atreides soldiers are comprised of depressing tans and greys. When Sgt. Vitt commences his storytelling; we then see the expressiveness of artist Jakub Rebelka. The brilliance of color represented by Caladan is the extreme opposite of Arrakis. The beauty of nature is encapsulated by the vibrant colors we see.
At times in the comic, I started to question the coarse artistic direction when it came to depicting violent battle scenes. The more I tried to understand these visual preferences, the more I thought about how war can be interpreted. I felt Rebelka's choices resulted in impactful art that elevates the writing. Combining these two aspects of the comic delivers a tragic yet beautiful delineation, that adds to the canon that is Dune.
Overall, this is a beautiful representation of a tragic story. It encapsulates a realistic interpretation of wartime, though in an ethereal world. If you are a fan of Dune or are looking to get back into Dune, I recommend reading this comic for the writing and artwork represented.
Dune: A Whisper of Caladan Seas can be purchased individually and, with the digital version, you can start reading instantly on your device. Alternatively the comic book will be collected as part of a hardcover release in May 2022, together with Dune: Blood of the Sardaukar, the other 40-page one-shot released last year.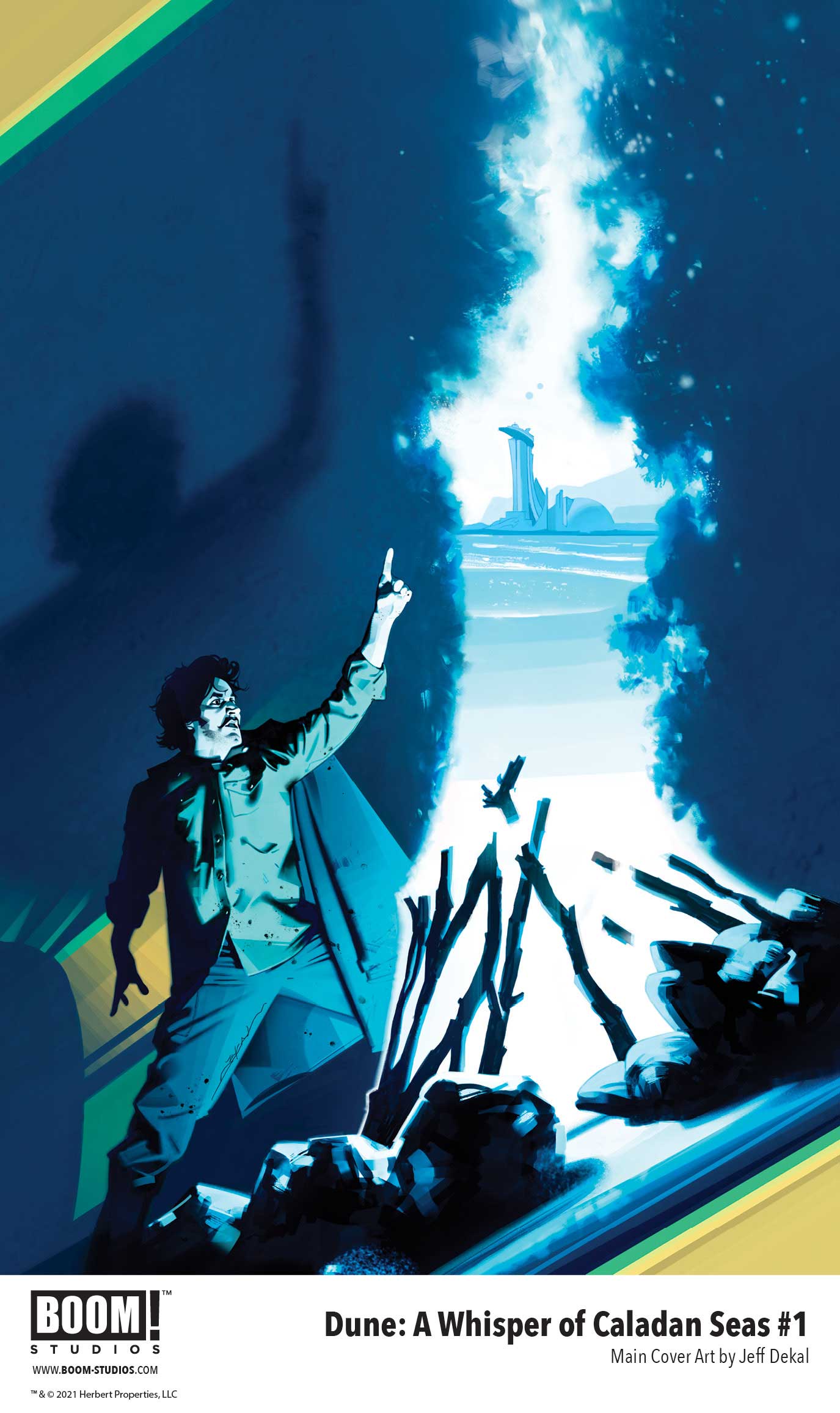 Dune: A Whisper of Caladan Seas #1
Conclusion
Through rough yet beautiful artwork, this tragic tale transports readers back to the fateful assault on Arrakeen. As a nice little side-mission, it's an immersive story even if not required within the main narrative of Dune. The visual style of the comic may not be for everyone, but if you're looking for additional Dune content, then you can't go wrong with this self-contained story.
PrOS
Storytelling
Vibrant colors
Relatable characters
Cons
Styling of artwork
Minor inaccuracy
Thanks to BOOM! Studios for providing digital review copies to our team.
If you're interested in reading original prose version of this tale, it's available—together with seven more Dune short stories—in the Tales of Dune: Expanded Edition collection: