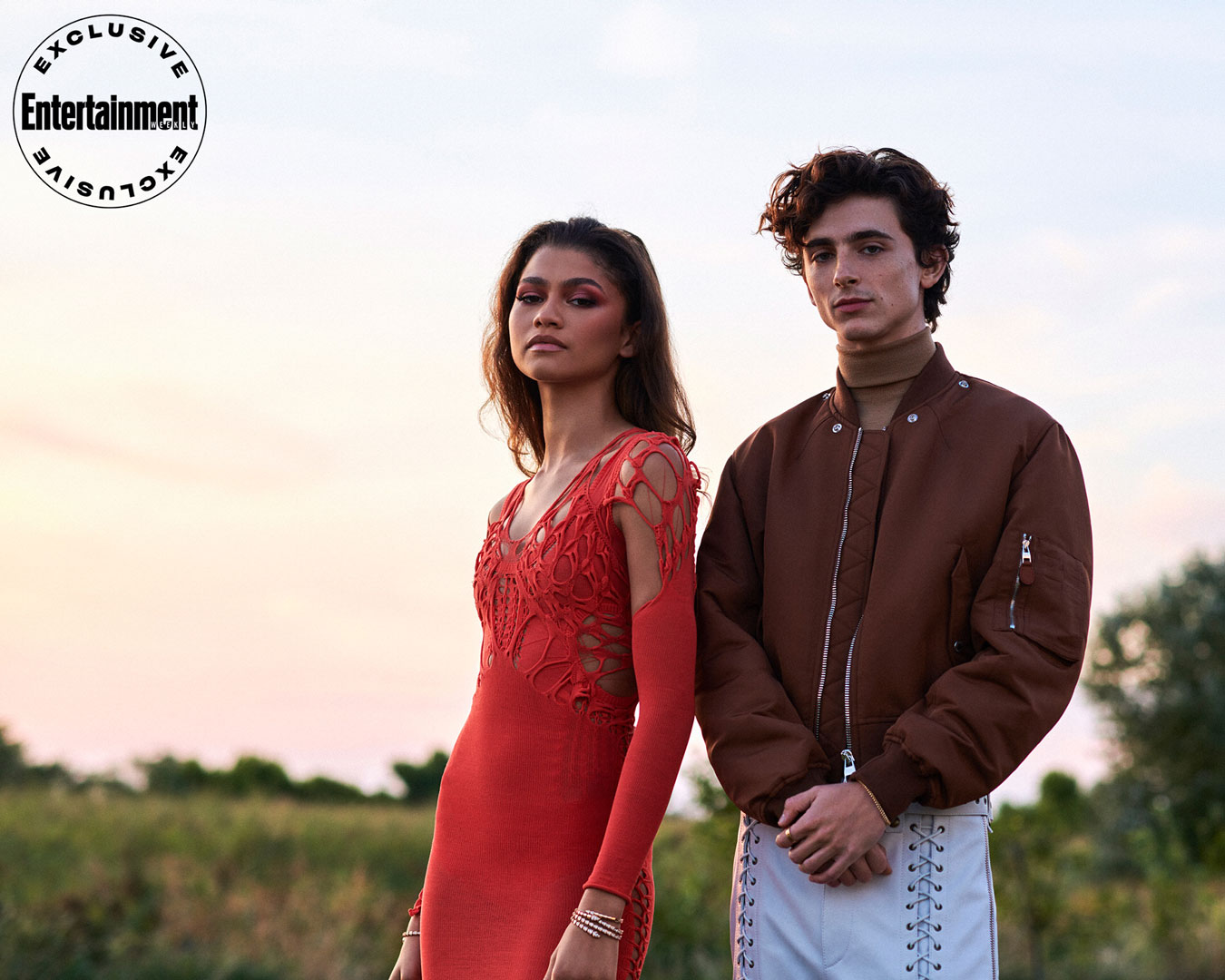 A huge cluster of Dune news is coming your way! Over the past week, Entertainment Weekly kicked off with a massive overview of what went into creating the 2021 movie. Their coverage, including a roundtable discussion with the actors, can be broken down into three categories critical to the film's development; cast, world building, and "the big split" (referring to multiple installments within the new series). It's a swirl of great content, for fans and newcomers alike.
Finding Family on the Set of Dune
While the movie's cast may have had fun appearing for their panoramic digital cover art, it seems that they also had a blast while shooting Denis Villenueve's Dune. Comments from major players in the film indicate that it felt like they were a family on set. Actress Zendaya, who portrays Chani, a warrior among the Fremen natives of Arrakis—even though her part only called for one week on set for Dune: Part One—mentions:
I didn't want to leave. Denis [Villeneuve] had such a warmth, and there was a familial quality to the way it felt when I got there. I felt very welcomed by the crew and cast, everybody was so lovely to me. Denis is so detail-oriented and thoughtful; any question I had, he had thought about before. He had answers for everything, so I was able to speak with him and develop Chani very quickly. I became very close with Timothée [Chalamet]. We were like, "Oh, this is great, we're gonna be besties, I can tell."
Other cast members concurred with this notion of family, which may be the secret recipe for such a well-functioning ensemble of actors—each a star in their own right—on screen. But that is not all this exclusive story covers, there are also details on how actors were selected, the cast's thoughts on their roles in the film and personal experiences discovering Dune, as well as commentary from director Villeneuve.
Creating Rich Worlds for the Big Screen
Arrakis, Caladan, Giedi Prime, Salusa Secundus… Let's touch on the world building of this motion picture, which was also explored in the EW article. I think however, rather than my words, a general sense of the creative processes can be summarized by two perspectives. Rebecca Ferguson, remarking about the real world Middle Eastern deserts, says:
When you see that landscape just continuing on forever, that is what it was like to actually be there. You feel so tiny, Mother Nature just kind of swallows you, you mean nothing compared to the grandiosity of life, and I loved that feeling.
And of course, being a Baron Harkonnen enthusiast, Stellan Skarsgård—the man who plays the iconic villain of Dune—had this to say about the sets:
In my case, the set was frightening in itself so I didn't have to do much. It was great. What I find is that sci-fi films often have a tendency to be slightly ridiculous because everybody is trying to be as inventive as possible in coming up with gadgets that we don't have today. But here, it's very sort of scaled down, it's very pure. It's a universe that you've never seen before and yet you really feel you're in it.
Further highlights include cinematographer Greig Fraser's two cents on the sets, and a deep dive into building the enormous sandworms of the science fiction epic.
Splitting Dune Into Two Parts
Closing things out, as many are perhaps wondering, why the big split? Not just one movie folks, but a whole cinematic universe and beyond. On that subject, I refer you once more to Zendaya's comments:
[Denis] makes it digestible. He does a beautiful job of immersing you in this world without making you feel like you're being explained things. It catches you up so easily and effortlessly, you feel invested in this planet and world.
As we've covered in earlier reports, even when filming this first movie, Villeneuve already has a clear vision for the continuation and is eager to return to his dream project. If it's up to to the director, Dune: Part Two could even begin filming in Fall 2022.
Roundtable With the Cast
In addition to the in-depth feature and dazzling photo shoot at the end of the summer, Entertainment Weekly also sat down with nine cast members who were present during the world premiere of Dune at the Venice Film Festival (September 3). This "Around The Table" episode (36 minutes), hosted by Cynthia Erivo, is worth watching in its entirety.
Overall, a lot of interesting information was revealed in this exclusive covery story. If you want continue diving into their extensive look at the components of 2021's Dune, head on over to Entertainment Weekly and check out the full article.
After having started its theatrical run in Europe on September 15, the movie finally arrives in the United States and 35 other regions this week.
Source: Entertainment Weekly via Christian Holub (October 13, 2021), Entertainment Weekly roundtable video via Christian Holub (October 15, 2021)