BOOM! Studios has unveiled preview pages for the fourth and final issue of Dune: The Waters of Kanly, coming out on August 17, 2022. This comic book mini-series follows Gurney Halleck, one year past the fateful assault on Arrakeen. Believing the entire Atreides family—including Paul and Jessica—to have been killed, the veteran joins forces with the smugglers of Arrakis and seeks vengeance against House Harkonnen.
For the final issue, Christian Ward's (main) and Junggeun Yoon's (variant) covers portray conflict between Gurney Halleck and Glossu "Beast" Rabban, both embodying the deep hatred between Atreides and Harkonnens. In his variant cover, illustrator Francesco Mortarino portrays determination of the former warmaster, as he walks a lonely path of revenge.
In case you haven't read the previous issues of this comic book series, or the short story it's adapting, we recommend starting with our first look at Dune: The Waters of Kanly #1. As the concluding issue, the following preview contains spoilers for earlier developments.
Only four men return alive from their mission onboard the Spacing Guild Heighliner, ostensibly with nothing to show for their losses—the water tanker they sought remains in Harkonnen hands. Staban Tuek rebukes Halleck for his failure, knowing the consequences this may bring to their operations, however even now the smuggler leader is not privy to the latter's true objective.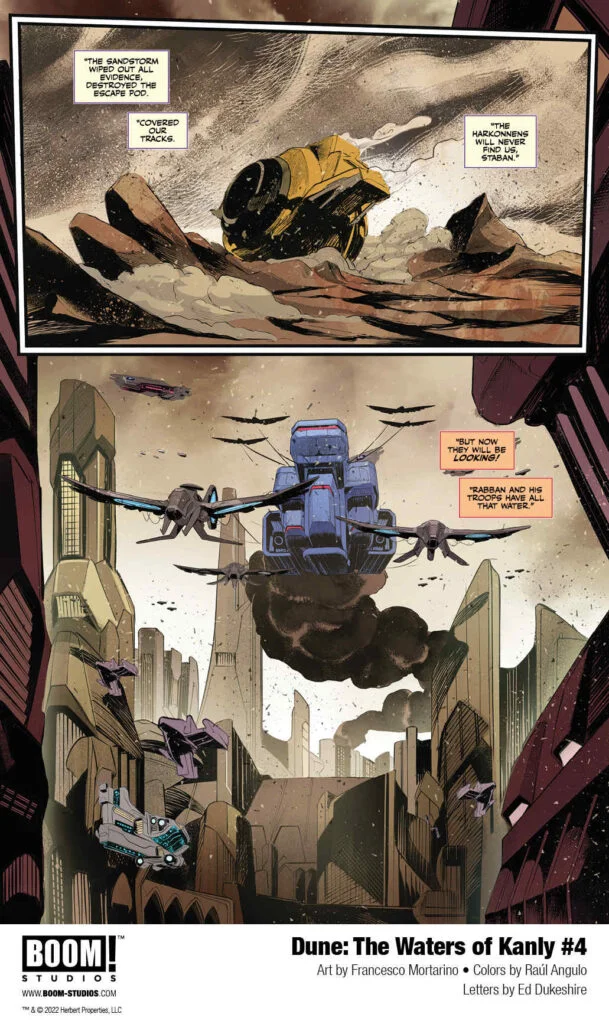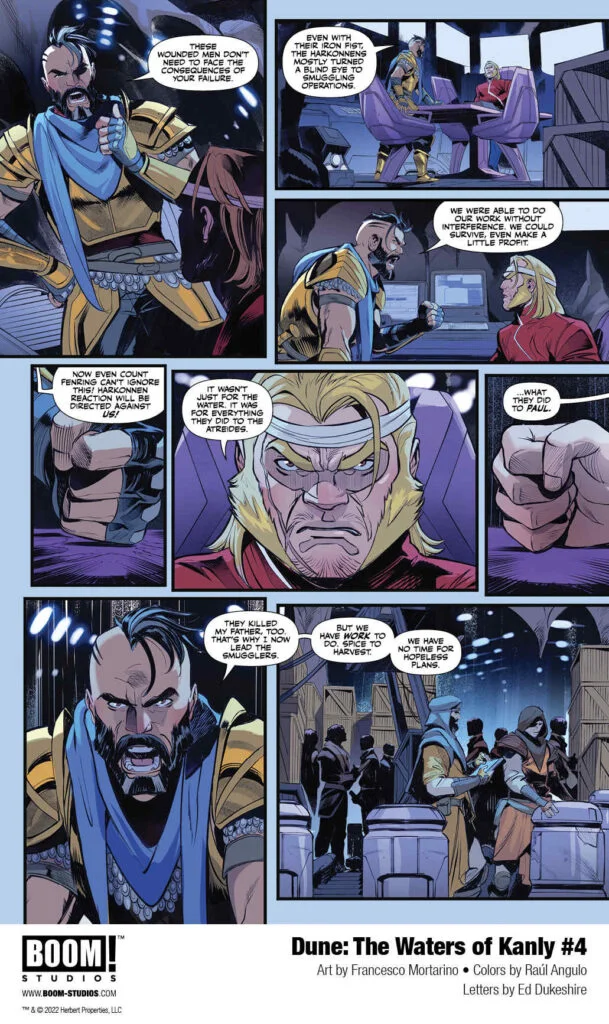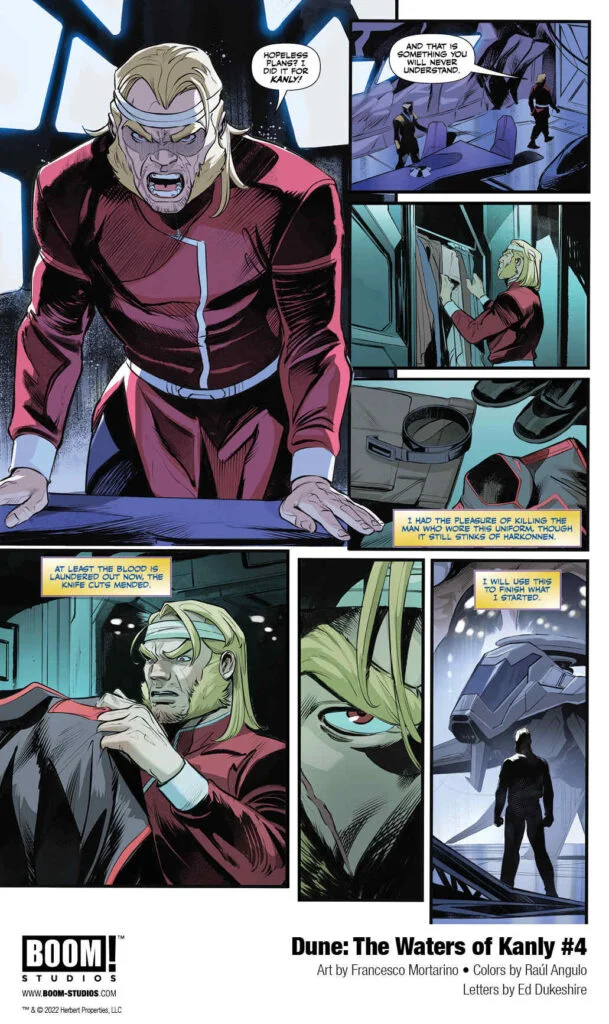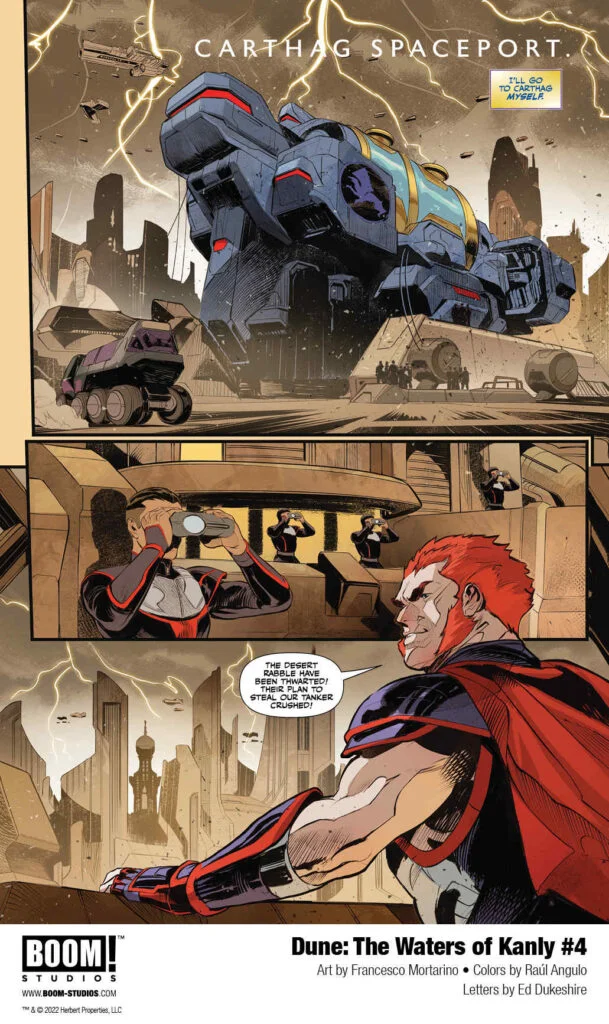 The official synopsis of Dune: The Waters of Kanly #4 reads as follows:
Gurney and the smugglers have eluded the Harkonnen forces and retreated to Arrakis, but they come back empty-handed and defeated.

However, Gurney's secret plan is finally set in motion. Will he finally have his revenge against the Beast? Or will his sacrifices be for nothing?
This comic book mini-series was illustrated by Francesco Mortarino and colored by Raúl Angulo, with lettering by Ed Dukeshire. Scripts were written by Brian Herbert and Kevin J. Anderson, based on their short story of the same name.
Digital copies of Dune: The Waters of Kanly #4 are now available for pre-order in digital stores. Amazon digital comic purchases are automatically delivered, on release date, to the Kindle or ComiXology app on your device.
Print copies will also be available at local comic book shops (use comicshoplocator.com to find the one nearest you) starting from August 17, 2022. All four issues will also be collected as a hardcover graphic novel—that edition will be released on February 14, 2023 and is already listed for pre-order.
The original prose version of The Waters of Kanly is also included in the anthology Sands of Dune: Novellas from the Worlds of Dune the Sands of Dune. That collection is out now and features two brand-new novellas, in addition to the short story Blood of the Sardaukar.