In an interview with Empire, for their April 2022 issue, director Denis Villeneuve reminisced about the first installment of Dune, and offered new information on the greatly anticipated part two of the movie series. It is clear that part one has been a success, something which Villeneuve hopes to build on this second time around.
Reflecting on the highly praised and award nominated Dune: Part One, Villeneuve imparted his thoughts and experiences on a variety of subjects regarding the film, including absent characters and cut scenes. For those of you wondering about certain lore and story beats that weren't in the movie, well, the director addressed this very thing. In response to a question regarding missing elements such as Dr. Yueh's Suk conditioning, or an overview of what a mentat is, Villeneuve had this to say:
I had to make tons of choices, and there's things that I know in this first part suffered because of it. There were beautiful scenes that were written and even shot between Thufir Hawat (Stephen McKinley Henderson) and Paul (Timothée Chalamet) that didn't make the cut… But when you adapt, you have to make bold choices in order for the thing to come to life. And I think that was the best way to introduce this world to a wide audience. Now in the second one, I want to have more flexibility, and it will be possible to go a little bit deeper into some of these details.
The interviewer also brought up one specific deleted scene, involving Paul being trained by Lady Jessica in the Bene Gesserit style of knife fighting. Rebecca Ferguson posted below picture on Instagram past December—sending her wishes to co-star Timothée Chalamet on his birthday—expressing that it was a scene that she loved. While Villeneuve states he's "never done a director's cut", it sounds like he is open to revisiting unused ideas.
Oh yes, that's a very beautiful scene. They were so fast! There's a lot of little scenes like that that didn't make the cut for several reasons. It's always the same thing: we tried to write something that would be as simple and economic as possible. Because the movie could have cost $500 million if we didn't! And some scenes are not necessary anymore. But I really love that scene. Maybe I can bring it back in Part Two. We'll see.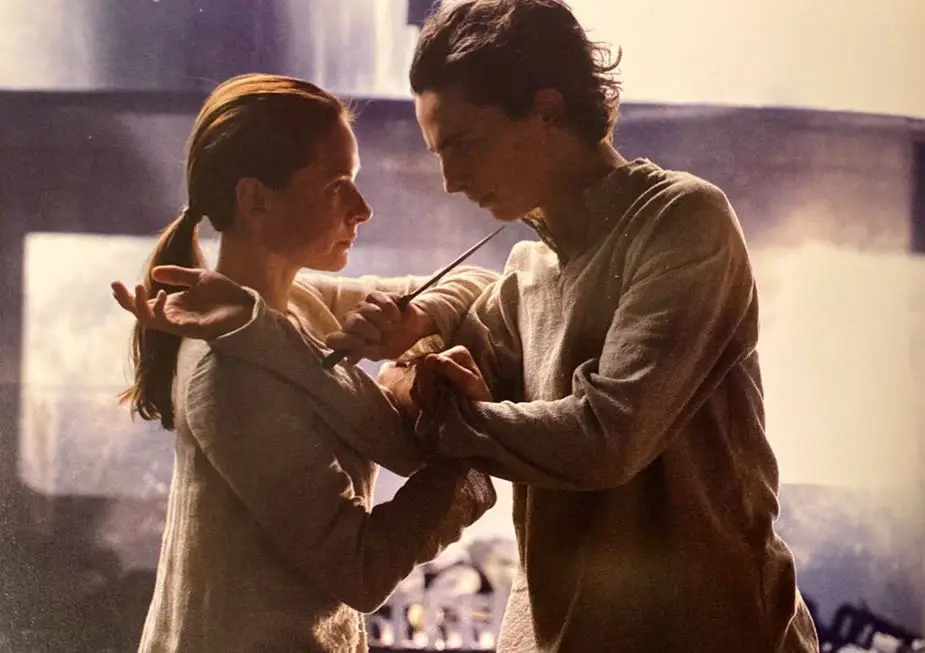 On the matter of a certain important character, Baron Harkonnen's favored nephew Feyd Rautha, a statement was given regarding his absence:
It's like a chess game. Some new characters will be introduced in the second part and a decision I made very early on was that this first part would be more about Paul Atreides and the Bene Gesserit, and his experience of being in contact for the first time with a different culture. Second part, there will be much more Harkonnen stuff.
In part two, the emperor will also make an appearance, whereas in the first installment, he was only ever heard about. Villeneuve remarked on the topic, "I feel that things you don't see are very often more powerful than the things that you actually do see."
Speaking of Dune: Part Two, information about the project's filming window and what Denis Villeneuve is looking forward to, were broached upon as well. The movie's screenplay is complete, and it will begin filming towards the end of summer 2022.
We are supposed to shoot by the end of the summer. I will say it is mostly designed. The thing that helps us right now is that it's the first time I've revisited a universe. So I'm working with the same crew, everybody knows what to do, we know what it will look like. The movie will be more challenging, but we know where we are stepping. And the screenplay is written. So I feel confident. Frankly, the only big unknown for me right now is the pandemic.
I'll leave you with the director's comments on what he is eager to begin doing with the sequel of Dune (2021).
Like the first one, all these movies are monsters. It's a very difficult question, because I'm excited about every single part of it… I know that this will happen just one time in my life, to have that kind of experience. And I just want to experience it, be present with it, every single moment of it. When I shoot a film, I shoot it like all my movies, as if it's the last one. I will do the same with [Dune: Part Two].
This full Dune movie interview with Denis Villeneuve is published on the pages of Empire's April 2022 magazine and also touches on cast and set anecdotes, Sardaukar culture, space bagpipes, the movie's title card, and more. The issue is out now and can be ordered from the Great Magazines website. Both print and digital copies are available.
What more can I say other than I'm looking forward to how Denis Villeneuve constructs the second part of his Dune movie series. I'm certain there's good things on the horizon.