Events are escalating quickly on Ix in this sixth issue of Dune: House Atreides, arriving in stores on April 28, 2021. The 12-part Dune prequel comic book series is a visual adaptation of Brian Herbert and Kevin J. Anderson's eponymous novel, featuring art from Dev Pramanik and Alex Guimarães. The story, set over 30 years before the original Dune, follows the journeys of Leto Atreides, Shaddam Corrino, and Pardot Kynes as they rise to power. BOOM! Studios has shared a first look at their upcoming release.
This article contains spoilers if you're not caught up with previous comics in this series. For those discovering this story for the first time, start with the earlier preview pages for Dune: House Atreides #1.
Evan Cagle's main cover features the newborn offspring of House Harkonnen. The Bene Gesserit expect that this child will bring their millennia-old eugenics program–to create the Kwisatz Haderach–to within two generations of completion. Could they be mistaken? In this month's variant cover (below), Jenny Frison depicts one of the mysterious order's powerful Reverend Mothers.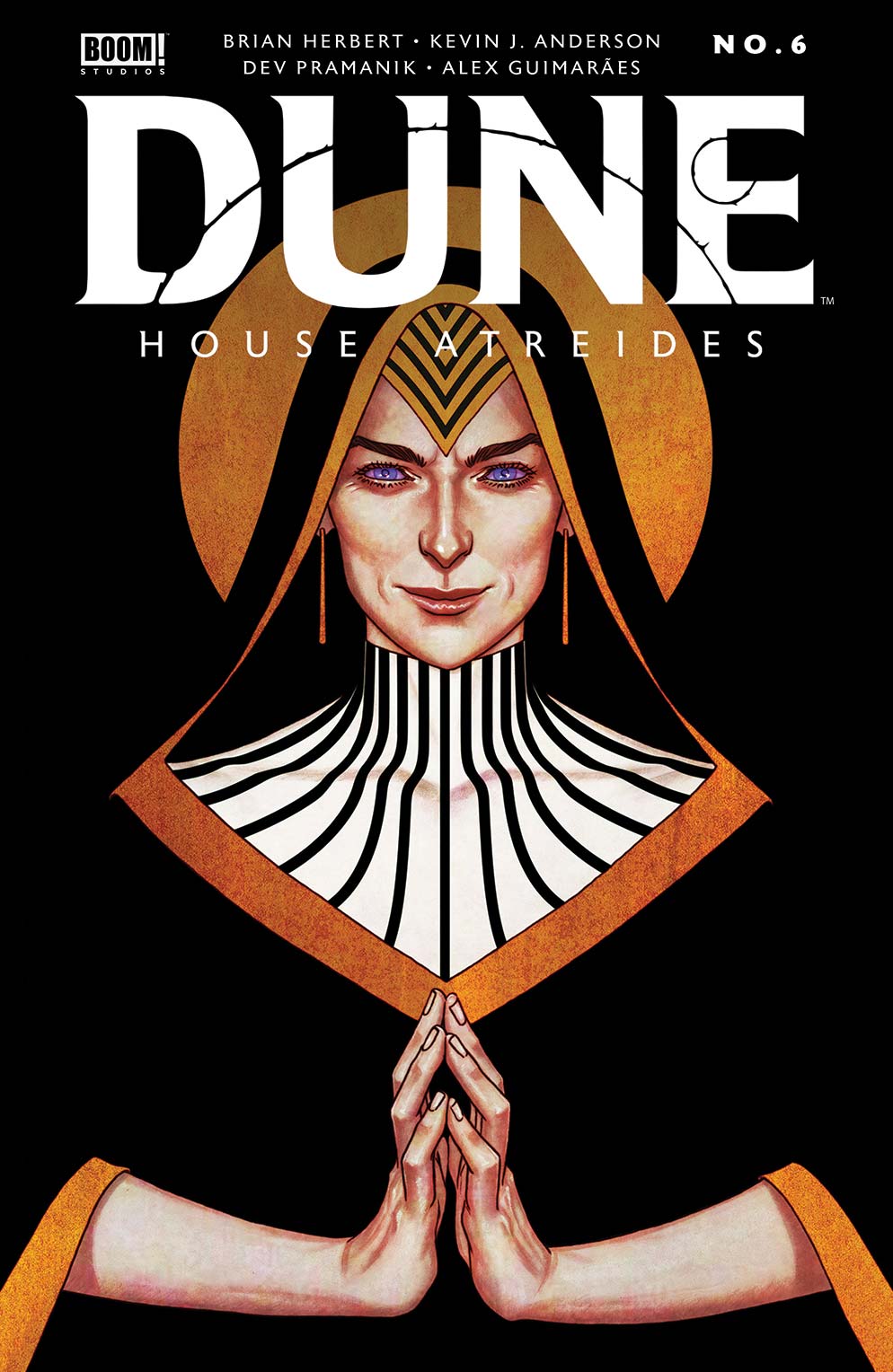 Below ground on Ix the situation has taken a dire turn. Vernii's population of suboid workers, led in rebellion by Tleilaxu face dancers, are overrunning the city. Earl Dominic Vernius's hope fades, as he arrives at the realization of who is really behind this uprising. On Kaitain, capital of the Imperium, the Ixian ambassador Cammar Pilru urgently petitions the Padishah Emperor himself for assistance. It's clear, however, that the ailing Elrood Corrino IX has no intention of taking action…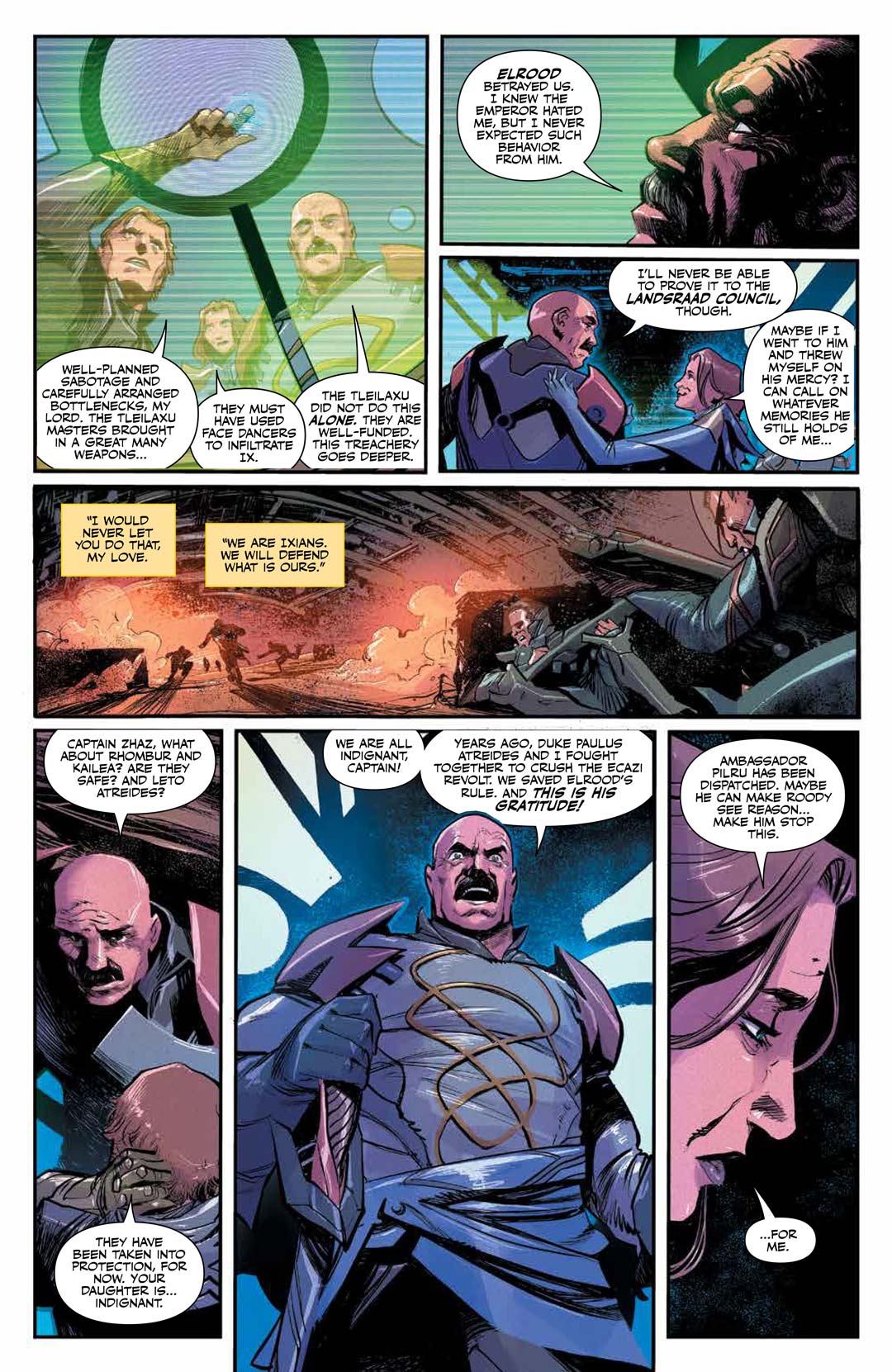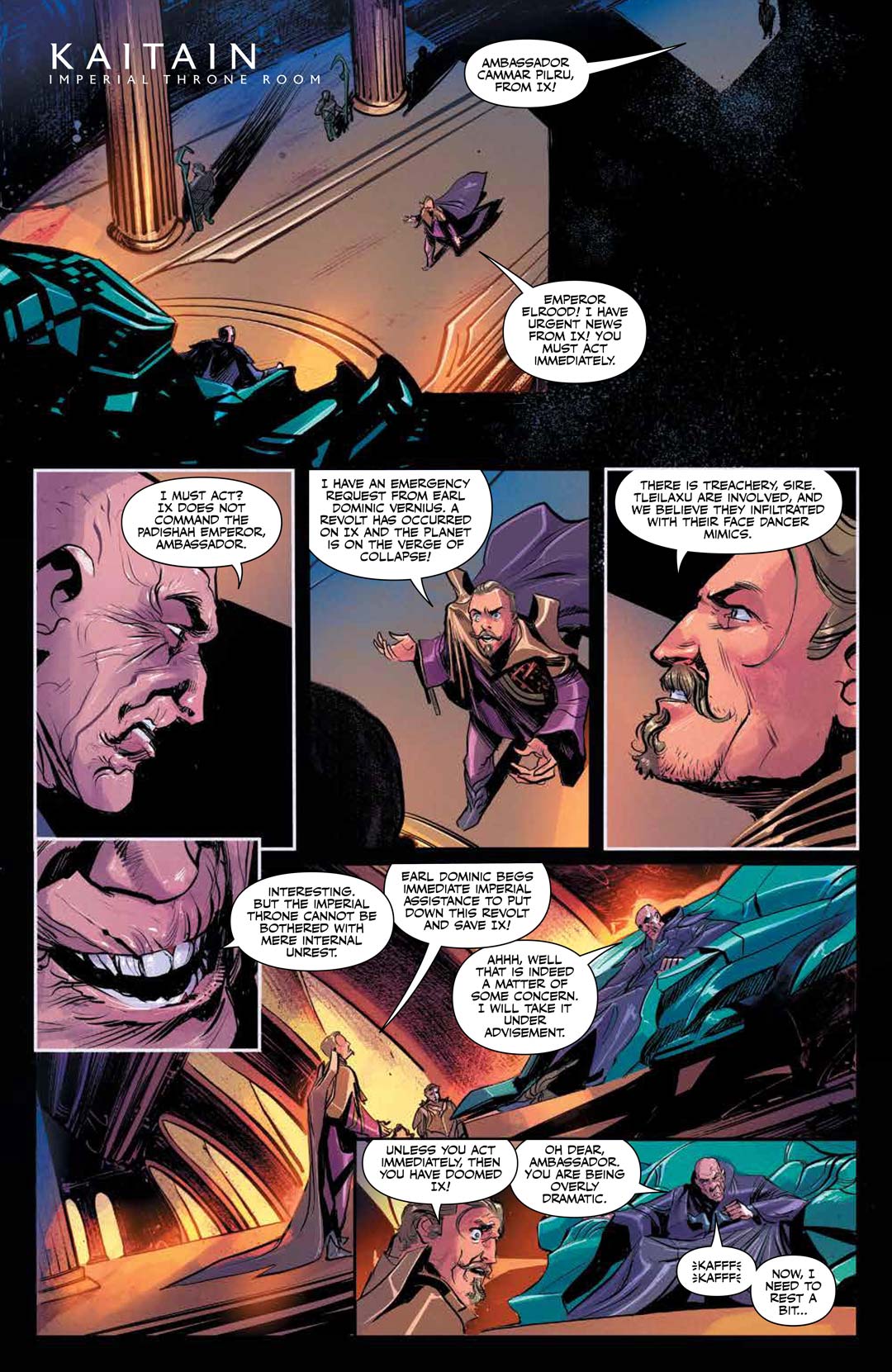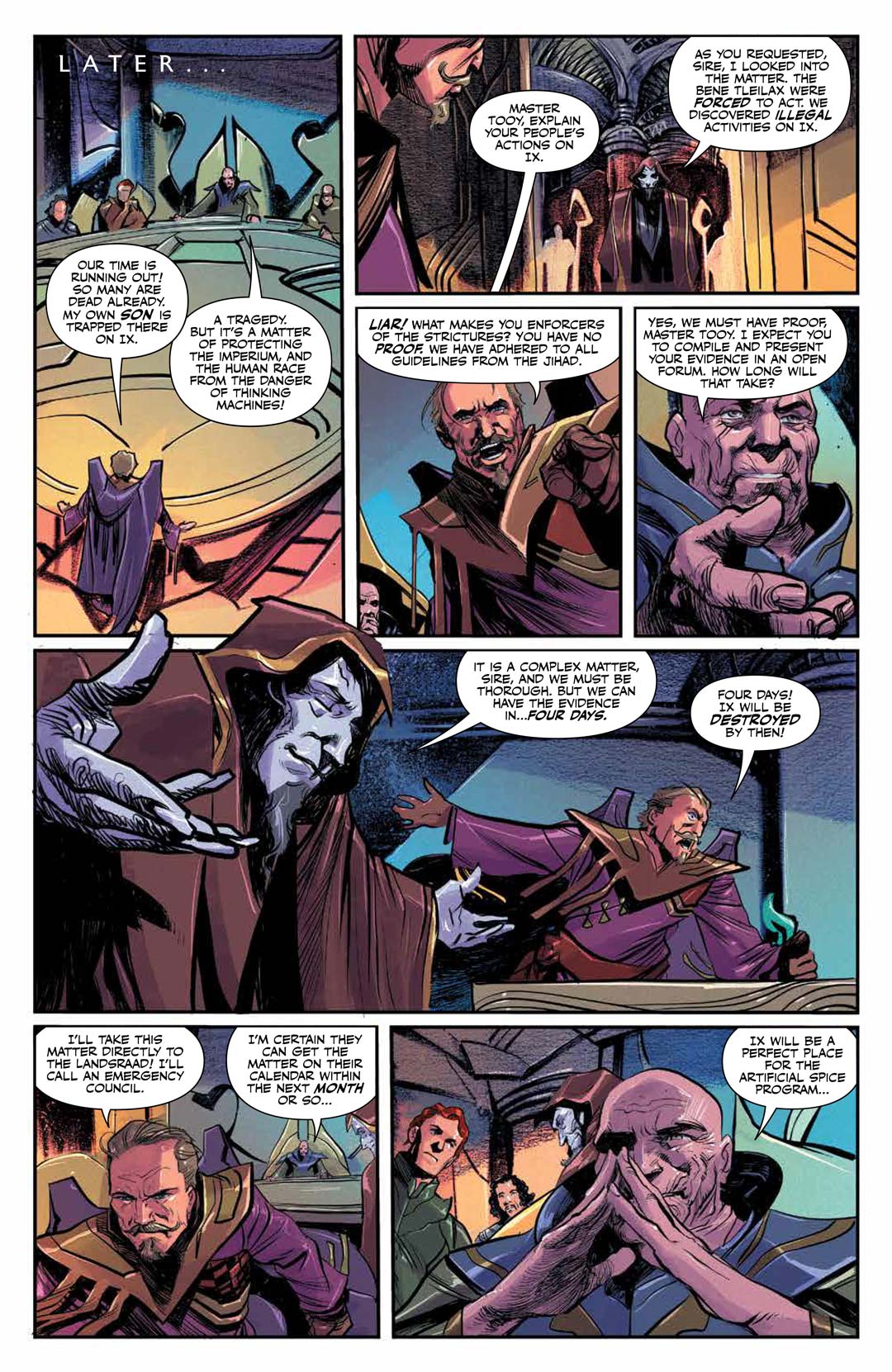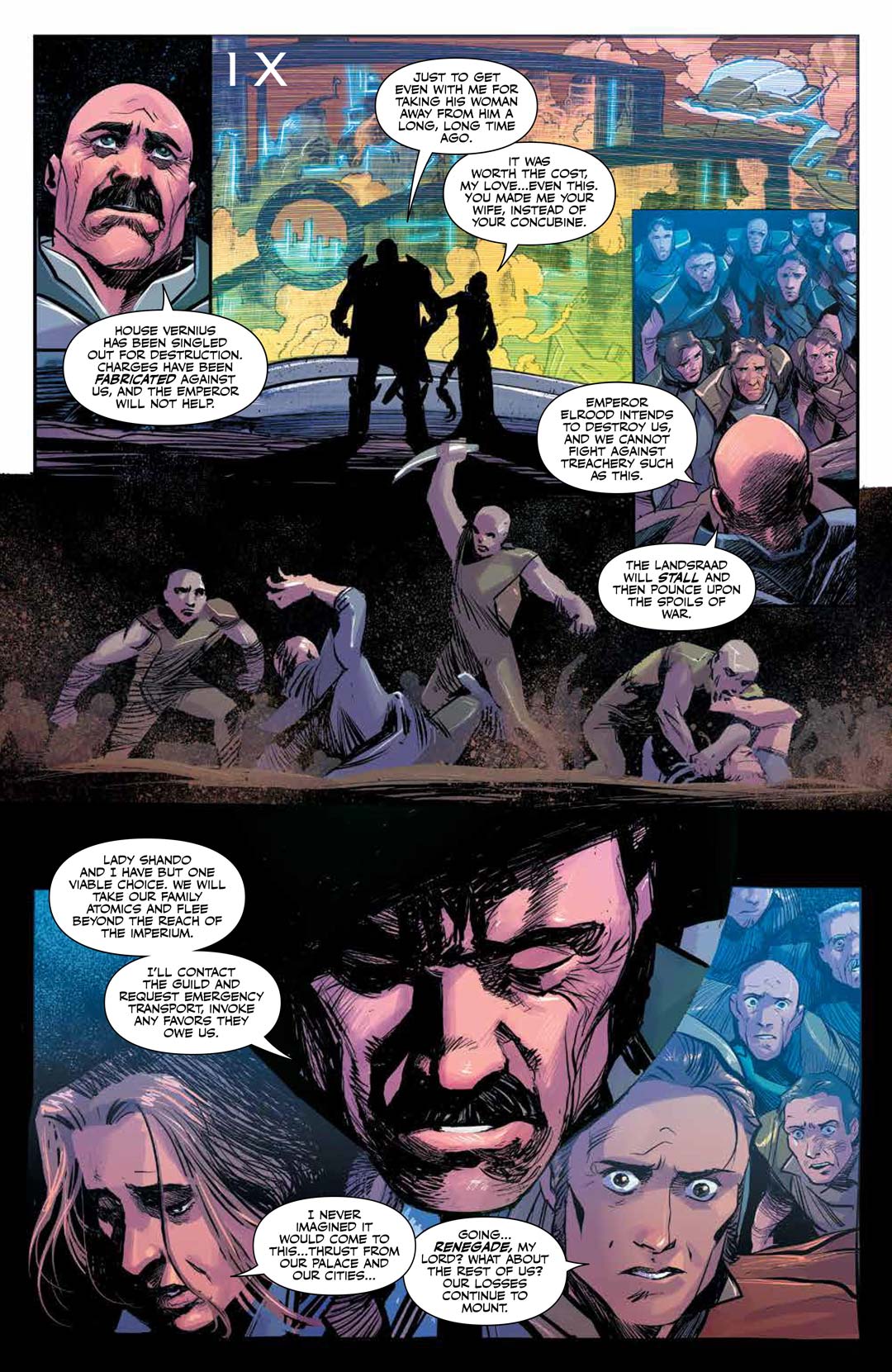 Here's the official synopsis for Dune: House Atreides #6:
* An unexpected revolt throws the balance of Ix into jeopardy and now Leto must make an important decision as the underground city is on the cusp of falling into evil hands.

* And while The Bene Gesserit's oracles predicted they would need a child from the Baron Harkonnen in order to continue tracing a genetic line to their foretold messiah… their plan has not gone as well as hoped.

* On the doorstep of Castle Caladan comes the man who will change everything – Duncan Idaho has arrived.
The sixth issue is now available for pre-order in digital stores, including Amazon and comiXology. Digital comics are automatically delivered to the Kindle or comiXology app on your phone, tablet, or e-reader on the day of release, so that you can can start reading instantly.
Print copies of all issues are can be ordered directly from the BOOM! Studios webstore (they're also offering 6 issue subscriptions) or via local comic book shops (use comicshoplocator.com to find the one nearest you).
For more updates about upcoming Dune books and comics, as well as news about the upcoming movie, follow us on Twitter.
Source: BOOM! Studios