Dark Horse Comics' solicitations have revealed their assortment of official Dune movie related merchandise, featuring a couple of new visuals. The below first wave of products, including magnetic bookmarks and sculpted pins, are all listed as being available in shops starting from August 25, 2021. Further items will be announced at a later date.
Dune Movie Magnetic Bookmarks
The bookmarks are fold-able and stay in place on the page. These will be released in two sets, each containing four bookmarks with different illustrations. The suggested retail price is listed as $8.99 per set.
Dune magnetic bookmark set #1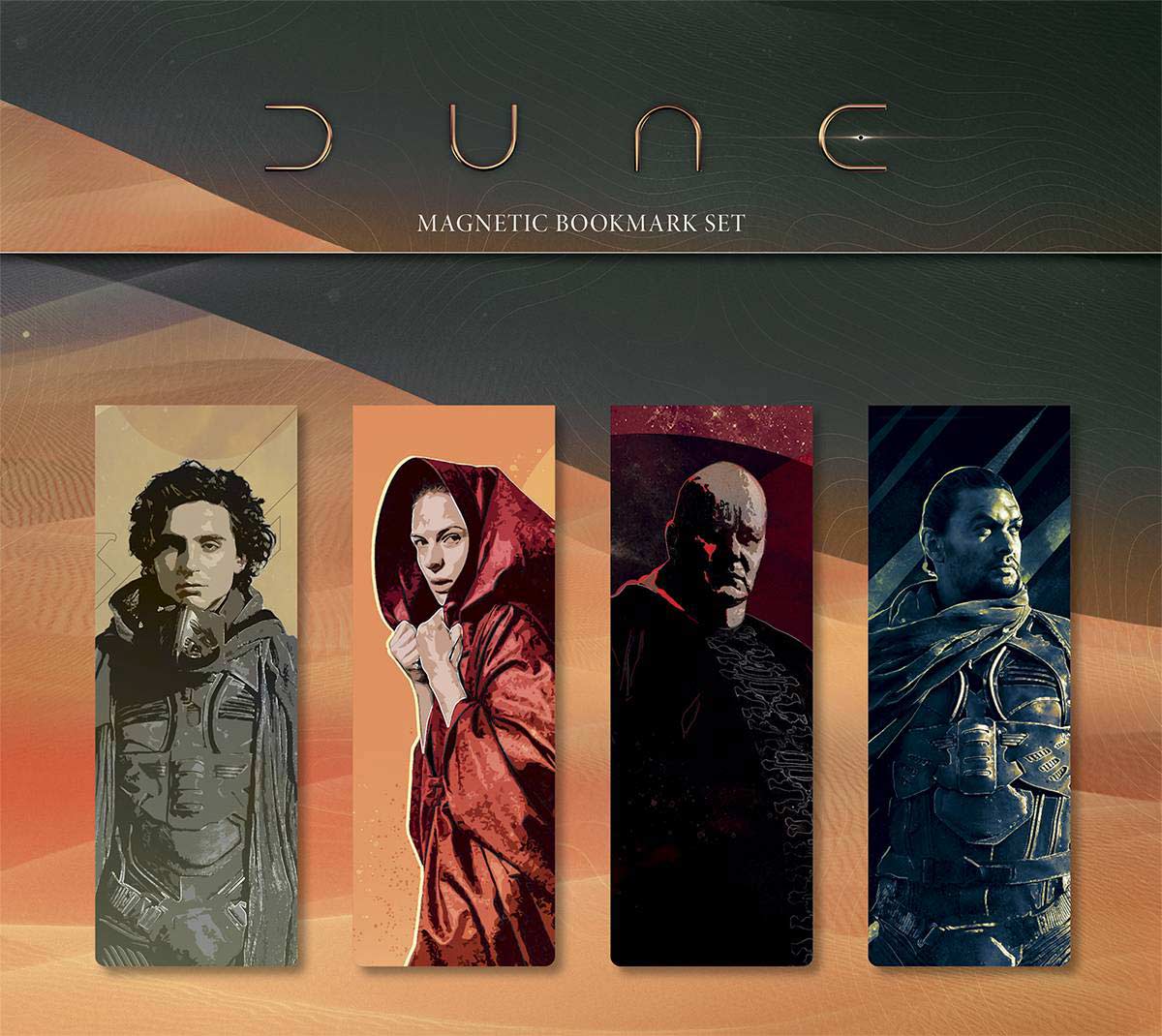 The first set features illustrations of four main characters from Dune (2021), as portrayed in the upcoming movie. From left to right: Paul Atreides (Timothée Chalamet), Lady Jessica (Rebecca Ferguson), Baron Vladimir Harkonnen (Stellan Skarsgård), and Duncan Idaho (Jason Momoa).
Dune magnetic bookmark set #2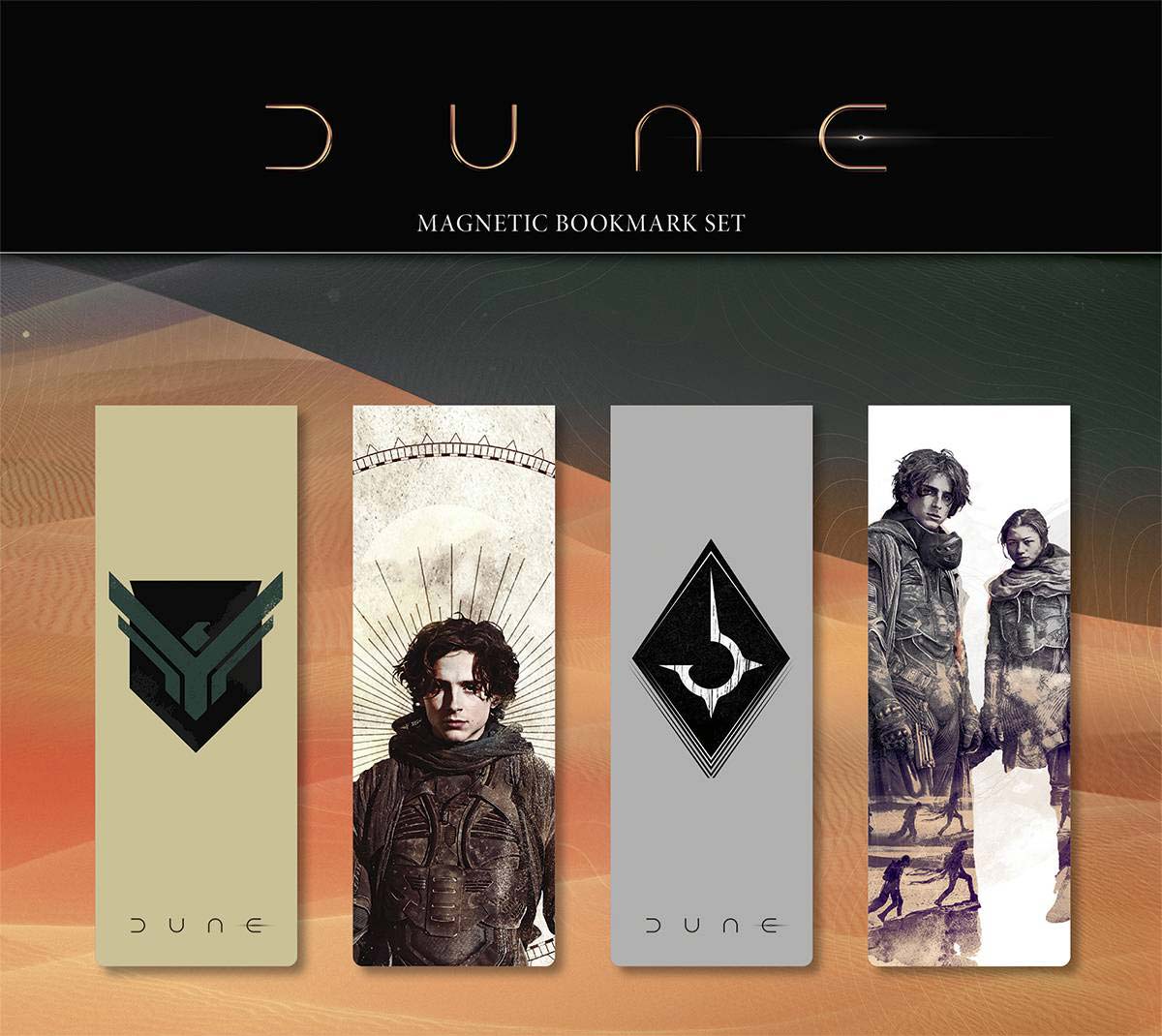 The second set includes symbols of the two rivaling houses (House Atreides and House Harkonnen) and illustrations based on photos of the movie's stars; Paul Atreides by himself, from the first cover of Empire's Dune-themed issue, and together with Chani (played by Zendaya). Within the latter illustration there's also a glimpse of them traversing the sands together, rapidly walking without rhythm so as not to attract the sandworms.
Symbols of the Houses Major
These sculpted pins replicate the official symbols of the two key noble Houses, whose longstanding feud is intrinsic to the story of Dune. These are listed with an SRP of $14.99 each.
Dune Atreides pin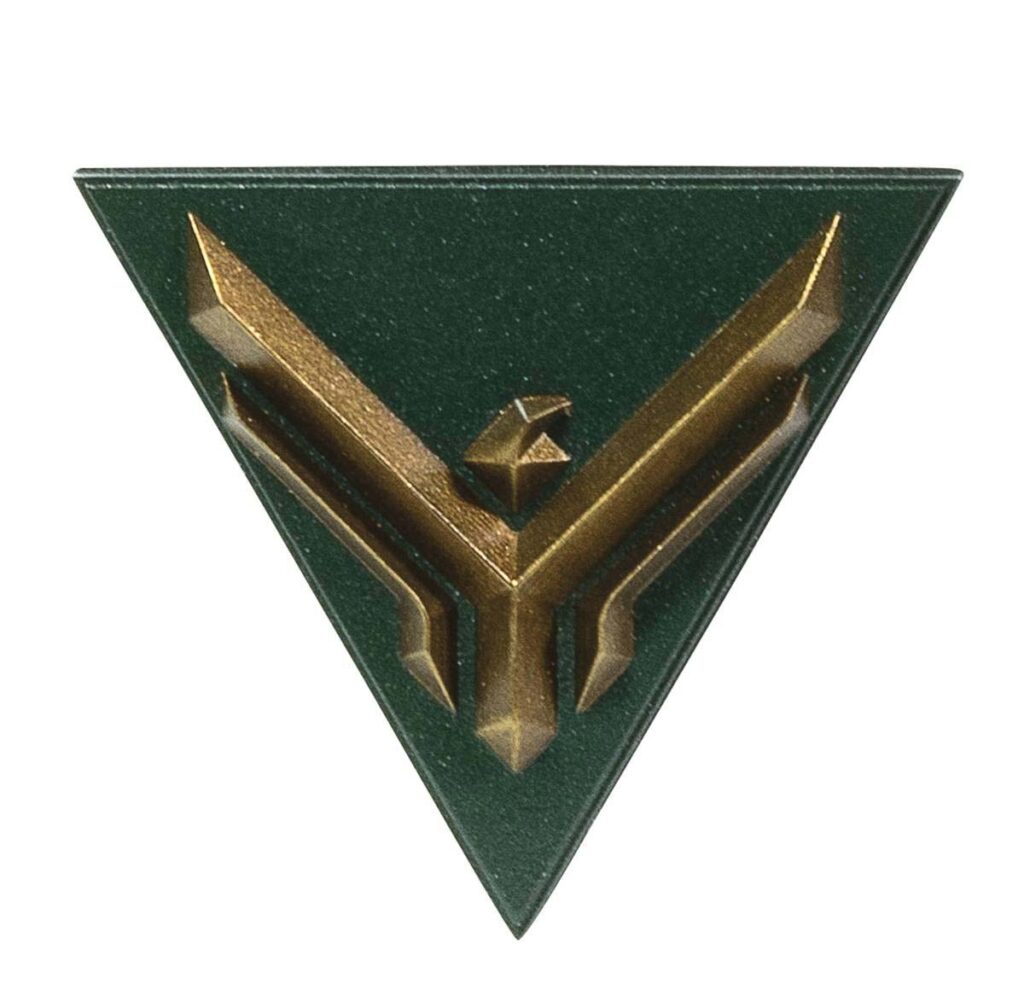 The Hawk, symbol of House Atreides, measuring 2″ tall.
Dune Harkonnen pin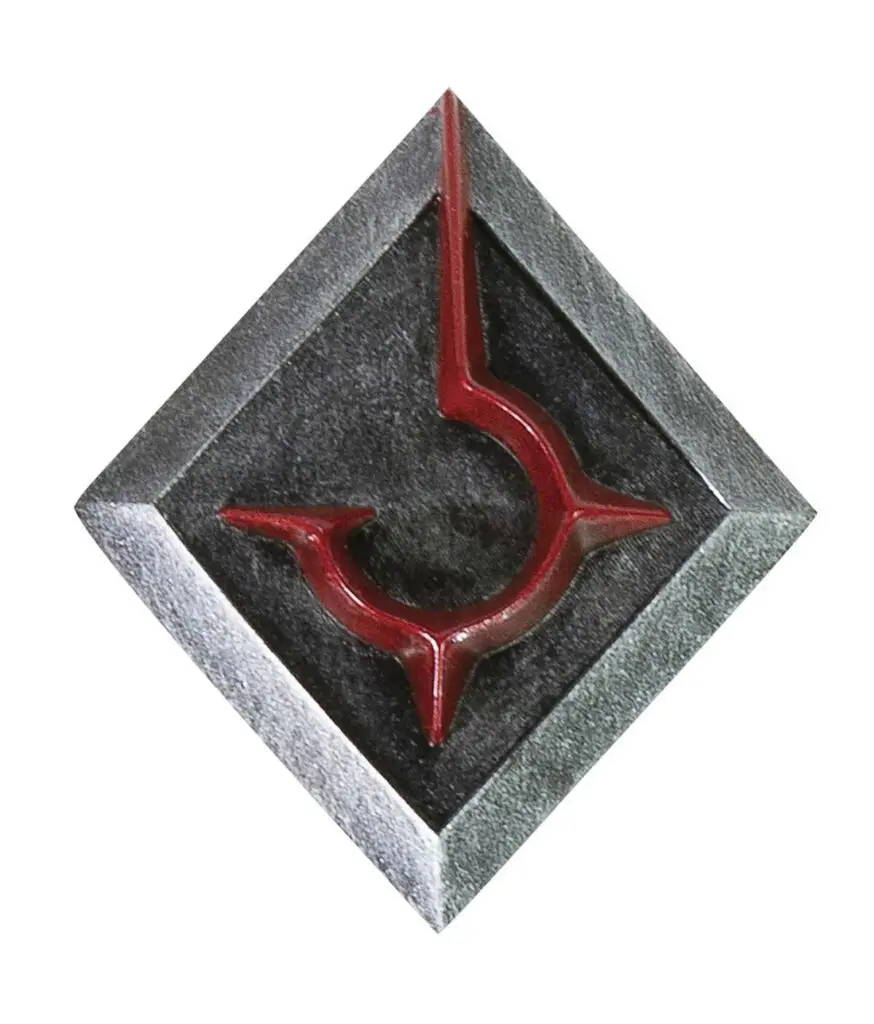 In the books, the symbol of House Harkonnen is described as a Griffin. For the movie they've gone with a more stylized representation, possibly reflecting the mythical beast's ram-like horns. This pin is 2.25″ tall.
More Dune Merchandise
Finally there are two sets of magnets: Each contains four pieces, inside of a 2.75″ x 3.75″ case, and will cost $9.99.
Dune character magnet 4-pack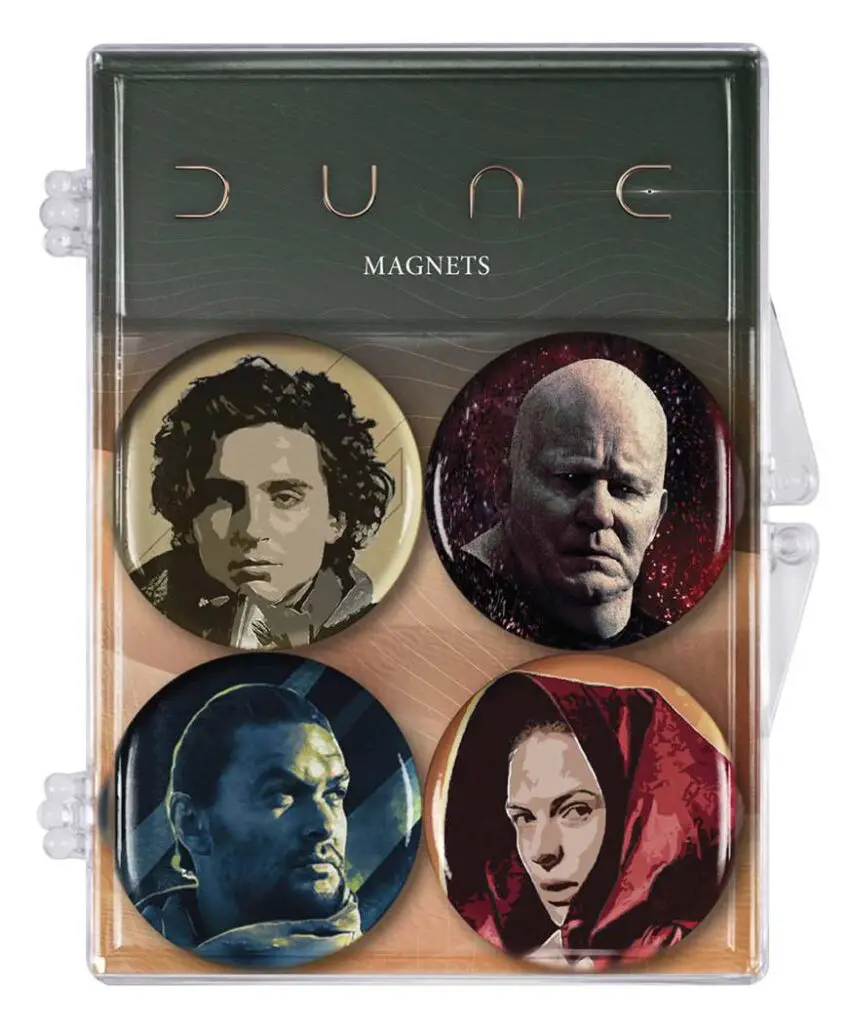 The faces of Paul Atreides, Baron Harkonnen, Duncan Idaho, and Lady Jessica.
Dune Atreides & Harkonnen magnet pack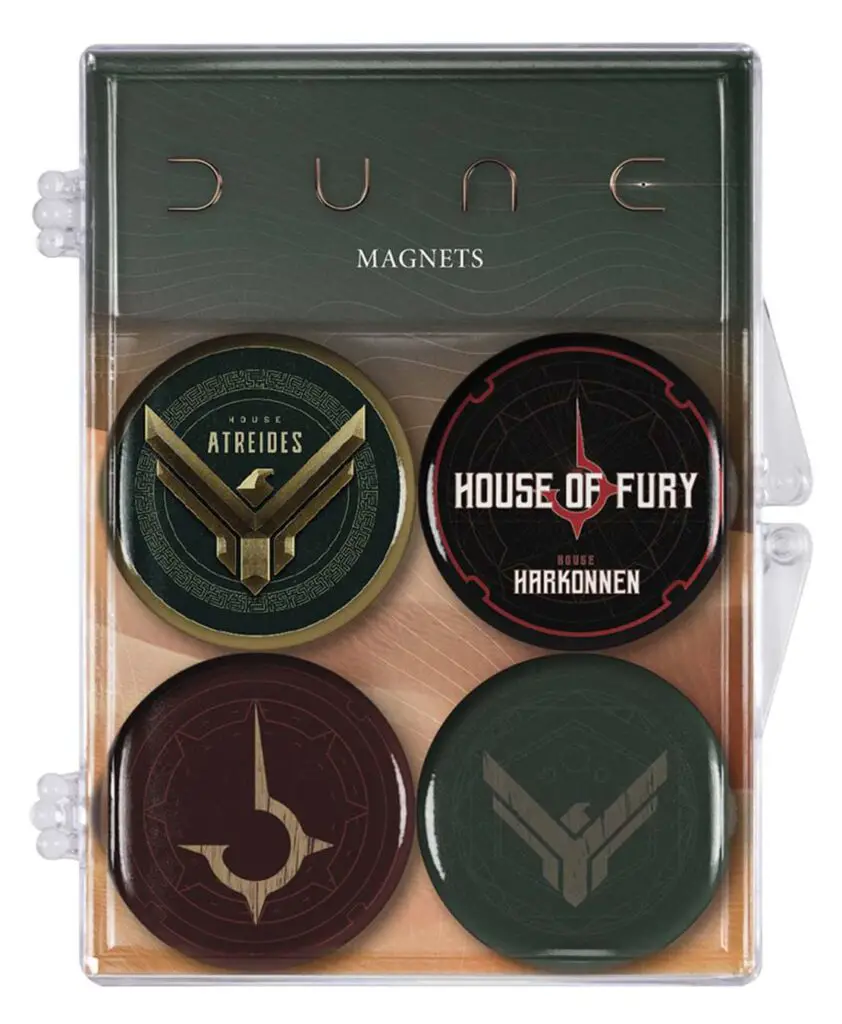 The last set contains the symbols of Houses Atreides and Harkonnen–two variants of each.
Here's the official announcement regarding these products:
Dark Horse Comics, in partnership with Legendary Entertainment, is proud to share our initial product line for the highly anticipated science fiction epic, Dune!

A mythic and emotionally charged hero's journey, Dune tells the story of Paul Atreides, a brilliant and gifted young man born into a great destiny beyond his understanding, who must travel to the most dangerous planet in the universe to ensure the future of his family and his people. As malevolent forces explode into conflict over the planet's exclusive supply of the most precious resource in existence-a commodity capable of unlocking humanity's greatest potential-only those who can conquer their fear will survive.

We have an amazing assortment of products inspired by the iconography of the film, with more to come!
We'll continue to update this article with pre-order links, when the respective items become available in additional online stores.
Source: Dark Horse Comics' Solicitations (March 19).