It's happening! Today saw releases of both this striking movie poster and confirmation that the "Official Trailer" for Dune: Part Two will hit the internet tomorrow. That's not all though, as the latter came accompanied by a short teaser. This is the second consecutive week of new Dune movie content, following last week's (press-only) Warner Bros. Discovery panel at CinemaCon and Vanity Fair's first look feature.
Long Live the Fighters
Rather than an ensemble collage—as we saw in the first poster for Dune: Part One—today's new poster focuses on the core of the movie; its story of love and war. Timothée Chalamet's Paul Atreides and Zendaya's Chani stand together, defiantly wielding their crysknives.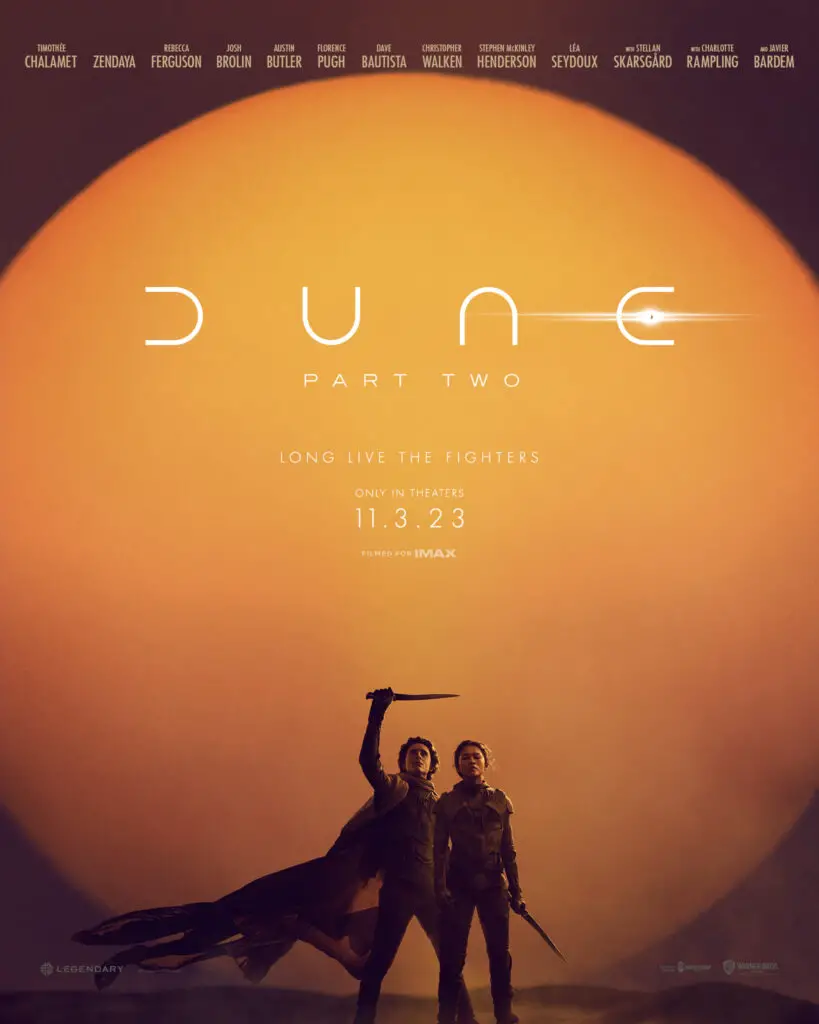 Director Denis Villeneuve teased that Dune: Part Two is an "epic war movie" that will bring plenty of big screen spectacle to cinemas in November. At the same time, he considers the relationship between Chani and Paul as the story's "epicenter." While their circumstances are extraordinary, "these are still just two young people who are trying to grow up and fall in love," as Zendaya characterized in recent interviews.
This Dune: Part Two movie poster forms a nice parallel with the IMAX poster for the first movie. There Paul had walked the deserts of Arrakis alone, seemingly carrying a heavy burden on his shoulders. In today's visual the two leads are united, facing those immense pressures together.
Teasing the Official Trailer
This short promo video (44 seconds) contains the first look at actual footage from Dune: Part Two. Paul, preparing to ride a sandworm for the first time—an essential rite of passage into Fremen society—places a thumper and scurries to position higher on the sand dunes.
At the end you'll have noticed that we now get a glimpse at the face of Feyd-Rautha, as portrayed by Austin Butler. The Na-Baron is hairless and pale in Denis Villeneuve's adaption of Dune, though his distinctive features and stature set him apart from other Harkonnens we've seen.
Check back here tomorrow for the Dune: Part Two Official Trailer, that is expected to be 2 minutes and 25 seconds long.
In the meantime, if you haven't already, subscribe to our YouTube channel. The Dune Talk crew will be sharing their full thoughts on the trailer, and other recent movie news, in the next episode.