In this thrilling week for Dune, a new IMAX exclusive poster has been revealed. In contrast to the main poster featuring the star-studded cast, this atmospheric artwork focuses on Paul Atreides—the movie's lead role, performed by Timothée Chalamet—with open desert and two moons of Arrakis in the backdrop. The visual conveys the sense of heavy weight on the teenage noble's shoulders, as he walks alone across the planet's spice-rich sands.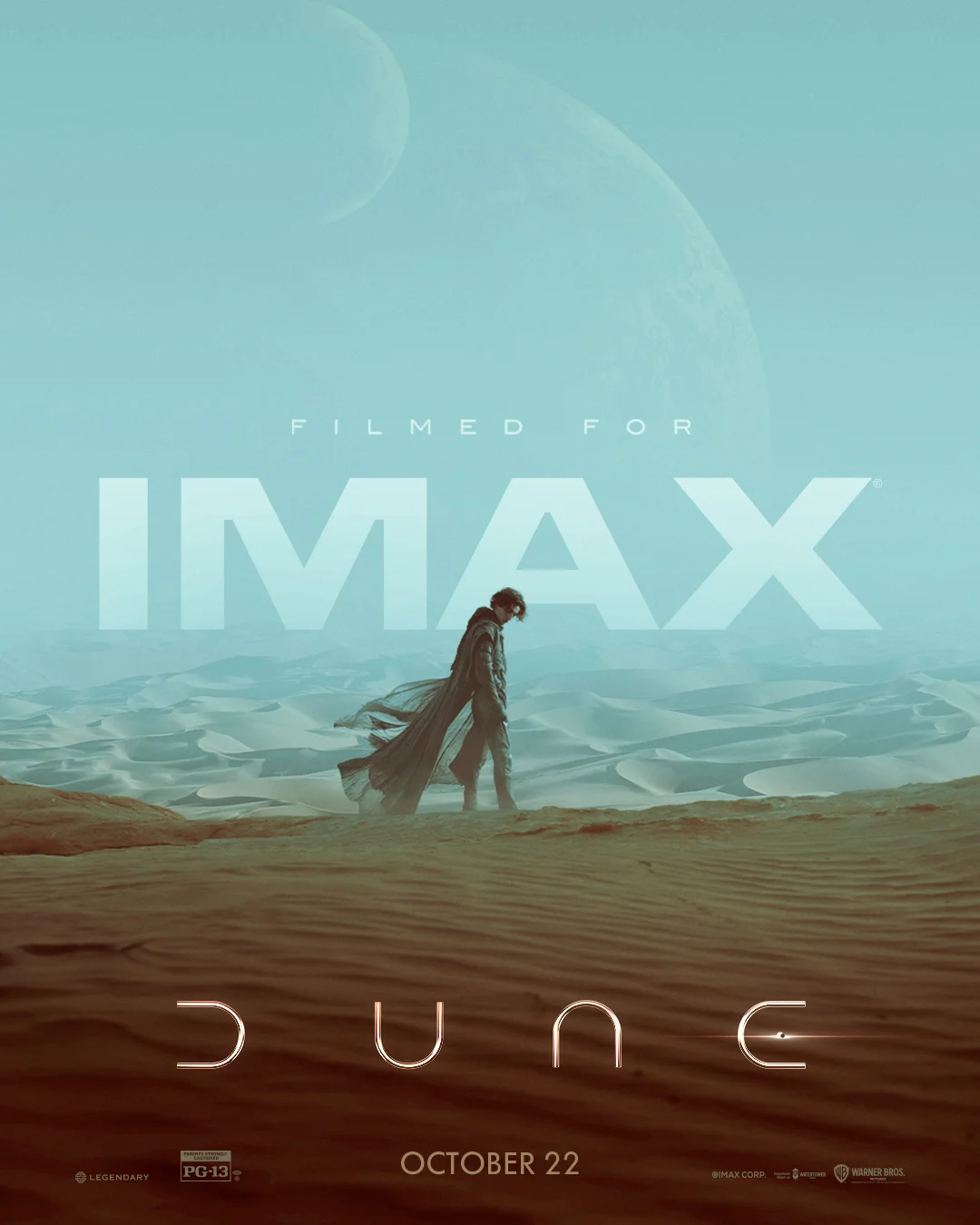 Toronto International Film Festival
Although the world premiere of Dune: Part One is taking place this Friday, September 3 at the Venice Film Festival, the first opportunities to watch the film in its full IMAX experience will be during the Toronto International Film Festival. The latter festival runs from September 9-18.
Six showtimes have been announced, with the first two screenings taking place on September 11 (both in Toronto):
Scotiabank Theatre Toronto: Noon EDT (press and industry only)
Cinesphere IMAX Theatre: 7:15 pm EDT
There will be two public screenings on September 12, including one in Montreal:
Cinéma Banque Scotia Montréal: 7:00 pm EDT
Cinesphere IMAX Theatre: 7:30 pm EDT
Individual tickets for these in-person screenings will go on sale starting from September 4 for TIFF members and then September 6 for the general public. For the full list of showtimes and to purchase tickets, head over to the TIFF website.
Here's the festival's synopsis for the movie:
Paul Atreides (Chalamet) is heir to the throne that governs the most important planet in the known universe, Arrakis. His father Duke Leto Atreides (Oscar Isaac) rules Arrakis, but the desert planet's chief natural resource, a drug nicknamed the spice that gives its users superhuman powers, makes it the target of violent battles and the constant threat of political treachery. House Atreides will need the help of the Fremen people in the desert, but they insist on their own autonomy. The desert has its own predators as well—gargantuan, merciless sandworms. Paul, who has been raised in a bubble of privilege, now stands at the moment when he must prepare himself for leadership and for battle.

Villeneuve propels Dune through eye-popping action sequences set against dazzling vistas, always grounding what's at stake in the emotional lives of his characters. Josh Brolin does terrific work as warrior Gurney Halleck, training Paul for the battles ahead. Rebecca Ferguson plays all the complex nuances of Lady Jessica, a character expanded and given more depth here than in the novel. And just watch Zendaya work in her role as a Fremen desert warrior. From start to finish, Dune is awe-inspiring—and it's just the beginning.
Sources: Collider via Carly Lane (August 30, 2021), Toronto International Film Festival (August 24, 2021)