We're less than four weeks away from the world premiere of Dune (2021), at the Venice Film Festival on September 3, and the flow of new content promoting the movie shows no signs of subsiding. Today there was another wave of excitement on social media, as official accounts released a brand-new poster for the upcoming science fiction blockbuster.
The original Dune novel, by Frank Herbert, tells an epic tale of humanity and destiny, in the backdrop of a unique far-future feudal society spread across a million worlds. The setting and narrative is so rich—director Denis Villeneuve would only agree to adapt this story as two complete movies—that no one single image can fully capture its essence. It's not surprising then that, like the set of 14 character posters released in July, this new visual focuses on faces of two of the key factions.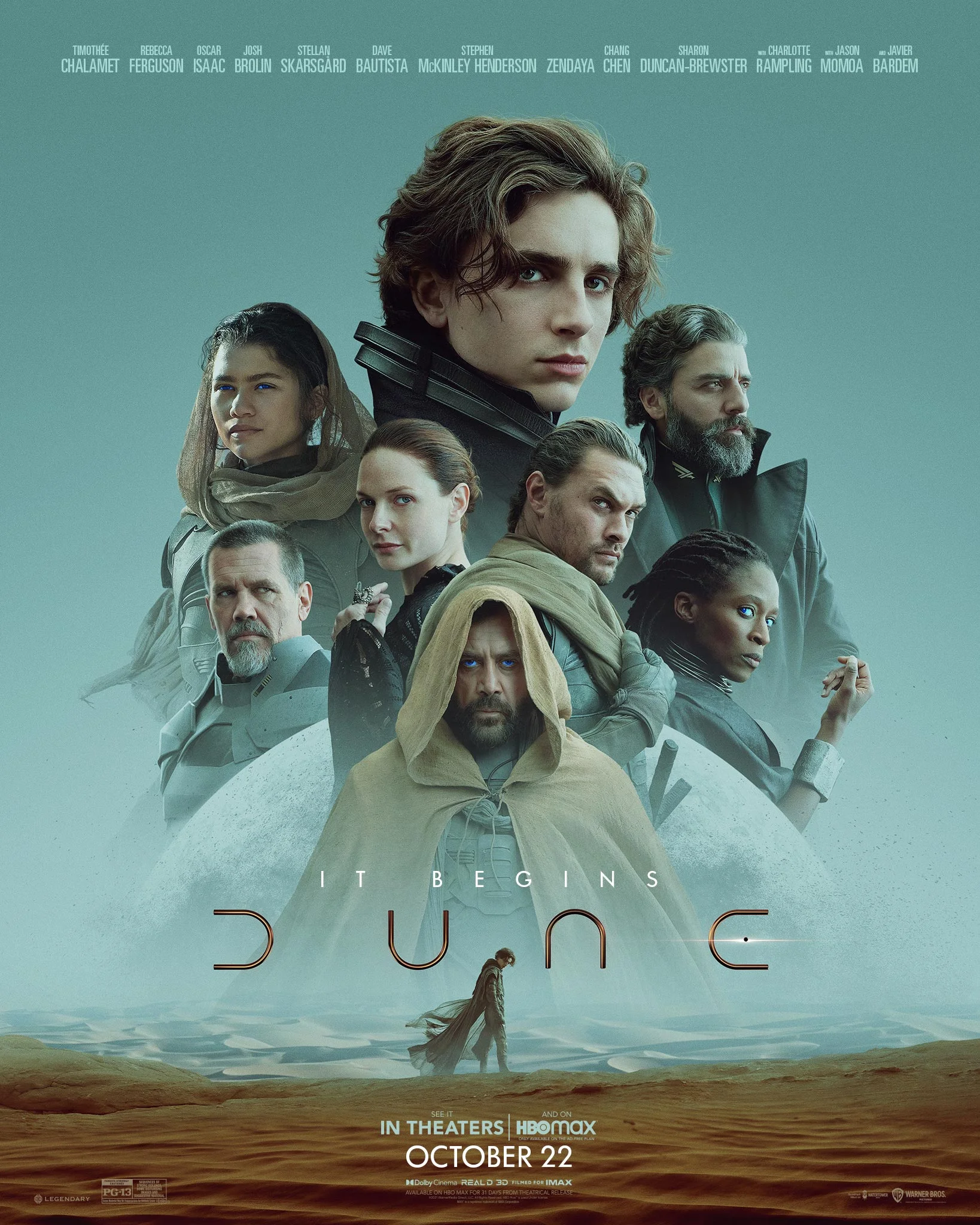 The poster symbolically portrays the intermingling of two vastly different peoples—the noble House Atreides, who are taking control of Arrakis, and that desert planet's hardy inhabitants, the Fremen—whose fates become intertwined as the story of Dune progresses. We also see a hint of the journey of Paul Atreides, the lead role played by Timothée Chalamet, who starts from the privileged position of living a largely trouble-free life as the teenage son of a Duke. Lower in the visual, however, we see him from a more troubled perspective, grappling with the burdens of leadership and heavy losses.
Nonetheless, it's justified if some movie enthusiasts feel that this creative direction is unoriginal. Indeed, one only has to look up literally any recent movie posters for franchises like Avengers or Star Wars to find the ubiquitous cast montages, with their "floating heads". Compared to the many beautiful Dune covers and inspirational artwork, that the setting naturally lends itself to, the standard ensemble approach may seem uninspiring.
When it comes to a first movie like this though, it makes sense to stick to established marketing concepts. Sure, long-time fans of Dune know what to expect, however it's general audiences who will ultimately decide on success (and continuations). Millions have already seen all those stunning visuals in the movie's trailer and now it's the job of posters like this to catch the eyes of those, still, uninitiated. Given star power of this cast, I'd say it's the right call to lean heavily into well-known faces to draw moviegoers in.
Following Venice, Dune will begin with staggered theatrical-exclusive releases, in various (non-English) international territories, from September 15 onward. The movie will premiere in the U.S. on October 22, both in theaters and on HBO Max.