The future of young Duke Leto, and very existence of House Atreides, will be decided by the newly crowned Emperor in the finale of Dune: House Atreides—released today. This 12-part comic book series, published by BOOM! Studios, adapted the eponymous prequel novel written by Brian Herbert and Kevin J. Anderson in 1999. The tale of discovery and political intrigue takes place more than 30 years prior to the events of Frank Herbert's original Dune book and its 2021 movie adaptation.
The rich settings of the Dune universe and its iconic characters—including Baron Vladimir Harkonnen, Shaddam Corrino IV, and Pardot Kynes—have been visually brought to life by the artistic team of Dev Pramanik (illustrator) and Alex Guimarães (colorist). Multiple talented artists have contributed covers over the course of this series and the issue #12 features work from Evan Cagle (main) and Tiffany Turrill (variant).
If you haven't read the previous comic book issues (or the novel that they're are all based on), we'd advise starting from the beginning. Check out our preview of Dune: House Atreides #1. This being a prequel story, you may know final fates of some its characters, however the developments and reveals are worth experiencing—especially in this well-paced visual format.
The final issue opens on Kaitain, capital of the Imperium, where Duke Leto stands trial for a crime he didn't commit. Disconcertingly, it appears that political allegiances will take precedence over that simply truth. A guilty verdict would mean the Atreides leader loses his title, and all possessions, effectively spelling the end of his noble House.
As the Tlelaxiu prosecutor enters the courtroom, it seems that even Leto's life may be forfeit if their form of justice is served. To the surprise of the assembled nobles, Crown Prince Shaddam Corrino IV himself also arrives to attend the proceedings. How will presence of the ruler of the Known Universe influence the proceedings?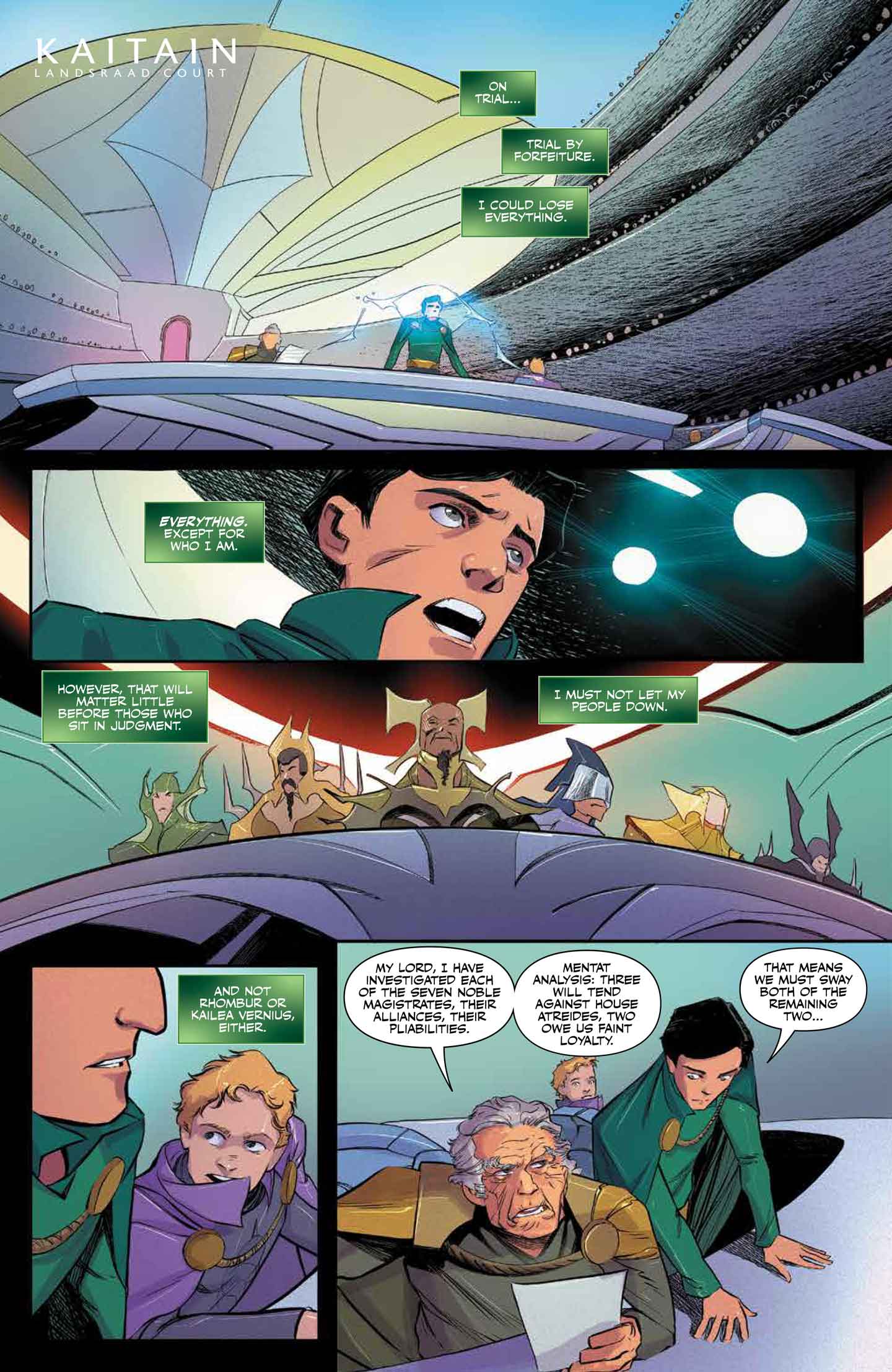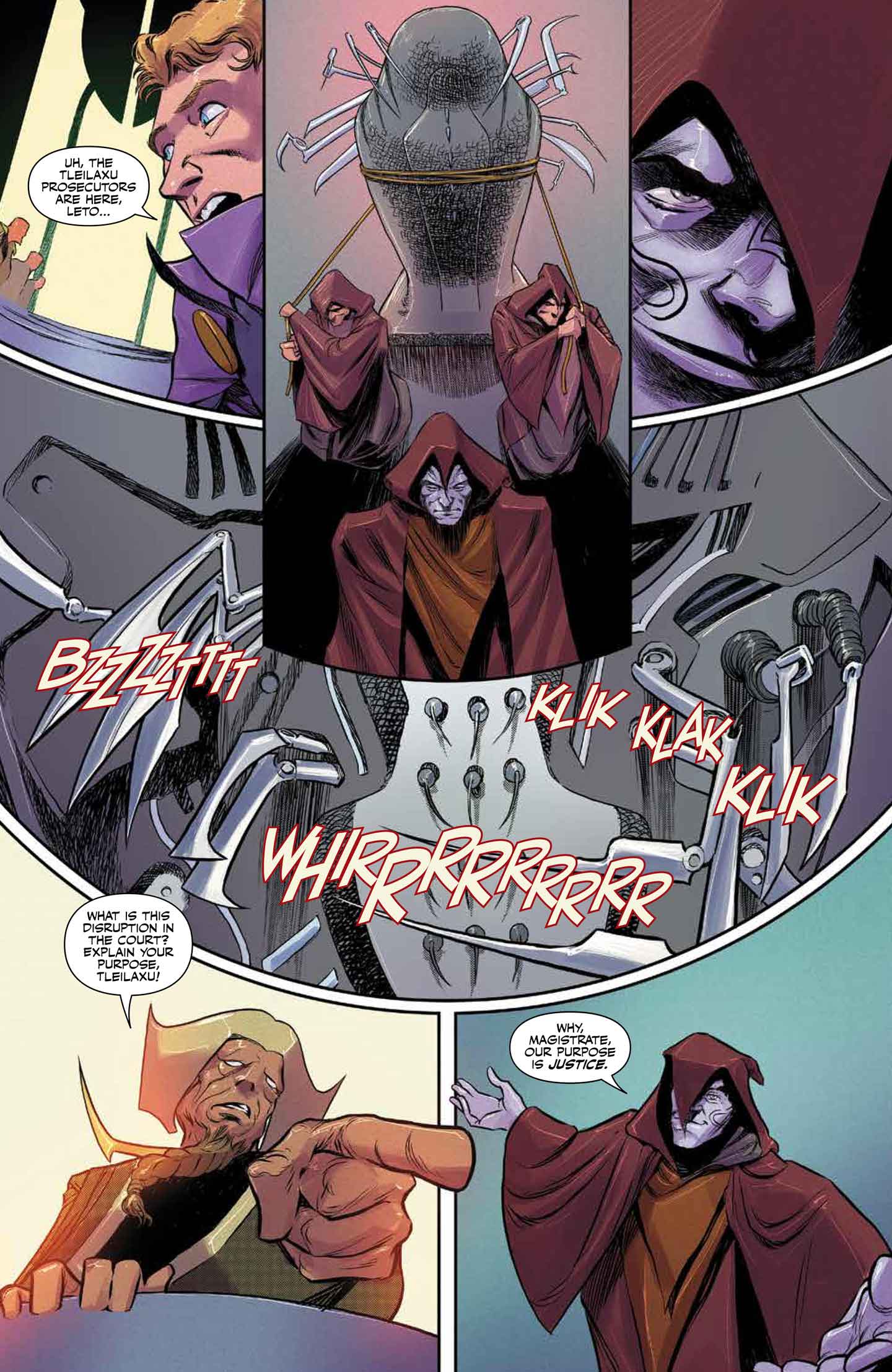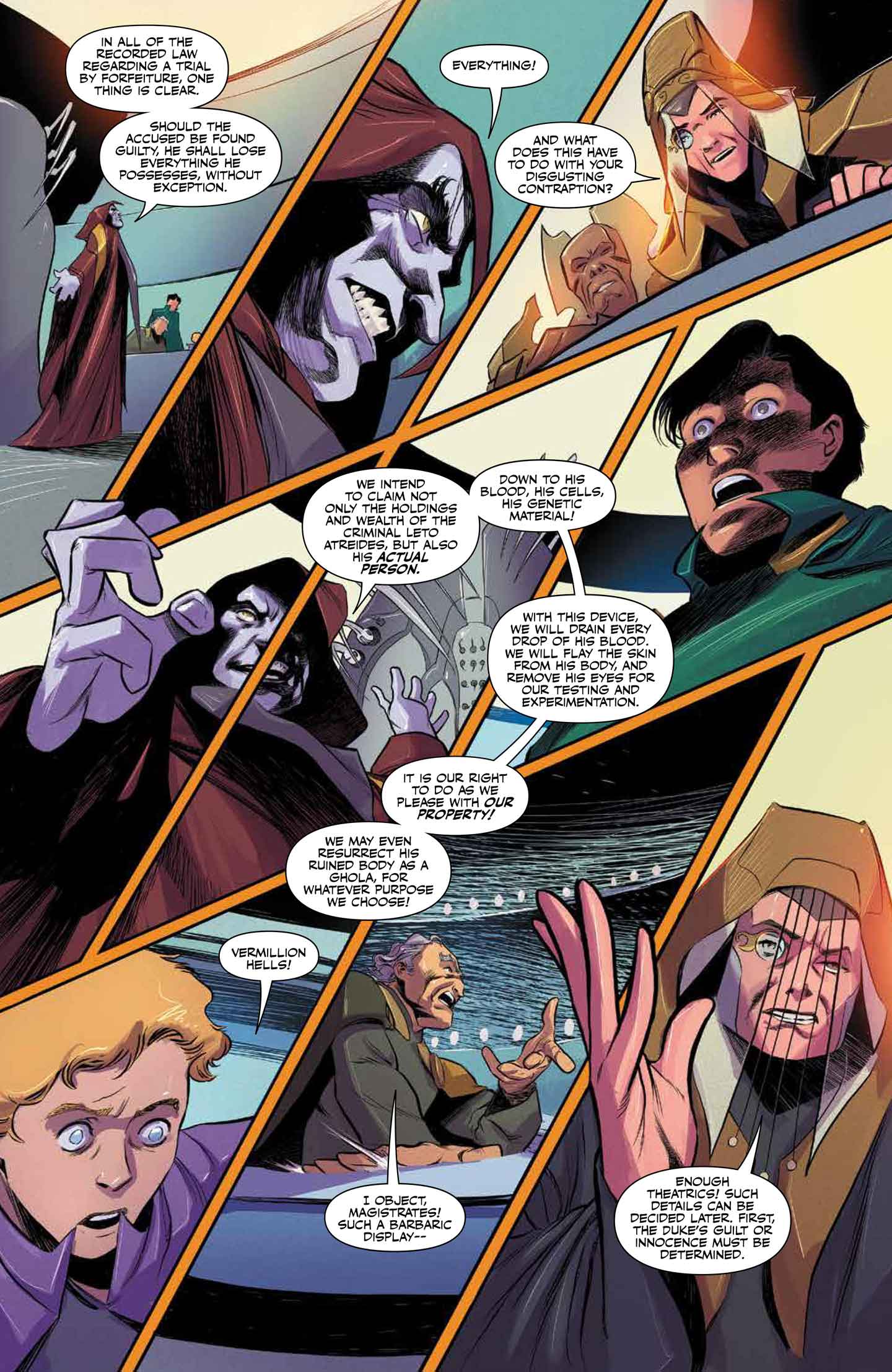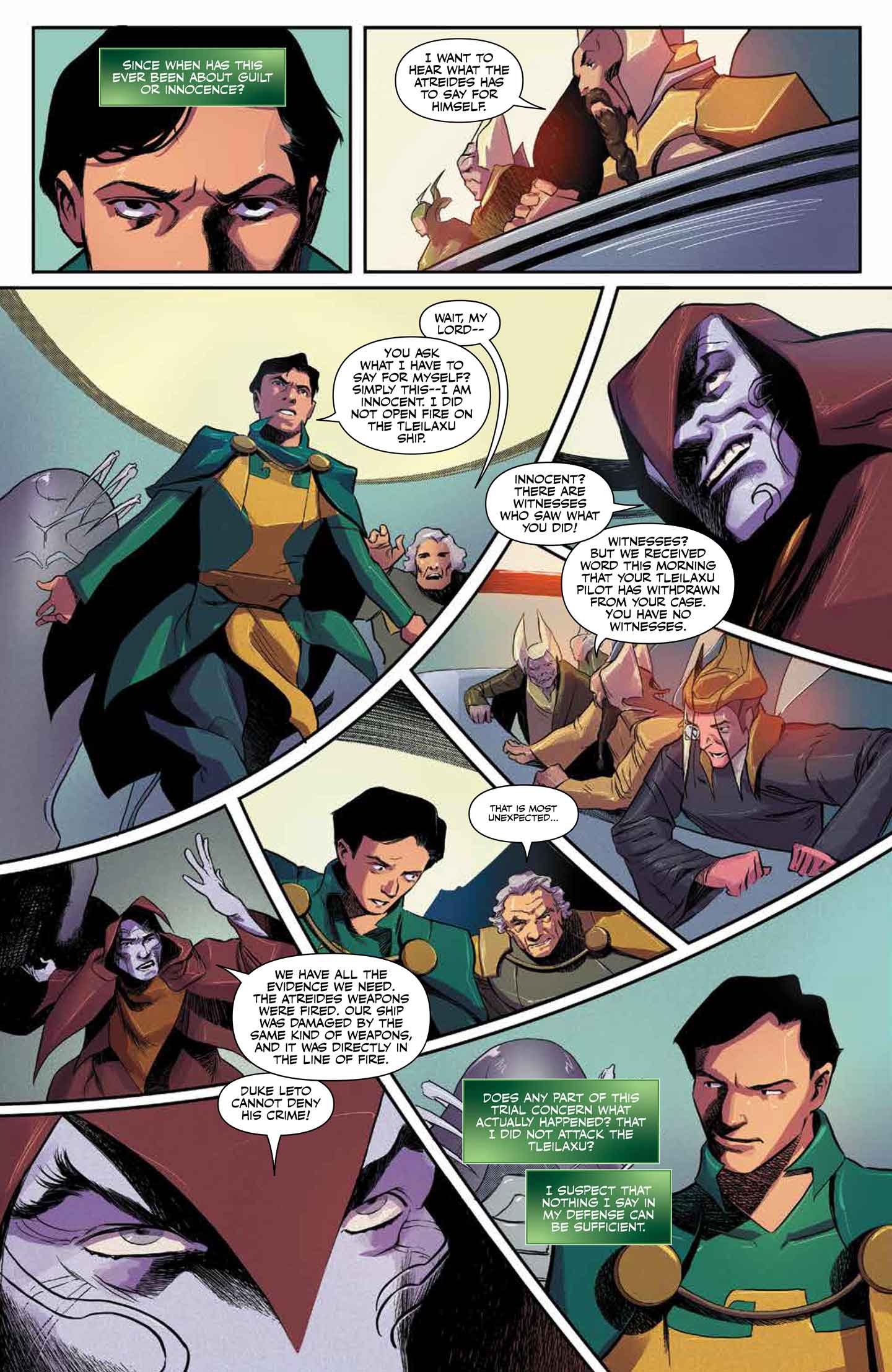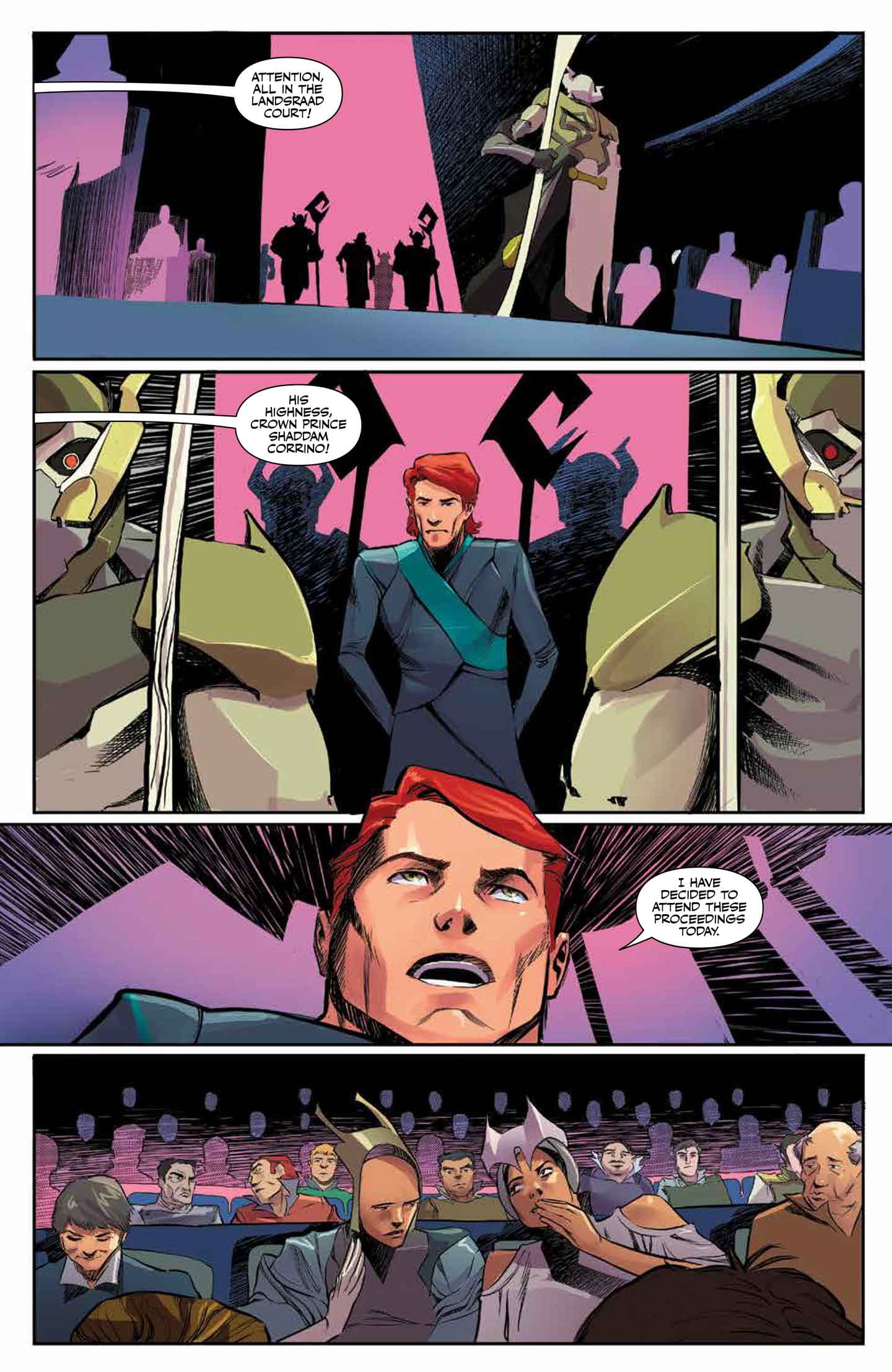 Here's the official synopsis for Dune: House Atreides #12:
* Now the 81st Padishah Emperor of the Known Universe and imbued with the entire power of the Imperium, Shaddam will decide the fate of newly crowned Duke Leto Atreides.

* But his decision will inadvertently cement the genocidal hatred of Baron Harkonnen for House Atreides!
The entire series is now available for purchase on Amazon, comiXology, and other digital stores. Digital comics from Amazon can be ready anywhere with the Kindle or comiXology app on your phone or tablet and on Kindle e-reader devices.
The series also being released in hardcover, graphic novel format. Two volumes, each collecting four issues, are currently available and the third (final) volume will be published on April 26, 2022.
Copies of the individual print issues can be ordered via local comic book shops (use comicshoplocator.com to find the one nearest you) or direct from the BOOM! Studios webstore.
Source: BOOM! Studios