The actor who portrays Paul Atreides—conflicted protagonist of the Dune movie, who must answer the call to leadership—Timothée Chalamet, has made the cover of Time Magazine. Through a couple of dine-in interviews, the increasingly popular celebrity spoke about navigating his career, and he got existential about the particular role placed upon him as a result of being in the spotlight. Among the highlights of the interview, Chalamet shared his thoughts on the 2021 blockbuster, budgeted at $165 million, and pertinence of its 60-year-old story in relation to current events.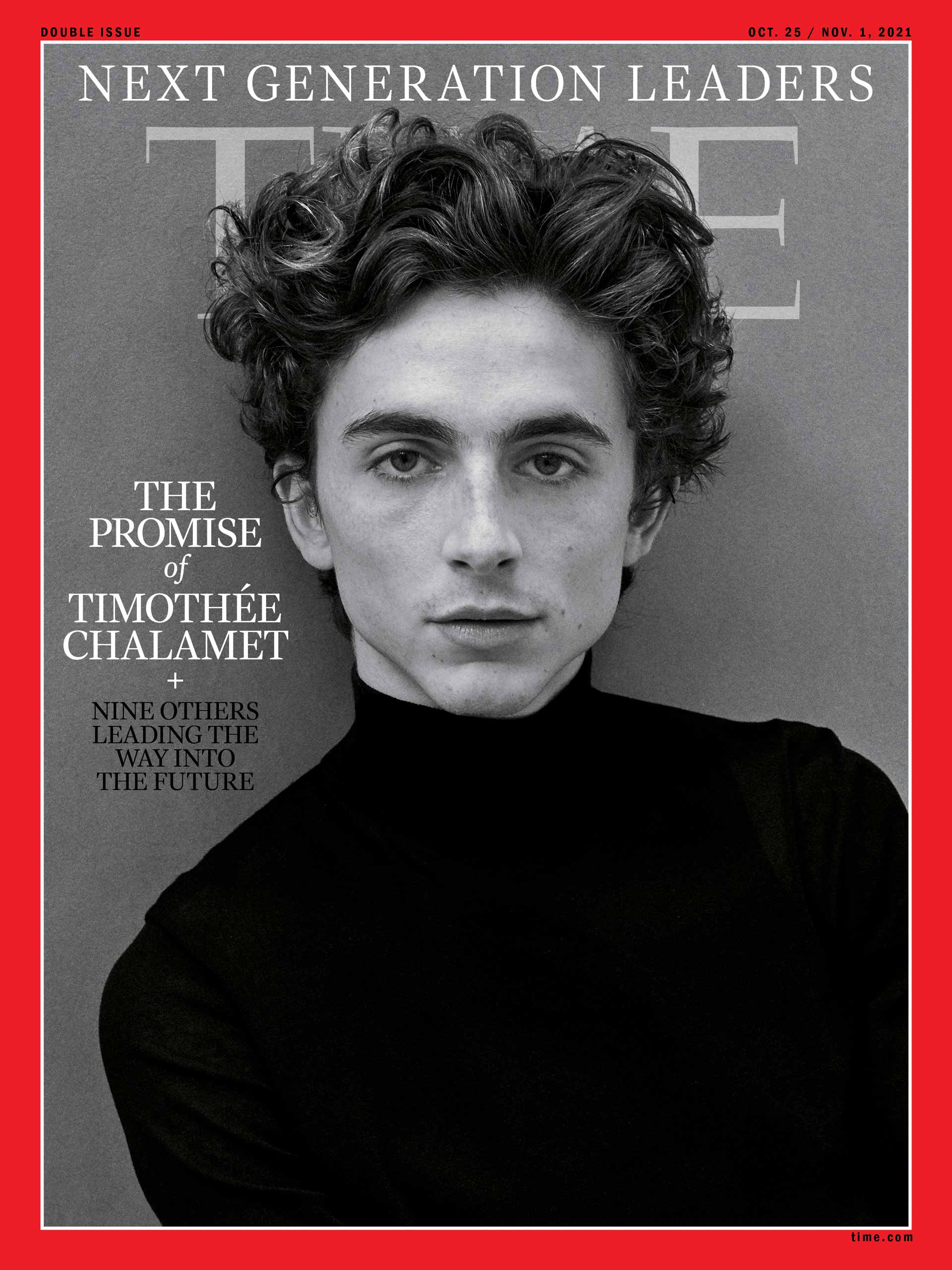 It's evident, Timothée Chalamet is on a hot streak with roles in The French Dispatch, the new Wonka prequel film, and of course Denis Villeneuve's Dune adaptation. What does the actor make of all the work? All the fame? According to the Time magazine interview, Chalamet says, "I'm figuring it out. On my worst days, I feel a tension in figuring it out. But on my best days I feel like I'm growing right on time." His resume, which the full Time interview covers extensively, seems to indicate that he's at least got some things figured out—traversing from art house films like Call Me By Your Name (for which he received an Oscar nomination), all the way across the spectrum to big budget productions such as Dune.
Speaking of Dune, during the interview Chalamet had some things to say about the overall story and the film. The altruistic star first responded to Dune's themes on climate, technology, and colonialism—themes of which, readers of Frank Herbert's original novel (published 1965) will recognize as being significant:
Dune was written 60 years ago, but its themes hold up today. A warning against the exploitation of the environment, a warning against colonialism, a warning against technology.
In this clip (two minutes) from the interview, Chalamet briefly touches on these themes in Dune and The French Dispatch, both of which premiere on October 22 in the United States.
Preceding, the 25-year-old actor commented on the film's theatrical situation. That situation being Dune's multi-platform day-and-date release. "It's so above my pay grade," Chalamet humbly concedes. "Maybe I'm naïve, but I trust the powers that be. I'm just grateful it's coming out at all."
Well, that is something I can get behind—that, as well as what Timothée Chalamet considers he stands for:
I feel like I'm here to show that to wear your heart on your sleeve is O.K.
And I'm sure he is sincere in saying that, if he wears his heart on his sleeve like he wears the new Wonka costume. The star took to Twitter, after a year-long hiatus, to share this single photograph on his account.
If you'd like to read the entirety of the interview, head over to the Time website. This story, part of their 'Next Generation Leaders' feature, also appears in the digital and print editions of the magazine's October 25 / November 1, 2021 double issue.
Source: Time Magazine via Sam Lansky