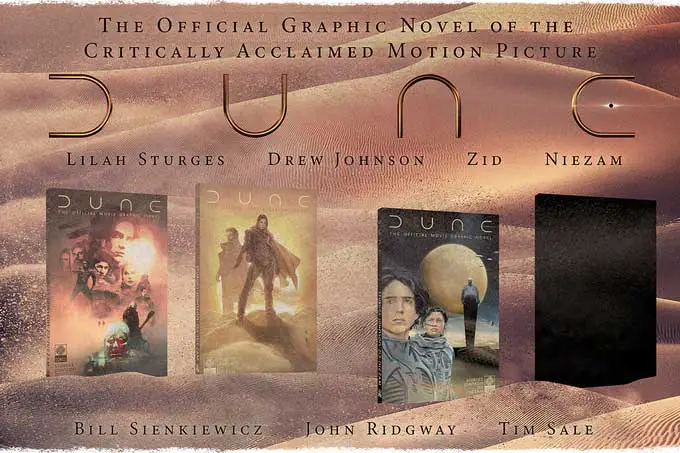 Legendary Comics—in a surprising move—opened up a Kickstarter this week, for an official graphic novel of the new Dune movie. Due to a cluster of passionate fans, the graphic novel was funded within a day of the project's launch and, as of this writing, has exceeded $75k in funding (over seven times their goal).
If you have a slight feeling of déjà vu, that's because this isn't the only current graphic novel version of the science fiction epic. We reviewed Dune: The Graphic Novel, Book 1 earlier this year, first in an ongoing three-part release from Abrams ComicArts. Whereas that's a faithful scene-by-scene retelling of Frank Herbert's original 1965 novel, this new project is a direct adaptation of the 2021 movie—featuring the likenesses of its stars: Timothée Chalamet, Zendaya, Rebecca Ferguson, Oscar Isaac, et al.
Here's the official trailer from Legendary comics:
Dune: The Official Movie Graphic Novel is a 130-page book (approx.) that brings Denis Villenueve's silver screen version to the world of "sequential art." Its creative team is comprised of writer Lilah Sturges (Lumberjanes), illustrator Drew Johnson (Godzilla Dominion), and colorist Zid (Kingdom Kong). In addition, the cover art—of which there are multiple versions for backers to choose from—was done by: Bill Sienkiewicz, who created the 1984 Dune comic adapting David Lynch's movie; Drew Johnson and Zid, internal artists with Legendary Comics; John Ridgway, acclaimed science fiction and comic artist; and Tim Sale, who worked on Batman: Long Halloween.
For those looking to grab a copy of the graphic novel, there are multiple versions to choose from. These options range from a $15 digital version (including a wallpaper) to a $40 hardcover (7.4"x11.3", plus the digital version), all the way up to a $2500 version in which 8 people will be able to become a part of the book.
Some of the other tiers include:
A $75 "Bene Gesserit Bundle" featuring a bookplate signed by the creative team and an 8.5"x11" "Great Houses of Dune" pearlescent print,
The $99 "Kwisatz Haderach Savings Bundle" contains all items mentioned previously, plus an exclusive graphic novel slipcase and House Atreides/House Harkonnen enamel pins,
There's also the $250 "Gom Jabbar Box" containing everything from previous tiers, plus House Atreides signet ring, Duncan Idaho's House Atreides blade letter opener, set of three Giclee prints, two vials containing material that resembles the spice melange, a copper coin featuring the desert planet Arrakis and Dune logo, and packaging modeled after the agony box featured in the movie.
This Kickstarter ends on November 24, 2021, with products arriving sometime in 2022 (estimated June). Personally, my choice would be the $40 hardcover, but being a part of the graphic novel is tempting… Any diehard fans out there that would be willing to spend $2500 to star alongside the movie character's likenesses in the book?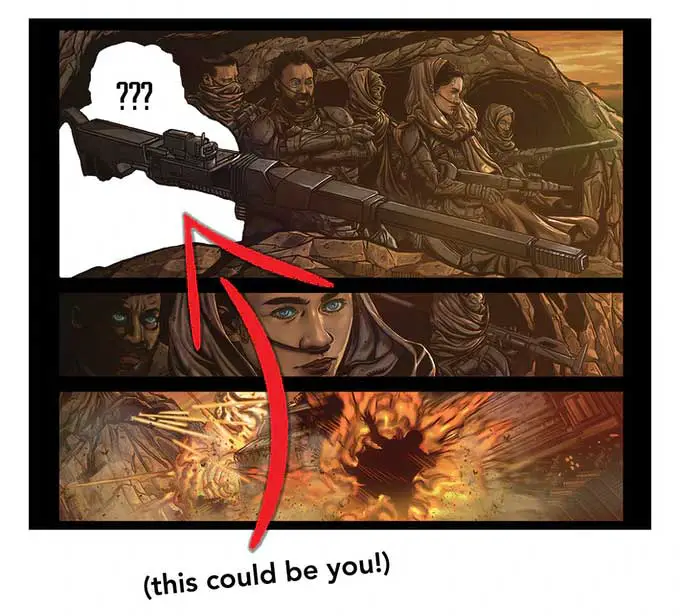 The question needs to be asked however, why the peculiar move to initiate an official product on Kickstarter? Legendary Comics suggests that doing it this way will help customize the experience for each individual backer. What do you think?
Check out more of the photo-realistic preview artwork from the graphic novel below or head straight over to Kickstarter to back the project and choose your rewards.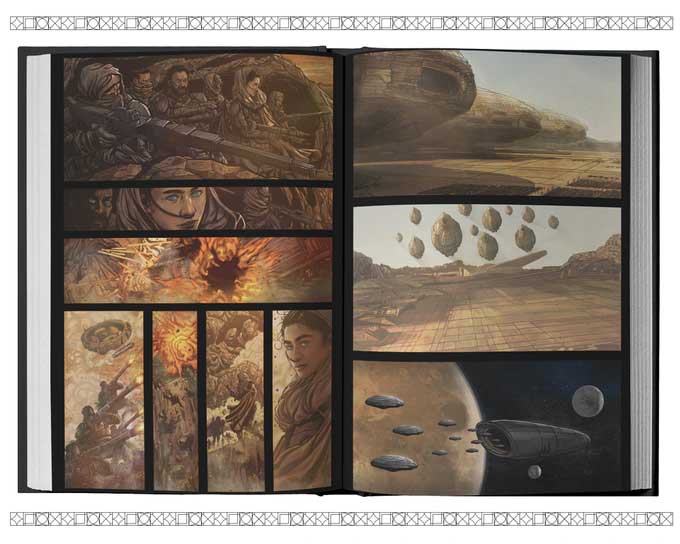 Source: Dune: The Official Movie Graphic Novel Kickstarter page (October 28, 2021)