Dune has officially been awarded the "Certified Fresh" distinction by Rotten Tomatoes, the film review aggregator website, on October 11. As of the time of this writing—more than a week ahead of its domestic release—the movie has an impressive 90% fresh score, based on over 100 professional reviews.
Following the world premiere of Dune: Part One at the Venice Film Festival on September 3, dozens of largely positive critic reviews hit the internet. Villeneuve's film adaptation debuted with a score of 83% on the Tomatometer, and has gradually climbed upwards from there. Additionally, Dune was voted as the number one most anticipated movie of October, by social media followers of Rotten Tomatoes, ahead of both Venom: Let There Be Carnage (61% score) and No Time To Die (84% score).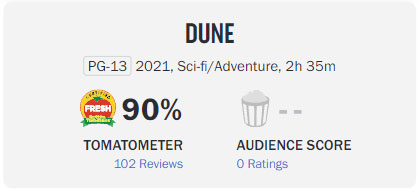 While aggregated review scores—or votes on Facebook, Instagram, and Twitter for that matter—aren't the sole measurement of a movie's quality, it's a huge win for Dune to achieve this distinction well before it's release in the United States. For moviegoers still undecided about giving a potentially less familiar property a chance next week, this "Certified Fresh" status, combined with strong word of mouth, can make all the difference.
Following are some of the new reviews that have rolled in this week:
National Newspaper Publishers Association – 3.5/4
What a spectacle. This is the event movie audiences have been waiting for and theaters have been coveting.

Via Dwight Brown
Perri Nemiroff – ★★★★
An all-consuming and downright stunning technical marvel from Denis Villeneuve, bolstered by more masterful work from Hans Zimmer.

Full review (YouTube) via Perri Nemiroff
entertainment.ie – ★★★★★
If it can sustain this sense of wonder, and maintain its integrity and vision into the next chapter, and if audiences turn up for it, 'Dune' might just topple its own descendants and claim its place as the foremost sci-fi saga of our time.

Full review via Brian Lloyd
Movie Nation – 2.5/4
So as faithful to the spirit of the novel as this adaptation is, as wonderfully as visionary Villeneuve cast it, as stunning as the "Arrival/Blade Runner 2049" director's production design and art direction team makes it, this pretty picture often plays as ponderous.

Full review via Roger Moore
Daily Express (UK) – ★★★★★
Although adapting Dune has long been considered box-office suicide, Villeneuve has created a coherent, intelligent, and – dare I say – exhilarating film.

Full review via Callum Crumlish
Seattle Times – 4/4
It's startling, and gratifying, to see one's mind's-eye images from the novel up there on the big screen courtesy of director Denis Villeneuve and his creative filmmaking team…. Just see it. It's remarkable.

Full review via Soren Andersen
Source: Rotten Tomatoes Dune page (October 11, 2021), Rotten Tomatoes via RT Staff (October 4, 2021)