As the star-studded cast and crew of Dune finished posing for group photos on the red carpet, right before the movie's world premiere at Venice Film Festival (September 3), review embargoes were lifted. In chorus, the whole internet erupted with full-length critic reviews as well as multitudes of short-form reactions, both from fans and press who watched the movie.
There's no mistaking the fact that the great majority of these write-ups are positive. Following the weekend, Dune: Part One is sitting with a score of 86% on Rotten Tomatoes, based on 35 professional reviews—well on track to reach "Certified Fresh" status as the movie begins its theatrical run next week and more media outlets have the opportunity to publish their thoughts.
In their editorial, Rotten Tomatoes summarized the critical reception as follows:
Critics say Denis Villeneuve's new take on Frank Herbert's classic novel is a nuanced, well-acted feast for the eyes and ears, even if it only leaves viewers wanting more.

Rotten Tomatoes via Christopher Campbell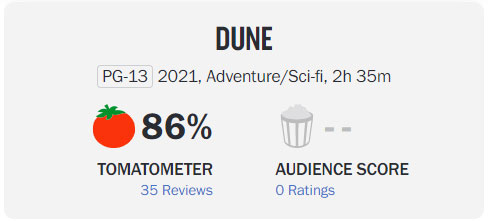 High Praise for Dune Director and Crew, Plus Comparisons to The Lord of the Rings
The 30 "fresh" reviews highlight the grand ambition and massive scale of this visually stunning production. Not surprisingly there's abundant acclaim for director Denis Villeneuve, however his fellow filmmakers also get shout-outs, especially composer Hans Zimmer. Although, of the cast members, Timothée Chalemet gets the most attention, the overall strength of the ensemble comes up frequently. And yes, several critics draw direct parallels to The Lord of the Rings—the epic fantasy adaptation that hit the big screens almost 20 years ago.
Here's a representative roundup of these early reviews:
Empire – ★★★★★
An absorbing, awe-inspiringly huge adaptation of (half of) Frank Herbert's novel that will wow existing acolytes, and get newcomers hooked on its Spice-fueled visions. If [Dune: Part Two] never happens, it'll be a travesty.

Full review via Ben Travis
Deadline
Denis Villeneuve's spectacular and defining version of sci-fi cult classic.

A big shout-out is necessary to the massive musical contribution from Hans Zimmer, as well.

Full review (potential spoiler) via Pete Hammond
Independent (UK) – ★★★★★
It is a film of such literal and emotional largeness that it overwhelms the senses. If all goes well, it should reinvigorate the book's legacy in the same way Peter Jackson's Lord of the Rings trilogy did for JRR Tolkien's work.

Full review via Clarisse Loughrey
RogerEbert.com – 3.5/4
[Villeneuve], working with amazing technicians including cinematographer Greig Fraser, editor Joe Walker, and production designer Patrice Vermette, manages to walk the thin line between grandeur and pomposity.

Full review via Glenn Kenny
Polygon
Against all odds, Villeneuve's film not only lives up to its source material's reputation, but to the reputation he's built as one of our best directors within the genre. At last, the spice will flow.

[Dune: Part One] is surprisingly accessible, even to viewers who haven't read any of Herbert's work.

Full review via Rafael Motamayor
Guardian – ★★★★★
[Dune is] blockbuster cinema at its dizzying, dazzling best. Denis Villeneuve's slow-burn space opera fuses the arthouse and the multiplex to create an epic of otherworldly brilliance.

Full review Via Xan Brooks
Den of Geek – ★★★★½
Dune is an astonishing swing of ambition and passion from filmmakers at the top of their craft, and it more often than not connects like a thunderbolt. It left me eager to follow this Paul and Villeneuve toward the next strange corner of Arrakis, and determined to return to the theater… only next time in IMAX.

Full review via David Crow
The Telegraph – ★★★★★
This new adaptation of the 1965 Frank Herbert novel from Denis Villeneuve, the director of Arrival and Blade Runner 2049, is science-fiction at its most majestic, unsettling, and enveloping.

Full review via Robbie Collin
Does Dune's Complex Setting and Two-Part Approach Make it Less Accessible to New Audiences?
Two recurring themes, in terms of criticism, are accessibility of the story and fact that this movie is half of the story. Several of the "rotten" reviews felt that general audiences would be lost, unless they're familiar with the source material—though this is not a consensus, given a number write-ups have stated the opposite. It's interesting to see the "incomplete story" being a stumbling block for several critics, especially since shooting the movie in two parts was the filmmakers' vision from the beginning. Objectively, this is not at all uncommon—looking at recent science fiction and superhero franchises, whose story arcs span across multiple movies. Time will tell how wider audiences react.
Here are several of those negative or mixed reviews:
The Hollywood Reporter
Unless you're sufficiently up on Frank Herbert's 1965 sci-fi classic to know your Sardaukars from your Bene Gesserit, your crysknife from your hunter-seeker, chances are you'll be glazing over not too far into Dune.

Full Review via David Rooney
Vanity Fair
Dune lumbers with such aloof, uninviting self-seriousness that it's hard to love, hard to even celebrate as an assured piece of tentpole authorship. In all its marvel, Dune forgets to do basic things like give us someone or something to root for, or feel for, or think about for longer than the stretch of the film.

Full review via Richard Lawson
Digital Spy – ★★★
There's plenty to savor in this version, but ultimately though, it's a bit of a frustrating watch as it's very much a story half-told.

Full review via Ian Sandwell
Exuberant Reactions to Dune Screenings on Social Media
In case any of the (minority of) less-than-positive reviews had left you concerned, it just takes a visit to e.g. Twitter to be refreshed with positive takes on Dune: Part One. On the day of the movie's premiere there were literally hundreds of euphoric reactions from viewers—both journalists and fans who attended the public viewings at the festival—and our team literally struggled to find a single negative reaction, outside of those few that were directly tied to aforementioned critics' reviews.
Following are a small sampling of those Tweets:
Source: Rotten Tomatoes (September 6, 2021)