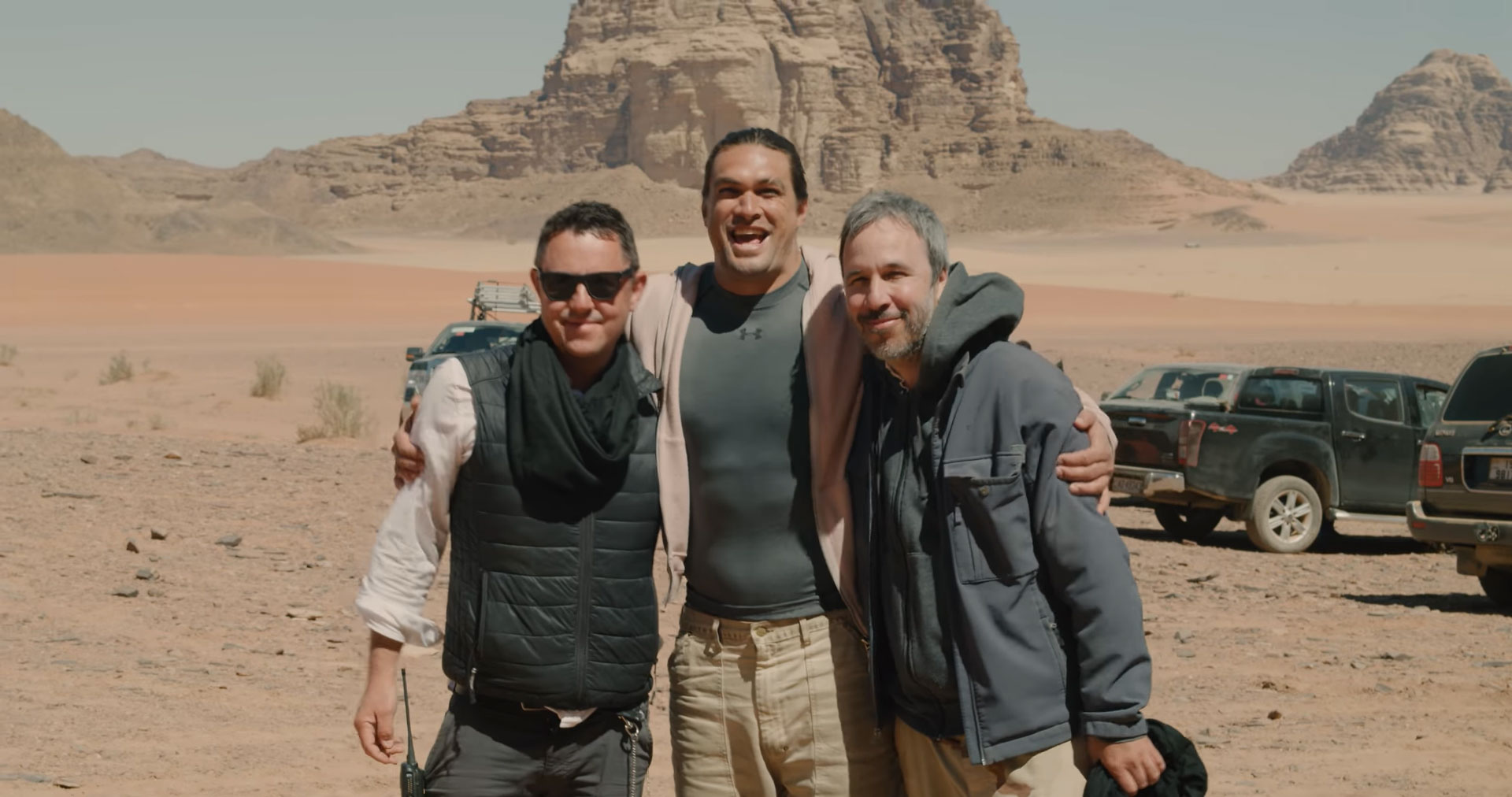 How would Aquaman fare on Arrakis? It's a fair question; one that is perhaps best answered by the Aquaman star himself, now Duncan Idaho in the new Dune movie. In a recent behind-the-scenes look, as well as a series of interviews, the actor details his experience acting as the loyal swordmaster of House Atreides in the film.
"F*** yeah! Holy ****," Jason Momoa shouts in excitement during the filming of Denis Villeneueve's Dune, as he surveys the stunning views of the Wadi Rum desert in Jordan—the video posted on his YouTube channel makes no attempt to censor that language. Maybe that is how Momoa warms up his vocal cords, but it's also a good way to sum up the actor's emotions in regards to being part of the movie.
My mind is blown. The visuals, the lighting… It's just an honor, I can't believe I'm on this movie.
Momoa's heartfelt account of the whole experience can be seen in below clip (2.5 minutes). The actor showed how exhilarated he was to be working together with director Denis Villeneueve and being on those amazing practical sets, that resembled locations described in the Dune novel.
Jason Momoa Interview on The Tonight Show
The star also made an appearance on The Tonight Show with Jimmy Fallon. Apparently, if you want to look like Jason Momoa for Halloween (or just in general), there is a costume for that. However, if you are more interested in the actor's appearance as Duncan Idaho in the upcoming Dune film, well there was some of that as well.
During the interview, Jason shared about what it was like working on the movie with Villeneuve, and that all-star cast. He also revealed how he actually got the role, for which apparently the director specifically had him in mind. So, let's see, we got fake beards, Mamoa's experience on set, his praise of fellow star Timothée Chalamet, and… Oh yeah, at the end there's also a clip featuring Duncan Idaho in action against the Sardaukar. Take a look.
Becoming Duncan Idaho in Dune
If you did not get your fill of either Duncan Idaho or Jason Mamoa in the previous clips, well, there is more. In an earlier feature—for those new to the Dune series or those who might need a refresher—Jason Mamoa breaks down who his character is, and the role he plays in this epic story. And for all the action junkies out there, there's a little behind-the-scenes look at how the Atreides warrior's fight scenes were put together. All showcased in this clip:
For more about the actor's experience on set, also check out our earlier article about how Jason Momoa felt nervous when shooting his first scene.
So looking forward to getting my first look of the new Dune movie as a whole, when it comes out on October 22 in the United States. For other territories, refer to our complete list of the film's confirmed release dates.
Sources: Jason Momoa YouTube channel (October 8, 2021), The Tonight Show Starring Jimmy Fallon YouTube channel (October 8, 2021).