At this year's San Diego Comic-Con@Home (July 21-25), BOOM! Studios announced their new comic book Dune: A Whisper of Caladan Seas #1, along with cover reveals and first look at interior artwork. Planned for a December 2021 release, this 40-page special issue will tell a standalone tale of members of House Atreides who get trapped within the shield wall during the Harkonnen assault on Arrakeen.
Like the Dune: Blood of the Sardaukar one-shot coming out this week, this comic takes place in the backdrop of Frank Herbert's original Dune novel and adapts a short story by Brian Herbert and Kevin J. Anderson, who are also writing the script. This was their earliest Dune work—the co-authors have since gone on to write 14 books and a dozen short stories.
A Whisper of Caladan Seas was the very first piece of Dune fiction Brian and I wrote together, a short story introduction as we got our legs under us for writing House Atreides. It certainly launched something great for both of us.

Kevin J. Anderson
The comic book is illustrated by artist Jakub Rebelka and lettered by Ed Dukeshire. As with the Dune: House Atreides comic series, multiple artists are contributing cover art. Jeff Dekal's main cover portrays Sgt. Vitt, member of the Atreides armed forces and talented entertainer, as he seeks to lift the spirits of his comrades.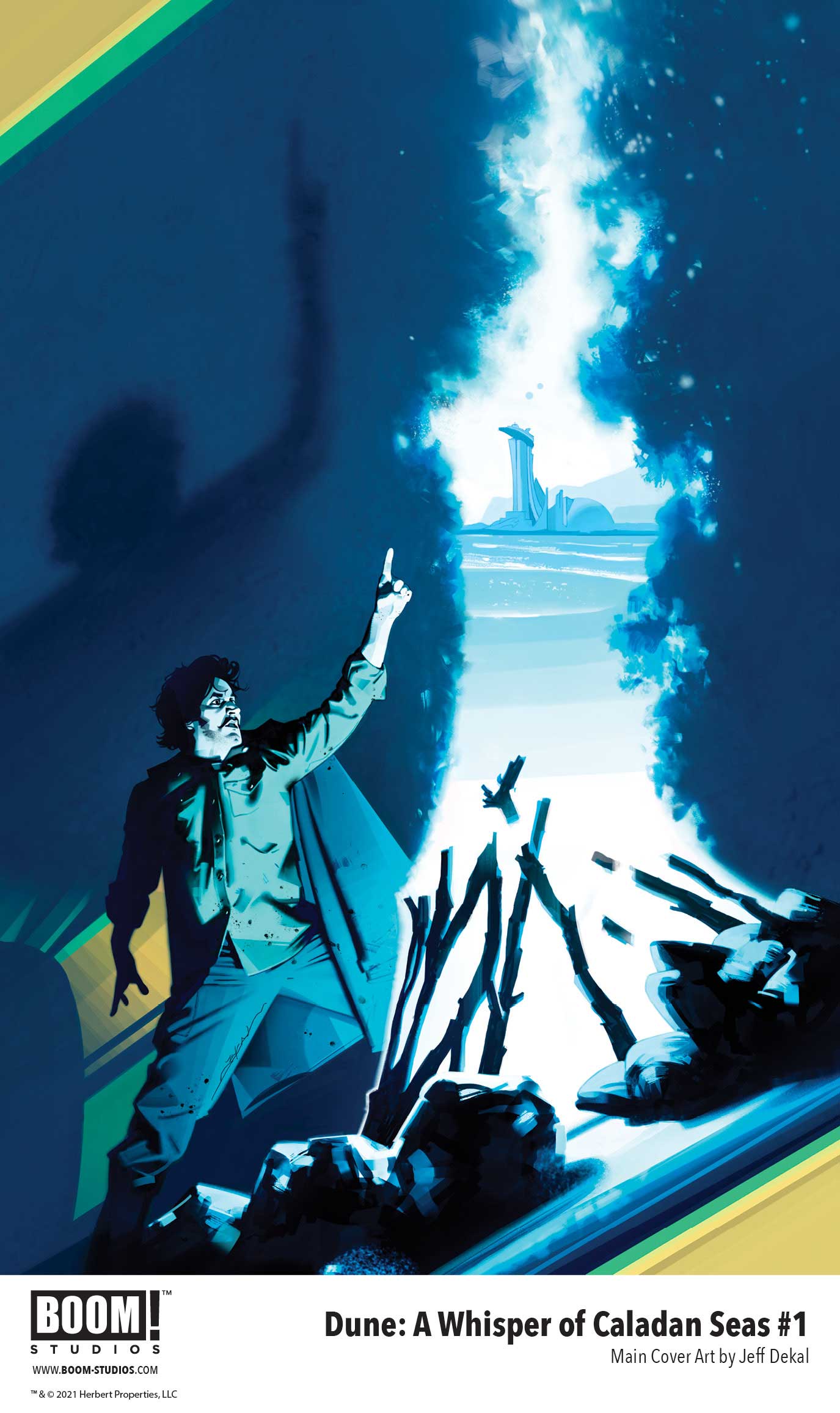 It's an exciting time for BOOM! Studios revisit these older tales this year, considering how they expand the lore of events covered in Villeneuve's 2021 movie adaption. This is the dramatic battle that has been shown in clips from the Dune main trailer and we'll soon be enjoying the spectacle, in it's entirety, on the big screen.
When we were writing A Whisper of Caladan Seas we had no idea that our Dune-series novels and short stories would eventually add up to millions of words. Now we're still adding on to that total, and continue to enjoy the writing process as much as we did when we were just getting going. Our enthusiasm for these stories has never waned.

Brian Herbert
In this first look at the (unlettered) interior pages, Jakub Rebelka depicts the scale of the combined onslaught on House Atreides. The city of Arrakeen lies in flames from earlier bombardment, as attack ornithopers continue to press the devastating attack. On the ground, the dreaded Sardaukar warriors—disguised in the battle armor of House Harkonnen—relentlessly advance towards the Planetary Governor's residence.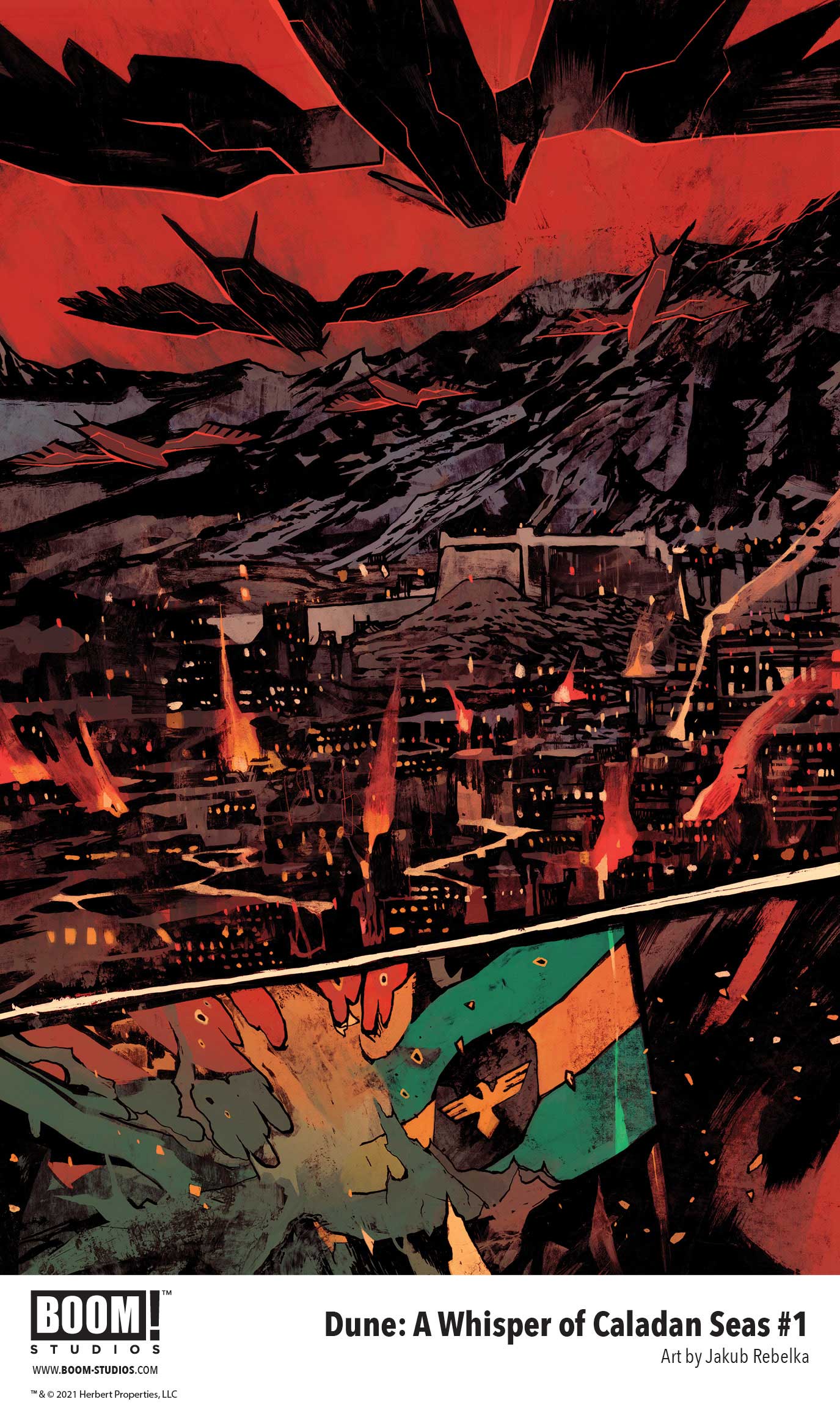 Here's the official synopsis:
During the chaos of the legendary Battle of Arrakeen, a group of Atreides soldiers gets caved in. So while Paul Atreides meets his destiny in battle, Sgt. Vitt must use his family's gift of storytelling as a Jongleur to transport his men from their tomb to their homeworld of Caladan. Can Vitt mentally transport them back to the lushness and vast oceans of Caladan and give them the gift of hope in the darkness?
Two of the variant covers—by Jakub Rebelka and Elizabeth Torque respectively—have also been revealed: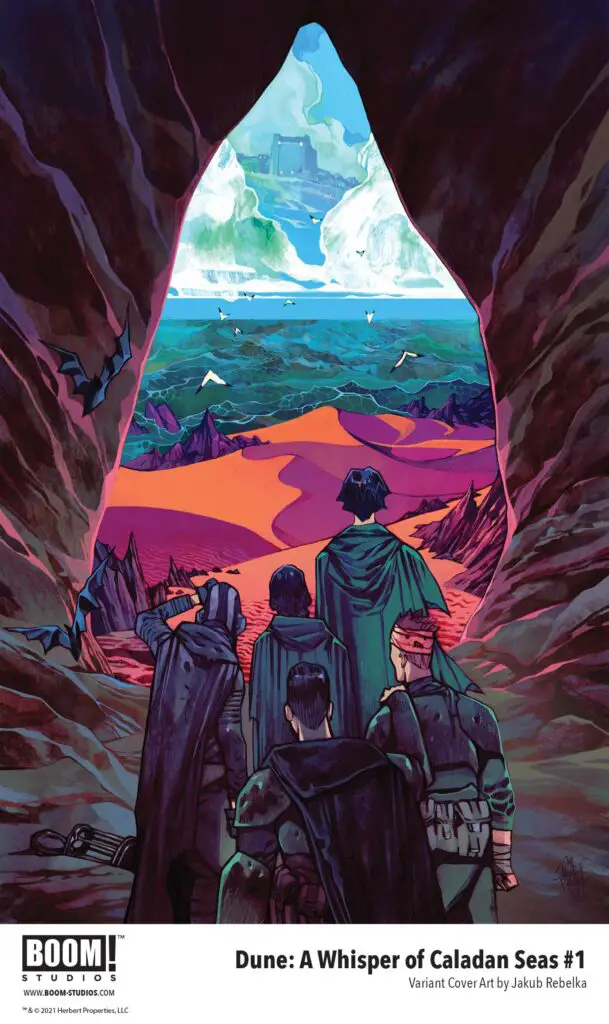 The origins of Brian and Kevin's incredible worldbuilding within the Dune universe starts here with an insightful and touching story that shows a side of this epic sci-fi classic that has never been seen before.

Jonathan Manning, Editor, BOOM! Studios
A Whisper of Caladan Seas is expected to hit the shelves in December 2021. Print copies will be available to purchase at local comic book stores or directly via the BOOM! Studios webstore, while digital versions will be available on Amazon, comiXology, and other services. We'll provide updates, when the comic book is listed for pre-order or purchase.
The original prose version, and seven other Dune short stories, are included in the Tales of Dune: Expanded Edition collection:
Source: BOOM! Studios