Dark Horse Comics' product line of official Dune movie collectibles is expanding with a new set of sculpted figures. Their latest solicitations have announced 9″ scale representations of Paul Atreides, Jady Jessica, and Duncan Idaho—as played by Timothée Chalamet, Rebecca Ferguson, and Jason Momoa respectively in the 2021 film.
The three figures, featuring the characters armed and clad in stillsuits, are listed with a suggested retail price of $49.99 each and will be available in stores starting from September 1, 2021.
Dune Paul Atreides Figure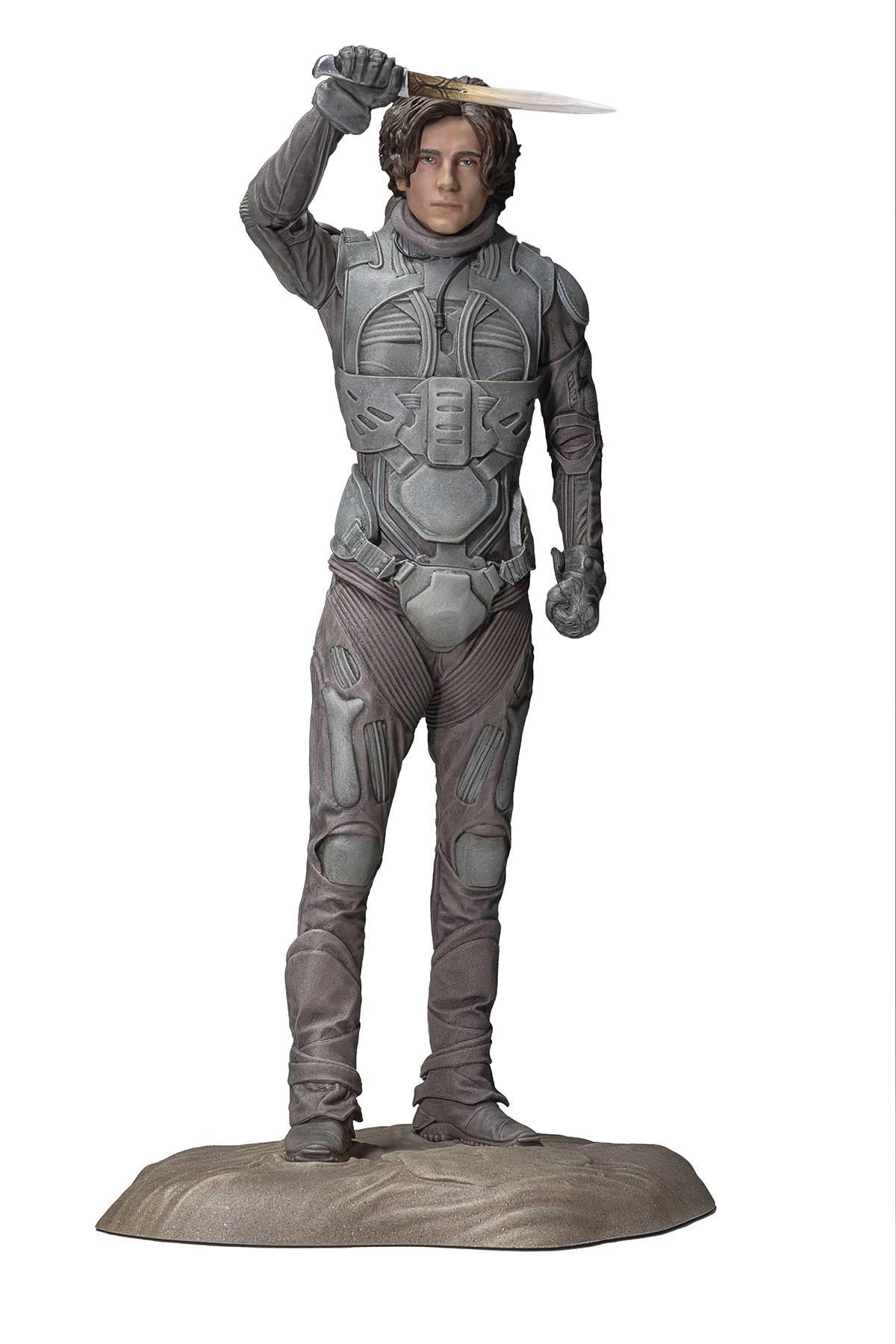 Paul Atreides is the son of a Duke born into a destiny greater than his noble title. Haunted by visions of the future, Paul journeys with his family to their new home on the dangerous desert planet known throughout the galaxy as Dune. With unseen dangers lurking in the shadows and around every corner, an untested Paul must face his fears and keep his blade skills sharp in order to survive. The figure and base stands approximately 9.25″ tall.
Dune Lady Jessica Figure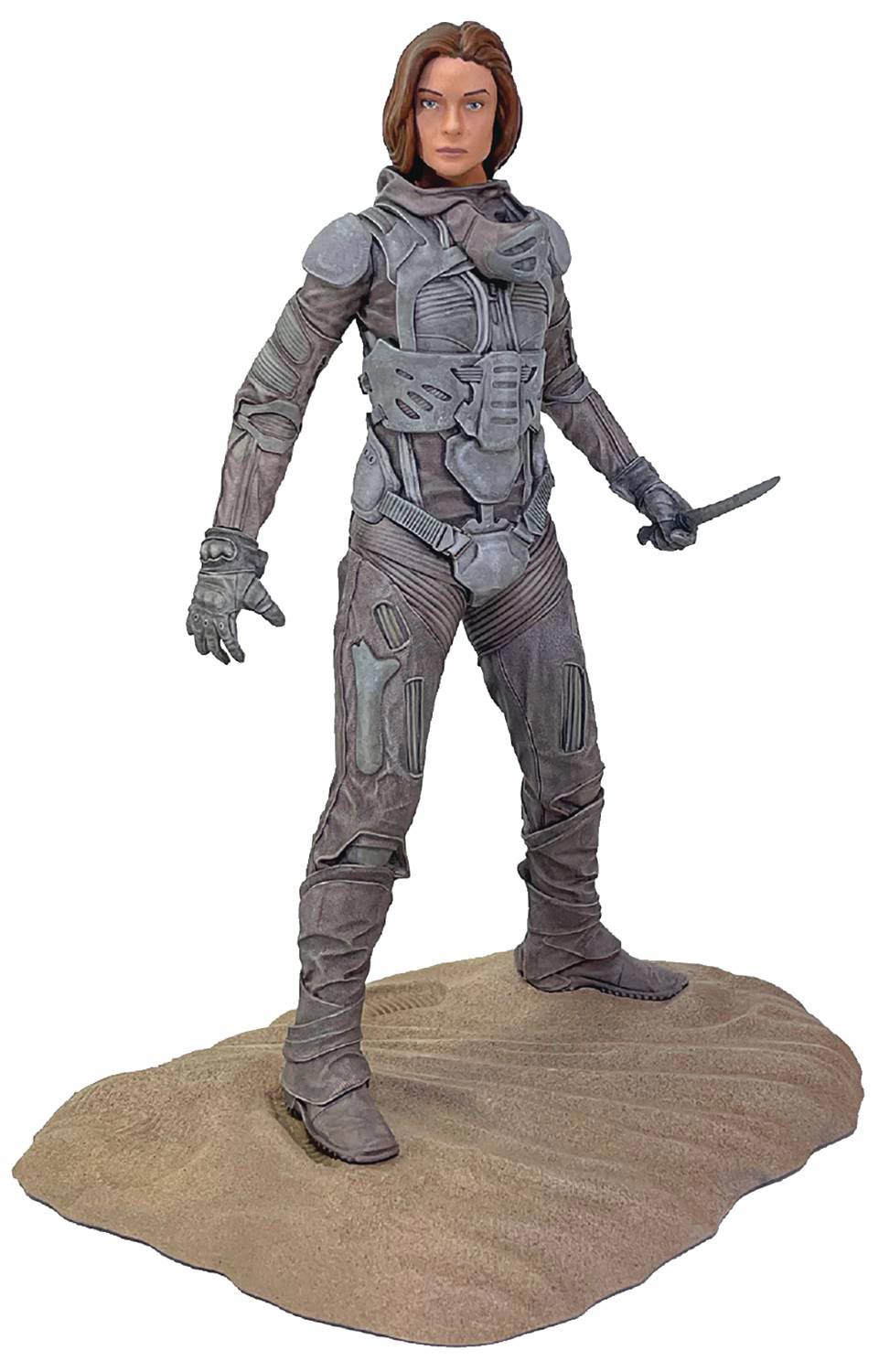 A mother and leader with an unbreakable bond to her royal son Paul Atreides, Lady Jessica is a skilled fighter and master of the Bene Gesserit mind-control power called The Voice. Jessica must hone her skills and face her fears to ensure Paul's survival on the dangerous desert planet known as Dune. The figure and base stands approximately 8.9″ tall.
Dune Duncan Idaho Figure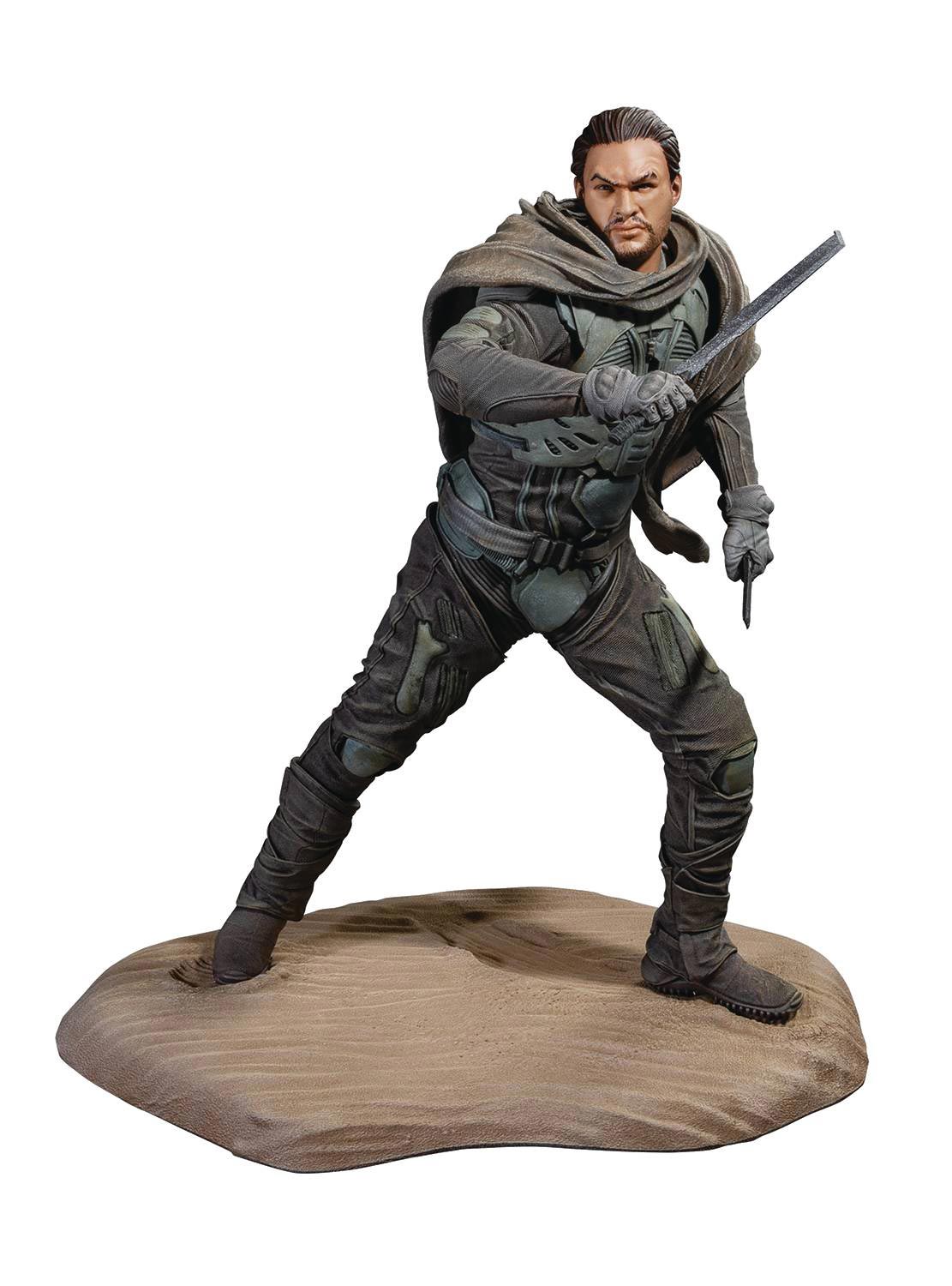 Duncan Idaho is a tactical combat expert and confidant loyal to House Atreides. The most gifted Swordmaster in the known universe, he is the eyes and ears of the Duke, always watching the horizon in a world of unknown dangers. Fiercely loyal; there are few in the galaxy that can match his swordsmanship. This hand-painted figure is posed in a combat stance, as Duncan Idaho is always ready for battle. The figure and base stands approximately 9.5″ tall.
In March, Dark Horse Comics announced that they are partnering with Legendary Entertainment for an "amazing assortment" of products inspired by the characters and imagery of Denis Villeneuve's forthcoming Dune movie. Their first wave of merchandise also includes magnetic bookmarks and sculpted pins. More products are still expected to be announced at a later date.
We'll update this article with links and any additional details, once these figures are available for pre-order.
Source: Dark Horse Comics' Solicitations (May 21).