We've previously written about the first attempt to film Frank Herbert's Dune novel, as well as the subsequent, best-known, failed endeavor by Alejandro Jodorowsky. However, these were by no means the only projects that failed to adapt the science fiction classic for the big screen. In this article we look at a noteworthy attempt in between Jodorowsky's project and David Lynch's completed Dune movie—which finally hit theaters in 1984—that of famed director Ridley Scott.
Dino De Laurentiis – Movie Mogul
Jodorowsky's Dune project ultimately failed due to its inability to raise funds from Hollywood, something that artist Moebius blamed on movie producer Dino De Laurentiis.
I think we were working in Paris on that project, and Dino De Laurentiis was running around in Hollywood saying, 'Never buy that project, they will ruin Hollywood! You know, those damn French people!' So, when Jodorowsky came to sell the project, he had nothing.

Jean "Moebius" Giraud – "An evening with Moebius", The Creative Talent Network® animation expo 2010
In late 1976—following collapse of the Jodorowsky project—Dino De Laurentiis was able to buy the Dune film rights from Caméra One, who had in turn acquired them from APJAC Productions after the death of Arthur P. Jacobs.
At some point, during the long development process, the rights for Dune on the original APJAC contract expired and Dino De Laurentiis closed a second deal to option Dune, and all of its sequels (both written and unwritten). As part of this new contract Frank Herbert was appointed as a technical advisor. Herbert was also commissioned to write a script.
Ridley Scott Begins Work on Dune
Around the middle of 1979, Dino De Laurentiis hired Ridley Scott, fresh from his success on Alien (1979), to direct Dune. The director moved into Pinewood Studios, England to begin pre-production.
I was attracted to Dune because it was beyond what I'd done on Alien which was kind of hard-core kind of horror film and Dune would be a step very strongly, very very strongly, in the direction of Star Wars.

Ridley Scott – "Dangerous Days" Documentary
Later that year, Dino De Laurentiis, Ridley Scott, and Frank Herbert met in London to read the latter's 175-page script for Dune. However it was deemed unsuitable and Scott asked sci-fi writer Harlan Ellison to work on the script.
On Thursday, September 27, 1979, Ridley Scott came for a breakfast meeting at my home and offered me the assignment to write Dune. He was very nice about it when I told him that I'd sooner spend my declining years vacationing on Devil's Island.

Harlan Ellison – Watching
So, Scott instead turned to Rudolph Wurlitzer, who had written the script for Pat Garrett and Billy the Kid (1973), to help him adapt the Dune novel.
H.R. Giger's Dune Creations
Scott also asked H.R. Giger to work on storyboards and illustrations for the movie. Giger had of course famously designed the xenomorph for Scott's Alien and had been hired by Jodorowsky to design the Harkonnen world in 1975, so seemed like an obvious choice. Giger accepted, on the condition that he'd retain the rights to the designs of a furniture project he was working on.
…my involvement with the renewed Dune project provided the opportunity to construct my designs as the Harkonnen furniture pieces and to also have them featured in the film. It was agreed that my contract would allow the copyright of my designs to remain with me and that, later on, I would have the models at my free disposal.

H.R. Giger – H.R. Giger's Film Design
Scott's Dune project ended before Giger had built all the furniture, but as he retained the rights, he would later complete the build of the chairs, table, and mirror frame. These can be seen at the Giger Museum in Gruyères, Switzerland.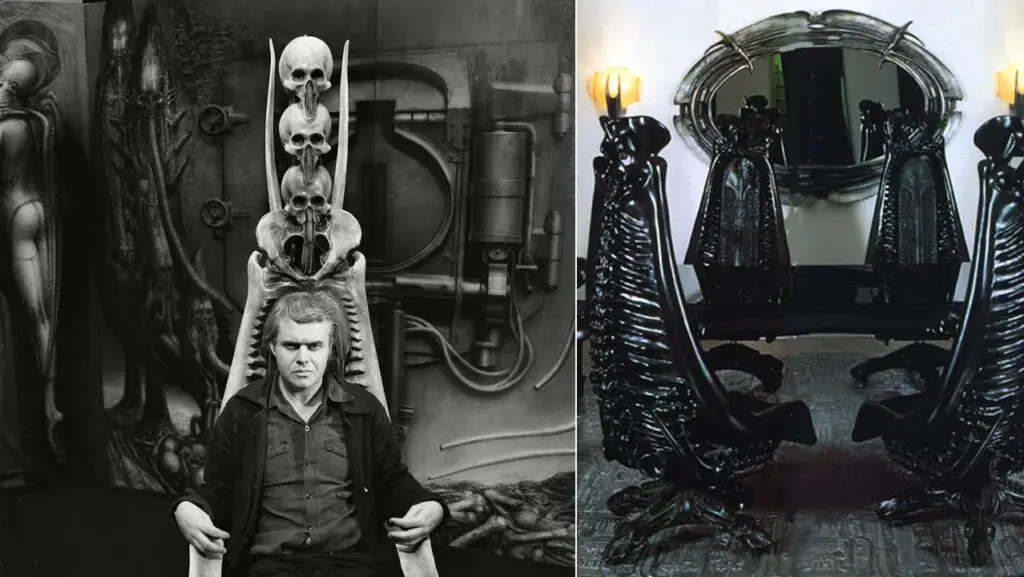 My furniture will be beautiful. It will be made entirely from skeletons I have collected. Bones and skulls and tubes. No one has ever seen such furniture as I will build.

H.R. Giger – The San Francisco Examiner, April 23rd, 1980.
Giger also produced an illustration called "DUNE WORM XII" for Scott, although this piece is often incorrectly attributed to his previous work on Jodorowsky's Dune.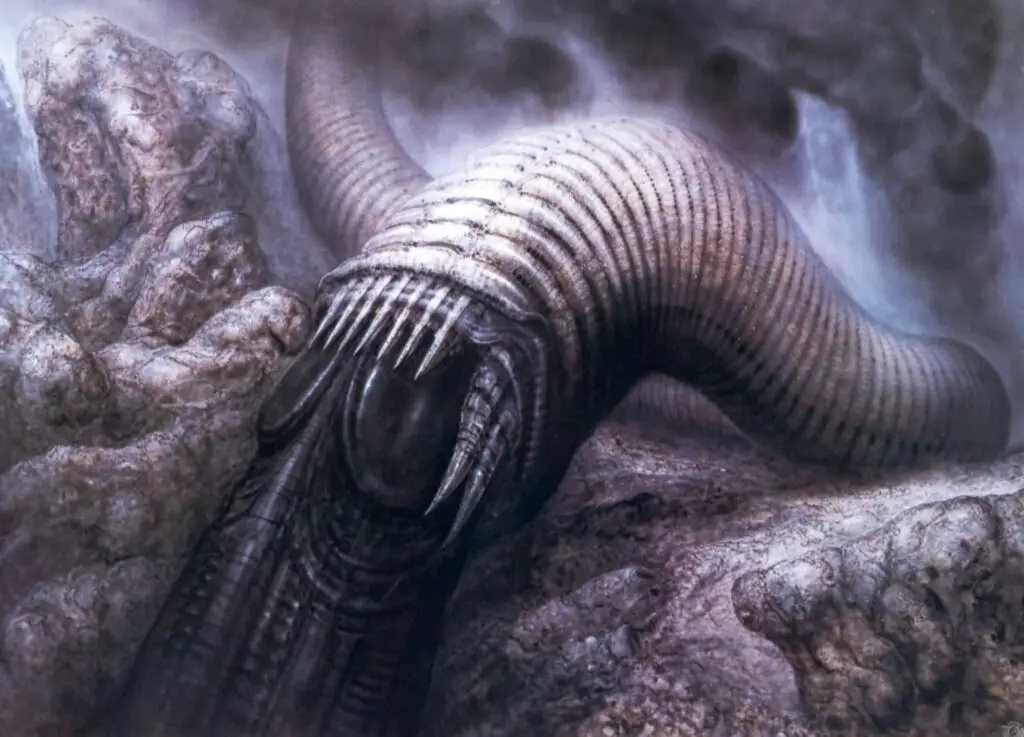 Script Difficulties
Meanwhile, adapting the novel into a script was proving difficult. Frank Herbert was not happy with the first draft, which he believed had oversimplified the plot. A later draft was even more displeasing to the Dune author, as it featured an incestuous relationship between Paul and his mother Jessica, with Alia being both Paul's daughter and sister! "That version really 'Alien-ated' me," quipped Herbert.
I introduced some erotic scenes between Paul and his mother, Jessica. I felt there was always a latent, but very strong, Oedipal attraction between them, and I took it one note further. It went right in the middle of the film, as a supreme defiance of certain boundaries, perhaps making Paul even more heroic for having broken a forbidden code.

Rudolph Wurlitzer – Prevue #54
Finally, after eight months, Scott and Wurlitzer had what they considered to be a workable draft. Wurlitzer's script was apparently more contemporary, with Gillo Pontecorvo's The Battle of Algiers (1966) being a reference for a realistic look of an urban conflict. There were major changes in the structure, and dialogue evolved to feel more natural and less "epic."
The Dune adaptation was one of the most difficult jobs I've ever done. It took more time to break it down into a working outline than to write the final script. I did two or three drafts before I was at all satisfied with the structure.

Rudolph Wurlitzer – Prevue #54
De Laurentiis and Universal Studios, however, were not impressed, as the projected budget for the script would have been too expensive at $50 million.
End of the Road
In September 1980, after script and budgetary problems, the production was finally shut down when Scott left the project due to a death in the family.
But after seven months I dropped out of Dune, by then Rudy Wurlitzer had come up with a first-draft script which I felt was a decent distillation of Frank Herbert's [book]. But I also realized Dune was going to take a lot more work – at least two and a half years' worth. And I didn't have the heart to attack that because my [older] brother Frank unexpectedly died of cancer while I was prepping the De Laurentiis picture. Frankly, that freaked me out. So, I went to Dino and told him the Dune script was his.

Ridley Scott – "Ridley Scott – The Making of his Movies"
Scott subsequently moved on to another film, one where he could immediately start work on its production: Blade Runner.
At this point Dino De Laurentiis had neither a usable script nor a director, and was back at square one. Fortunately his daughter Raffaella, the producer on Dune, then went to watch a film titled The Elephant Man by a new director named David Lynch. The saga of Dune was far from over…