The remarkable journey to bring Dune to the silver-screen spans over 50 years and has touched many countries throughout the world. While Alejandro Jodorowsky's Dune is the most discussed failed attempt to film this epic story, it is certainly not the only such movie production—nor was it the first. In this article we'll investigate the Dune adaptations undertaken before Jodorowsky started his project.
Roger Corman – King of the B Movies
The very first attempt to create a Dune movie seems to have been by Roger Corman, producer and director of many films. Most notably the Poe films, starring Vincent Price, in the early 1960s.
On November 3, 1971, Daily Variety reported that Roger Corman's New World Pictures had acquired the rights to Frank Herbert's Dune, and filming was scheduled to take place the following summer (1972) in Czechoslovakia.
Corman's name resurfaces in October 1973 in The Gazette Montreal, in an article on the "King of the B movies" which claimed that Corman was "dickering for the rights" to Dune. Nothing appears to have come from either of these projects.
Arthur P. Jacobs
Arthur P. Jacobs was a film producer who formed his own company, APJAC Productions, and is perhaps best known for his Planet of the Apes series of movies.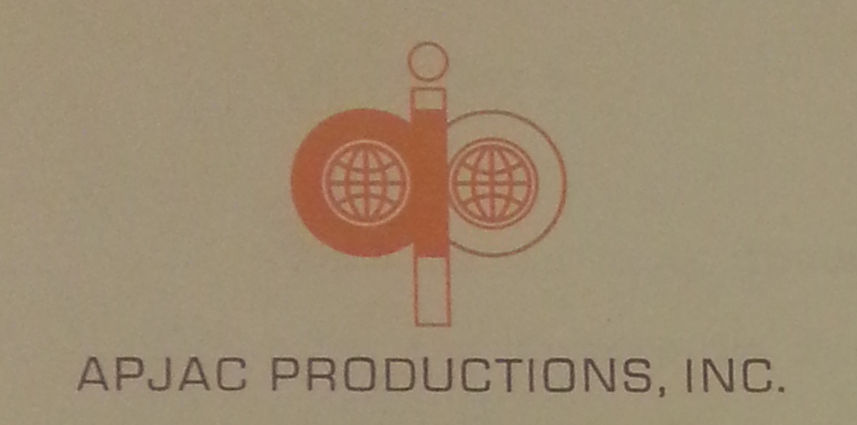 On March 31, 1972, Joe Ford and Bob Greenhut completed a 37-page story treatment of Frank Herbert's Dune and sent a copy to Arthur P. Jacobs' production company APJAC. A copy of this treatment is available to download from the DuneInfo Scripts Archive.
At this time the rights for Dune had not been acquired. Rather, this appears to have been an attempt to determine if translating the 600-page science-fiction novel to the silver screen was feasible.
Jacobs must have been sufficiently satisfied with the treatment, as negotiations with Ned Brown (Herbert's literary agent) for the rights to the novel began later that year.
Film Rights
By the middle of August 1972, a firm offer was made for the rights, $10,000 for one-year option against $100,000 with right to renew for a second year at $10,000. Additionally, Frank Herbert was to get 5% of the profits from the movie.
Rights were secured later that month and Jacobs wasted no time making a deal with the Turkish government—which was trying to establish their country as a world film center—to film Dune there. The deal would see Turkey funding the movie's "entire below-the-line costs involving the use of their lira", as well as the promise to name selected locations as national monuments, retaining the locations exclusivity on film for two years.
The "below-the-line" costs refers to items such as labor, sets, costumes, hair and makeup, optical, and special effects. Whereas "above-the-line" costs would include the story, producer, writer, director, and cast.
On Monday, September 11, 1972, APJAC released a press release announcing that Dune "will be filmed as a roadshow attraction early in 1974."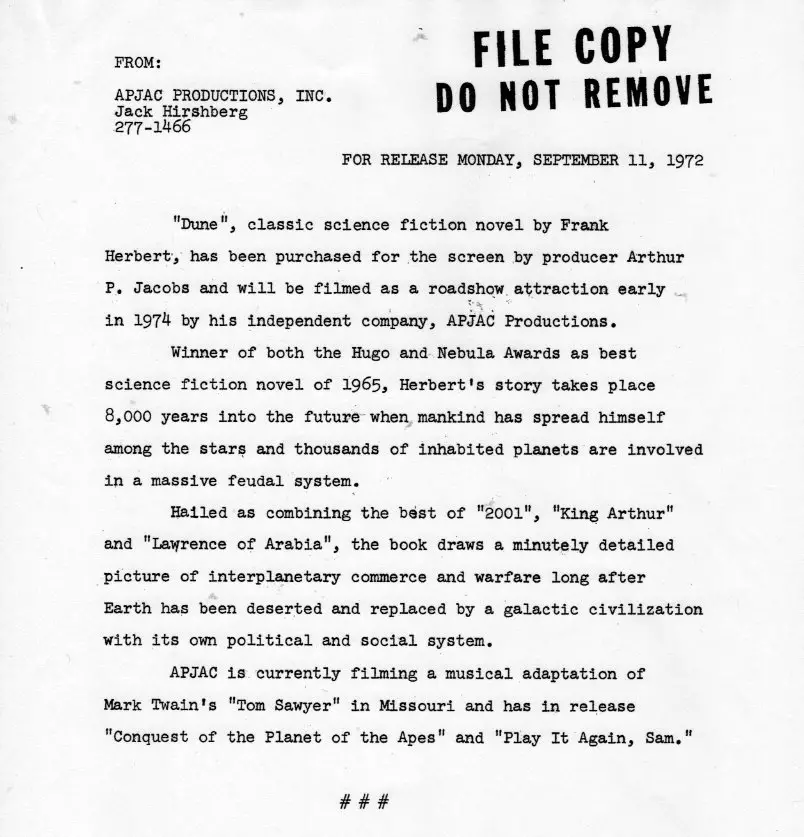 Directing the Sands
David Lean appears to have been the first director approached on 23 August, 1972, just days after the rights had been secured, with a letter sent to the agency representing the director. Lean, however, appears to have declined and by early November 1972 Jacobs was in discussions with director Charles Jarrott (Mary, Queen of Scots, 1971). The latter was "excited" and "hoped everything works out as we both hope."
Two other directors under consideration were Fred Zinneman, who had directed A Man for All Seasons in 1966—which was nominated for eight Oscars, and won six including best director for Zinneman—and Terence Young, who had directed many James Bond films, including Dr. No in 1962. At the time, Young's most recent films were Red Sun (1971) and The Valachi Papers (1972).
Another director that is often mentioned in articles about Jacobs' Dune is Haskell Wexler. This appears to be traceable back to an article in Variety which stated that Haskell Wexler (misspelled "Harold Wexler") was expected to direct, with production starting March 1973. However there is no mention of Wexler in any of the APJAC documents I've seen, and Faisal A. Qureshi, who interviewed Wexler, stated in a Tweet that Wexler "denied any involvement" when asked about Dune.
There were various directors considered for it. David Lean was approached and there was rumours so was Haskell Wexler but he denied any involvement to me. At the end they settled for British director Charles Jarrott who later directed CONDORMAN. https://t.co/NoIc8q8BrA

— Faisal A. Qureshi (@f_a_q) December 16, 2018
From Novel to Script
On the back of many copies of Frank Herbert's Dune you may notice the following quote:
Unique among SF novels – I know nothing comparable to it except Lord of the Rings.

Arthur C. Clarke
Perhaps it was this comparison that prompted APJAC to contact Rospo Pallenberg who, together with John Boorman, had recently completed a screenplay for The Lord of the Rings.
Whatever the reason, on October 25, 1972, Jacobs sent a copy of The Lord of the Rings screenplay to 20th Century Fox, stating that it was "an excellent job on the whole considering the enormous amount and complexity of the material they had to work with."
A meeting was set up with Pallenberg and this must have been successful, since at the end of October an offer was extended to him. Pallenberg accepted the following week, and was contracted to produce a story breakdown and storyboard, followed by story treatment. The breakdown was completed just before Christmas 1972, and a 52-page story treatment was delivered to APJAC on January 23, 1973.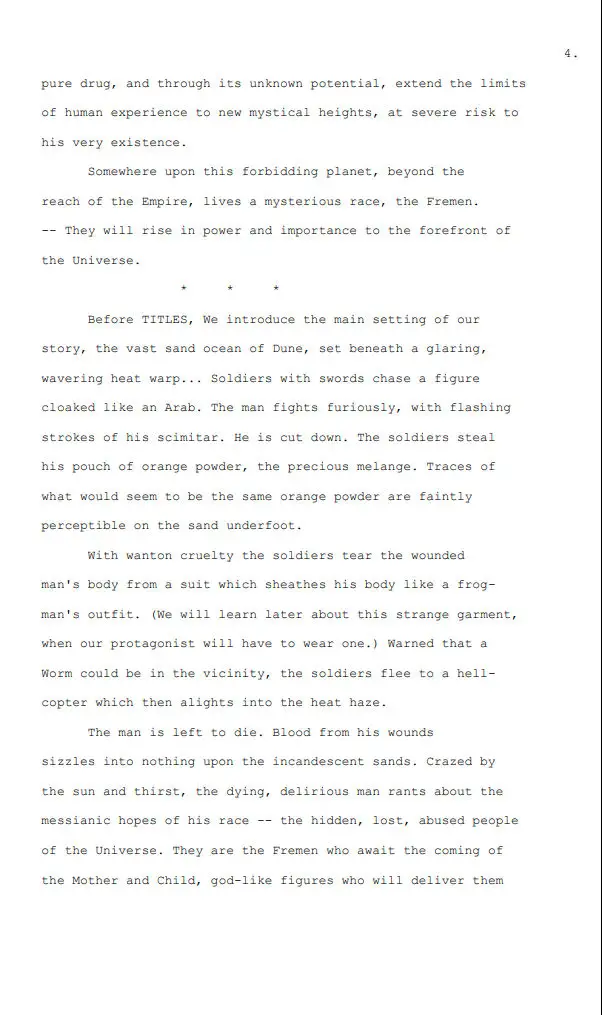 It appears that APJAC didn't use their option to employ Pallenberg further to write the first draft screenplay, perhaps being unhappy with the story treatment. Although another factor may have been that on March 6, 1973, the Writers Guild of America (WGA) went on strike against the Association of Motion Picture and Television Producers (AMPTP), halting all work on the Dune movie's script.
Whatever the reason, APJAC began courting other writers – and a new director. Franklin Schaffner had directed the science fiction classic Planet of the Apes for Jacobs in 1968 and so would seem to be an obvious choice to tackle Dune. Schaffner was at the time filming Papillon along with that film's writers; Dalton Trumbo and Lorenzo Semple Jr.
Jacobs sent all three of them copies of the novel Dune. Trumbo responded, through his agent, that he was "extremely interested and would like to do it."
Lorenzo Semple Jr. (whose name is perhaps most well-known from its appearance in the 1966 Batman TV series closing credits), was likewise contacted, and was "highly enthusiastic and claims he has solved how to treat the story and is most anxious to do this."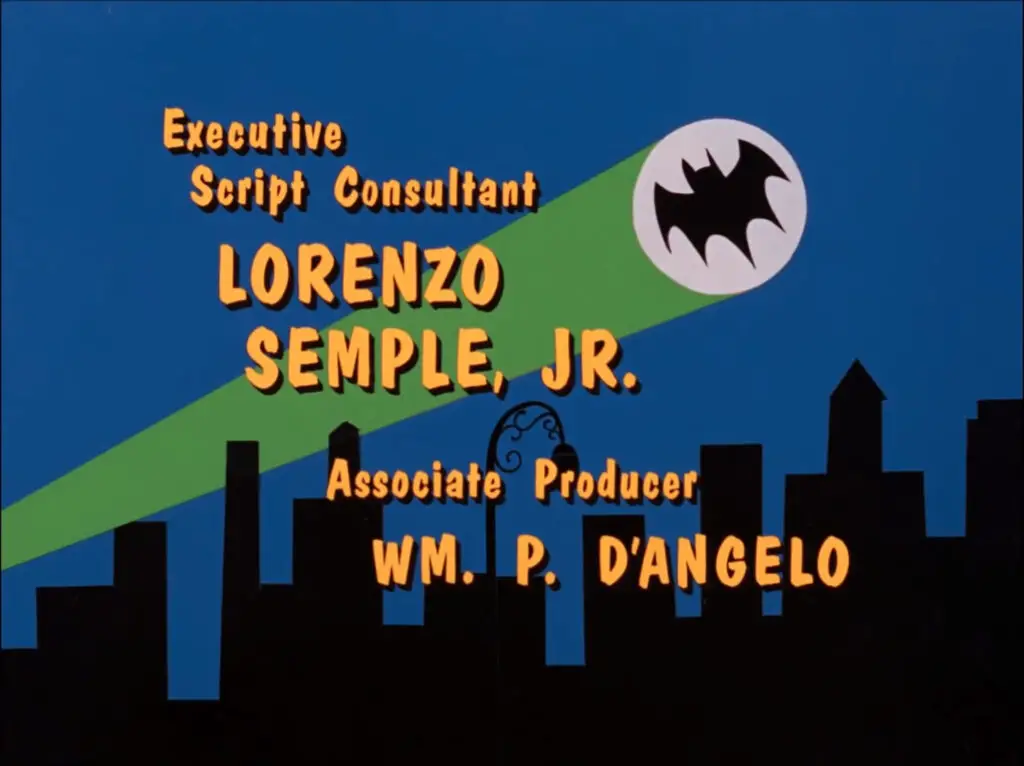 Robert Bolt
One writer for Jacobs' Dune that is mentioned in Brian Herbert's biography of Frank Herbert Dreamer of Dune is Robert Bolt, who won Oscars for his scripts of Doctor Zhivago (1965) and A Man for All Seasons (1966), as well as a nomination for Lawrence of Arabia (1962). It may have been tempting for Jacobs to reunite the writer of Lawrence of Arabia with its director, David Lean, for Dune. Sadly, however, there is no historical record I've seen that connects Bolt to Dune.
Cast and Crew
According to an article in Variety, actors Susan Hampshire, John Neville, and Patrick McGoohan had already been cast in Dune. Some APJAC correspondence also mentioned Christopher Plummer and James Coburn.
In October 1972, John Box, the production designer on Lawrence of Arabia (1962), Doctor Zhivago (1965), and A Man for All Seasons (1966) expressed interest – provided he liked the subject matter and was happy about the choice of director. At that time David Lean was still under consideration. Pairing both the Oscar-winning director and art director of Lawrence of Arabia, on another epic desert-based movie, would have seemed a winning idea.
In the end Terence Marsh was the planned production designer, at suggestion of Charles Jarrott. Marsh had won an Oscar on A Man for all Seasons (1966) and was responsible for finding all locations for Doctor Zhivago and Lawrence of Arabia. In memo to Marsh, it was suggested that a combination of helicopter interiors, manned gliders, and miniature work be used for the movie's ornithopters.
Location, Location, Location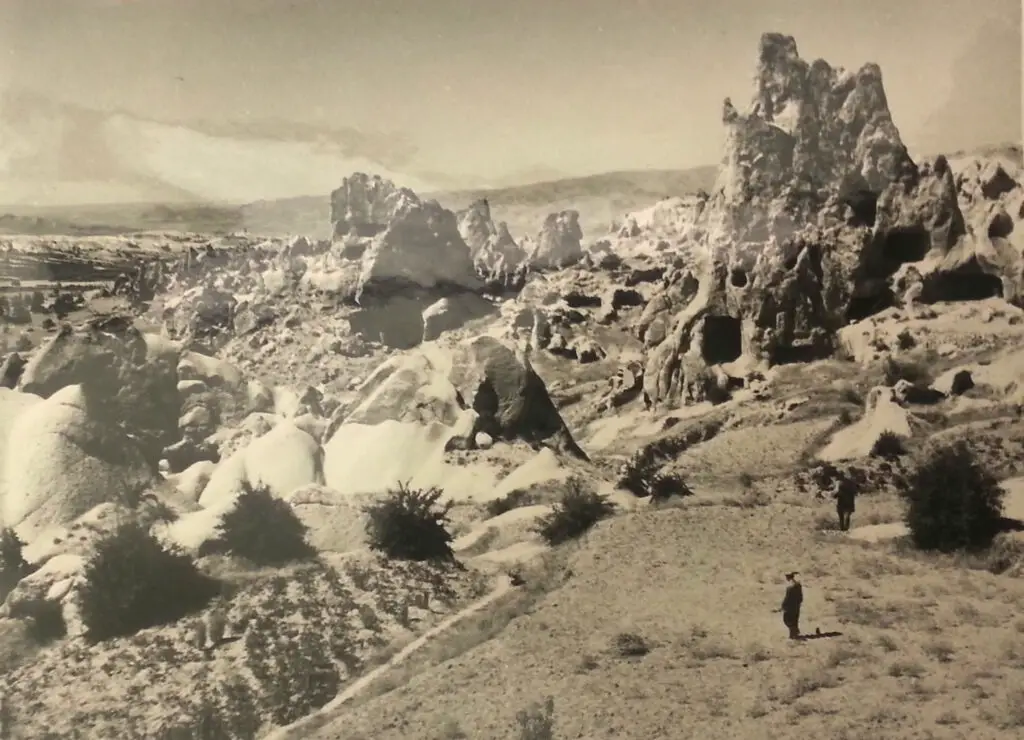 As early as mid-November 1972, APJAC was dealing with M. Adil Özkaptan in Istanbul as a coordinator between APJAC and "the Turkish government, Turkish financiers, and other personnel engaged in making the film in Turkey." Özkaptan's financial reward for this help was impressive, with him asking for a fee of $100,000, 5% of the net profits, plus film and TV distribution rights of the movie in Turkey! While that does seem a lot, his work would have resulted in $2,750,000 being provided towards the filming of Dune in Turkey.
The location of Göreme, Turkey was being considered due to its unusual rock formations which were hollowed out to form houses – perfect for Fremen perhaps? Shooting was planned for the summer of 1974, to allow time for the writers' strike to end to produce the first draft, plus plans to be finalized and financing to be arranged.
The interior sets were planned to be constructed at the Sports Palace in Izmir, Turkey.
The Budget of Dune
A budget breakdown from February 1973 placed the estimated total at around $6.8 million, based on five months of principle photography, but with aforementioned $2,750,000 coming from the Turkish government. That left the APJAC contribution at just over $4 million, which would make it cheaper than Jacobs' previous sci-fi blockbuster Planet of the Apes (1968)—that movie had a reported budget of $5.8 million.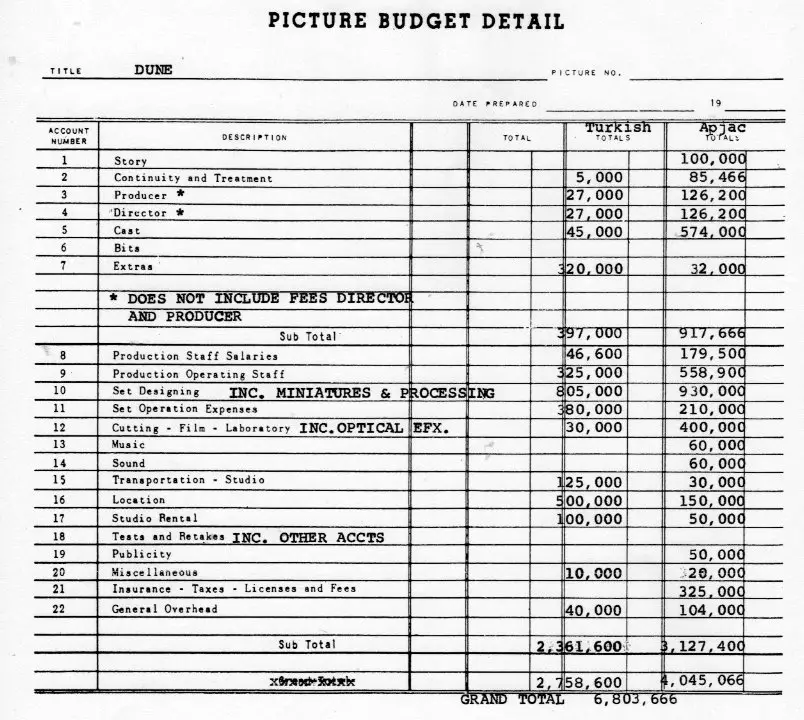 End of the Strike
The writers' strike formerly ended on Sunday, June 24, 1973—having lasted three-and-a-half months—and with that hurdle cleared production on Dune could continue, just so long as nothing else happened…
Early on the morning of Wednesday, June 27, 1973, Arthur P. Jacobs had a heart attack in his sleep in his home and died, just three days after the end of the strike. Although just 51 years old, Jacobs had previously suffered a heart attack nearly seven years earlier in London, October 1966.
Jacobs' wife, Natalie Trundy, who had starred in several of the Planet of the Apes movies assumed control of APJAC Productions. At the time she was nine days into the filming Huckleberry Finn, playing the role of Mrs. Loftus.
In an interview in the Standard-Speaker (Hazleton, Pennsylvania) on August 21, 1973, Trundy said that she was going to see that the projects on the drawing board got made, however Huckleberry Finn was to be the last film from APJAC Productions.
All the rights and financial participation in the Planet of the Apes franchise were sold to 20th Century Fox, and the rights to Dune were later sold to Caméra One in 1974—for Jodorowsky's failed attempt—and were in turn then sold to Dino De Laurentiis in 1976, who had to renew the rights during his long, but ultimately successful, attempt to bring Dune to the screen.
Thanks, and References
Thanks to Stephen Scarlata and Faisal A. Qureshi for their help with the materials from the Arthur P. Jacobs collection at Loyola Marymount University, and to John Gosling for his "The Spice of Life" article in SFX magazine, November 2001.
For more information on Jacobs' Dune please listen to the two "Unmade Dune" episodes on the Best Movies Never Made podcast. I joined actor Jesse Merlin with co-hosts Stephen Scarlata and Josh Miller, to discuss the multiple attempts to bring the novel to the screen:
Unmade Dune – Part 1 (67 minutes)
Unmade Dune – Part 2 (82 minutes)