It's almost time for this month's Dune comic book release. BOOM! Studios has shared preview pages for their eighth issue (out of 12) of Dune: House Harkonnen, coming out on August 16, 2023. Having commenced serialization in January, the comic series continues its visual adaptation of Brian Herbert and Kevin J. Anderson's Dune prequel trilogy—this being the second book—featuring interior art by artist Fran Galán and colorist Patricio Delpeche.
Raymond Swanland's main cover for Dune: House Harkonnen #8 captures the mystique of folding space to travel across the universe. In their respective variant covers, Zu Orzo presents a stylized portrait of Earl Dominic Vernuis and Reiko Murakami elegantly captures emotions of hatred and jealousy.
On the first page, a Spacing Guild Heighliner prepares to depart from Arrakis. The ship's navigator—formerly known as D'murr Pilru—hazily recalls its past as a normal human. Meanwhile on Teilaxu-occupied IX, C'tair Pilru is desperate to reach his brother via the innovative device that has previously enabled them to communicate across such vast distances.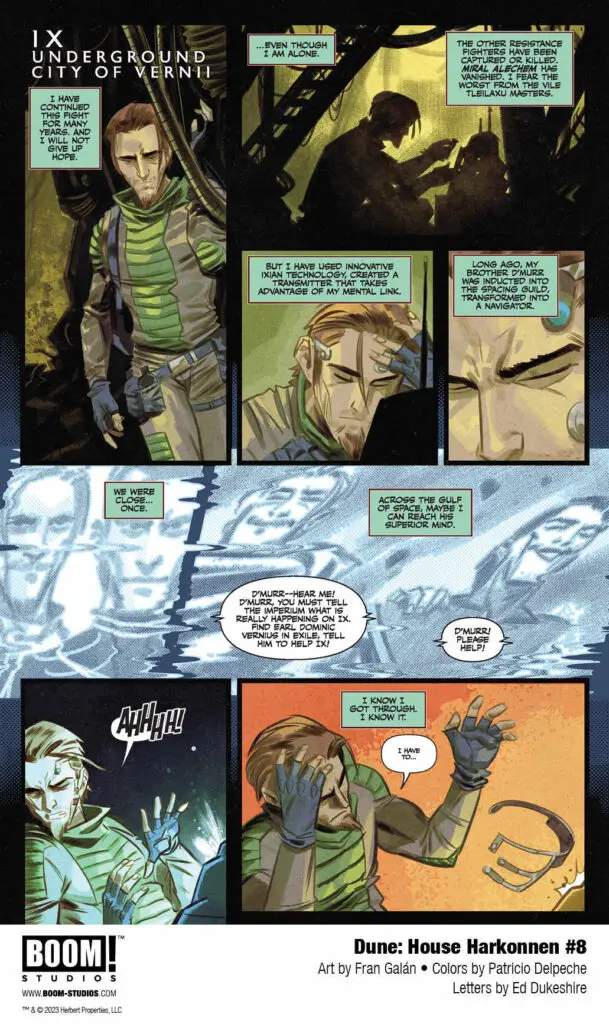 The next destination is Salusa Secundus, former Imperial capital turned prison planet—in addition to testing ground of the Sardaukar legions. What better place to hide the operations of a renegade house, than this desolate world? Earl Dominic, head of the fallen House Vernius, introduces two young men who have joined his cause.
The official synopsis for the eighth issue reads as follows:
In reality not all Harkonnens are as cruel as they say, as Abulard makes an important decision that will send the Baron and Rabban into a vengeful pursuit.

And as the tension rises in the thrilling prequel adaptation by authors Brian Herbert and Kevin J. Anderson, the Teilaxu commit unthinkable acts on Ix, Duncan takes a significant step in his training, and Liet faces an impossible and deadly choice on Arrakis!
Dune: House Harkonnen #8 arrives in stores on August 16, 2023. Print editions will be sold at local comic book shops (find one nearby at www.comicshoplocator.com). Digital versions are available for purchase on comiXology / Kindle, iBooks, and other online stores.
Issues #5-8 will be collected in the second hardcover volume of Dune: House Harkonnen, scheduled for publication on March 5, 2024.