Originally released in 2020, Dune: Imperium has delighted players with its compelling mix of deck-building and board game strategy mechanics. As announced at Gen Con 2023, this award-winning tabletop experience is now receiving an official digital adaptation—starting with the imminent release for PC. Developer Dire Wolf has confirmed that Dune: Imperium Digital enters Steam Early Access on Tuesday, November 14!
Like it's physical counterpart, Dune: Imperium Digital offers a full strategy gaming experience whether you're itching for battle against others or prefer to go it alone. Up to four players can vie for control of Arrakis in the "online play" mode. Alternatively with the "solo play" mode, you can test your skills locally against the game's AI opponents. This digital version will cost $22.99.
Below Dune: Imperium Digital game trailer (40 seconds) teases the digital board and sound effects. And, further down this report are several full-length steams showcasing actual gameplay.
What is Dune: Imperium?
Blending deck-building and worker-placement elements, the Dune: Imperium board game places players in the shoes of iconic figures from Dune's universe—such as Duke Leto or The Baron—leading their respective Great Houses (Atreides, Harkonnen, Richese, and Thorvald are the four playable factions) in an ongoing struggle to control the Spice and the universe…
One game consists of 10 rounds in total. At start of each, players draw five cards from their decks—which continually grow in power as new cards are acquired—and position their forces strategically ahead of an arising conflict on Arrakis' surface. Its outcome determines who obtains precious resources and/or progresses further along one of the game's many paths to victory.
Throughout the game, you'll seek to earn influence among powers of the Imperium; including the Emperor, Spacing Guild, Bene Gesserit order, and Fremen peoples. Political machinations and intrigue abound, as you decide whether to form alliances with other players or abandon them in favor of your objectives.
What's Included in the Digital Version?
Dune: Imperium Digital will start out with "everything that comes in the box" of the base game, as was originally published back in 2020. Initially, the digital version will not include its subsequent expansion sets—Rise of Ix (2021) and Immortality (2022)—nor the also soon-to-be-released Dune: Imperium – Uprising (standalone) edition of the game. Dire Wolf has stated their intention to add these, chronologically, at a later stage.
Unique to the digital adaptation will be its matchmaking system. With online play functionality, it will be easier than ever to find human opponents to compete against. Dire Wolf has announced that Dune: Imperium Digital 's full version will feature integrated leaderboards and tools for organizing in-game tournaments and leagues. They're aiming to include these competitive play elements by the end of the Early Access.
Early Access Release
The Early Access period for Dune: Imperium Digital will be relatively short. Dire Wolf stated they're only "expecting three months or so." Their primary focus will be to understand players' interactions within the game (both modes) and use that learning to improve UX elements, AI, and other gameplay systems.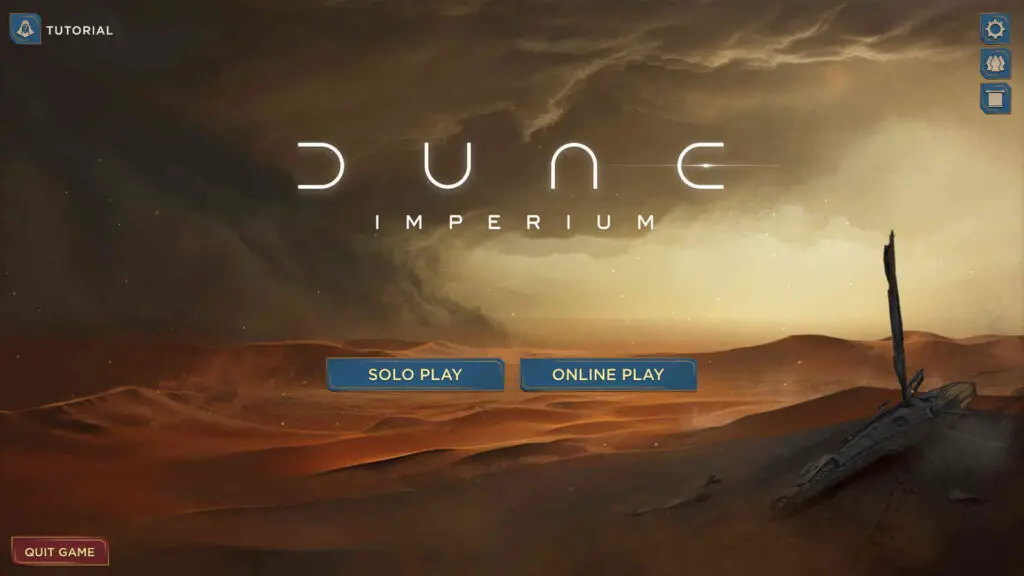 In addition to adding aforementioned competitive events, in the later stages of Early Access, developers will be actively working on the foundations for cross-play functionalities. Their plans are to release for tablets after the game's full release.
Early Access is expected to commence around 11 a.m. EST / 8 a.m PST on November 14, 2023. Add the game to your wishlist on Steam, to be notified.
Player Feedback is Welcome
Feedback offered during Early Access will help define the developer's roadmap towards release. Players will be able to submit their thoughts either in-game, on the Steam forums, or via Discord.
Dire Wolf is especially looking for inputs on the UX, as they seek to achieve that delicate balance between displaying all necessary elements of the main board and de-prioritizing information that may be less relevant.
Dune: Imperium Digital Gameplay Streams
In lead-up to the Early Access release, two developer live-streams have offered a very first look at how Dune: Imperium Digital plays. This first video (34 minutes) covers the basics of solo mode:
In the second video, the Dire Wolf team play a competitive four-player game (75 minutes) with online mode. The players are Paul Dennen (creator of Dune: Imperium) as the Baron, Justin Cohen (lead developer) as Duke Leto, Clay Brooks (art director) as Helena Richese, and Matt Hudson (marketing director) as Rabban.