With Dune: House Harkonnen having kicked off this month, we can look forward to monthly Dune comic book releases throughout the year ahead. Today, BOOM! Studios has unveiled a first look at the second issue, set to be released on February 22, 2023, showcasing life on Giedi Prime from the perspective of it's ruler, Baron Vladimir Harkonnen, and one young man who dares to defy him…
This new twelve-issue comic series from BOOM! Studios is adapting the eponymous prequel novel—second part of the Prelude to Dune trilogy—by Brian Herbert and Kevin J. Anderson. Set several decades before Frank Herbert's original Dune, its story features the early years of such iconic characters as Lady Jessica and Liet Kynes. The comic book's interior pages are illustrated by artist Michael Shelfer and colorist Patricio Delpeche.
Raymond Swanland's main cover for Dune: House Harkonnen #2 portrays oppression faced by those subjected to House Harkonnen's rule. One variant cover, by Reiko Murakami, offers a glimpse at the mysterious axlotl technology used by the Bene Tleilax. Two others showcase the Baron, whose health and physical appearance have greatly declined within a decade since events of Dune: House Atreides.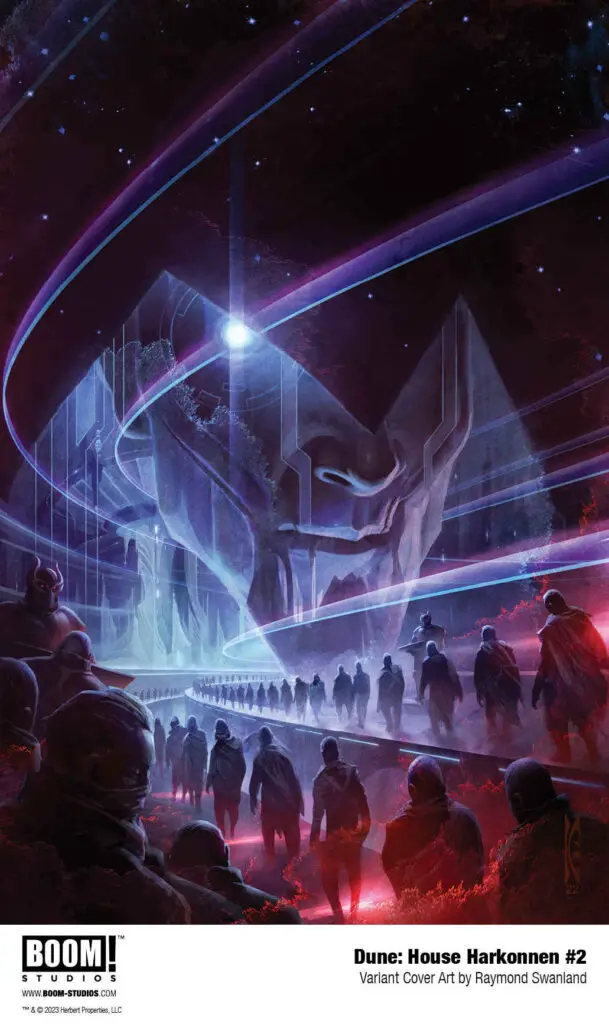 This issue opens on Giedi Prime, with Baron Harkonnen feeling the incessant effects of a slow-acting disease, inflicted—unbeknownst to him—during his past interaction with Reverend Mother Gaius Helen Mohiam of the Bene Gesserit.
Meanwhile in the planet's agricultural zone, it's been five months since since Gurney Halleck's sister, Bheth, was taken away by soldiers. In hope of obtaining any information on her whereabouts, Gurney throws caution to the wind and seeks to provoke the Harkonnens through his song.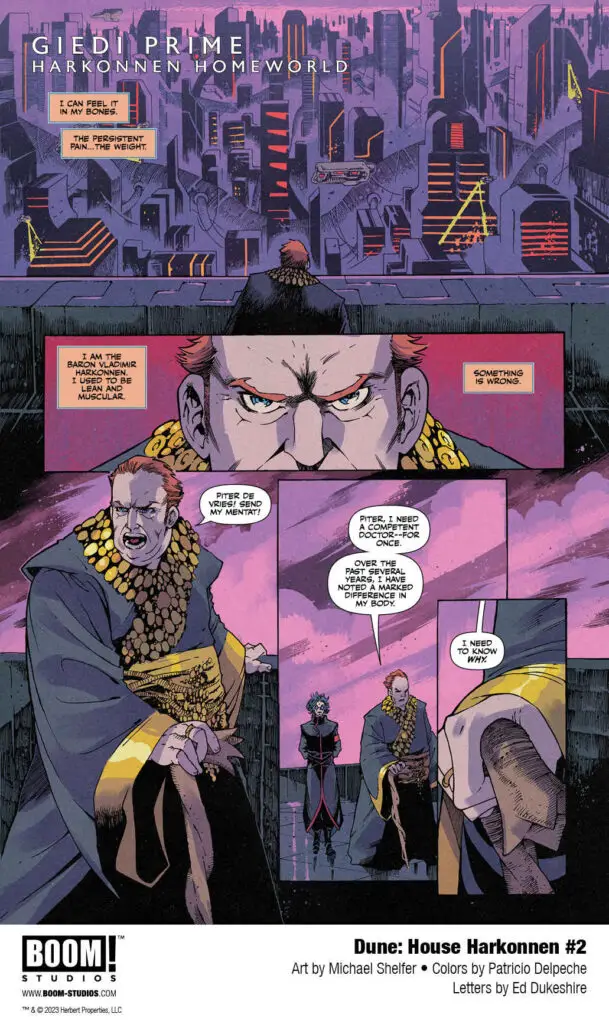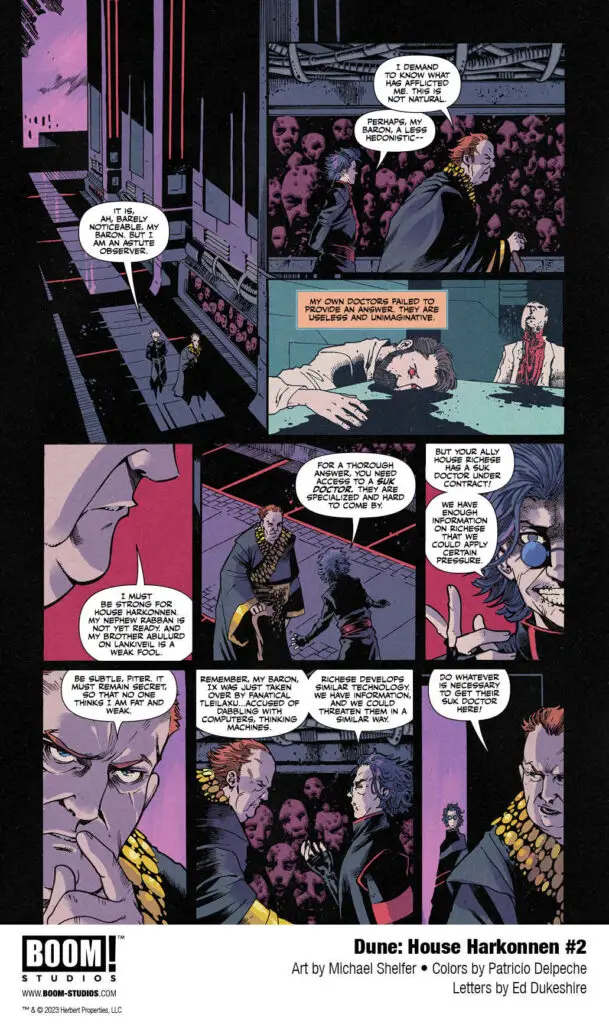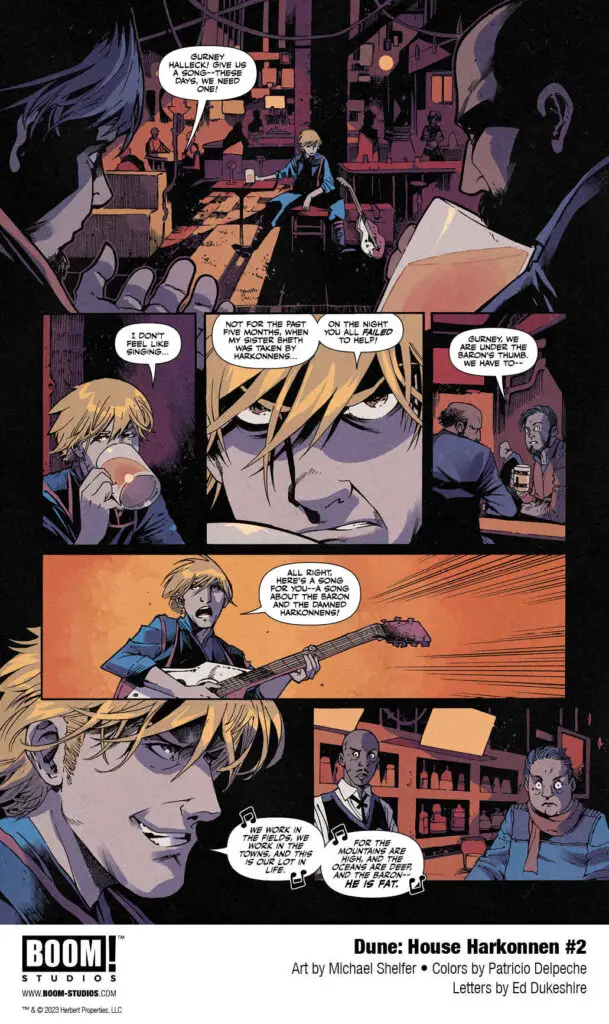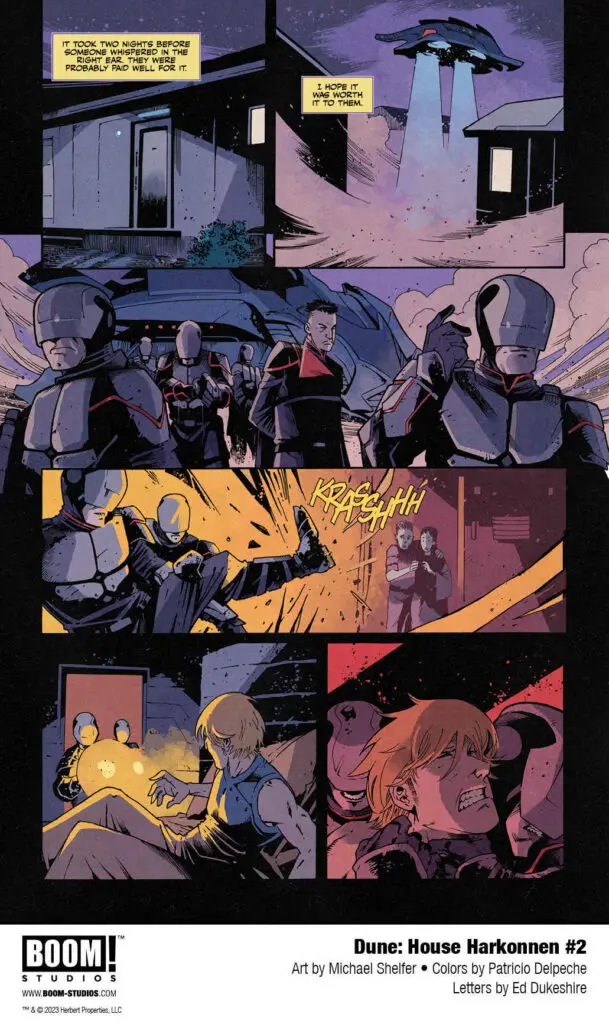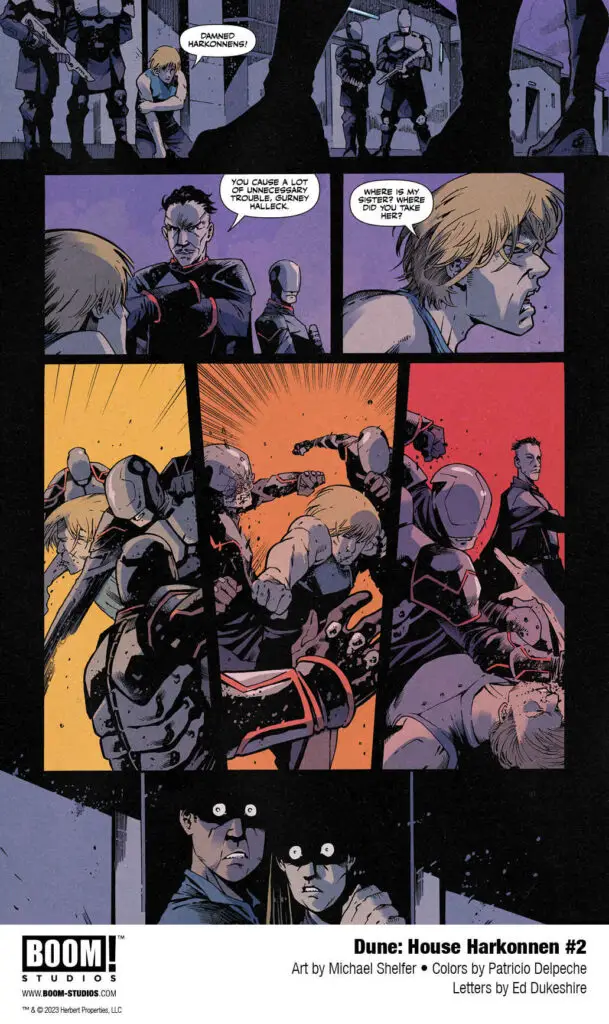 The official synopsis for the second issue reads as follows:
While Gurney sings blasphemous songs in defiance of the Baron, who grows weaker from his stubborn affliction by the day, the fruitless production of artificial spice continues to infuriate Fenring and Shaddam, and a hidden stash of organic spice further complicates things.

Meanwhile, Duke Leto is watched from afar by a person of untold significance for his future and lineage…
Dune: House Harkonnen #2 arrives in stores on February 22, 2023. Print editions will be sold at local comic book shops or the BOOM! Studios webstore (currently closed ahead of its relaunch). Digital versions are available for purchase at comiXology / Kindle and other online stores.