The hype is real… Posuka Demizu—a manga illustrator known for her artistic work on The Promised Neverland—crafted an amazing poster featuring the characters of Dune, to promote the movie. This captivating illustration has attracted attention from the film's director, Denis Villenueve himself, as well as several other well-known artists.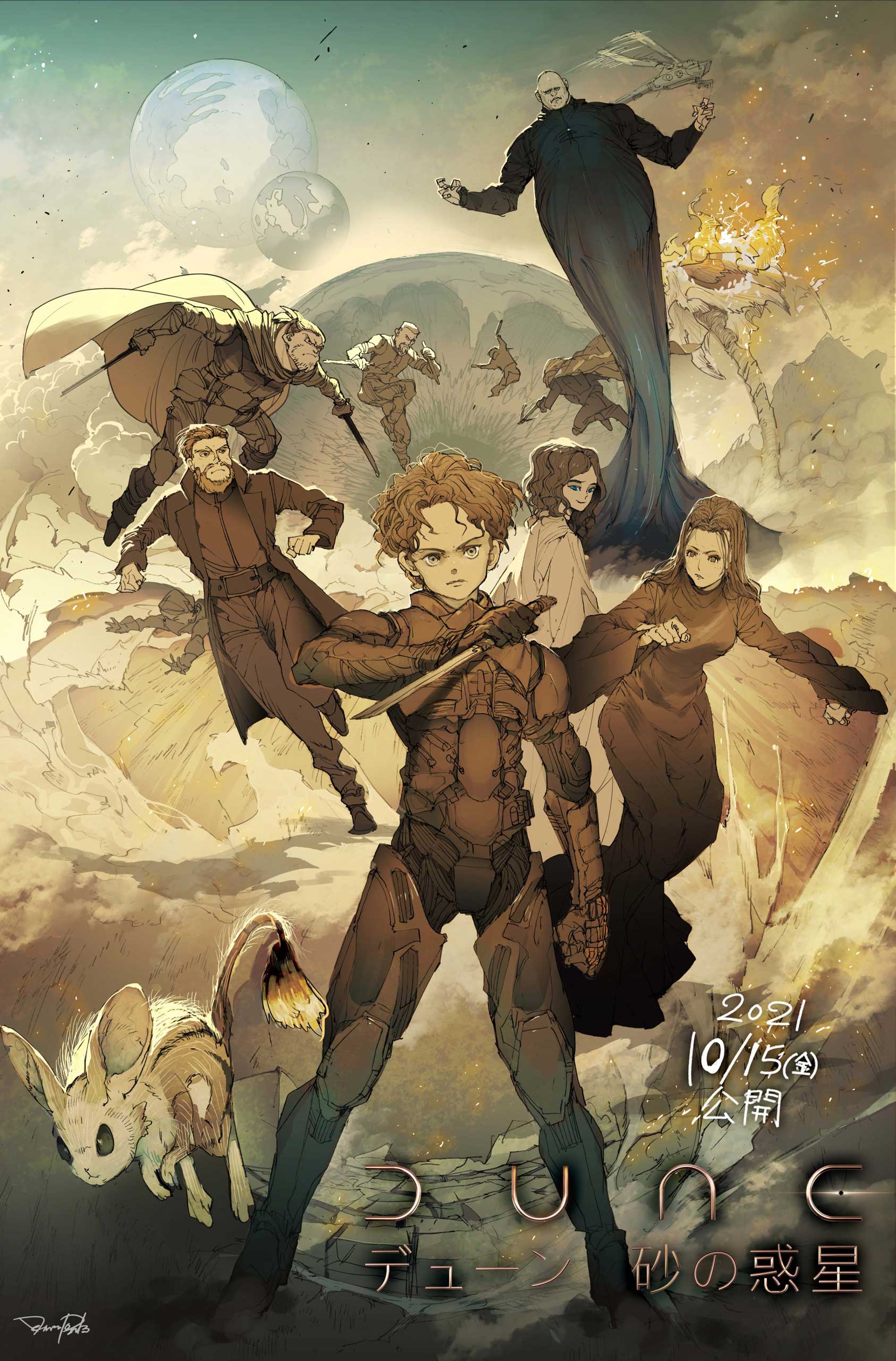 In the anime-style poster, we can see the likes of Paul, Jessica, Chani, Duke Leto, and my personal favorite, the Baron Harkonnen, among several other important characters. The backdrop features a beautiful rendition of Arrakis and its unique night skyline, with two moons. Of course, there is also a gigantic sandworm tunneling a pathway into our imaginations. It's no wonder that Demizu created this work of art, as she had this to say after watching Dune (2021):
There are so many tense scenes, one after another, that I didn't have time to breathe. The different culture on an alien planet is depicted in a haunting way. It's a story where you can feel the pulse of a small family in the middle of an enormous desert.
As mentioned above, this illustration has garnered a lot of attention. Denis Villenueve, in fact, had the following comments about the piece:
I'm in awe. I can see that Demizu preserves the characters and spirit of the film while making it their own. I can sense something special in how the drawing uses gravity; I think it's very beautiful. Very poetic. It's very humbling to me when I see what other artists feel from the 'image' in my work, and how they reflect that in their own work. I think it's a beautiful present.
The director, evidently, is impressed by the creation as seen above, humbled even.
Demizu is not the only artist to have drawn inspiration from the film. Several other well-known anime artists, who have seen the movie and were inspired by it, include Shinji Higuchi (Dragon Pilot: Hisone and Masotan), Kenji Kamiyama (Ghost in the Shell: Stand Alone Complex, Napping Princess), and Takashi Yamasaki (Stand By Me Doraemon, Lupin III: The First).
Here are some of their reactions to Dune:
For two-and-a-half hours I felt like I was there in Arrakis, witnessing a historic moment.

Takashi Yamasaki
The visuals are so compelling that they make you forget it's a sci-fi film. It whisks the viewer away to Dune.

Kenji Kamiyama
There's no reason not to watch it on the big screen.

Shinji Higuchi
As if I weren't excited enough to watch the Dune movie when it hits theaters here in the United States on October 22, the artwork and positive comments have certainly intensified my desire to see the final product.
Sources: Dune Movie Japan Official Twitter account (September 29, 2021), Anime News Network via Kim Morrissy (September 29, 2021).