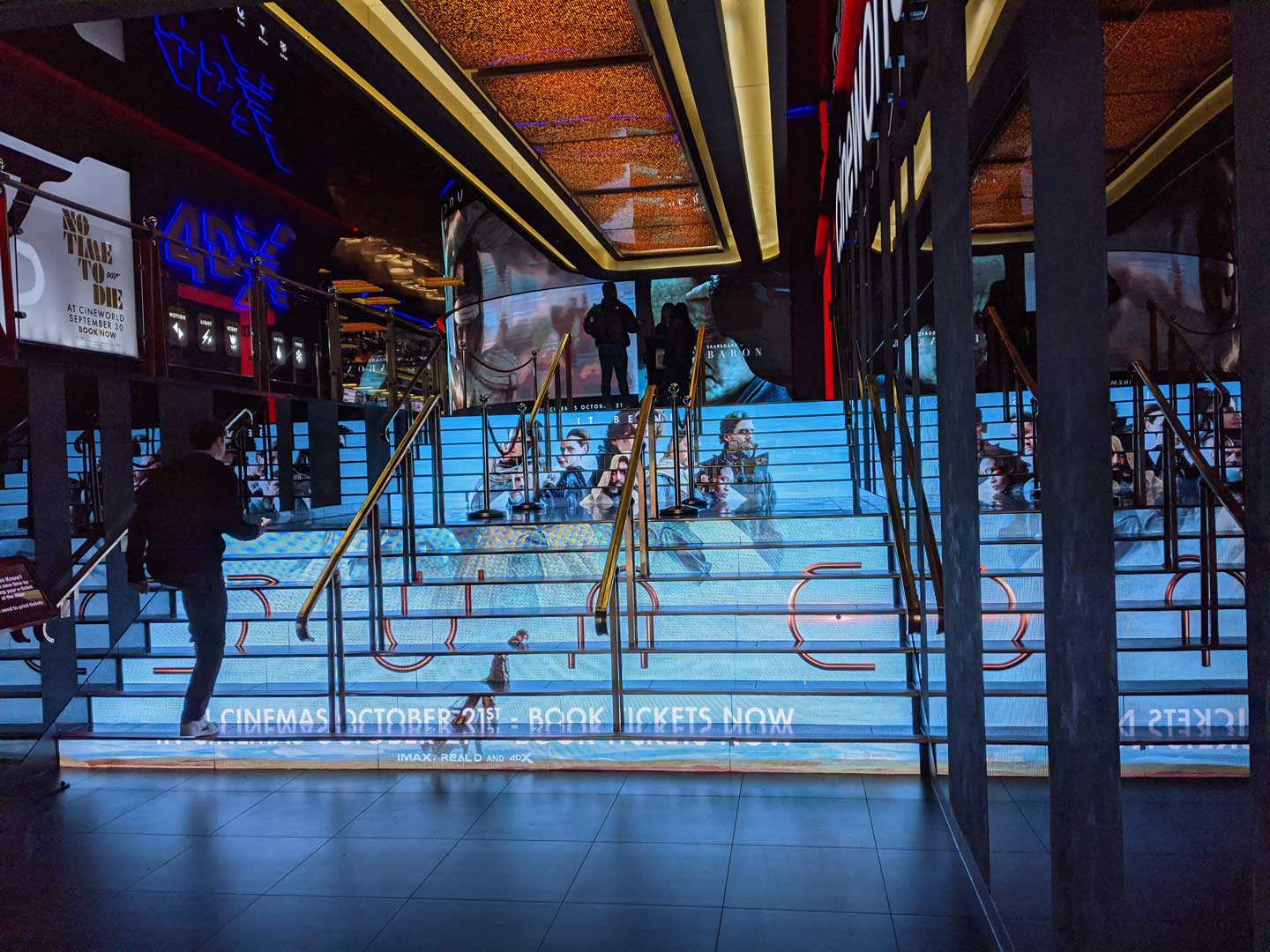 With Dune already out in many European countries I couldn't wait for it to be released in the U.K., so when the British Film Institute (BFI) announced a preview screening on October 5—to conclude their "Road to Dune" retrospective of Villeneuve's previous nine films—I jumped at the chance. I even signed up for an annual membership with the BFI to secure early access when booking a ticket. Good thing I did, as the event sold out in less than five minutes!
Cinema ticket secured, I booked train tickets down to London and a day off work, then began a mental countdown of the days left.
The only drawback regarding the BFI showing was that it wasn't in IMAX, but I could live with that. Shai-Hulud must have been smiling on me through, as the day before the event Warner Bros. publicity provided me with a ticket to a press screening… in IMAX! It was at the same date and time as the former, and likewise in London, so there was no hesitation on my part to accept.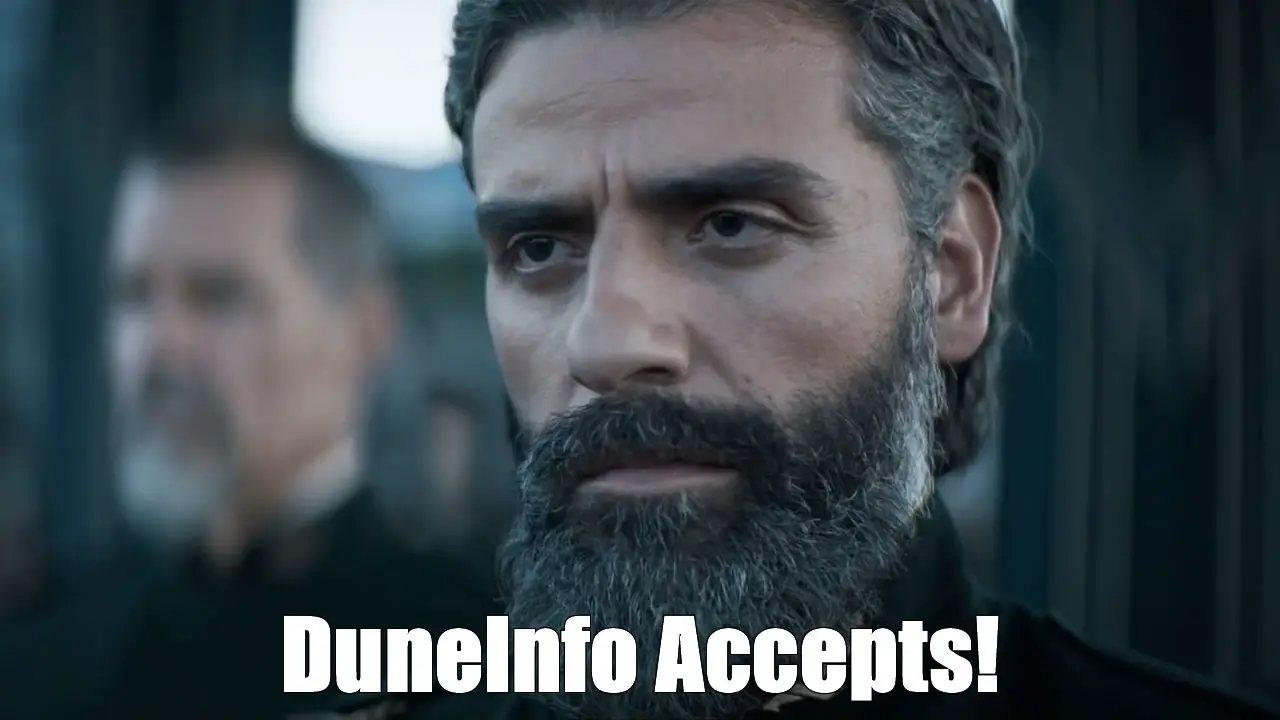 Not wanting the BFI ticket to go to waste, I contacted a fellow fan I'd met at the Dune IMAX preview, who was happy to take the ticket off my hands.
So, on Tuesday I found myself in London again. It was much cooler than my previous visit, in scorching July, but the weather was sunny for the most part, and as I wandered around sightseeing—I even spotted a Dune advert on the side of one of the famous red double-decker buses driving down Regent Street.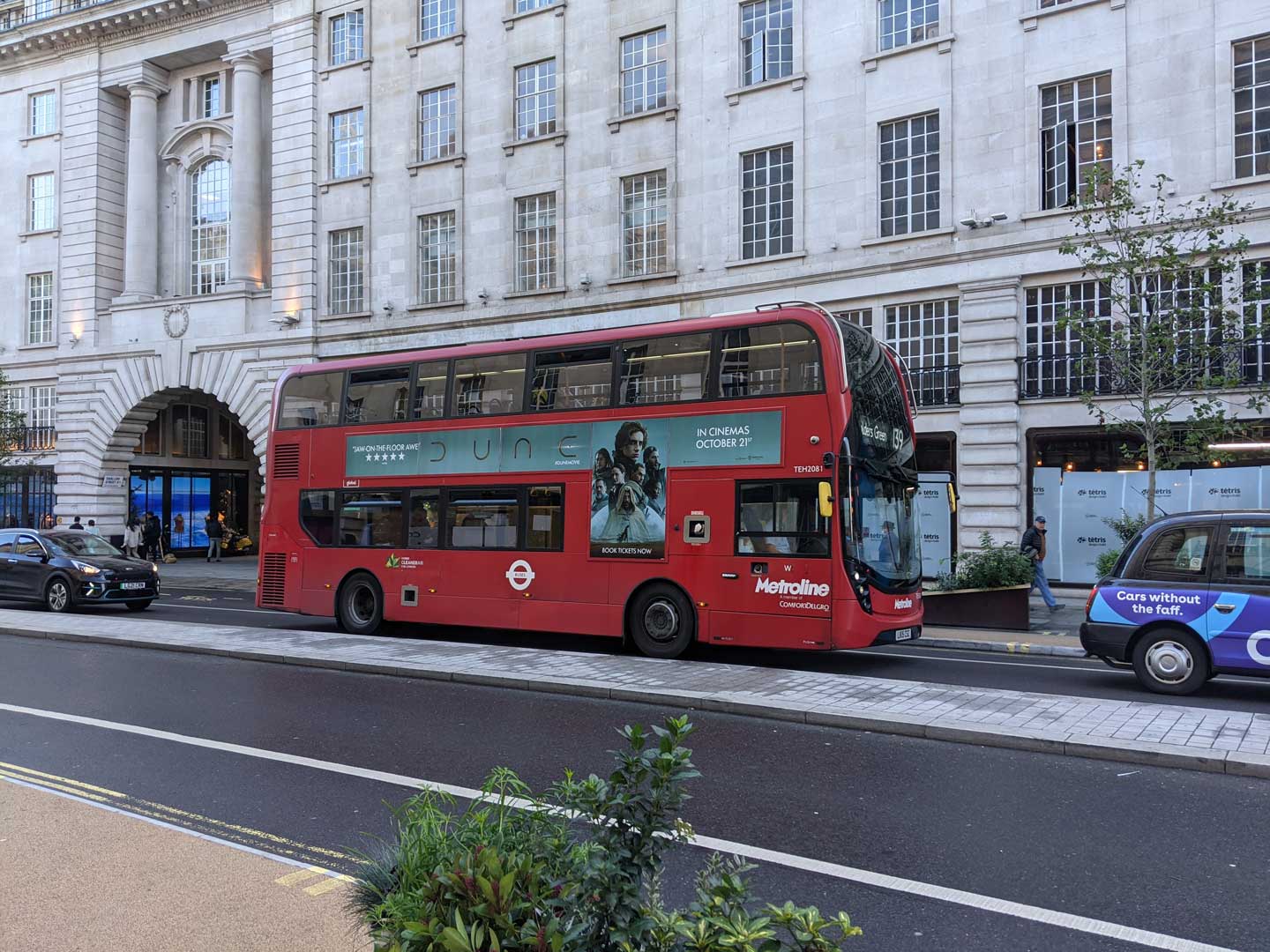 It's Time
The press screening took place at Cineworld in Leicester Square, the same location as the Dune IMAX preview in July. Whereas there had been assigned seating for that event, at this screening everyone was free to choose where they'd like to sit, so I made sure to arrive in plenty of time in order get a good spot. As we queued, security handed out the, now familiar, green plastic bags to place our phones in before we entered in theater, with guards checking the bags as we entered.
My early arrival paid off, and I grabbed a great seat in the center, towards the back. Everyone had a bottle of water and a packet of popcorn on their seat—sadly no Dune movie poster this time. This IMAX cinema screen is the fourth largest in Britain, measuring 26.5m by 15.6m with a total screen size of 413m², and currently the widest overall in the region.
The venue normally seats 728, however every third seat was an empty "social distancing" seat, reducing the capacity to around 485 or so. Those arriving last had to hunt to locate the last remaining spaces, as the event was "sold-out".
Despite the security over phones, I saw several people taking photos before the movie started—and even more on Twitter after the event!
The lights dimmed just after 7pm, and after just a single trailer (for The Matrix Resurrections) we went straight into the movie. Apart from the few people who mustn't have been wearing stillsuits and needed to use the restroom, the audience sat in rapt attention for the next 150 minutes. Now admittedly I've not been in a packed cinema for a long time, but I noticed no coughing, shuffling in seats, or the dreaded phone glare. Everyone was seemingly enthralled by the cinematic masterpiece on screen.
There were some laughs too, though not at the places I had expected; Mohiam's "I hope you live" and another of her lines, a few minutes later, both received the biggest response.
Mark's Review of Dune (2021)
Dune finally has a cinematic representation. I love Lynch's 1984 version, but the story is heavily compressed and technology for the special effects just wasn't there in the early 80's. The Sci-Fi TV miniseries has a lot of good points, however often looks more like a stage play, rather than a movie.
Villeneuve transports us to other worlds and doesn't just use a quick establishing shot of the desert, but instead takes his time with beautiful long aerial views of Arrakis—we don't just know that we are on Arrakis, we feel it…
The story is heavily focused on Paul and Jessica and, while some fans will be disappointed that scene X is missing or character Y doesn't have much screen time, ultimately it doesn't matter for Villeneuve's adaptation. Fans can imagine those events happening "off-screen" (much like The Lord of the Rings) and those new to the Duniverse aren't bogged down within a web of plans within plans.
I feel special mention must be given to the editing, keeping events moving, and never letting the audience get ahead of the story. The integration of Paul's visions is masterful, and I'm curious as to if it was Villeneuve himself or editor Joe Walker that came up with this approach.
Scenes are given time to breath, and there are several moments where we see Paul struggle to express himself. This is no MTV music video with quick cuts.
I've loved Villeneuve's films since I saw Incendies, and I had high hopes for Dune—I wasn't disappointed, the visuals, the performances, the effects, and the score are all sure to garner Oscar nominations, at the least. I can't wait to see it again, and have already booked multiple viewings for its official U.K. release, on October 21.
Here are just a few of the many triumphant reactions from members of the press and other lucky viewers, coming out of the Dune IMAX press screening or BFI event yesterday:
For more of Mark's Dune behind-the-scenes insights and collectors' resources, check out DuneInfo.com.