A long-awaited child is born into the Bene Gesserit sisterhood in Dune: House Atreides #8, arriving in stores on June 30, 2021. BOOM! Studios' 12-part comic book series is adapting the eponymous prequel novel, written by Brian Herbert and Kevin J. Anderson, which tells of discovery and political intrigue over 30 years before events of Frank Herbert's original Dune book and this year's movie version. The story is brought to life with appealing interior art from Dev Pramanik and Alex Guimarães.
At this stage of the story, these first looks at upcoming issues may reveal key plot points. If you're just discovering this comic series (or the book it's based on), we recommend you start with our preview of Dune: House Atreides #1.
Both of this issue's covers feature Leto Atreides, a teenager at the time of this story. After a devastating loss, the ducal heir reflects on his uncertain future. The main cover by Evan Cagle portrays him on a figurative seat of power, headlined by the hawk symbol of House Atreides. In Jeff Dekal's variant cover (below that), Leto sits on the shore near Cala City.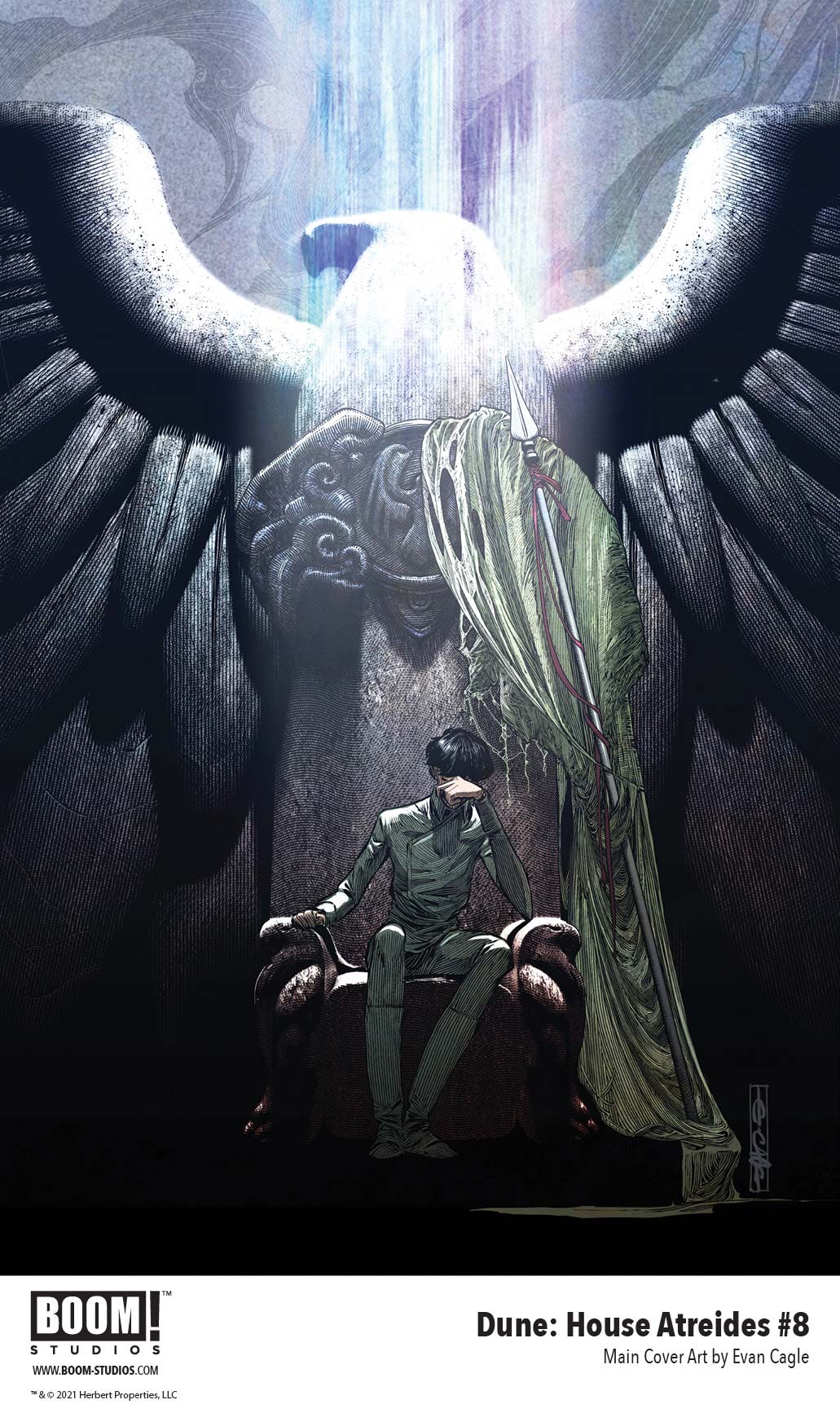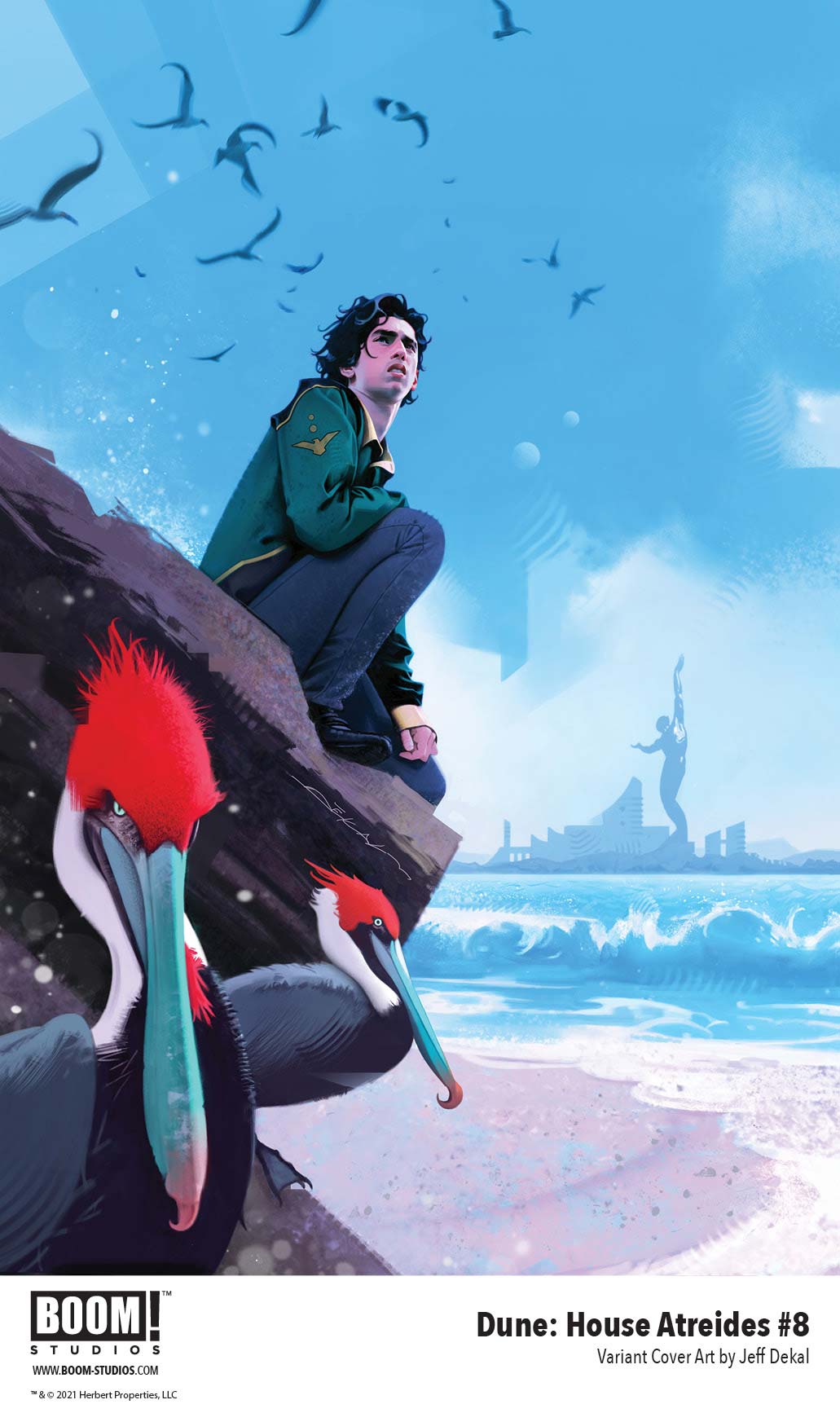 Duncan Idaho has been welcomed into Castle Caladan by the Atreides and given a job as a stable hand, caring for five Salusan bulls. Now, with a grand celebration imminent—where Duke Paulus himself will fight one of the fierce creatures as a public spectacle—the young boy is convinced that something is terribly wrong. Although Duncan repeatedly raises concerns about the bulls' abnormal behavior, this only serves to earn him the rebuke of Stablemaster Yresk.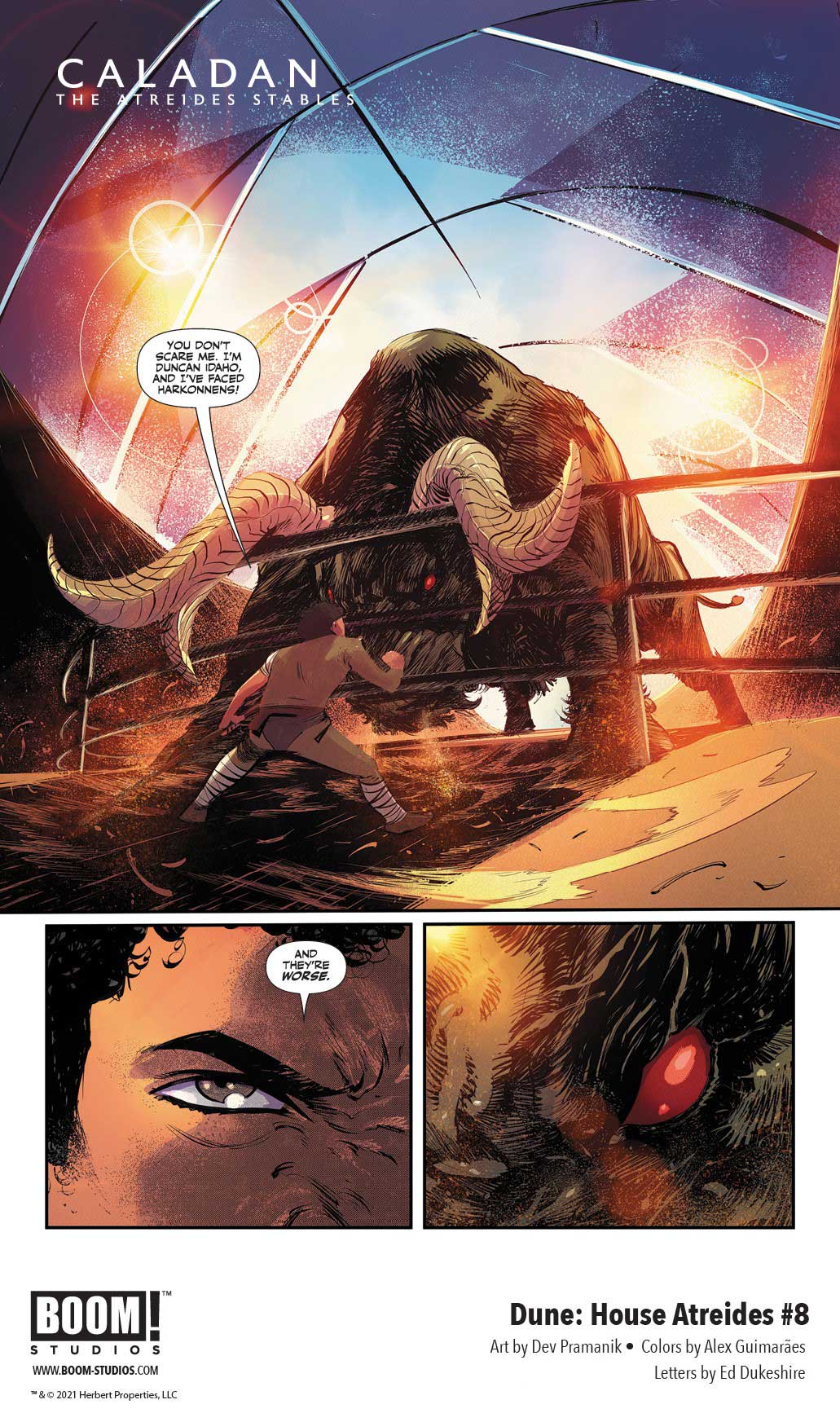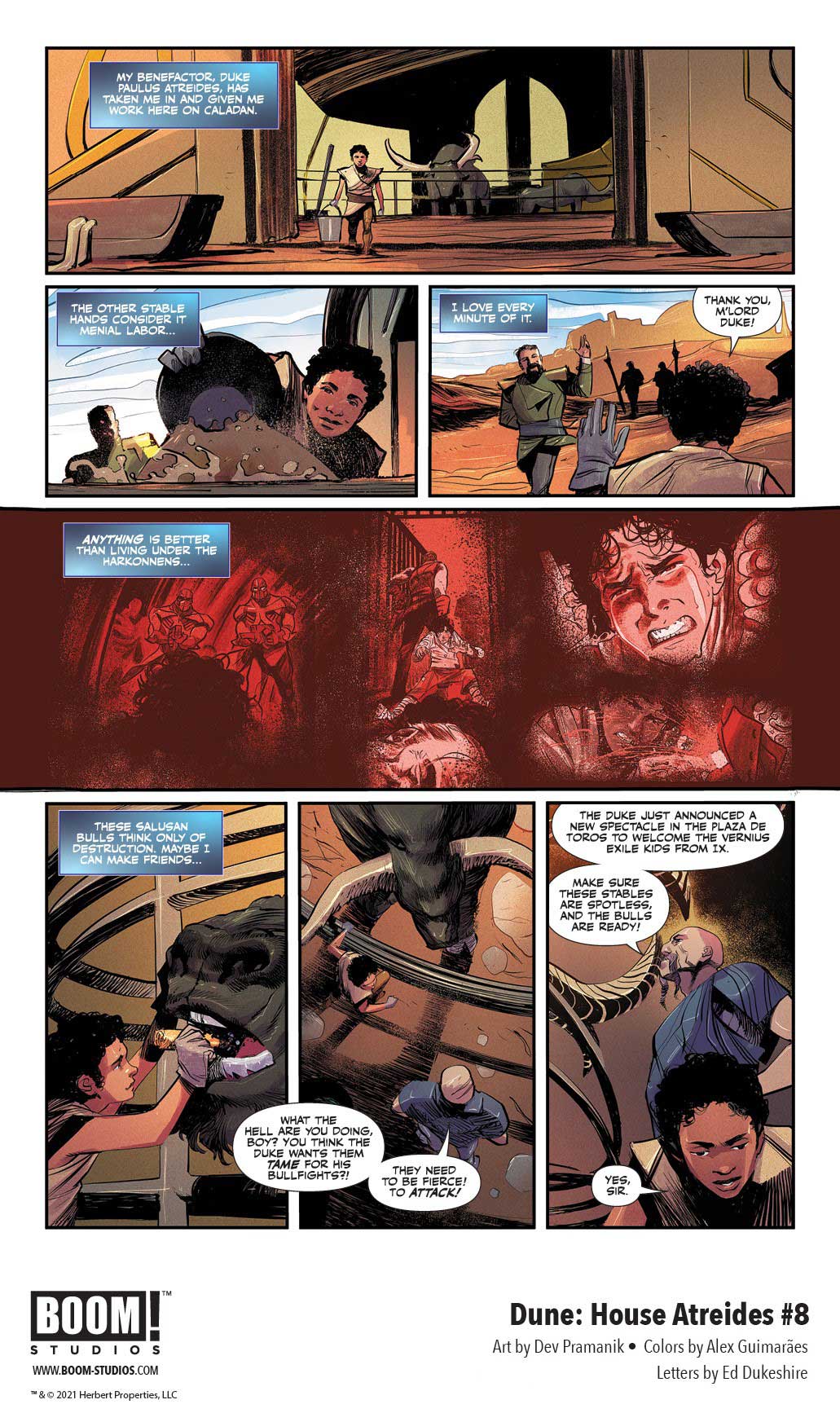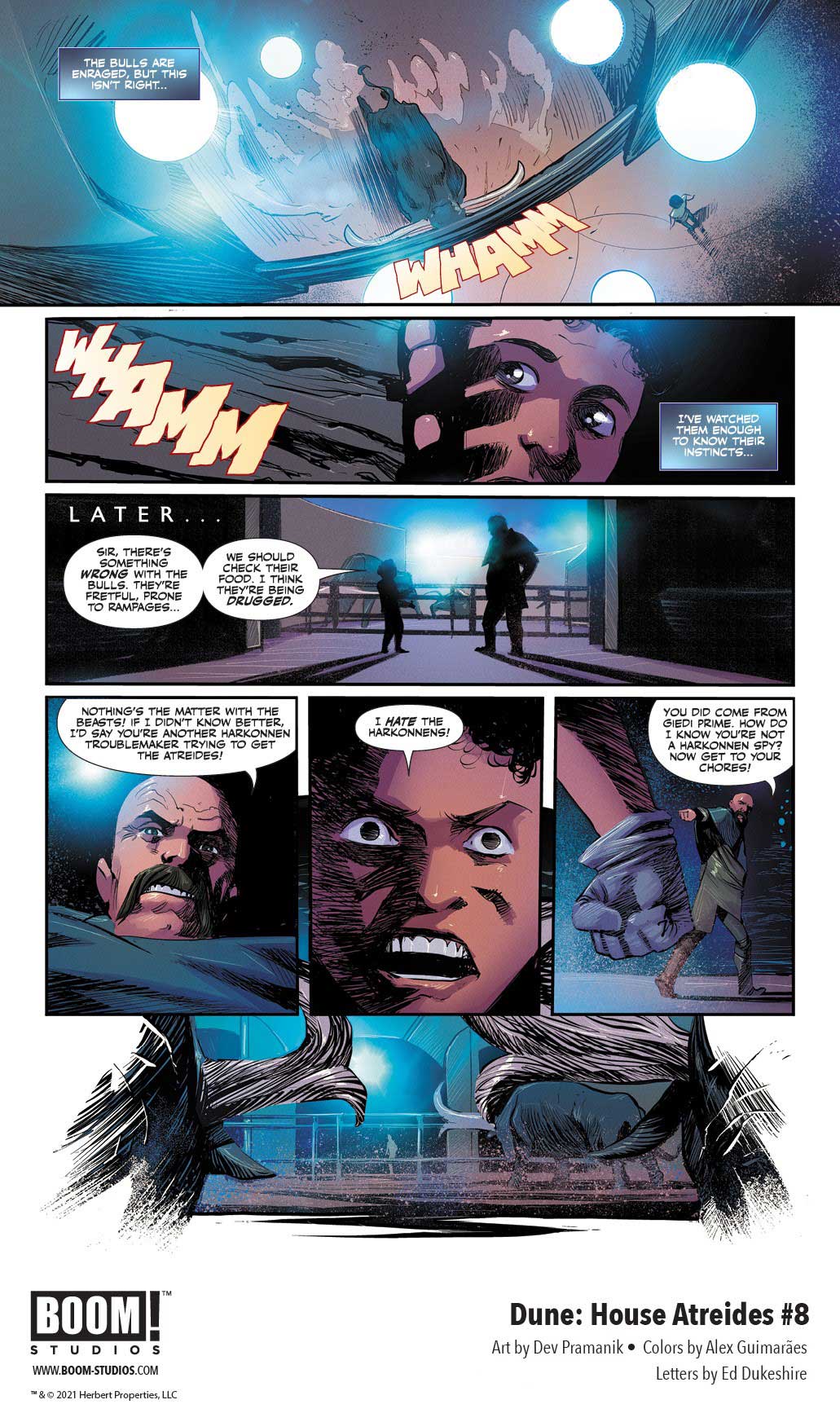 On Wallach IX, Reverend Mother Gaius Helen Mohiam is once again due to give birth. First though, she has to reckon with a failure—her first, sickly daughter from Baron Vladimir Harkonnen. Fortunately, Jessica is born healthy and strong. Surely, this is the child the Bene Gesserit have planned for, to bring them just two generations away from arrival of the Kwisatz Haderach…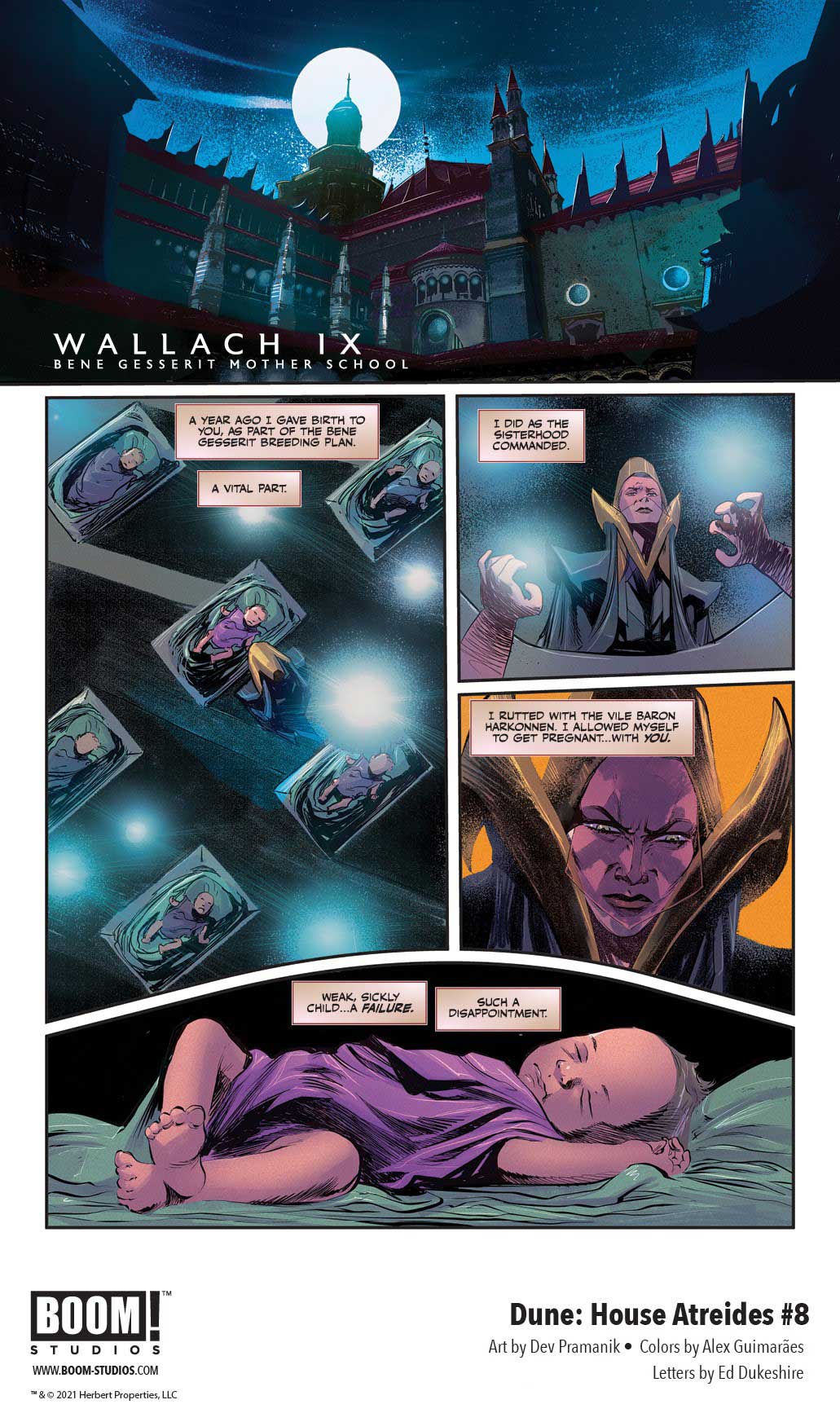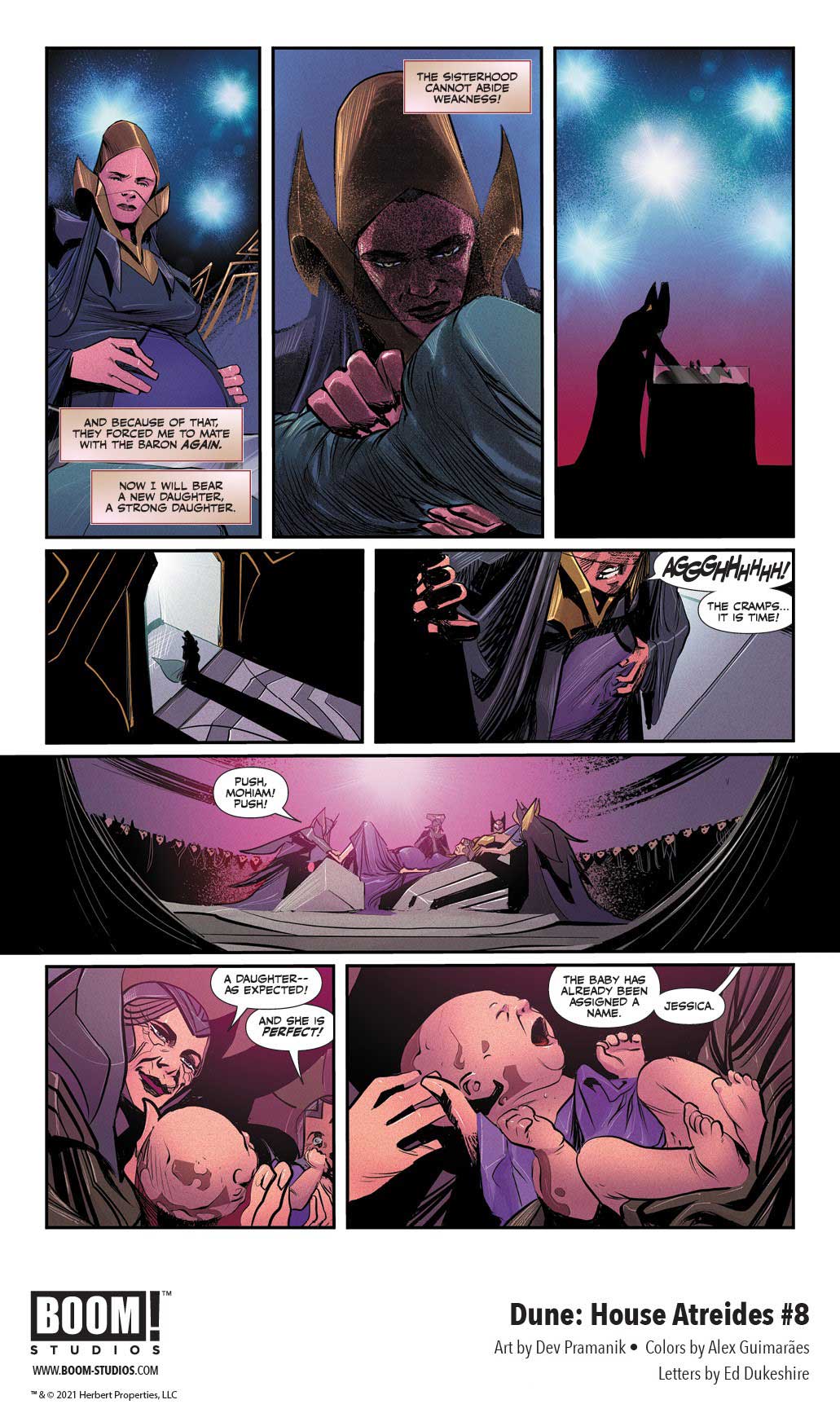 Here's the official synopsis for Dune: House Atreides #8:
* Duncan Idaho has a bad feeling about the upcoming celebration at Castle Atreides, but will anyone listen to the young boy?

* And how is it connected to Leto Atreides meeting his destiny?

* Meanwhile, Baron Harkonnen will have to contend with his own destiny and the consequences of his retaliation against Reverend Mother Mohiam.
The eighth issue is available for pre-order in digital stores, including Amazon and comiXology. Digital comics are automatically delivered to the Kindle or comiXology app on your mobile device or Kindle e-reader, on the day of release, so that you can can start reading instantly.
Print copies will be available via local comic book shops (use comicshoplocator.com to find the one nearest you) or can be ordered directly from the BOOM! Studios webstore.
Source: BOOM! Studios