In the opening chapters of Frank Herbert's science fiction classic Dune, we're introduced to such iconic figures of House Atreides as Duke Leto, Lady Jessica, and their son Paul. At that point, the noble family's departure from Caladan is imminent. Destination is Arrakis, where the Duke fully expects they'll be walking into a trap.
But what led the Emperor to turn against Leto, his cousin by royal blood, expatriating House Atreides and effectively signing their death warrant? And, how was an unlikely Corrino-Harkonnen alliance established? The Caladan Trilogy, latest Dune book series, explores certain events connected to those questions. In this review I'm looking at how everything comes together in its third and final book. There may be slight spoilers for the previous two novels.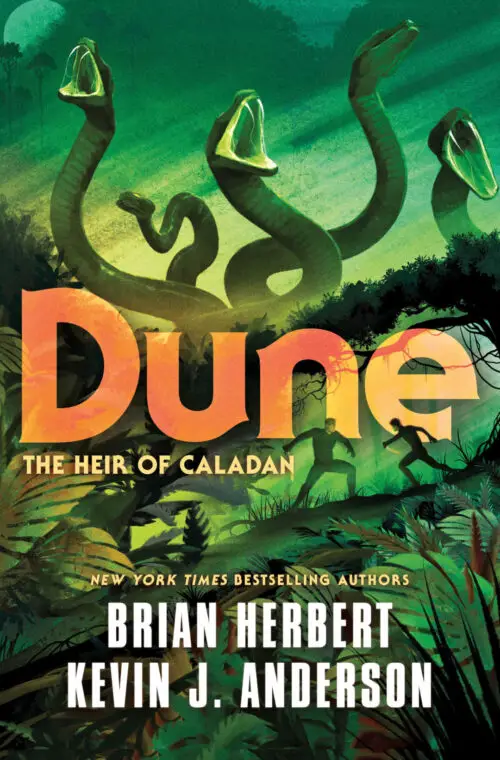 Plot Synopsis
The Heir of Caladan concludes the story that started with The Duke of Caladan (2020) and continued in The Lady of Caladan (2021). This entire trilogy of Dune prequel books, written by Brian Herbert and Kevin J. Anderson, takes place within 12 months directly before Frank Herbert's original Dune novel (and its ongoing film adaptation). It's certainly an eventful year.
Despite its title, the primary focus of this book is Duke Leto, as he continues his plan to infiltrate the Noble Commonwealth rebellion and prevent an overthrow of the Imperium. But his efforts soon suffer a major setback when he discovers Jaxson Aru's devious fail-safe that could tear the Empire apart! Meanwhile Emperor Shaddam's wrath at the growing rebellion may prove just as deadly for our heroes, as House Harkonnen spread rumors of an Atreides shift in loyalties.
The rest of House Atreides' members each have their own story lines; Paul and Duncan's trip to the jungles of Caladan turns from training session into a real-life fight for their lives. Lady Jessica's new assignment from the Bene Gesserit also places her in extreme danger. Even Thufir Hawat gets a chance to shine, proving that "Master of Assassins" is not just an honorary title.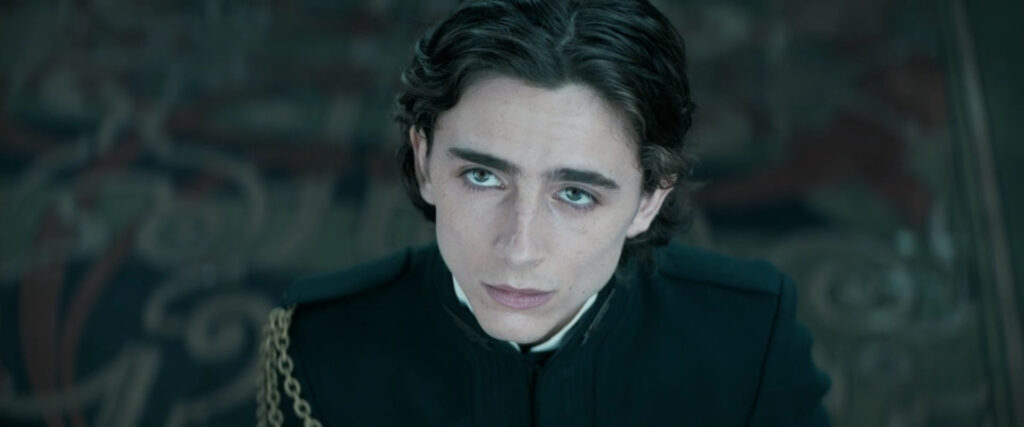 All throughout, Baron Harkonnen, Rabban, and Feyd continue with their insidious schemes. We also see more of the former's ground work towards his overall plan, as revealed in Dune.
Reaction
The book is structured in a familiar fashion to other Dune books by the authors, with fairly short chapters, cutting between the various characters and plots so that you are never away from any event for too long. A fast-paced narrative flow is maintained, keeping the pages turning.
Story wise The Heir of Caladan lacks the depth seen in Frank Herbert's Dune saga novels, with their philosophical themes. This is a difference that may divide some Dune fans. Conversely, the easy-to-read light sci-fi style makes these newer books perhaps more accessible for many readers—including those who've enjoyed the movie and are looking to spend more time with its characters.
Being a Dune prequel, the fate of many characters are never in doubt, and any names that don't appear in later novels are obvious candidates for not surviving the action. Nevertheless there are a number of surprises along the way, and the action escalates throughout the book, as Leto's situation gets worse and worse and you wonder how he'll prevail rather than if.
While I'm sure that books featuring the main Houses and well-known names of Dune attract more sales, it would be interesting to see more tales that focus on brand-new characters whose actions weave into the timeline—in a similar fashion to how Rogue One expanded on the events of Star Wars. The Blood of the Sardaukar short story in the recent Sands of Dune anthology (and BOOM! Studios comic adaptation) is an example of the type of story I'd like to see explored in the future.
Final Thoughts
If you enjoyed the previous two books in The Caladan Trilogy, then you'll certainly enjoy this concluding novel, and if you've yet to start, you have time to read them all while waiting for the Dune: Part Two movie to premiere in November 2023.
The plot threads are tied up neatly at the end, perhaps a little too quickly and simply in some cases, and does a good (if perhaps unnecessary) job of arranging the characters and events to lead directly into the original Dune novel.
If you ever wondered why the Atreides were granted the fiefdom of Arrakis or why the Bene Gesserit waited so long to perform the Gom Jabbar test on Paul, then this book will provide answers to your questions—even if we'll never know whether those are what Frank Herbert originally had in mind.
The book, however, does not delve too deeply into the Baron's grand scheme with the Emperor against House Atreides. While fans will enjoy seeing hints, and pieces falling into place, the authors avoid establishing too many unresolved story-lines within this mostly self-contained trilogy.
Dune: The Heir of Caladan is due to be released November 22, 2022 and can be pre-ordered now from Amazon in hardcover, eBook, and audio book formats.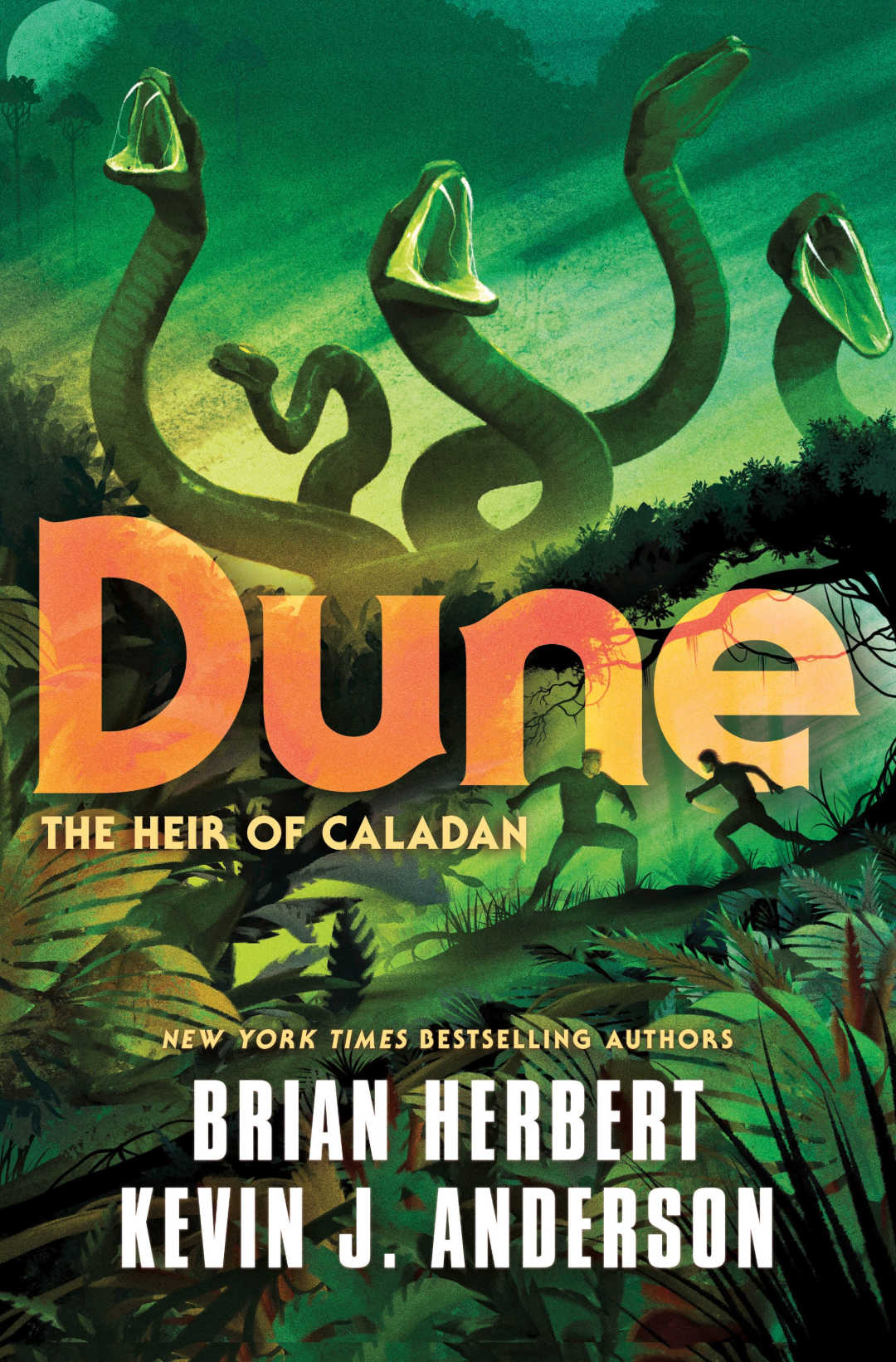 Dune: The Heir of Caladan
Conclusion
Satisfying final entry in an enjoyable trilogy of books, exploring the saga's most iconic characters during one momentous year leading right up to the original 'Dune' novel.
PROS
Develops fan favorite characters
Fast-paced / accessible read
CONS
As a prequel, less dramatic tension
Some questions remain open
Note: This review was based on an advanced copy and the final novel may have slight differences. Many thanks to Tor Books for providing the Dune News Net team with copies for this book review.