As revealed by the authors earlier this year, the second book of their Dune prequel trilogy is also coming to comics. Now, BOOM! Studios has officially announced Dune: House Harkonnen, a 12-issue comic book series starting its publication on January 18, 2023. This adapts the eponymous novel by Brian Herbert and Kevin J. Anderson, both of whom are returning to write the scripts. The creative team consists of artist Michael Shelfer, colorist Patricio Delpeche, and letterer Ed Dukeshire.
The upcoming comic series follows the bitter feud between Baron Vladimir Harkonnen and Duke Leto Atreides, that started in Dune: House Atreides, with latter forced to take some difficult decisions. The Harkonnen's ruthless pursuit of power and wealth, likewise pits them against both House Corrino and the Bene Gesserit order. Dune: House Harkonnen also features first appearances, chronologically speaking, of iconic characters such as Gurney Halleck, Lady Jessica, and Liet Kynes.
Alongside the announcement, BOOM! Studios has unveiled a first look at Dune: House Harkonnen #1. On the main cover, illustrated by Raymond Swanland, we see the hand of the Baron, adorned with his distinctive signet ring. House Harkonnen's symbol is the mythical griffin.
Two interior pages take us to Giedi Prime, the Harkonnen homeworld, to witness the hard lives of ordinary citizens living its impoverished agricultural zone. There we encounter a somewhat familiar face; that of Gurney Halleck, before atrocious events left a permanent scar on it.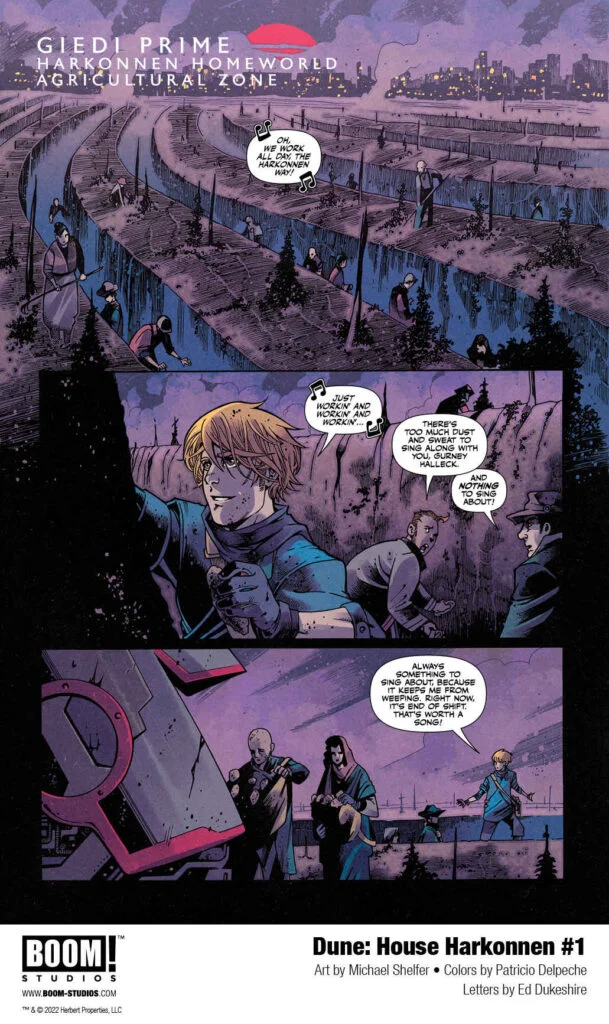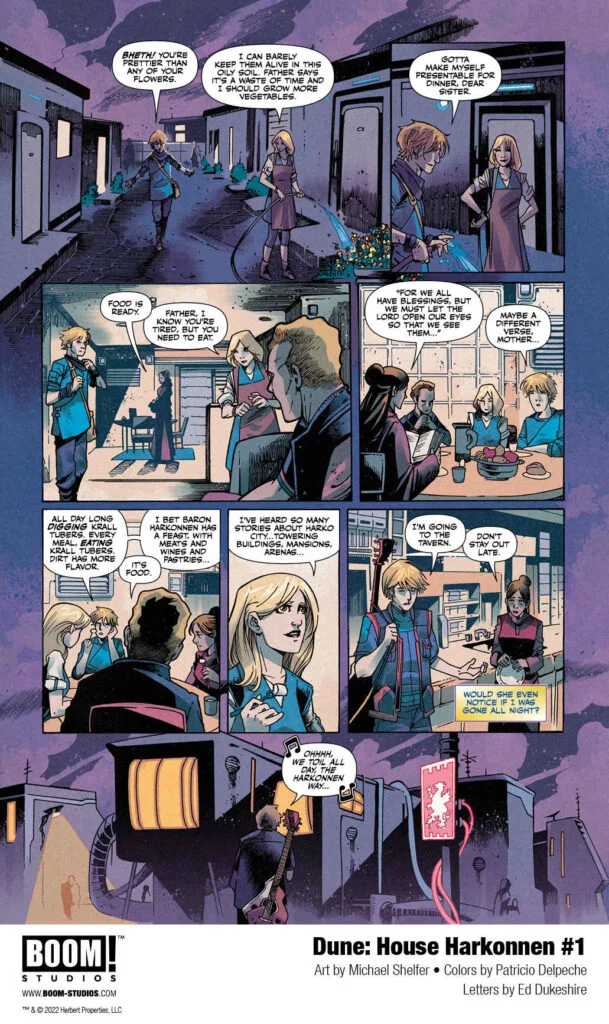 The writers, Brian Herbert and Kevin J. Anderson, shared their excitement about this new visual adaptation of their work. Dune: House Harkonnen is the second book they wrote together and was originally published in 2000.
Speaking for the Frank Herbert family, I am extremely pleased to be able to provide beautifully-illustrated comic editions of Dune: House Harkonnen for Dune fans. This is the second novel I wrote with Kevin, and the new series launch brings to my mind the excitement of our national book tours around the turn of the millennium, and the wonderful receptions we received from fans. Our own enthusiasm for Frank Herbert's fantastic Dune series has never waned, and our spirits are constantly buoyed by the incredible support we continue to receive from readers. We hope you enjoy the new series as much as we have enjoyed writing the stories.

Brian Herbert
House Harkonnen is one of my favorites of  all the Dune novels Brian and I have written—dark and emotionally powerful, with some of the most spectacular scenes in the long history set in Frank Herbert's universe…and they just cried out to be done visually. I am so excited that BOOM! is continuing our Prelude to Dune trilogy in comic form.

Kevin J. Anderson
As with BOOM! Studios' previous comic book projects, the first issue of Dune: House Harkonnen will be available in multiple variant cover editions. The four versions below—by Reiko Murakami, Stephanie Hans, Jeremy Bastian, and Audrey Mok—feature various interpretations of the Baron. Han's cover shows us Jessica as a young child, being raised by the Bene Gesserit.
The editorial team at BOOM! Studios offered the following statement regarding their forthcoming comic book series:
For better or worse, House Harkonnen is a force of nature within the Dune universe, at the center of the pivotal moments that have determined the fates of entire planets and civilizations. Brian and Kevin have done an incredible job of bringing the power of the Harkonnens to life as their machinations begin to entangle them within the lives of the Atreides, leading to the explosive events of Dune.

Shantel LaRocque, Senior Editor, BOOM! Studios
Dune: House Harkonnen #1 will hit stores on January 18, 2023. Print editions will be available at local comic book shops or the BOOM! Studios webstore. Digital versions can now be pre-ordered at comiXology / Kindle and other online stores.
Update (January 2): Updated to reflect that the exact release date will be January 18, 2023 and added Amazon order link.