Dune Messiah and Children of Dune—second and third novels in Frank Herbert's original Dune saga—will receive the deluxe treatment. Publisher Ace Books has listed hardcover versions for pre-order and revealed their cover artwork. These new editions of both books will be available on April 4, 2023, either individually or as part of a boxed set including the previously released Dune: Deluxe Edition.
In addition to brand-new new covers and interior illustrations by Matt Griffin, the Dune Messiah and Children of Dune deluxe editions each come with their own foiled and stamped case, highlighting a quote from the Litany Against Fear. Both books also include a poster inside the jacket and an introduction written by Brian Herbert, the author's son.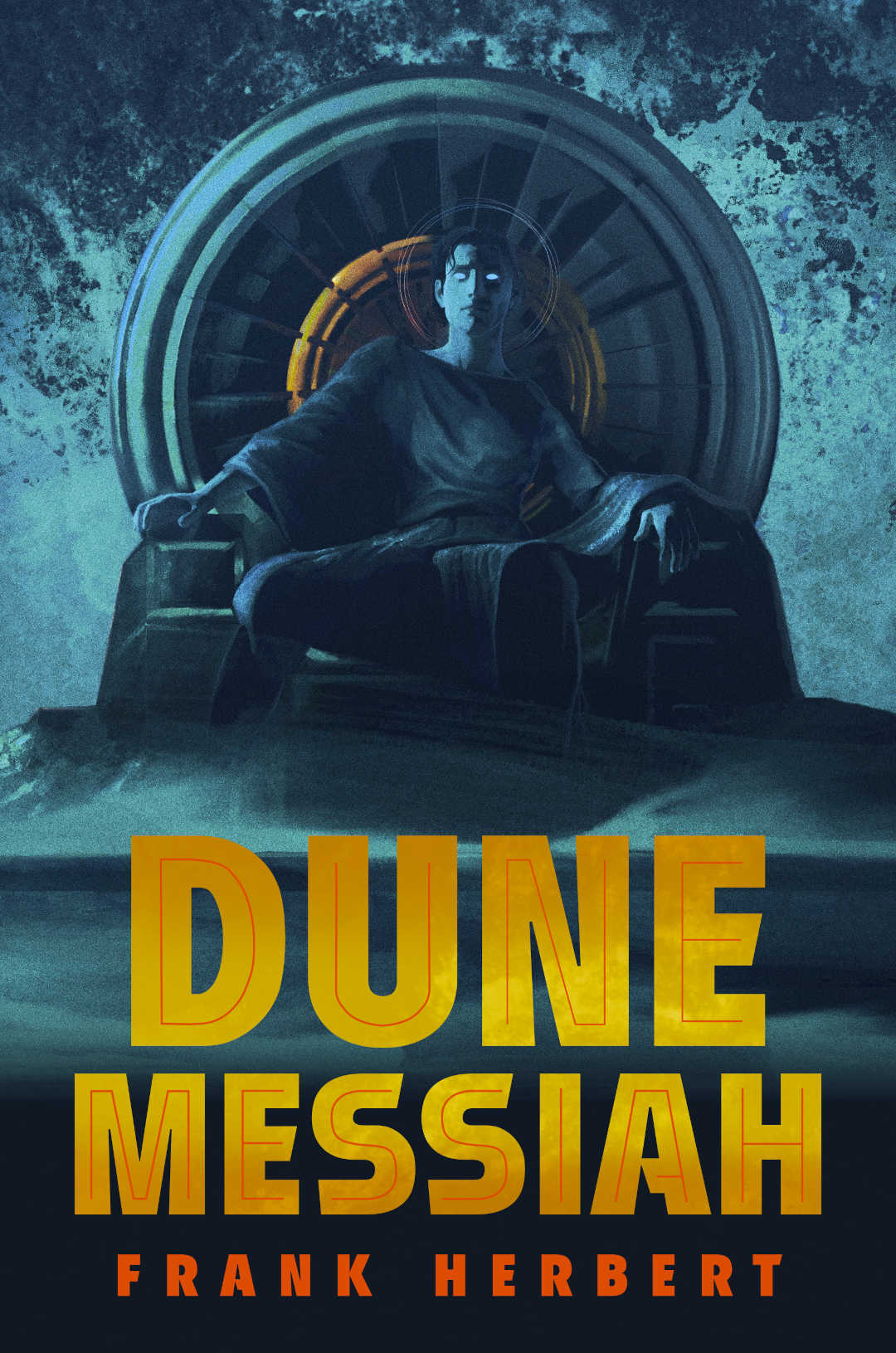 These deluxe hardcover editions of the second and third book in Frank Herbert's Dune saga are now available for purchase on Amazon. Note: We recommend checking the price of the boxed set (see next section), as that's a far better deal at time of writing.
Dune Trilogy Boxed Set
A deluxe hardcover version of Frank Herbert's original Dune novel was released by Ace Books on October 1, 2019. If you've seen a copy of that, you'll know what to expect from these new editions of Dune Messiah and Children of Dune. The three books, often considered to be a trilogy, will also be available together in a boxed set, featuring an exclusive slipcase with original artwork by Matt Griffin.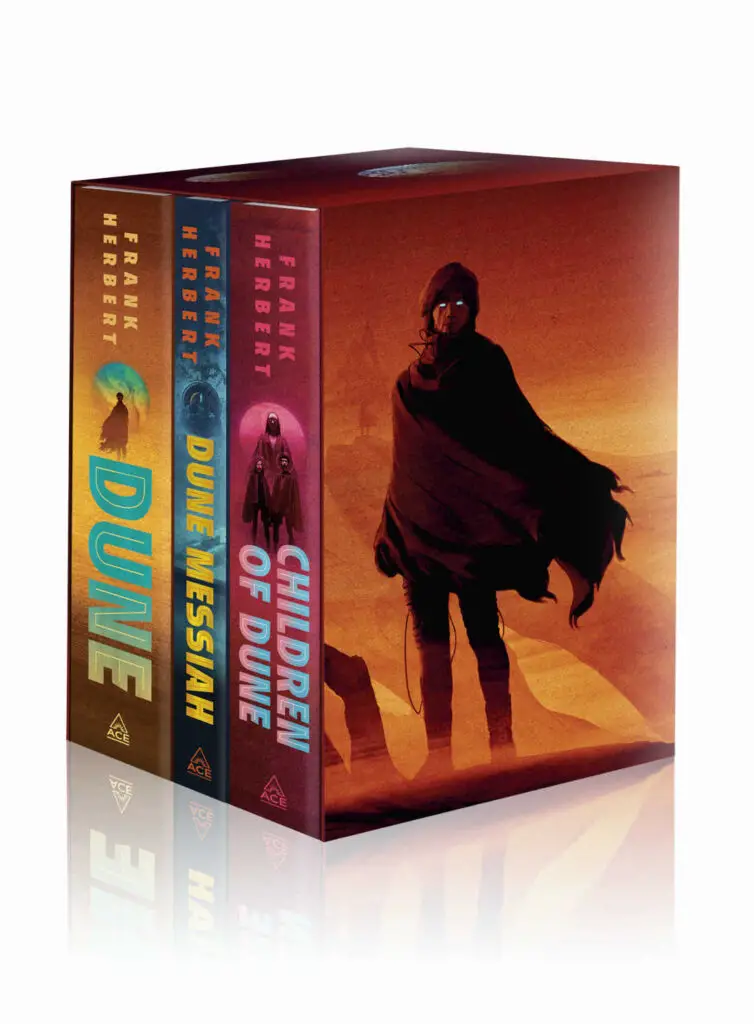 Here's the product listing for the three-book set:
Dune, by Frank Herbert, was first published in 1965 and is widely recognized as the best-selling science fiction novel of all time. Its sequels—Dune Messiah (1969) and Children of Dune (1976)—continue the story of the Atreides family as they chart a new course for the human race, for better or for worse… The official synopsis for the saga reads as follows:
Set on the desert planet Arrakis, Frank Herbert's epic Dune saga tells the story of the boy Paul Atreides, heir to a noble family tasked with ruling an inhospitable world where the only thing of value is the "spice" melange, a drug capable of extending life and enhancing consciousness. When House Atreides is betrayed, the destruction will set Paul and his family on a journey towards a destiny beyond imagination, one that will bring to fruition humankind's most ancient and unattainable dream….
Interview With Matt Griffin
Together with their exclusive reveal of the new covers for Dune Messiah and Children of Dune, io9 (Gizmodo) published an email interview with Matt Griffin. In addition to the deluxe edition artwork for Frank Herbert's Dune, the artist has created the covers for The Caladan Trilogy—The Duke of Caladan, The Lady of Caladan, and The Heir of Caladan—and the recently-released collection Sands of Dune, written by Brian Herbert and Kevin J. Anderson. Griffin read the original novel as a teenager and now, decades later, he's realized his dream of illustrating the books.
I am a very long-time fan, yes. My intro to Arrakis was actually the Lynch film—it was a family favorite when I was growing up, so I would have been pretty young when I first saw it. My Dad has always been into movies, so I was exposed to lots of great films as a small kid. It was watched regularly…

Then when I was about 14 I read the book, and it blew my mind. I decided there and then that a dream of mine would be to illustrate it someday, and decades later that dream came true. It had been a while since I read the sequels, so when I finished re-reading [Dune Messiah] and [Children of Dune] for this job I continued, and am now enjoying God Emperor of Dune again. They are books you can return to over and over.

Matt Griffin, speaking to io9
With commercial and critical success of 2021's movie adaptation of Dune, recipient of six Oscar Awards, its visuals are ingrained on many people's minds. More so for newcomers, for whom Denis Villeneuve's cinematic vision is their first exposure to this universe. Griffin was asked whether this has made it more challenging to present his own artistic interpretation of Dune and how he decided on which imagery to go with for the illustrated endpapers.
No, I don't think so. I really love what Denis Villenueve (and his production designer Patrice Vermette) dreamed up, but I wanted to keep this very much my vision of what that world is like. I guess it's impossible not to have other interpretations floating in your head, whether from old masters like John Schoenherr or Bruce Pennington or contemporary Dune artists like Marc Simonetti. They are so inspiring. But I do my best to make this a direct link from book to image, via the filter of my own brain.

As for how I decide, it's a slightly different process than normal, which is to highlight passages of text that might make for a good illustration. With these books, my intention is more to give glimpses of the world and try to achieve a sense of atmosphere more than anything else.

There's also certain elements that you want to tackle, for example in the first book I just had to do Shai Hulud. And then also had this image of what a Sietch might be like, in caves that have been hollowed out by wind.

For the sequels, I wanted to do a Guild Navigator and felt the scenes of the conspiracy against Paul offered a perfect oppurtunity for that. The visit to the old Fedaykin Otheym offered a good opportunity to show a simple Arrakeen home, inspired by Middle-Eastern courtyards. On [Children of Dune], I reverted back to desert scenes, showing the Laza Tigers and Leto II in his sand trout suit.

So I guess maybe I did lean a little more into scene-inspiration for these but, hopefully, with a lot of atmosphere. I want the viewer to feel like they're there as much as possible, as I am when I'm reading the book and making the images.
The artist also described the level of creative freedom he experienced when working on artwork for these deluxe editions of the Dune books, as well as his collaboration with both the publisher and Herbert estate.
It always depends on the project, but in the case of these deluxe editions it's a very freeing and trusting process. It's an open brief, I'm allowed to come up with my own suggestions for images which are then sent over to the art director Adam Auerbach for feedback and then approval from the Herbert estate. I've worked with Adam for a good number of years now, and I think there's a lot of mutual trust there, where I'm given the freedom to do my own thing (within reason!); I know he'll steer me in the right direction if I need it.

There is of course some back and forth, but that generally always results in a better image. A good example is the worm from the first book. I had gotten that to a point where I felt it was finished, but Adam and Brian [Herbert] pushed me to work on it more. That pushing resulted in an infinitely better piece.
To read the full interview with Matt Griffin, where he also discusses his usage of colors and approach to creating original science fiction and fantasy artwork, head over to io9 on Gizmodo.com.