The ongoing graphic novel retelling of Dune continues on July 5, 2022, with Dune: The Graphic Novel, Book 2: Muad'Dib. Abrams ComicArts has revealed the cover for the second full-length volume (176 pages), in this definitive three-part visual adaptation of Frank Herbert's bestselling science-fiction novel. Assuming the 2021 movie is also fresh on your mind, this release will cover events from that last hour and go further beyond.
Like Book 1, the interior pages feature full-color illustrations by artists Raúl Allén and Patricia Martín. The story of the original Dune book (1965) is being adapted scene-by-scene into graphic novel scripts by Brian Herbert (son of Frank Herbert) and Kevin J. Anderson, who together have written 15 books set in the universe of Dune. All three covers, which will form a triptych, are by Bill Sienkiewicz.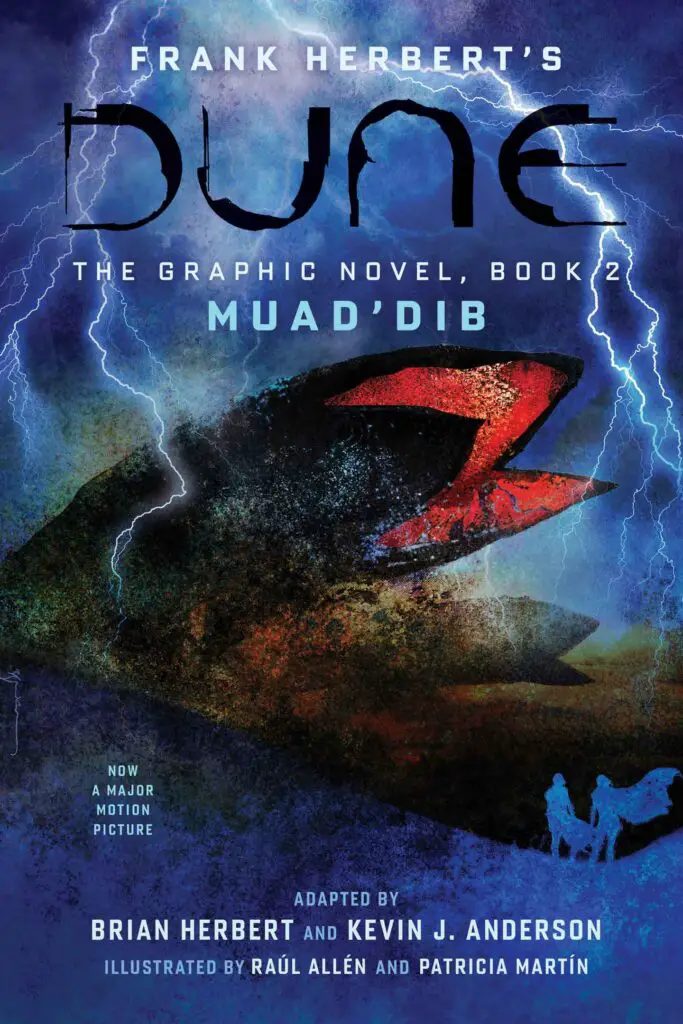 In our earlier review of Dune: The Graphic Novel, Book 1 (2020), I noted that this format is a far less time-consuming way for long-time readers of the novel to get refreshed on its epic story. The narrative is abridged, of course, however every event is present here. Meanwhile, for those not yet prepared to read entirety of Frank Herbert's book, this serves as an accessible introduction point. When the next volume is released, it will offer those newer fans a visual look at what lies ahead for Paul and Jessica in the Dune: Part Two movie, premiering in 2023.
Here's the official synopsis for the upcoming graphic novel:
In Dune: The Graphic Novel, Book 2: Muad'Dib, young Paul Atreides and his mother, the lady Jessica, find themselves stranded in the deep desert of Arrakis. Betrayed by one of their own and destroyed by their greatest enemy, Paul and Jessica must find the mysterious Fremen or perish. This faithful adaptation of the 1965 novel continues to explore Paul's journey as he evolves from boy to mysterious messiah. This spectacular blend of adventure and spirituality, environmentalism, and politics is a revolutionary look into our universe, transformed by the graphic novel format into a powerful, fantastical tale for readers of all ages.
Hardcover and eBook editions of Dune: The Graphic Novel, Book 2: Muad'Dib are now listed for pre-order.
Source: Abrams Books