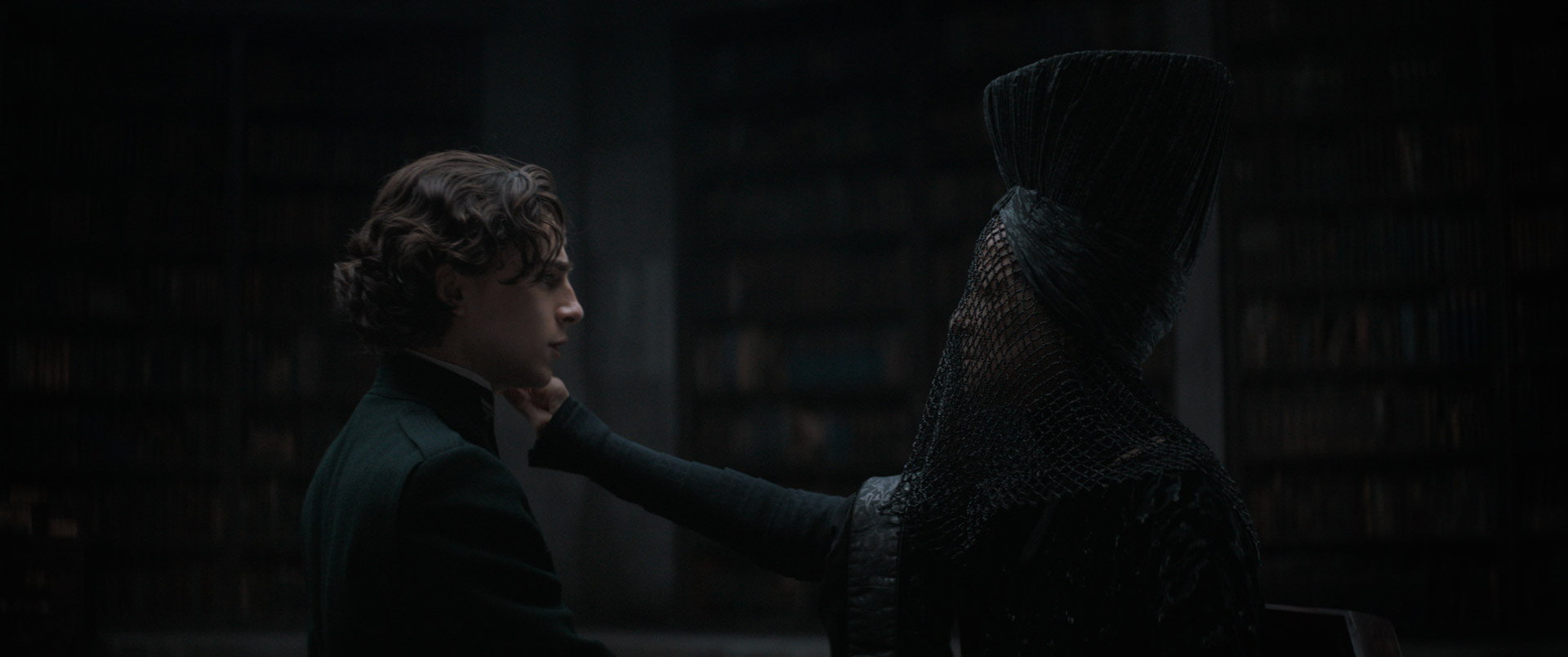 Another week, another wave of Dune movie trailers… that's seemingly the norm now as we finally approach the theatrical release dates for multiple countries in Asia and Europe. Following pieces of new footage revealed within the Japanese and Norwegian teasers, Warner Bros. Singapore has followed suit with three exciting promos (30 seconds each) that they started releasing over the weekend.
This first trailer expands on the Gom Jabbar test. Paul Atreides (Timothée Chalamet) is utterly powerless as Reverend Mother Gaius Helen Mohiam (Charlotte Rampling) uses the voice on him. In the IMAX exclusive preview we saw Paul himself—trained in the ways of the Bene Gesserit by Lady Jessica—attempt to use this ability during the breakfast scene, however what we're witnessing here takes this to another level entirely… The Bene Gesserit elder has honed her abilities over a lifetime and wields the voice to perfection.
The second promo showcases more interaction between Paul and Chani (Zendaya). We see footage of the two of them starting to form a bond in person, as they enter (what appears to be) the Cave of the Ridges.
"This is only the beginning" is simple line from Chani, however one that holds immense significance storywise—both within this movie and in light of what's coming in Dune: Part Two. The expression on the Fremen woman's face gives the sense that the pair will have established good rapport with each other, by the end of part one.
Duncan Idaho, the "fierce and loyal" protector of House Atreides, and its young heir, takes the spotlight in this third clip. A key moment is revealed at the ecological testing station: Paul, Jessica, and Liet are in conversation, as they realize that their enemies have located them. Duncan steps in front to shield their escape. Based on what has already been shown in previous trailers, this is the start of a thrilling action sequence where the swordmaster takes on dozens of Sardaukar warriors, by himself.
The Singaporean theatrical release of Dune: Part One is set for September 16, 2021.
Promo trailers continue to be released all across the world. The following is from Argentina:
As with the other videos, there continue to be bits of new footage mixed in with what has been previously released. In this one there's new close-up shot of an ornithoper in flight and a moment of walking in the desert, while Chani is speaking.
The movie is expected to arrive in Latin America during October, although exact dates may vary by country. Some locations are currently listed for October 22, 2021, which will coincide with the United States' release.