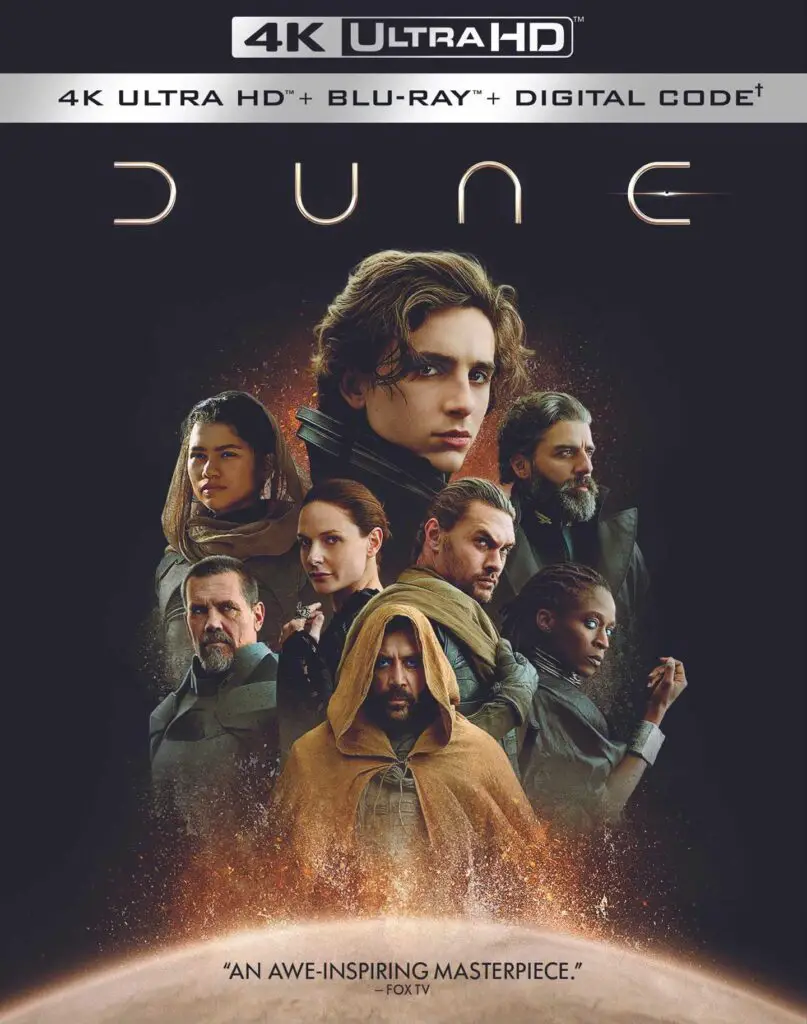 Today, Warner Bros. Home Entertainment announced dates, and special features, for the home video releases of Dune: Part One in the United States. On January 11, 2022, the movie will be available on 4K UHD, Blu-ray, and DVD physical disc formats. Dune will debut earlier on digital stores, with premium purchase or rental options beginning from December 3.
The latter may be welcome news if you're hoping to re-watch Dune at home over the December holidays, with its 31 days on the HBO Max streaming service having ended. The film can be pre-ordered now—via Amazon, Apple iTunes, or other participating retailers where digital movies are sold—for digital ownership at $29.99. Alternatively, a rental option will cost $24.99 for 48-hours of access.
The physical media releases of Dune: Part One will include a 4K UHD Combo Pack with a suggested retail price of $49.98—featuring both 4K and HD Blu-ray discs, as well as a digital code. The movie will also be released in standard Blu-ray (HD) and DVD versions, expected to cost $39.98 or $34.98 respectively.
Extras: Dune Behind-the-Scenes Features
A big draw of these physical discs will be the included special features. Both 4K UHD Combo Pack and Blu-ray versions will contain all of the following extras, while the DVD release will contain only the first.
The Royal Houses
Filmbooks: House Atreides
Filmbooks: House Harkonnen
Filmbooks: The Fremen
Filmbooks: The Spice Melange
Inside Dune: The Training Room
Inside Dune: The Spice Harvester
Inside Dune: The Sardaukar Battle
Building the Ancient Future
My Desert, My Dune
Constructing the Ornithopters
Designing the Sandworm
Beware the Baron
Wardrobe from Another World
A New Soundscape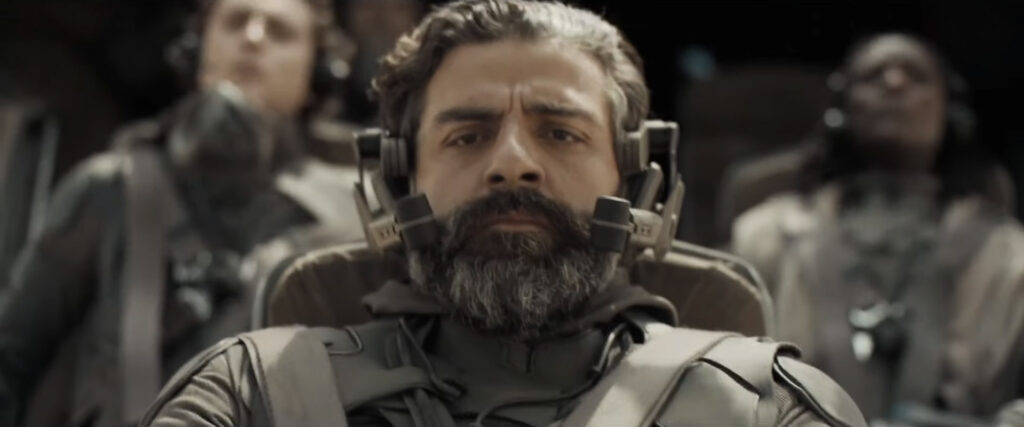 We've seen The Royal Houses video and several other Dune behind-the-scenes features before, however a number of the above sound like previously-unreleased footage—these should offer fans more content to analyze in the lead-up to the second movie, which begins shooting in Summer 2022. There are no deleted scenes listed amongst the extras, however this is not surprising given earlier comments from director Denis Villeneuve.
Where can Dune: Part One be Purchased?
The Dune (4K UHD) digital movie version is available now for purchase and instant streaming via Amazon Prime Video (link below), and other stores. All physical versions are listed for pre-order, ahead of the January 11 release date.
Regardless of whether you purchase the film at participating retailers or redeem a code, the digital copies are eligible for the Movies Anywhere service in the U.S.
Home Video Specifications
Dune: Part One has a running time of 155 minutes and is rated PG-13 for sequences of strong violence, some disturbing images and suggestive material. Below is the audio and subtitle information for each of the physical releases:
4K UHD (Atmos True HD, Dolby Digital):
Audio languages: English ATMOS, Latin Spanish, Canadian French, German, German ATMOS, German-ADS, Italian, Italian ATMOS, Hindi
Subtitles: English SDH, Latin Spanish, Canadian French, Parisian French, German, German SDH, Norwegian, Swedish, Finnish, Danish, Greek, Korean, Hindi
Blu-ray (Atmos True HD, Dolby Digital):
Audio languages: English, English-ADS, English ATMOS, Latin Spanish, Canadian French, Japanese, Hungarian, Hindi, Czech Republic, Portuguese-Brazilian, Polish
Subtitles: English SDH, Latin Spanish, Canadian French, Portuguese-Brazilian, Bulgarian, Czech Republic, Hungarian, Japanese, Polish, Romanian, Hindi
DVD (Dolby Digital):
Audio Languages: English, English-ADS, Latin Spanish, Canadian French
Subtitles: English SDH, Latin Spanish, Canadian French, French Parisian