Even with its principal photography having wrapped in December 2022, casting announcements for Denis Villeneuve's Dune: Part Two movie are not over. Today, via The Hollywood Reporter, it's been confirmed that Tim Blake Nelson also joined the production. When it comes to which role he's playing however, Legendary Entertainment and Warner Bros. Entertainment are still keeping that information under wraps.
Nelson is the first new joiner to be formally announced for Dune: Part Two since the casting of Léa Seydoux as Lady Margot, over six months ago. The award-winning actor—most recently recognized for his standout performances in Old Henry, Watchmen, and The Ballad of Buster Scruggs—is expected to play a notable role in this movie. Austin Butler as Feyd-Rautha Harkonnen, Florence Pugh as Princess Irulan Corrino, and Christopher Walken as Emperor Shaddam IV, all confirmed prior to the start of filming last summer, round out a remarkable group of Dune newcomers.
Those five are added to the superlative ensemble of returning stars from Dune: Part One, featuring Timothée Chalamet, Zendaya, Rebecca Ferguson, Javier Bardem, Stellan Skarsgård, Josh Brolin, and Dave Bautista.
What Role Is Tim Blake Nelson Playing?
While details regarding Nelson's character remain undisclosed, there really aren't too many possibilities remaining—assuming the second movie will remain faithful to Frank Herbert's original Dune novel. It's worth noting that, these past months, over a dozen new cast members have been identified (we'll be reporting on those separately) as playing minor roles in Dune: Part Two. None of those actors received official casting announcements though.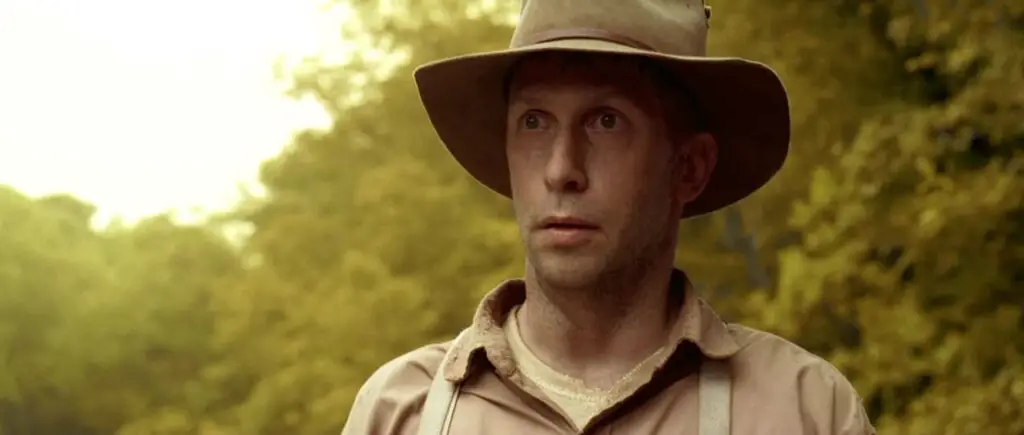 Today's reports suggest that Tim Blake Nelson's involvement in the movie will amount to more than a brief cameo appearance. So then, what major male characters from Dune (the book) have yet to be revealed in Denis Villeneuve's big screen adaptation?
We know that Lady Margot is in Dune: Part Two, however Count Hasimir Fenring, her husband, remains unaccounted for. Both play small, yet key parts, in the story of Dune. The latter is the Emperor's valued counselor and closest, perhaps only friend—they grew up together on Kaitain—as well as having special significance within the plans of the Bene Gesserit. If the Count is indeed in the movie, it would make sense that he's portrayed by a big name like Nelson.
Another possibility is Staban Tuek, new leader of the smugglers on Arrakis—following the death of his father Esmar, at the hands of the Harkonnens. In the aftermath of the assault on Arrakeen, Gurney Halleck and other Atreides survivors seek refuge with the smugglers. Halleck and Tuek engage in a conversation—spanning seven pages in the book—that offers valuable insights into both factions. Giving Tuek a strong presence on screen would serve to show audiences another perspective to life on Arrakis.
While these are likely roles for Nelson—if he's indeed playing a significant part—they're not the only scenarios. Until official confirmation, these remain in the realm of (educated) speculation. With all of the secrecy, it's entirely possible that Villeneuve has a surprise in store; such as introducing someone from later books. E.g. as a more far out thought, could the actor actually be motion capturing and voicing a Guild Navigator?
Dune: Part Two Premieres in Under 10 Months
After completing five months of filming—across Hungary, Italy, Jordan, and the United Arab Emirates—Dune: Part Two is now in post-production stage. The movie is scheduled to premiere on November 3, 2023, exclusively in theaters. The official synopsis follows:
This follow-up film will explore the mythic journey of Paul Atreides as he unites with Chani and the Fremen while on a warpath of revenge against the conspirators who destroyed his family. Facing a choice between the love of his life and the fate of the known universe, he endeavors to prevent a terrible future only he can foresee.
Denis Villeneuve is both directing and producing Dune: Part Two, in addition to co-writing the script with Jon Spaihts. The other producers are Mary Parent, Cale Boyter, Tanya Lapointe, and Patrick McCormick.
Regardless of what reveals come next, 2023 is set to be an amazing year for all fans. Stayed tuned to Dune News Net for further casting announcements and breaking news in the lead-up to the movie's release.